Easy Mushroom Vegetarian Plantong
Biltong is a South African delicacy and must-have on-the-go snack for many, typically made from cured dried meat. While similar to jerky, the unique marinade and texture make it unmistakable. For those who already know the sensational chewy, seasoned dried meat snack called biltong, plantong will be fairly easy to identify. Plantong is a tasty vegetarian alternative to biltong that is just as addictive and easy to make. Our vegetarian plantong recipe made from mushrooms is a must-try for anyone who appreciates umami flavor and the smokey taste of toasted spice.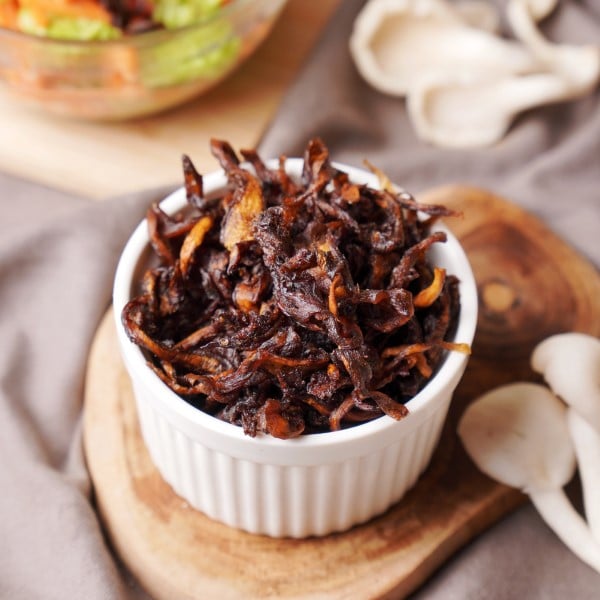 Ingredients
2

Tablespoons

Kosher Salt

1

Tablespoon

Ground Black Pepper

2

Tablespoons

Brown Sugar

1 ½

Tablespoons

Cracked Ground Coriander

1

Tablespoon

Dried Ground Chilli

Optional

1

Teaspoon

Red Pepper Flakes

Optional

1

Pound

Oyster Mushrooms

¼

Cup

Malt Vinegar

2

Tablespoons

Worcestershire Sauce

¼

Cup

Olive Oil

¼

Teaspoon

Ground Clove

½

Teaspoon

Allspice

1

Teaspoon

Chili Powder

Optional

1

Teaspoon

Liquid Smoke

optional
Instructions
All ingredients ready? Let's begin!

Combine the kosher salt, black pepper, brown sugar, and coriander. If using chili, combine the dried chili and the red pepper flakes with your salt as well.

Slice the mushrooms into flat strips. The exact size and shape aren't too important but ensure that they're each at least 1/2-inch thick.

Place the mushrooms onto paper towels and salt liberally with the premade salt mix. Ensure that you cover both sides.

Allow the mushrooms to rest for 30 minutes while changing the towels once halfway through so that excess moisture can effectively be shed.

Place the mushrooms into an airtight container or sealable packet where they can marinade.

Combine the malt vinegar, Worcestershire sauce, olive oil, ground clove, allspice, and the leftover seasoning salt mixture. Add the chili powder and liquid smoke using any. Mix well.

Pour over the mushrooms ensuring that they're all submerged. Toss to cover the mushrooms in the marinade.

Cover and refrigerate for 24-hours.

Remove the mushroom slices from the marinade and allow as much of the excess liquid to drip off as possible.

Layout the mushroom slices onto your dehydrator trays and dehydrate for between 12 and 24 hours or until the texture desired is reached.
Nutrition
Calories:
83
kcal
|
Carbohydrates:
7
g
|
Protein:
2
g
|
Fat:
6
g
|
Saturated Fat:
1
g
|
Polyunsaturated Fat:
1
g
|
Monounsaturated Fat:
4
g
|
Sodium:
1470
mg
|
Potassium:
264
mg
|
Fiber:
2
g
|
Sugar:
3
g
|
Vitamin A:
384
IU
|
Vitamin C:
1
mg
|
Calcium:
21
mg
|
Iron:
1
mg
What Is Biltong?
Biltong is a dried, cured meat product made by salting and marinating various cuts of raw meat, which are then left to air dry. The word 'biltong' is actually a Dutch term that translates to 'meat stick.' Although biltong began as a South African traditional recipe, it is highly popular in New Zealand and Australia as well. In the US, importing biltong is illegal due to the lack of control over the open-air curing process and its potential risks.
What Is Plantong?
Plantong is vegan biltong made from vegetables like mushrooms or eggplant. Our plantong recipe uses oyster mushrooms due to their size, density, and mild umami flavor. A similar blend of herbs, spices, and vinegar to that used in making biltong results in a smoky, rich taste with the lingering flavor of roasted coriander and light subdued sweetness that offsets the savory pungency of plantong to perfection.
What Is The Difference Between Biltong & Jerky?
There are several differences between biltong and jerky. Firstly, biltong is a dried meat snack that originates in South Africa, whereas jerky is originally a South American delicacy. Biltong is marinated in a blend of vinegar and spices, whereas jerky is marinated in spices and various sauces. Although jerky can also be air-dried, it is typically dried with the aid of a food dehydrator, whereas biltong is open air dried over a period of days to weeks, depending on the cut. You'll find biltong made from a range of different meats with none barred, with many cuts commonly including fatty meat. Jerky is almost always made from lean cuts.
What Does Plantong Taste Like?
Follow our plantong recipe, and you'll have mushroom biltong with texture and taste that's very close to beef biltong. The umami flavor of oyster mushrooms melds into a smokey replacement for the meaty taste of biltong that's rich, salty, and savory. A subtle fresh but earthy taste presides that's accentuated by a tangy but salty bite that offers a pop of bold aromatic flavors relative to the herbs and spices used.
How Long Does Mushroom Biltong Last?
When stored in an airtight container, mushroom biltong lasts unrefrigerated for up to two weeks. While refrigeration enables storage for longer periods, keeping plantong in the fridge gradually spoils the texture.
Plantong Substitutions
Those who are opposed to soy products can substitute soy sauce for coconut aminos instead. If you don't have malt vinegar opt for an equal quantity of red wine vinegar. Oyster mushrooms can be substituted for shiitake mushrooms or portobello mushrooms.
Plantong Variations
Instead of making vegan biltong with mushrooms, try making it with eggplant. Use the exact same steps listed here. If you have a mandolin slicer, this is ideal for slicing eggplant into biltong-sized pieces. Eggplant doesn't need to marinade for as long, but we'd still advise at least twelve hours. Plantong made from eggplant also needs to dehydrate for a little shorter before it dries out and gets chewy, so keep a close eye from ten hours of dehydrating onward.
How Do I Dehydrate Mushrooms Without A Dehydrator?
Biltong is traditionally air-dried, so the next best way to dehydrate mushrooms without a dehydrator is to leave them to dry naturally over a few days after they've been marinated. Place your marinated mushrooms into a container that allows for a good degree of airflow. We suggest using a colander and placing it covered, somewhere that it won't be disturbed. It takes about a week to be just the right texture and dryness, but within five to seven days, sometimes a little more, you'll have perfect plantong without resorting to drying shortcuts.
Can You Dry Mushrooms In The Oven?
Mushrooms can be dried in the oven, but one needs to take great care to ensure that they're drying evenly. Preheat your oven to 140° or as low as it will go and place the marinated mushrooms onto a baking tray lined with parchment paper. Once heated, bake the mushrooms for four to six hours while turning every hour until they've dried out to the consistency desired. If your oven has a convection feature, use it. The air circulation helps dry out plantong evenly in a similar manner to air drying.
Can You Dry Mushrooms In The Microwave?
It is an extremely tricky process to dry mushrooms in a microwave. With some microwaves, it's impossible to dehydrate or dry out mushrooms or any other vegetables enough. We recommend all other methods over microwave drying. However, it is technically possible. Place the marinated mushrooms onto a plate lined with paper towels and microwave at 150 watts for five minutes. Open the microwave and turn the mushrooms, then microwave at 150 again for another five minutes. Repeat until the mushrooms are dried out enough.
Do Mushrooms Need To Be Blanched Before Dehydrating?
Do not blanch or cook mushrooms or any other vegetables before dehydrating. It'll become almost impossible to dehydrate them to the point where they're dry enough to be considered vegetable biltong.
---
Recent Recipes