Homemade Finnish Ruisleipa Rye Bread
Did you join in when the rest of the world was making sourdough bread for the first time? Whether it was your first time, or you've done it in the past, making sourdough is always a rewarding experience.
There is something to be said about creating a beautiful, crusty loaf from just a few ingredients. I'm always amazed when I can turn my little sourdough starter into a delicious loaf of bread.
Making this Ruisleipa, a classic Finnish rye bread, is just as rewarding. But you should know that it is quite time-consuming. It takes a few days to come together, but it's well worth the wait. 
You'll need to make a rye sourdough starter at least four days ahead of time. This is a different starter than what you would use to make traditional sourdough bread. This starter has a rye flour base. But once you make it once, you can keep the reserved starter and use it repeatedly. 
That is the beauty of sourdough. It's the gift that keeps giving. You'll be rewarded with every bake. Each loaf of bread will be better than the last. You'll love this bread with a smear of butter and paired with a warm soup.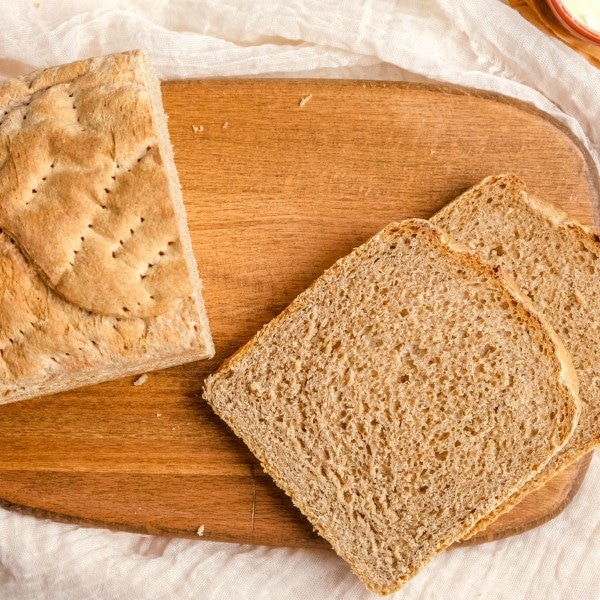 Ingredients
For the starter:
½

cup

water

½

cup

stone ground dark rye flour
For the bread:
½

cup

rye sourdough starter

2

cups

warm water

1

cup

rye flour

1

packet of dry yeast

¼

cup

warm water

½

teaspoons

kosher salt

2 ½

cup

stone ground dark rye flour

3

cups

white bread flour
Instructions
To make the starter (2-4 days ahead of time):
Place the water and rye flour in a small bowl. Whisk together.

Pour the starter into a large glass jar (mason jar). Remove the lid from the ring.

Place a paper towel or thin towel on top of the jar and secure just the ring on top to hold the towel in place.

Place the starter in a warm, dry area. Ideally you want it to be at a temperature between 70-75F. The starter is ready when it starts to bubble and smell sour. This may take a day or two. Once it's ready, you can use it for the next step for the bread or store in the refrigerator.
To make the bread (1-2 days ahead of time):
You'll need to "feed" the sourdough starter. Place about ½ cup of the starter in a medium bowl. Add the two cups of warm water. Stir together.

Add one cup of rye flour. Stir well.

Place a damp towel over the bowl and place the bowl in a warm place for one day.
On the day you're ready to make the bread:
Put ¼ cup warm water in a small bowl. Pour the yeast into the bowl and dissolve in the warm water. Add the yeast and water into a mixing bowl (of a standing mixer) with the sourdough starter.

Add the salt to the mixture and use a dough hook to blend on low speed. Simply stir by hand if you don't have a standing mixer.

Add the rye flour and white bread flour. Increase the speed slowly and mix until the dough forms.

Let the dough rest in the bowl for about ten minutes before kneading.

After ten minutes, you can knead in the mixing bowl until the dough becomes smooth or you can knead by hand.

Oil a large bowl and place the dough in the bowl. Place the bowl in a warm place and let the dough rise until it's doubled in size.

Form the dough into the shape that you'd like the bread to be. Ideally, with this amount of dough, you can form two loaves or four mini loaves.

Preheat the oven to 375.

While the oven is preheating, place the loaves on a tray lined with parchment paper and let them rise for another 30 minutes.

Prick the loaves all over with a fork. You can bake the loaves on the tray lined with parchment paper or you can bake on a baking stone.

Place the loaves in the oven and bake for about 45 minutes.

Remove the bread from the oven and let the loaves cool on a cooling rack before slicing and serving.
Video
Nutrition
Calories:
1457
kcal
|
Carbohydrates:
303
g
|
Protein:
48
g
|
Fat:
7
g
|
Saturated Fat:
1
g
|
Polyunsaturated Fat:
3
g
|
Monounsaturated Fat:
1
g
|
Sodium:
608
mg
|
Potassium:
984
mg
|
Fiber:
30
g
|
Sugar:
3
g
|
Vitamin A:
4
IU
|
Vitamin C:
0.01
mg
|
Calcium:
88
mg
|
Iron:
7
mg
Shop Ingredients
Notes & Tips
You can use milk instead of water when making the sourdough starter. Be sure that the milk is at room temperature.
This bread will be better a day or so after it's baked. Letting the bread sit for a day will let the crumb set up and it will hold its shape better.
Sourdough bread, especially homemade, is much easier on the digestive system than commercial-made breads. This article was really helpful in learning why people are less irritated by sourdough breads.
The longer you let the starter sit and ferment, the tangier and more sour your bread will taste.
How To Shape The Bread
There are two different ways to shape this bread. You have a choice between two different ways the Finnish shape their loaves. You'll want to poke both shapes with a fork before baking. Additionally, you can dust the loaves with rye flour.
How To Make Eastern-Finnish Style Loaves of Ruisleipa
This style of loaf is what the recipe describes. The loaves are shaped into traditional round loaves and baked on a cooking tray or baking stone.
How To Make Western-Finnish Style Loaves of Ruisleipa
This style of loaf is unique and very fun to make. These are going to be a little flatter and shaped like a ring. You'll take each ball of dough (this recipe will yield 2) and flatten it until it's about 1" thick. You want to maintain the round shape.
Poke a hole in the middle using a shot glass or your finger. The loaf is now a flat ring. Bake this shaped loaf on a baking stone or cooking tray with parchment paper.
---
Get Foodie Deals
We collect great foodie-focused deals from across the web daily. Get yourself or your favorite foodie a great deal at big name stores.
Recent Recipes