Simple Afghan Sweet Bread (Roht)
My love for flatbreads is no secret. I think I try a different bread recipe every month. Most of the recipes are savory and the breads are usually pretty thin, with the exception of cassava flatbread leavened with yeast and has a little lift.
I recently came across roht that is a more leavened flatbread. I mistook the name for roti, an Indian-inspired bread that is an important element in Trinidadian cuisine. Roht is not roti. Roti is savory and thin and used like pita as a vehicle for vegetarian curries. Roht is a sweet bread that hails from Afghanistan and surrounding regions. It is meant to be eaten with your hands just as it is — no filling needed. It can be served with a meal or all by itself for breakfast or dessert. It is leavened with yeast and eggs.
What I like so much about this bread is that you can creatively shape or decorate it so it is really attractive when it comes out of the oven. You can be formal and slice the bread into serving wedges, or simply place it in the center of the table while warm, perhaps drizzle a little local honey over the top, and allow everyone to break off pieces with their hands. This bread is definitely a food that brings families together and encourages community and sharing.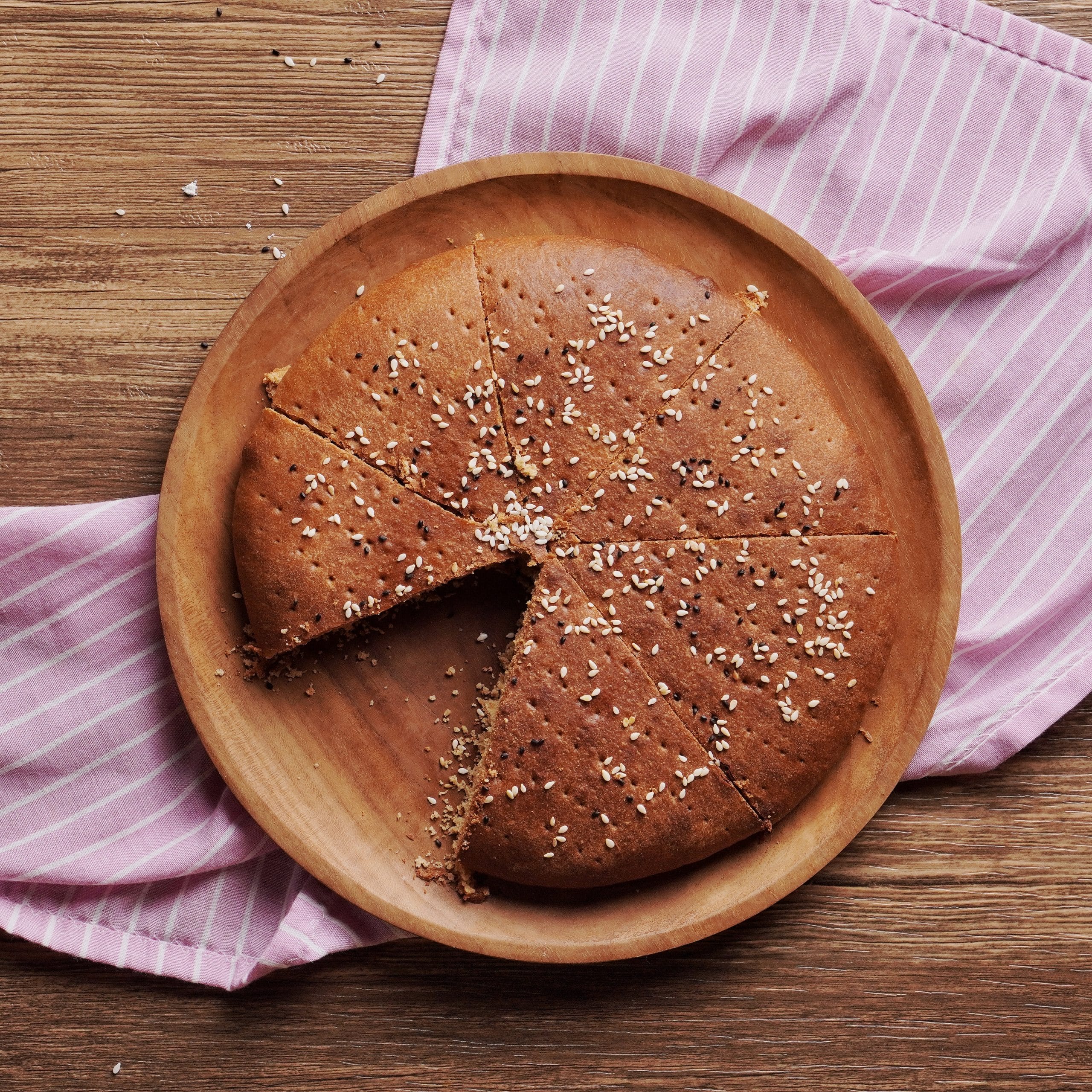 Ingredients
2

cups

all-purpose flour

1

cup

whole wheat pastry flour

1/2

tsp

baking powder

1/4

tsp

ground cardamom

1/2

cup

light brown sugar or granulated sugar

1/2

packet rapid rise yeast

1/2

tsp

sea salt

2

whole eggs

lightly beaten

1/2

cup

plain yogurt

1/2

cup

neutral oil

canola, grapeseed, or sunflower

1

tsp

white sesame seeds

1

tsp

black sesame seeds

Oil for greasing a bowl and brushing on the roht
Instructions
All ingredients ready? Let's begin!

In the bowl of a stand mixer, combine the flours, baking powder, cardamom, sugar, yeast, and salt using the whisk attachment. Or, mix by hand.

Switch out the whisk attachment for the dough hook attachment. Add the eggs and yogurt to the dry ingredients and mix to combine. Drizzle in the oil while the mixer is running. Keep kneading until the dough is smooth and comes together into a slightly sticky ball. Add a little more all-purpose flour if the dough is too wet. You can also knead the dough by hand if you don't have a stand mixer.

Take a large clean bowl and lightly oil it.

Gather the dough and place it in the oiled bowl.

Cover the bowl with a clean kitchen towel and place it in a draft-free space, such as a turned-off oven or microwave. Allow the dough to rest and rise for approximately 1 hour or until it doubles in size.

Divide the dough into 2 equal balls. Place 2 sheets of parchment paper, cut to fit 2 sheet pans, on a flat work surface. Lightly flour the parchment and place a ball of dough on each.

Roll or press the balls into 2 circles that are about 1/4-inch thick. Transfer the parchment paper and dough to 2 sheet pans.

Preheat the oven to 420°F.

While the oven is preheating, poke the dough about 20 times with the tines of a fork. Or, you can score the dough to make various designs to your liking. Brush the dough lightly with oil.

Sprinkle the white and black sesame seeds over the rounds of dough.

Place the pans in the oven and bake for 20 to 25 minutes until golden brown and cooked through.

Transfer the breads to a clean cutting board. Slice into 6 or 8 wedges and serve while warm.
Video
Nutrition
Calories:
181
kcal
|
Carbohydrates:
24
g
|
Protein:
4
g
|
Fat:
8
g
|
Saturated Fat:
1
g
|
Polyunsaturated Fat:
1
g
|
Monounsaturated Fat:
5
g
|
Trans Fat:
1
g
|
Cholesterol:
21
mg
|
Sodium:
98
mg
|
Potassium:
65
mg
|
Fiber:
1
g
|
Sugar:
7
g
|
Vitamin A:
38
IU
|
Vitamin C:
1
mg
|
Calcium:
27
mg
|
Iron:
1
mg
Notes & Tips
It is important to allow your dough to proof or rise in a draft-free area for at least 30 minutes and up to 2 hours or until doubled in size. This helps it to be light and airy on the interior. I like to place the covered bowl of dough in an oven that is not turned on. You can leave the oven light on for a tiny bit of heat if it is cold in your kitchen, especially in winter.
Sheet pans are standard for making this sweet bread. I have a flat cast-iron skillet (no sides) from my grandmother that is perfectly seasoned and the right size for roht. I cook my flatbread and pizza doughs on that because it distributes the heat evenly and gives me a crisp bottom. I sometimes bake bread on my pizza stone. You can choose your own baking apparatus.
Many skilled pastry chefs go all out when shaping and decorating roht. I saw a video that really impressed me with the creativity of the chef or home cook. You can check it out below for inspiration.
Recipe Variations
There are different versions of Afghan sweet bread. Some recipes call for just yeast and no eggs. The eggs seem to give the interior a lighter and almost fluffy texture to the bread. Using just yeast will result in a slightly denser bread. Some recipes only use eggs and no yeast. This results in more of a cakelike texture. All are delicious.
As for the flour, you can make this roht with just all-purpose flour and omit the whole wheat flour. I like the slightly nutty flavor and the golden color the whole wheat flour adds.
True Afghan sweet bread will have nigella seeds or a combination of nigella and sesame seeds. I can't always find nigella seeds near me and I don't want to have a 1 pound bag of them in my pantry that will take years to use up. That is why I use black and white sesame seeds that I can purchase in small spice jars. Remember, seeds have natural oils and will go rancid if you don't store them properly and use them before the expiration date.
---
Recent Recipes