Simple Succulent Papaya Juice
This simple succulent papaya juice recipe is a twist on Haitian papaya juice, also called ji papay. It's a nectarous refreshing beverage with many health benefits. This papaya juice is perfectly sweet and creamy and will dazzle your taste buds.
Papaya, papaw, or pawpaw, is a tropical fruit originating from Mexico, Central America, and Florida. The papaya fruit is a large berry and the papaya plant starts to produce fruit after 3 years of growth. Nowadays, papaya cultivation is nearly pantropical, spanning Hawaii, central Africa, India, and Australia.
There are many ways to consume papaya – from unripe papaya fruits being turned into sweets or preserves or added into Thai green papaya salad to fresh papaya salad and smoothies.
There are also many ways to prepare papaya juice. But do note that papaya is a very soft fruit similar in texture to mango, and it shouldn't be put through a juicer. Plus, then you'd lose all the valuable fiber.
In this simple succulent papaya juice recipe, we'll be using fresh papaya, ice, lemon juice, maple syrup, and evaporated milk. You can also find some healthier variations in the Serving Suggestions and Substitutions section.
Make sure you have a perfectly ripe papaya for this recipe. It should be slightly greenish but almost fully yellow and a little soft to the touch.
If you let a papaya ripen too much the fruit will be bland tasting and mushy. Green papaya, on the other hand, has crisp white flesh with very little flavor – not what we need for this delicious papaya juice recipe.
Now, assemble your ingredients, grab your blender, and let's begin!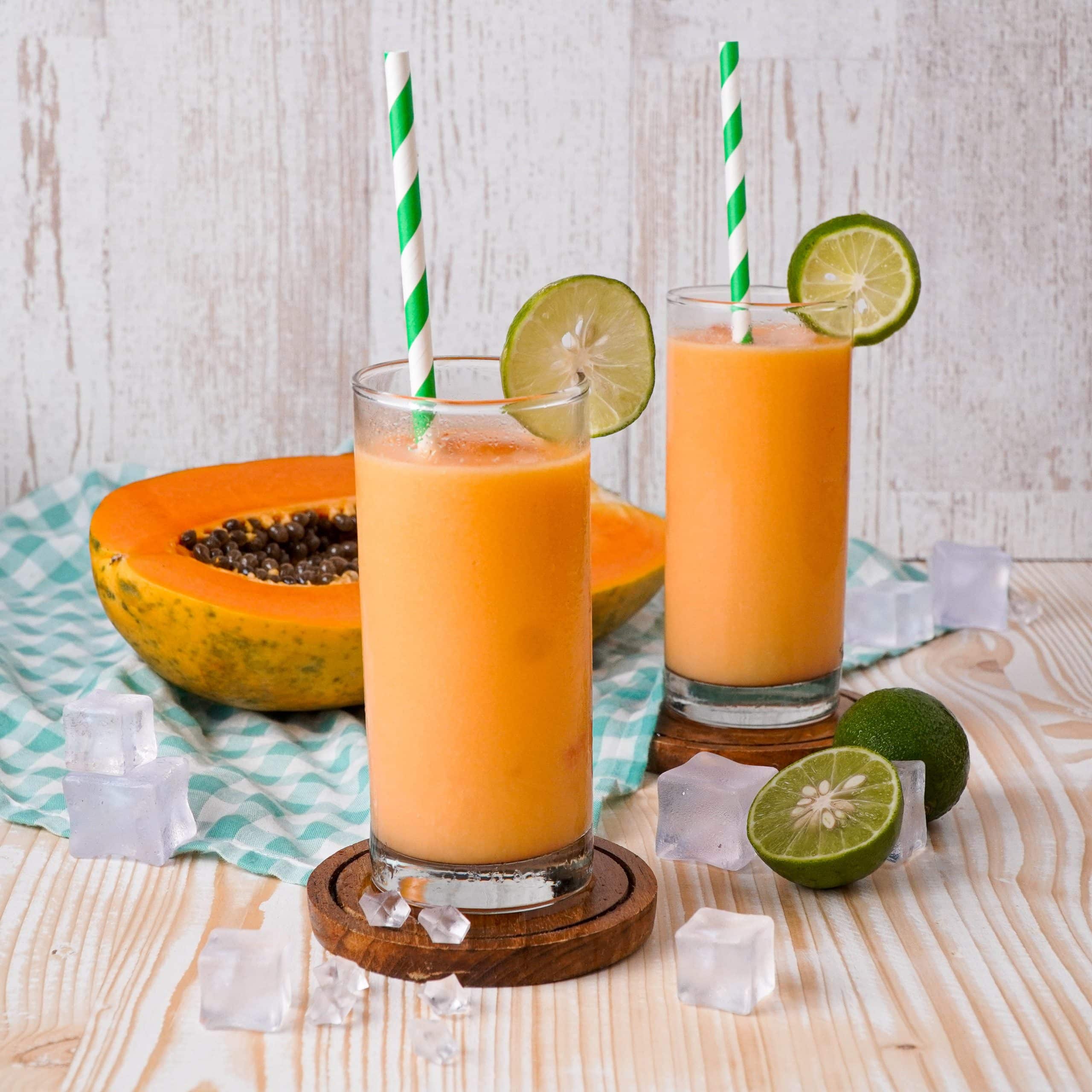 Ingredients
½

papaya

½

cup

evaporated milk

½

cup

cold water

3

Tbsp.

maple syrup

1

Tbsp.

freshly squeezed lime juice

1

tsp.

vanilla extract

A pinch of salt

Crushed ice
Instructions
All ingredients ready? Let's begin!

Peel the papaya entirely, cut it in half, remove the seeds, and cube it into pieces. Add half of the papaya pieces to the blender.

Add the condensed milk, lime juice, vanilla extract, pinch of salt, crushed ice, and water. Blend until smooth.

Pour into glasses and serve with ice cubes and papaya pieces to garnish.
Nutrition
Calories:
94
kcal
|
Carbohydrates:
15
g
|
Protein:
2
g
|
Fat:
3
g
|
Saturated Fat:
2
g
|
Polyunsaturated Fat:
0.1
g
|
Monounsaturated Fat:
1
g
|
Cholesterol:
9
mg
|
Sodium:
49
mg
|
Potassium:
197
mg
|
Fiber:
1
g
|
Sugar:
13
g
|
Vitamin A:
439
IU
|
Vitamin C:
25
mg
|
Calcium:
105
mg
|
Iron:
0.2
mg
Notes & Tips
Make sure you choose a perfectly ripe papaya. It should be green with an orangy amber hue and a bit soft to the touch. Almost like a ripe avocado, but it can be a bit softer. This way you'll get the best flavor.
Use a quality high-speed blender to make simple papaya juice. To achieve that luscious texture, you need to have a powerful blender. We love this blender for making crispy cool drinks. Or you can try this one which we've found to be the best blender with a glass jar.
Unless you want the ice to melt, use cold water. And if you want an extra crisp papaya juice experience, cube your papaya a few hours before and keep it in the fridge in an airtight container until you're ready to prepare the juice.
Serving Suggestions & Substitutions
If you want to make papaya juice for weight loss, you can simply tweak this recipe a bit. Here's an excellent recipe for low-calorie simple papaya juice:
½ papaya
1 cup coconut water or cold water
½ lemon or 1 lime, juiced
Blend all the ingredients until smooth and enjoy first thing in the morning. You can add a little stevia for some calorie-free natural sweetness if you'd like. And serve with ice if you like your papaya juice cold.
To make this recipe vegan, use condensed coconut milk instead of evaporated milk and omit the maple syrup. Or for a less sweet version, use ¼ cup condensed coconut milk and replace the water with unsweetened almond milk.
To make healthy papaya juice, substitute the evaporated milk for unsweetened coconut or almond milk and sweeten it with a little maple syrup. You can even replace the water with coconut water for some extra health benefits.
Now, just like you'd use fresh lime juice to make a homemade mojito mocktail, you've got to use fresh lime juice to make succulent papaya juice. Substituting with lime juice concentrate is unacceptable. Of course, you can substitute fresh lemon juice.
FAQ
How Long Does Papaya Juice Last In The Fridge?
Fresh papaya juice can be stored in the fridge for up to 24 hours. Make sure you store it in the lower part of the fridge to prevent it from getting too cold. Also, store it in an airtight container.
Is Papaya Good For Weight Loss?
Although there are no specific studies to show that papaya can give you super weight-loss powers, it's a fruit high in fiber and low in sugar. This means that it's filling and also won't spike your blood sugar. 

Some studies show that eating a diet rich in fiber can help with weight loss. So, in that sense, papaya is a great addition to a calorie-restricted diet for losing weight. 
Is Papaya Good In The Morning?
Drinking papaya juice in the early morning is good for digestion and it helps flush out toxins from the body. 
Is Papaya Juice Good For Diabetics?
Yes, papaya has powerful antioxidants which can reduce oxidative stress in older adults and people with pre-diabetes and other diseases. Papaya is rich in vitamins A and C, flavonoids, and phytonutrients which all help fight off free radicals.
Is Papaya Juice Good For Pregnancy?
Drinking papaya juice or consuming fresh papaya during pregnancy is safe and very beneficial for the baby's neurological development. This is thanks to papaya's vitamin A, B, C, potassium, and beta-carotene content. 
Does Papaya Juice Increase Platelet Count?
Papaya fruit juice in itself won't increase your platelet or thrombocyte count, but papaya leaf juice can. Thrombocytes are a component of the blood whose function is to react to bleeding from blood vessel injury by clumping and creating a blood clot. 
Papaya leaves contain a unique phytochemical called acetogenin, which has been shown to increase the platelet count in the blood. It can be extremely beneficial for people suffering from dengue. 
Papaya Juice Health Benefits
Here is a little summary of all the health benefits of consuming fresh homemade papaya juice:
Prevents diabetes. Papaya helps prevent high blood sugar levels which can lead to diabetes.
Fights inflammation. Papaya contains papain which is an anti-inflammatory compound that can soothe arthritis or any type of inflammation in the body.
Can improve vision. The high vitamin A and beta-carotene content make this an eye-sight-friendly fruit.
Helps regulate hormones. Papaya can be very beneficial for women suffering from period cramps, hormonal swings, or hormonal acne.
Boosts digestion and flushes out toxins. The high fiber and water content of papaya juice will leave your tummy feeling happy and light.
Protects from heart disease. Consuming any food high in antioxidants, such as papaya, can reduce the chance of heart disease.
Boosts immune system. The vitamin C in papaya will boost your immune system and prevent infections in the body.
With that said, making homemade papaya juice is so easy and beneficial for the body. Consuming fresh papaya daily can also help reduce stress, regulate your mood, and even restore hormonal balance. Cheers to our health!
---
Recent Recipes