Simple Volcano Sushi Roll
I absolutely adore sushi, but it is usually so expensive. It can run a little pricey to make at home, but you get more for your money and you get to style it to your tastes, so it's still a good experience. The added bonus is that sushi has a surprising amount of health benefits, so you can indulge healthily. This volcano sushi roll is stacked with crab, tuna, and spicy sauces and the little mounds of tuna on top with fish roe and black sesame seeds running off are supposed to resemble an erupting volcano, which is a hint for the flavor that erupts in your mouth when you eat it. If you want something a little less spicy, try healthy avocado sushi rolls.
This recipe makes about 4 rolls and is easiest if you have a bamboo sushi mat to help you roll it all together.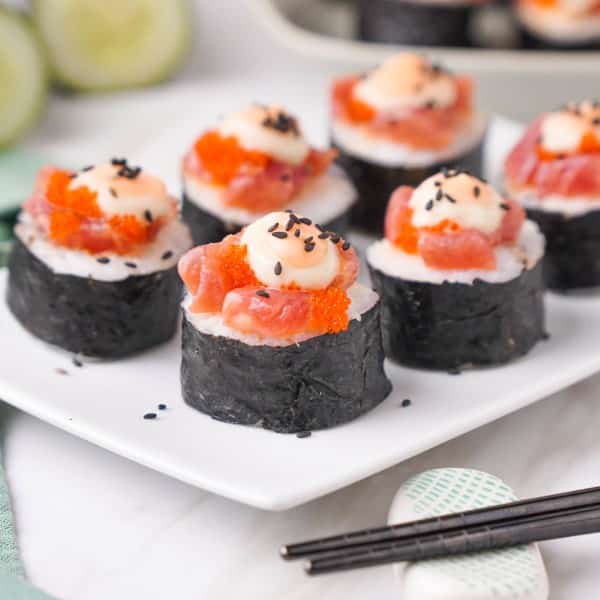 Ingredients
4

cups

sushi rice

3

tbsp

rice vinegar

1

tsp

salt

2

tbsp

sugar

2

cups

sushi-grade tuna

1 ½

cups

mayonnaise

divided

3

tbsp

sriracha

1

cup

crab meat

1

tbsp

wasabi paste

1

avocado

1

cucumber

Pack of sushi seaweed

¼

cup

fish roe

2

tbsp

black sesame seeds
Instructions
All ingredients ready? Let's begin!

Rinse the rice with cold water and drain at least twice. If you have a rice cooker, cook the rice in there according to the instructions. If not, put the rice in a large pot and fill with 4 cups of water (a 1:1 ratio is the rule of thumb with rice and water). Put over medium high heat and cover with a lid. bring to a boil before reducing heat to medium or medium low, just below boiling. Cook for about 30 minutes before removing from heat.

In a small bowl, add the rice vinegar, salt, and sugar. Mix to combine.

Transfer the cooked rice to a large bowl and pour the vinegar mixture over it. Mix with a rice paddle or spatula to mix with the rice.

Allow the rice to cool to room temperature before using.

Chop or flake the tuna into a bowl and add ¼ cup of mayonnaise. Add some sriracha bit by bit according to your preferences. Mix well. Add more mayo if needed.

In a different bowl, chop or flake the crab and add 2 tbsp of mayonnaise. Mix to combine.

In one bowl add ½ cup of mayo and also add ½ cup of mayo to a different bowl.

Add 1 tsp wasabi paste to one of the bowls of mayo and stir to mix until there are no lumps. Taste and add more wasabi if you want.

In the other bowl of mayo, add 1 ½ tsp of sriracha and mix until thoroughly combined. Taste and add more sriracha if desired.

Cut the avocado in half and remove the pit. Use a knife to make several thin slices down each half of the avocado without breaking the skin, then pinch the bottom of the skin to push the avocado slices out. Thinly slice the cucumber by cutting it in half then cutting those halves in half and so on.

If you have a sushi wrap, place it on a clean surface. Place a sheet of seaweed horizontally (landscape mode) on top (or on top of the counter if you do not have a sushi wrap).

Wet your hands and scoop about ½ cup of rice onto the seaweed and spread it 2/3rds of the way across. If it doesn't spread all the way, add more rice.

In the middle of the rice section, lay several strips of cucumber and a layer of avocado slices.

Spread about ¼ of the crab mixture on top. Keep in mind that you need to be able to roll everything up, so don't add too much.

Begin rolling up the seaweed starting with the rice edge. Roll tightly up to the bare seaweed edge. Dip your fingers in water and wet the seaweed edge before completing the roll.

Repeat with the remaining ingredients.

Use a very sharp knife to cut the sushi rolls into pieces and arrange side by side on a plate.

Use a teaspoon to spoon some of the tuna mixture atop each piece of sushi. Spoon a little bit of fish roe on top then put dollops of wasabi mayo and sriracha mayo on top as well.

Gently sprinkle a few sesame seeds on top and serve.
Nutrition
Calories:
1128
kcal
|
Carbohydrates:
53
g
|
Protein:
46
g
|
Fat:
81
g
|
Saturated Fat:
13
g
|
Polyunsaturated Fat:
42
g
|
Monounsaturated Fat:
23
g
|
Trans Fat:
0.2
g
|
Cholesterol:
200
mg
|
Sodium:
1860
mg
|
Potassium:
924
mg
|
Fiber:
6
g
|
Sugar:
8
g
|
Vitamin A:
4524
IU
|
Vitamin C:
29
mg
|
Calcium:
172
mg
|
Iron:
5
mg
Notes & Tips
Leftovers can be stored covered in the fridge for 3 days.
If you accidentally add too much wasabi or sriracha to your mayo, add more mayo to balance it out.
Where to Find Ingredients
Most of these ingredients should be available at your regular grocery store. Everything can probably be found at an Asian food shop or even online. However, you may be able to find everything in your local supermarket if you make sure to check the international food section.
Substitutions
Sushi rice is ideal for this recipe because it is stickier and made for sushi, however it can also be pricier. Because of that, I like to use jasmine or fragrant Thai rice instead. In order to make it sticky enough for sushi, I add extra water when cooking and allow it to cook for longer as well. You can also buy broken grain jasmine rice which cooks the same but the grains are broken so they are smaller, which can be helpful for making sushi.
Imitation crab is an acceptable substitute for real crab, as it is more affordable and easier to find.
If you want to bring your sushi to the next level, use kewpie mayonnaise instead of regular mayo. Kewpie mayo is a Japanese mayo made with egg yolks only and a different vinegar. It is superior in tastes and adds a rich flavor. It can be found online or at Asian food shops, but it is more expensive than regular mayo (about $4 more where I am).
---
Recent Recipes