Anolini is a pasta that hails from the region of Parma in northern Italy. These are small circular ravioli that are stuffed with a slow-cooked beef filling. There is a brass tool or stamp that is often used to cut the filled pasta into perfectly round shapes.
This egg-based pasta is most often simmered in broth and the dish is called anolini in brodo.
In and around the Parma area of Emilia-Romagna, this classic dish is prepared by families to enjoy on special holidays, such as Easter and Christmas. The process for making anolini requires a couple of days of attentive and loving preparation.
The filling starts with lean beef that is simmered with onions, celery, and carrots for an entire day. The braised meat is then finely minced and combined with breadcrumbs, parmesan cheese, an egg, and a couple of ladles of the broth from the simmering pot.
The pasta dough is made with flour and fresh eggs, generally by hand. The dough is rolled out into thin sheets and spoonsful or rolled balls of filling are spaced out on half of the pasta sheets. These are covered with the other half of the sheet of pasta dough. The dough is then pressed down around each spoonful of filling and cut or stamped to form tidy little round packets of anolini.
The anolini are simmered in broth. It is basically a heart-warming soup of clear beef broth with filled pillows of pasta. You can top the soup with some Parmigiano-Reggiano cheese and fresh herbs, such as parsley or basil. This makes a perfect starter course for dinner or a light lunch main course.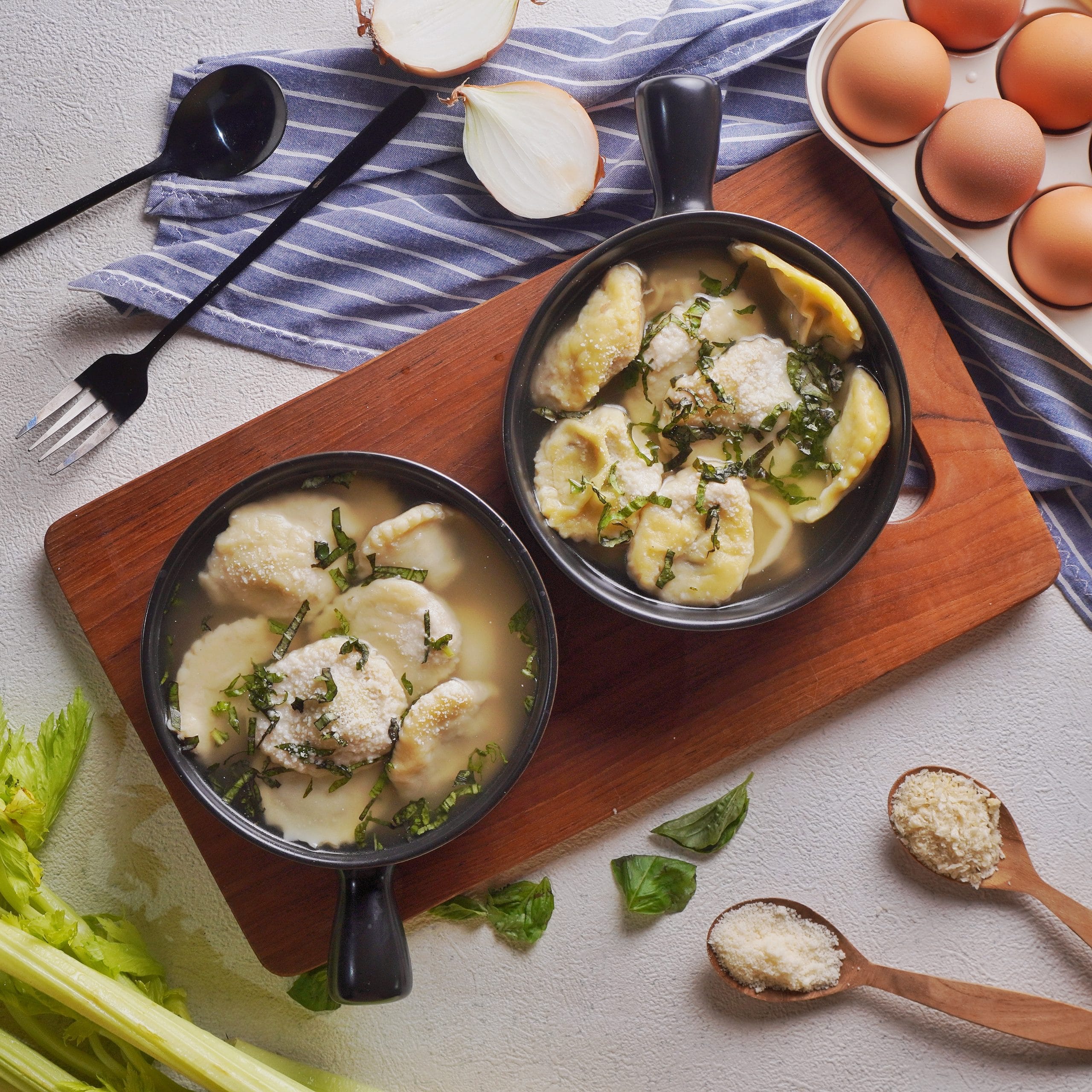 Ingredients
Filling
1

stick of butter

about 8 Tbsp

3

Tbsp

extra virgin olive oil

1

small onion

cut into quarters

1

celery stalk

cut into quarters

1

carrot

cut into quarters

4

ounces

beef chuck roast

1

tsp

coarse salt

1

tsp

freshly ground pepper

1/3

cup

dry red wine

Filtered water

1

whole clove

1

Tbsp

tomato paste

1

cup

breadcrumbs

1

cup

finely grated parmesan cheese

1

whole egg

1/8

tsp

ground nutmeg
Pasta
3-1/2

cups

all-purpose flour + more for dusting

5

whole eggs

8-1/2

cups

beef stock

Finely grated parmesan cheese

Chopped fresh basil or parsley leaves for garnish
Instructions
All ingredients ready? Let's begin!

In a large heavy-bottomed pot over medium-high heat, add the butter and olive oil.

As soon as the butter starts to melt, add the onion, celery, and carrot. Cook for a few minutes, stirring a few times, just until the vegetables begin to take on some color and start to soften.

Season the beef well with salt and pepper. Add it to the pot and sear until lightly browned on all sides.

Add the red wine, water, and clove. Make sure there is enough water to completely cover the beef and vegetables. Cover the pot and reduce the heat to low. Simmer for approximately 4 hours.

Stir in the tomato paste and continue to cook for 4 more hours until the beef is extremely tender. Check the liquid level a couple of times to make sure there is enough to keep the beef and vegetables from scorching.

In a large mixing bowl, add the breadcrumbs, parmesan cheese, egg, and nutmeg. Ladle the juices from the stewed neat over a strainer into the breadcrumb mixture. Add just enough liquid to form a soft ball of dough.

Mince the meat in a food processor. Add the breadcrumb and cheese mixture to the minced meat and process until you have a smooth filling.

Cover with plastic wrap and place in the refrigerator while you prepare the pasta dough. The filling can sit in the fridge for several hours to develop more complex flavors.

Place the flour in a domed pile on a clean work surface. Make a deep well in the center to securely capture and hold the eggs. Crack the eggs into the well and slowly work the flour into the eggs with a fork being careful not to allow the eggs to run out of the well and onto the counter.

Once the flour is pulled into the eggs and the liquid is no longer visible, use your hands to combine well. Knead until you obtain a smooth dough ball. Wrap the ball in plastic wrap and let rest for 30 minutes at room temperature.

When you are ready to assemble the anolini, unwrap the dough and divide it into four equal pieces. Take one piece and cover the other three with plastic wrap. Lightly dust the piece of dough with four.

Using your pasta machine or a rolling pin, roll the piece of dough into a long, thin sheet. Start with a wide setting and make several passes until you are on the thinnest setting.

Lay the sheet flat. On one half of the sheet, place about a teaspoon of filling in 2 or 3 rows, approximately 9 little balls of filling. Fold the other half of the sheet of dough over the filling to cover it like a blanket. 

Cup your hand into a "c" shape and use the heel side to gently press around the filling, sealing the dough and removing any air pockets. Using a small round stamp, press out the pasta around the balls of filling. Remove any scraps and save them to make pasta rags for another meal. Place the anolini on a parchment-lined sheet pan that has been lightly dusted with flour.

Repeat the process with the other 3 pieces of dough and the remaining filling.

In a large stockpot over medium-high heat, bring the broth to a gentle boil. Add the anolini into the broth and lower the heat to a gentle simmer. Cook for about 4 minutes until the pasta is cooked through and warm.

Ladle the broth and anolini into shallow bowls and top with grated cheese and fresh herbs. Serve while warm.
Video
Nutrition
Calories:
682
kcal
|
Carbohydrates:
64
g
|
Protein:
36
g
|
Fat:
29
g
|
Saturated Fat:
10
g
|
Polyunsaturated Fat:
4
g
|
Monounsaturated Fat:
14
g
|
Trans Fat:
1
g
|
Cholesterol:
283
mg
|
Sodium:
1818
mg
|
Potassium:
880
mg
|
Fiber:
4
g
|
Sugar:
6
g
|
Vitamin A:
3178
IU
|
Vitamin C:
3
mg
|
Calcium:
427
mg
|
Iron:
6
mg
Notes & Tips
One thing I love about anolini in brodo is how economical it is in terms of ingredients. Chuck roast is a reasonably priced cut of meat. It isn't quite so frugal in terms of your time commitment. What I like to do is start the beef after work on Friday night. After it is seared, I allow it to simmer in my slow cooker (crockpot) overnight. The inviting smell usually wakes me up early and I am pumped to complete the dish. I make the filling on a Saturday morning and just place that in the fridge for a few hours or even overnight. Later that day or even Sunday is pasta-making day. By dinnertime, the house smells of simmering broth with pillows of pasta topped with salty cheese.
You might want to watch this thorough video by the Pasta Grannies that illustrates how to make this dish.
Substitutions & Shortcuts
While beef is the traditional protein for the filling of anolini, you could definitely use another cut. Try pork shoulder, lamb shank, or the meat from a stewing hen.
I know that making pasta from scratch might seem a daunting task. It really isn't that hard at all. If you just don't want to bother or don't have a pasta roller or counter space to hand-roll your dough, you can buy premade pasta dough for this recipe. Just make sure it is a pasta dough that is made with flour and eggs.
---
Recent Recipes