Not many of us in the states eat tripe or even know what it is. After college, I was on a pretty tight budget while trying to find my dream job. I really couldn't afford to do take-out so I perused the grocery store looking for the most affordable fresh produce and proteins I could prepare in my urban kitchen. Cooking at home made me happy and kept me healthy.
In my hunt for affordable food sources, I discovered offal. Offal (animal innards) interested me because it was inexpensive, minimized waste, and is surprisingly flavor-forward with hints of minerals and earth. I experimented with chicken liver, hearts, and gizzards. I also tried my hand at preparing sweetbreads, kidneys, and brains. All presented some preparation challenges because there wasn't much written about this fantastic food source. But the journey was interesting.
I avoided tripe for a while because it just looked weird – spongy and a little like a honeycomb. After eyeing tripe for months, I finally asked the butcher what it was. Basically, it is the lining of a ruminant's stomach. It could be from a cow, a sheep, a goat, or a pig. Cows eat a vegetarian diet, so I opted for that – seemed the cleanest. The butcher explained how he cooked it and I listened carefully.
Tripe needs to be cleaned very well. When you see it in the market, it has already been cleaned and will look milky white. When you get the tripe home, you should give it another rinse just to remove any grit do need to boil it until it is soft and easy to chew and digest.
After boiling the tripe, you can make tripe stew with vegetables, Bulgarian tripe soup, or a classic braised tomato and tripe dish that is popular in Sicily. The is known as Trippa con Pomodoro. The acid of the tomatoes helps to tenderize the tripe. The stomach muscle works very hard, so it needs some serious tenderizing.
This recipe for Tripe and Tomatoes is actually easy to make once you have pre-cooked the tripe. I add peas and basil to the mix for a pop of color, added texture, and herbaceous notes. To be honest, I add peas and herbs to many braised dishes. You finish the dish with a drizzle of really good extra virgin olive oil and a generous dusting of pecorino Romano cheese.
Tripe with tomatoes and peas is perfect by itself with some crusty Italian bread and a glass of dry red wine. I also like to serve it over a hearty brown rice pilaf or as a ragu with pasta. This dish is also great with braised fresh leafy greens topped with toasted pine nuts.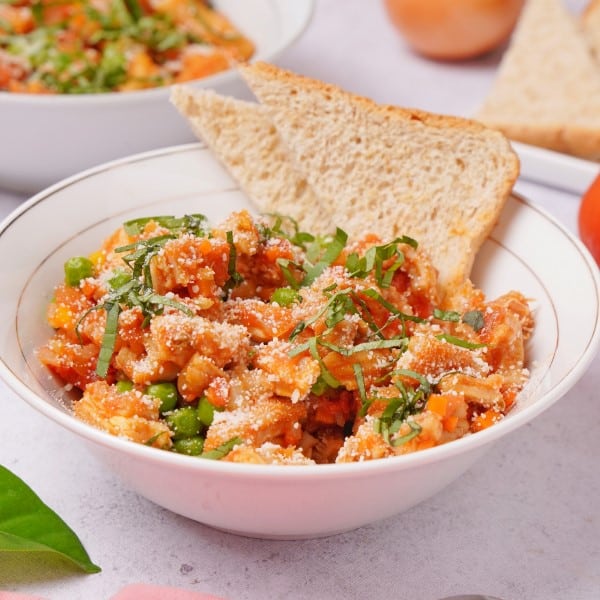 Ingredients
4

lb.

of cleaned honeycomb tripe

1

tsp

sea salt

2

bay leaves

4

Tbsp

extra virgin olive oil

1

medium onion

finely diced

1

carrot

finely chopped

1

celery stalk

finely chopped

1

Tbsp

tomato paste

½

cup

water + more if needed

1

can

28 oz. diced tomatoes

1

package

12 oz. frozen peas

Sea salt and freshly ground pepper to taste

Extra virgin olive oil

12

basil leaves

sliced thinly (chiffonade)

Grated pecorino cheese for serving
Instructions
All ingredients ready? Let's begin!

Give the whole tripe a quick rinse under cold water and pat dry with paper towels. Slice the tripe into strips that are 1 ½ inches long by ½ inch wide.

Place the tripe in a large pot. Pour in enough water to cover the tripe completely. Add 1 heaping teaspoon of salt and 2 bay leaves. Turn the heat on to high and bring to a boil. Reduce the heat so the water is at a low rolling simmer. Cover the pot and cook for 30 minutes or until the tripe has softened to a gentle chew. Add water if needed. Drain in a colander, discard the bay leaves, and set aside.

In a large skillet over medium heat, warm the olive oil. Add the onion, carrot, and celery to the pan and cook until the onions start to soften, approximately 5 minutes.

Dilute the tomato paste in ½ cup of water, stirring until well combined. Add this to the pan and cook for an additional 5 minutes.

Add the tomatoes and pre-cooked tripe to the pot. Simmer, partially covered, for 25 minutes or until the tripe is completely tender. Add water if needed.

Add the peas and allow the dish to come up to a boil so the peas cook through but aren't mushy.

Season with salt and pepper to taste.

Transfer the tripe and tomatoes to individual serving bowls. Drizzle with olive oil. Garnish with basil and sprinkle generously with pecorino cheese.

Serve while warm with crusty bread slices and a nice Italian dry red wine.
Nutrition
Calories:
694
kcal
|
Carbohydrates:
64
g
|
Protein:
65
g
|
Fat:
75
g
|
Saturated Fat:
26
g
|
Polyunsaturated Fat:
3
g
|
Monounsaturated Fat:
36
g
|
Trans Fat:
4
g
|
Cholesterol:
220
mg
|
Sodium:
773
mg
|
Potassium:
1275
mg
|
Fiber:
4
g
|
Sugar:
7
g
|
Vitamin A:
1979
IU
|
Vitamin C:
9
mg
|
Calcium:
160
mg
|
Iron:
8
mg
Notes & Tips
Beef tripe is what you will commonly find available in most markets. Cows have several stomach chambers. Each one is very different in texture. Look for the honeycomb tripe. This is the one most commonly consumed by humans. Because of the little pockets, it is important that you rinse the tripe under cold water. Also, trim off any bits that don't look edible. Par-cooking the tripe is important to remove any impurities and to tenderize it.
Don't slice the basil until just before serving the dish. Basil bruises easily when in contact with metal. It will turn an unattractive black color. Check out this 30-second video on how to chiffonade basil.
Substitutions & Shortcuts
Peas are not essential in this recipe. I simply love the pop of a slightly cooked pea in every bite with the tender tripe and saucy tomatoes. You can add any vegetables you like, such as mushrooms or chopped kale to liven up this dish. You can also add minced garlic for a little more aromatic essence. Tripe is mild in flavor, so don't be shy about adding veggies and seasonings.
A great shortcut for tripe and tomatoes is using a really good jarred marinara sauce. This can be in place of the tomato paste and diced tomatoes.
---
Recent Recipes