Gambia is probably best known to Americans from the TV series "Roots." But there is so much more to this tiny African country, surrounded by Senegal. Gambian food is magnificent, based on fresh ingredients like tomatoes, pumpkin, lamb, and chili. If you can't travel to the Gambia, try the recipe for Afra, one of their national foods.
Afra is a West African street food, popular in the Gambia and Senegal, Guinea Bissau, Côte d'Ivoire, and Guinea, where it is known as Dibi, and sold at dibiteries or streetside grills, often late at night. The smell of meat grilling and the sweet aroma of onions caramelizing will tempt you to take a bite.
Like barbeque in the United States, you can make Afra with beef, lamb, chicken, or even fish, although authentic Afra consists of bushmeat which you choose from the meat displayed at the stall or on the grill in front of you.
Afra has several characteristics that make it different from barbeque: first, the meat has a dry rub, often just a Maggi-brand stock cube or some chili powder crumbled over it. Second, what makes Afra such a delicious meal is that the meat is served alongside roughly chopped, caramelized onions and sharp, inviting mustard, so the flavors infuse.
You end up with a juicy, gorgeous meal, often served in a paper bag, that you'll want to eat with some bread (typically tapalapa bread, a combination of a French baguette and a pretzel) to make sure no juices escape and a side of mustard for extra bite. And, of course, you'll need a JulBrew or a glass of fresh juice to wash it down.
This recipe for Afra takes inspiration from the traditional Gambian style of cooking. However, it does take a couple of liberties, especially with the onions and mustard, which are cooked beforehand and not on the grill with the meat. However, this addition makes the dish into something more than just a barbeque snack and elevates it to a delicious meal.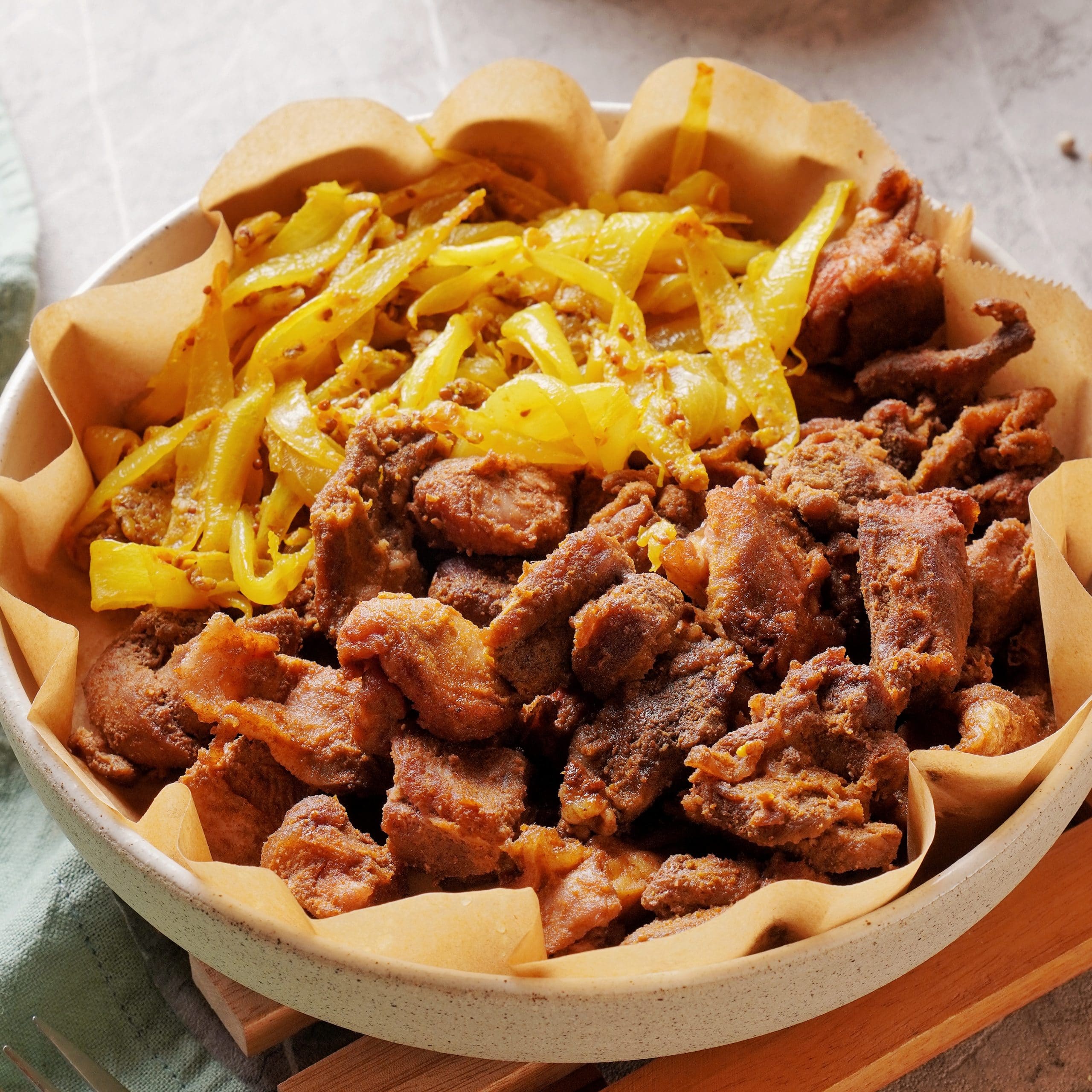 Ingredients
1

lb

lamb

such as lamb chops with a bit of fat

2

TBS

cayenne pepper

optional

Salt and pepper to taste

¼

cup

vegetable oil

2

big

sweet onions

6

TBS

grainy mustard

2

beef bouillon or stock cubes
Instructions
All ingredients ready? Let's begin!

Set up your barbeque or preheat your grill to high.

Season the chops with salt, a good grind of pepper, and cayenne, and lightly brush with the oil. Set aside until the grill is ready.

Heat the vegetable oil to a medium heat in a heavy-based frying pan.

Add the onions to the frying pan and cook for two minutes.

Add the mustard, stock cubes, and a splash of water.

Cook the onions and mustard until the onions are brown and caramelized.

Once the grill is ready, cook the lamb chops for about six to eight minutes per side until they are medium to well done.

Serve the chops immediately with the onion and mustard mixture on the side.
Video
Nutrition
Calories:
356
kcal
|
Carbohydrates:
6
g
|
Protein:
21
g
|
Fat:
28
g
|
Saturated Fat:
12
g
|
Polyunsaturated Fat:
3
g
|
Monounsaturated Fat:
12
g
|
Trans Fat:
1
g
|
Cholesterol:
83
mg
|
Sodium:
317
mg
|
Potassium:
345
mg
|
Fiber:
2
g
|
Sugar:
1
g
|
Vitamin A:
1056
IU
|
Vitamin C:
2
mg
|
Calcium:
37
mg
|
Iron:
2
mg
Notes & Tips
Afra is typically grilled on a barbeque, but you can use the oven (set to 350⁰F or 180⁰C) or even an Instapot if you want to use cubes or chunks of meat rather than chops. Cook the onions and mustard in the same dish as the meat or tray-bake in the oven.
Afra is usually served as a snack or appetizer as meat is expensive in the Gambia. Increase the amounts given in the recipe if you want to serve this as a complete meal.
Serving Suggestions
For an authentic feel, serve on brown paper or in a paper bag with a squeeze of lemon or lime.
Serve with fresh, crusty bread, like a French baguette. You could chop the meat and serve it as a sandwich with the onions and mustard as a topping.
For those with hardier mouths, serve with strong English mustard rather than the traditional mild French mustard on the side. Or go for sweet American mustard sauce, especially if kids are eating.
Instead of bread, serve with rice, French fries, sauteed potatoes or sweet potatoes, or fried plantains for genuine West African authenticity.
Although Afra doesn't usually come with a salad, a typical Gambian salad would be couscous with finely chopped fresh tomatoes, onions, cucumber, parsley, and mango, dressed with lemon juice. Coleslaw is also a popular side.
Other traditional Gambian dishes to serve alongside would be pumpkin, or a peanut stew, known as Dodoma.
Substitutions
Although this recipe uses lamb, it is authentic to make Afra with other meats, such as mutton, beef (try sirloin steak), or chicken. Pork is an unlikely substitute as most Gambians are Muslim. Try goat if you can find it.
Replace the meat with fish or prawns, seasoned and grilled in the same way. Freshwater tilapia would be a typical fish, as the Gambia surrounds a river.
It is also authentic to string cubed meat onto sticks to make Afra kebabs.
You can roast a larger piece of lamb or beef Dibi-style by rubbing it with the dry marinade and then broiling it with the onions and garlic.
Add some water, sugar, and garlic to the mustard and onions to create a slightly sweet sauce.
If you can't use a barbeque, add two tablespoons of liquid smoke to get that smoky flavor.
Using cayenne or chili is typical in the rub (West African food is spicy!), but you can replace it with a combination of onion and garlic powder, cumin, paprika, and thyme if you don't like hot food. For an alternative rub recipe, check out Best Beth's Melt In Your Mouth Ribs.
Sweet yellow onions caramelize well, but you could also use red onions or, for a more robust onion flavor, white onions. For a more upmarket version, create a balsamic onion marmalade.
---
Recent Recipes