Homemade Vegan Demi Glace
Demi-glace is a tasty food that's a big hit in France. However, it is also offered at many restaurants here in the United States. And while you can find demi-glace in concentrates and mixes, freshly-made is our favorite way to enjoy it.
Traditional demi-glace recipes consist of beef broth, which would typically leave vegans out when it comes to enjoying this savory dish. But we have great news for any vegans who have been wanting to try demi-glace and see what all the hype is about.
Our Vegan Demi-Glace recipe delivers much of the same tasty succulence found in traditional demi-glace but without animal products. You'll need to allow yourself a few hours to complete this recipe, so be sure to prepare it well in advance if you're planning on having it for dinner.
Although this is one of the lengthier recipes, we assure you that the extra time and effort are well worth it. This is a hearty recipe that is perfect for fall and winter temperatures. But don't let that stop you from enjoying it year-round.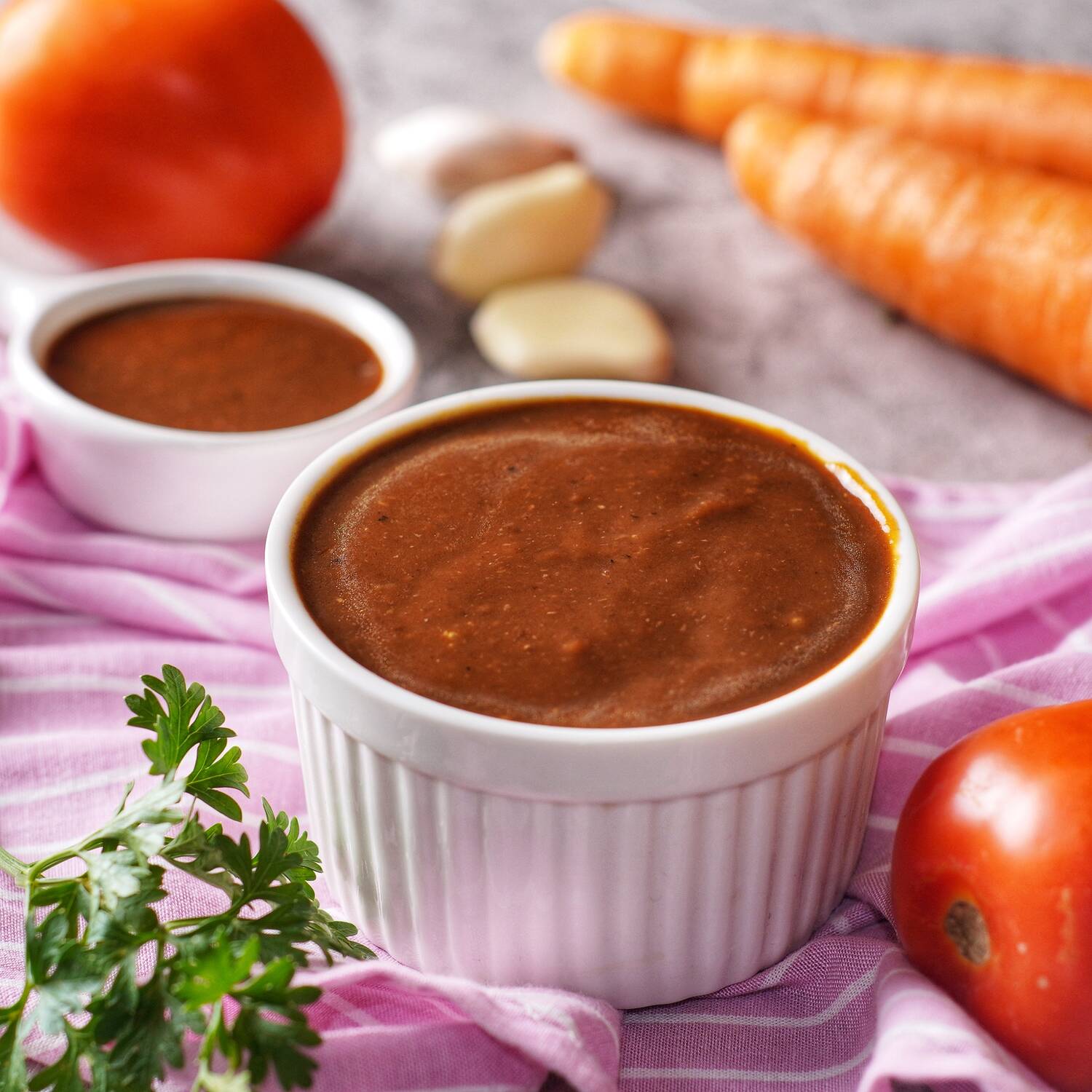 Ingredients
1

large coarsely chopped onion

unpeeled

1

large chopped Portobello mushroom

2

garlic cloves

smashed + unpeeled

1

large chopped carrot

unpeeled

2

tablespoons

of all-purpose flour

2

tablespoons

of tomato paste

3

tablespoons

of vegetable oil

1

small coarsely chopped leek

1

small chopped eggplant

2

fresh parsley sprigs

2

fresh thyme sprigs

¼

cup

of red wine

6

cups

of water

1

celery stalk

1

bay leaf
Instructions
Assemble the ingredients together.

Place oven rack in the middle position and preheat to 400°F.

Then, make a bouquet garni by tying together the celery stalk, thyme and parsley sprigs, and bay leaves using cooking string.

Using a baking sheet, toss the veggies with oil and bake for 1 hour, making sure to stir often.

When the veggies are brown, take them out of the oven and sprinkle them with flour.

Next, pour over the tomato paste and stir well to ensure that every vegetable is well saturated.

Place the baking sheet back in the oven and bake for another 10 minutes.

Remove from oven and transfer the veggies to a large pot, making sure not to clean the baking sheet.

Pour the red wine onto the baking sheet and use a spatula to scrape up any remaining brown particles.

Carefully transfer the red wine mixture to the pot of vegetables, then place the bouquet garni in with them, as well.

With the large pot over a burner, bring contents to a boil.

Adjust heat to let the contents simmer for approximately 1 hour.

Using a sieve and a ladle, strain the stock into a different pot. Use the ladle to push the veggies into the sieve so as to extract as many juices as possible.

Place the new pot over a burner and boil for either 10 minutes or until the contents reduce by half. Stir occasionally throughout.

Season to taste with pepper and salt then enjoy!
Video
Nutrition
Calories:
395
kcal
|
Carbohydrates:
42
g
|
Protein:
7
g
|
Fat:
22
g
|
Saturated Fat:
2
g
|
Polyunsaturated Fat:
6
g
|
Monounsaturated Fat:
13
g
|
Trans Fat:
1
g
|
Sodium:
175
mg
|
Potassium:
1208
mg
|
Fiber:
11
g
|
Sugar:
18
g
|
Vitamin A:
7067
IU
|
Vitamin C:
23
mg
|
Calcium:
93
mg
|
Iron:
3
mg
Notes & Tips
If you feel that the mixture is too thick at any time during preparation, add ⅛ teaspoon of sherry or balsamic vinegar and stir until you get the consistency you want.
If you crave demi-glace, but you can't eat animal-based ingredients, you will find this recipe works well to satisfy cravings. These ingredients are easy to come by, and there's a good chance you already have them in your kitchen.
Need help making the bouquet garni? It's easier than you might think, especially if you've never made one before. To create the bouquet garni for this recipe, simply bundle together the following items:
2 fresh parsley sprigs
2 fresh thyme sprigs
1 celery stalk
1 bay leaf
When you have them tightly together, tie some cooking string around them to keep the ingredients firmly in place. So whenever the recipe calls for adding the bouquet garni to the large pot of vegetables, you can simply toss it in.
Substitutions
Some food manufacturers make quality concentrates that can be reformulated into sauces for recipes that call for demi-glace. These concentrates boast a rich flavor that comes from beef and veal stock but also includes carrots, red wine, tomato paste, onions, salt, celery stocks, and animal fat.
For obvious reasons, vegans won't be able to partake in these convenient concentrates. But if you can consume animal-derived products, you can use these concentrates to cut down on your prep time by a wide margin.
You can find them either online or in gourmet shops. Most of these concentrates have to be kept chilled in the fridge immediately after opening. And although the reconstitution ratios differ among brands, the typical ratio is 1 ounce of concentrate per 4 and 5 liquid ounces.
It's worth pointing out that these concentrates are often very pricey. You can, however, find some that aren't as high in quality but still work well in a pinch to make non-vegan demi-glace. Generally, the lower-end concentrates will run you about half of what you'd pay for the high-end versions.
If you want the experience closest to demi-glace but don't want to spend a lot of money, low-end concentrates are your best choice.
Although beef broth does not have the depth of the taste or texture of beef demi-glace, it can be used as a substitute for certain recipes. However, this does not include those that rely on the demi-glace texture, like sauces, for example.
Boiling the broth will help thicken it and boost its flavor, bringing it closer to the true texture of demi-glace. Please note that if you do choose to use beef broth, make sure you don't add water as required in the recipe.
Sides and Pairings
Demi-glace is traditionally used to help season meats, like steaks and roasts. But if you're vegan, you can add it to any number of vegan stews and soups to help enrich the flavor. You may also add it to vegan stir-fries for the same effect.
---
Recent Recipes