All The Jamba Juice Vegan Menu Options
Jamba Juice has a reputation for being welcoming to all kinds of diets, and that's a good thing! Vegans, vegetarians, and meat-eaters can all stop by Jamba Juice for a cool, refreshing drink or smoothie after a workout or in the middle of a hot day.
That said, Jamba Juice is so vegan-friendly that it can be tough to know what exactly you can order. Luckily, vegans have dozens of different choices when all is said and done. Let's break down Jamba Juice's vegan menu in detail.
| Menu Item | Type of Dish | Notes |
| --- | --- | --- |
| All-Fruit Smoothies | Smoothie | |
| Apple N' Greens | Smoothie | |
| Açaí Super Antioxidant Smoothie | Smoothie | Substitute non-dairy milk |
| Greens 'N Ginger | Smoothie | |
| Mango-A-Go-Go Smoothie | Smoothie | Substitute non-dairy milk |
| PB & Banana Soy Protein Smoothie | Smoothie | Substitute non-dairy milk and no honey |
| Protein Berry Soy Workout Smoothie | Smoothie | |
| Pumpkin Smash | Smoothie | |
| Razzmatazz Smoothie | Smoothie | Substitute non-dairy milk |
| Smooth Talkin' Mango | Smoothie | |
| Strawberry Surf Rider Smoothie | Smoothie | Substitute non-dairy milk |
| Summer Blackberry | Smoothie | |
| The Go Getter | Smoothie | |
| Vanilla Blue Sky | Smoothie | |
| Gotcha Matcha | Beverage | |
| Bold 'n Cold Brew | Beverage | |
| Purely Carrot | Juice | |
| Cucumber Orange Cooler | Juice | |
| Great Greens | Juice | |
| Orange Carrot Twist | Juice | |
| Orange Supreme | Juice | |
| Veggie Vitality | Juice | |
| Purely Orange | Juice | |
| Ginger Lemon Cayenne Shot | Shot | |
| Ginger Orange Cayenne Shot | Shot | |
| Wheatgrass Shot | Shot | |
| Sweet Apple Cinnamon Pretzel | Snack | |
| Steel-Cut Oatmeal | Breakfast | Skip the brown sugar crumble and apple topping which have butter. Also verify it's soy milk. |
| Impossible Handwich | Sandwich | Ask for no cheese |
| Açaí Primo Bowl | Bowl | Exclude honey when ordering |
| Island Pitaya Bowl | Bowl | Exclude honey when ordering |
| Vanilla Blue Sky Bowl | Bowl | |
| Clif Bars | Snack | |
| 88 Acres Protein Bars | Snack | |
| Siren Protein Bites | Snack | |
| Dried Fruit | Snack | |
| Vegan-friendly Chips | Snack | |
Note: Cross-contamination can occur. Menu items as of 1/11/2023 as menu items may have changed.
Vegan Juice at Jamba Juice
Let's start with Jamba Juice's titular juice options for vegans. Good news – all of Jamba Juice's juices are vegan-friendly by default. That said, the juice options vary by season since Jamba Juice tries to only make juices and smoothies with in-season vegetables and fruits.
Not sure which ones to try? Some of the most popular vegan-friendly juices at Jamba Juice include:
Purely Orange, which is just fresh orange juice
Orange Supreme, a blend of carrot, orange, and apple juice with fresh bananas
Veggie Vitality, a blend of spinach, apple, and fresh juiced carrot
Great Greens, which includes freshly juiced cucumber, apple, spinach, and lemon
Purely Carrot, which is freshly juiced carrot juice
Cucumber Orange Cooler, a blend of lemon, apple, cucumbers, and orange juice
Ultimately, any of the juices you see on the menu are great if you want to stick to a vegan diet. Just be sure to ask which ones are most in season; these juices tend to taste the best out of all the ones Jamba Juice offers.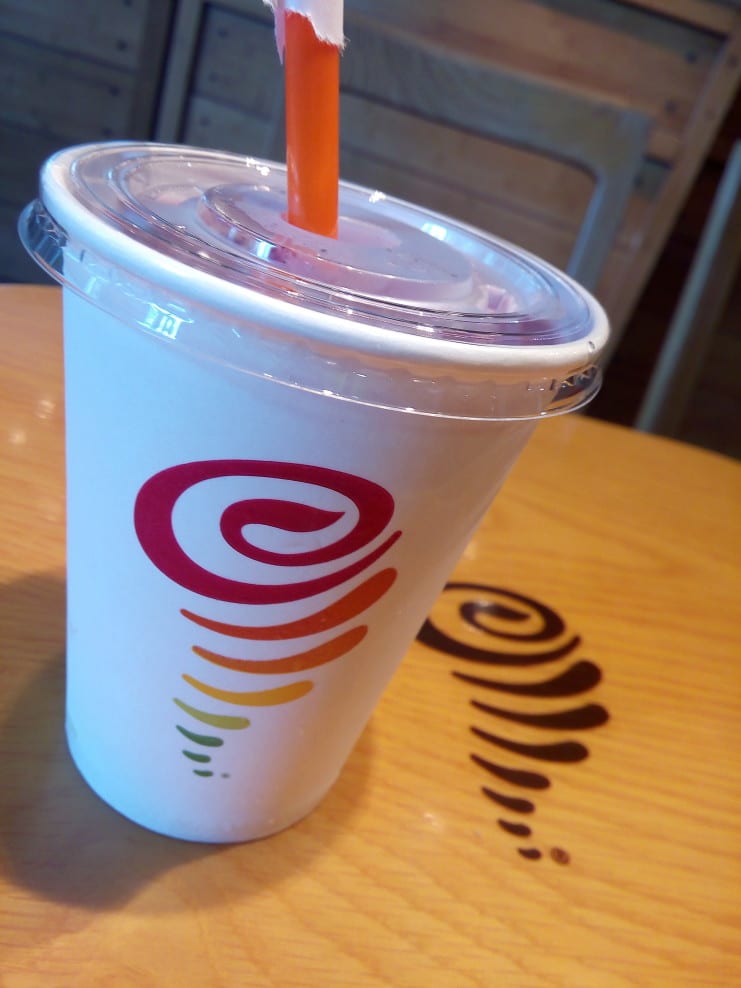 Vegan Smoothies to Order
Jamba Juice additionally offers a variety of vegan-friendly smoothies. These are great breakfasts, snacks, or post-workout boosts to improve muscle growth and ensure adequate nutrition. Some of the most popular vegan-friendly smoothies at Jamba Juice include:
Vanilla Blue Sky, which includes vanilla coconut milk, pineapples, bananas, unsweetened almond milk, and more
Smooth Talkin' Mango, which includes pineapple, mangoes, organic agave, and more
Whirl'd Famous Apple n' Greens, which includes pears, a strong grain apple juice blend, peaches, bananas, kale, and mangoes
Protein Berry Workout, which includes soy milk, a pea protein boost, robberies, and bananas
Blueberry Strawberry Blast-Off, which includes strawberries, bananas, blueberries, and mixed berry juice
On top of all those, you can order most of Jamba Juice's power smoothies, such as the PB and Banana Protein power smoothie, without worrying. However, you need to make sure you order these smoothies without any honey, which is Jamba Juice's sweetener of choice. You'll also need to specify almond milk, soy milk, or oat milk rather than the default reduced-fat milk that the smoothies are made with.
We love that all of Jamba Juice's plant-based smoothies don't have any sugars added and are only made from plant-based ingredients. You should, of course, avoid any smoothies that include whey protein concentrate. That's because whey protein is derived from animal products.
Of course, you can also ask the cashier at your local Jamba Juice whether a particular smoothie choice is vegan-friendly. They should know pretty quickly – Jamba Juice's workers are more vegan-educated than most other restaurant workers. All in all, Jamba Juice is great for a sweet treat, even compared to places like Dairy Queen.
Jamba Juice Vegan Bowls and Boosts
We're still not done! Jamba Juice has tons of vegan-friendly choices if you're looking for a bigger meal or snack, including bowls like the:
Soy Oatmeal Bowl, which includes soy milk concentrate, shredded coconut, blueberries, brown sugar, strawberries, and more. Just order this without honey to ensure it is 100% vegan
Vanilla Blue Sky Bowl, which includes unsweetened almond milk, vanilla coconut milk, granola, strawberries, blueberries, and more
Chunky Strawberry, which includes soy milk, stories, bananas, peanut butter, and organic granola. Just order this without any yogurt
Whirl'd Famous Acai Primo, which includes soy milk, organic granola, blueberries, scrubbers, açai, coconut, and more. With this bowl, specify no honey to keep it 100% vegan
And more
With each of the bowls, Jamba Juice allows you to add almond butter, pumpkin seeds, and other ingredients or toppings to really make them your own.
Additionally, vegans can order Jamba Juice's Small Boosts, which are great ways to give yourself some extra nutrition and energy in a flash. Some of the best include:
Ginger Shot, which includes orange, lemon, and ginger juice
Wheatgrass Shot, which includes apple, lemon, and wheatgrass juice
Turmeric, which includes turmeric, lemon juice, and orange juice
Whirl'd Famous Wheatgrass, which is just wheatgrass juice
Ginger Orange Cayenne, which includes fresh juice ginger, orange juice, and cayenne
And more
Vegan Snacks at Jamba Juice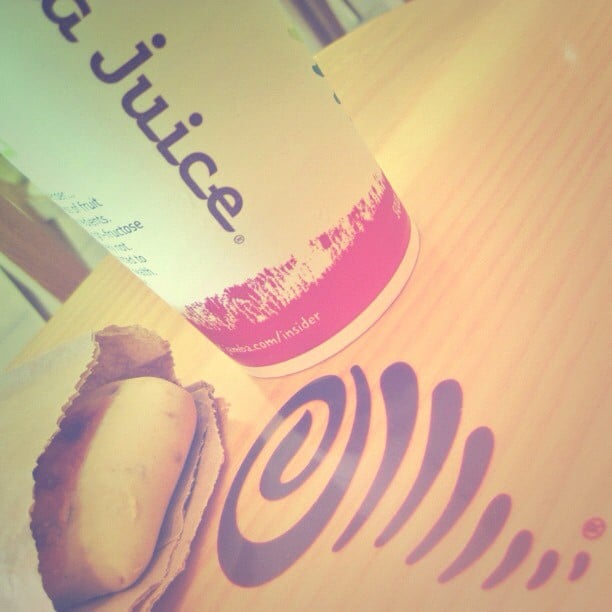 There are, lastly, two extra vegan-friendly food items you can find out Jamba Juice: the apple cinnamon pretzels and Parmesan pretzels. With the latter, you just have to specify no Parmesan cheese – that way, you turn it into a plain pretzel you can customize with some of the toppings mentioned earlier.
The Impossible Handwich
We'd be remiss not to mention Jamba Juice's new vegan-friendly addition: the Impossible Handwich. This delightful sandwich uses Toasted Sprouted Grain Guns and Impossible Sausage to create the perfect breakfast for vegans on the go. This sandwich just came around in April 2021, so if you haven't given it a try yet, stop by your local Jamba Juice and try a bite! This is a nutritionally packed with 12 grams of protein and flavorful breakfast that we wish other restaurants would include.
Is Jamba Juice Good for Vegans?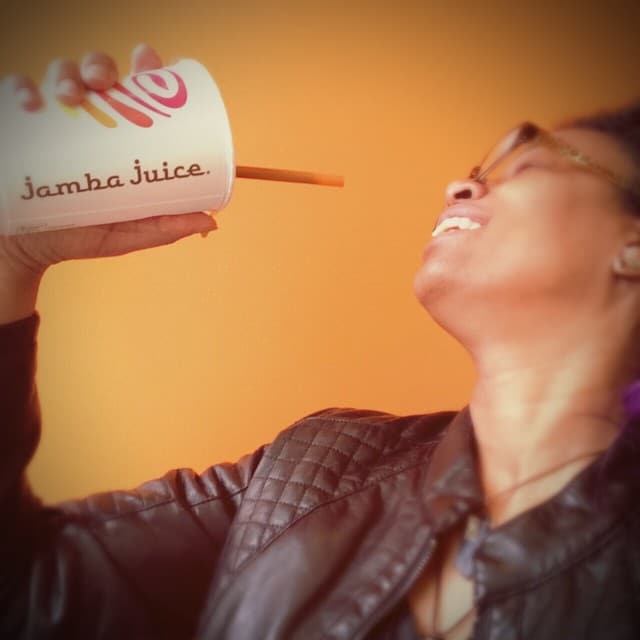 Yes! In fact, Jamba Juice is ultimately one of the most vegan-friendly eateries around. With the addition of the above Impossible Handwich, it's also a great place to stop by for breakfast or a light lunch. Try Jamba Juice after your workout to restore some of your energy and give your body the nutrients it needs to build muscle effectively.
We hope Jamba Juice will inspire other eateries and chain restaurants to add more vegan and vegetarian family options to their menus. For now, you can check out our list of vegan menus for popular restaurants so you know what to order when you stop by places like Denny's, Chile's, and more.
---
Recent Recipes