Top 6 Health Benefits of Eating Chia Seeds Backed by Research
Chia seeds are the edible seeds of Salvia hispanica, a plant indigenous to Southern Mexico. Salvia hispanica is a plant closely related to the mint family. Chia seeds are small and black, measuring approximately 2 millimeters in diameter. Similar in appearance to poppy seeds, chia seeds are commonly eaten dried in smoothies, parfaits, juices, baked into bread, and atop salads; another popular dish is chia pudding. No matter how you eat them, chia seeds add a nice bit of crunch and a big punch of nutrition to your dishes. In fact, chia seeds have been a highly nutritious staple in Aztec and Mayan diets for centuries. Their nutrient density provides many wonderful health benefits; take a look at some of the benefits adding chia seeds to your diet may provide.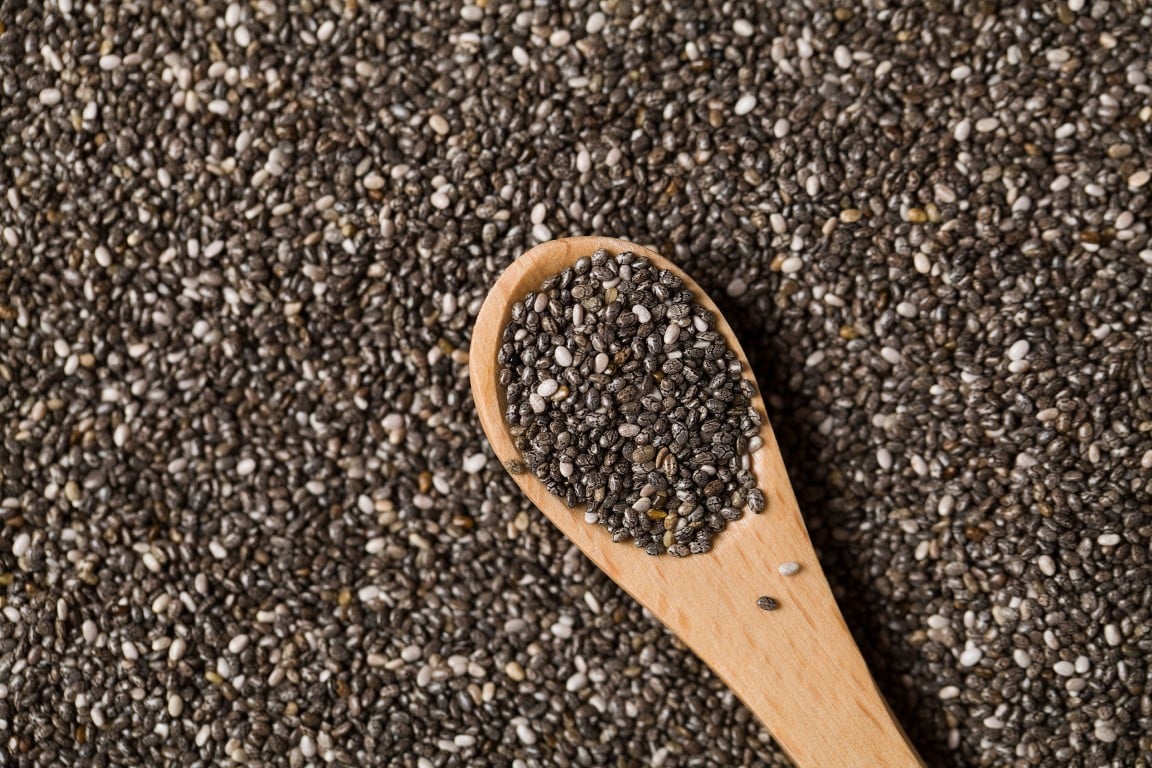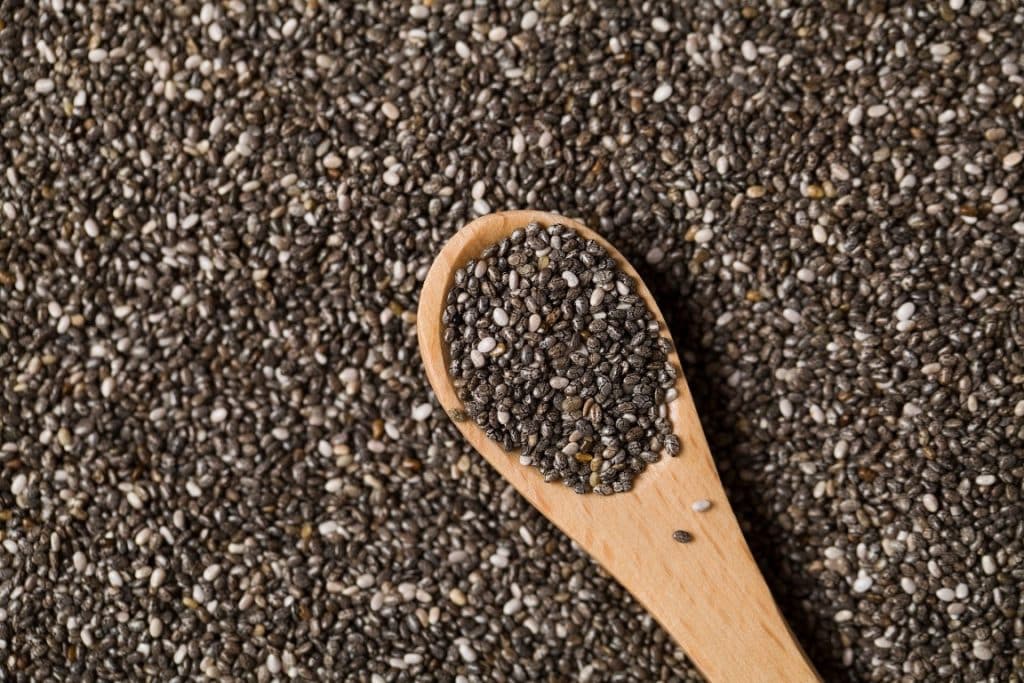 Important Note: Each of the health benefits noted below is supported by the most current scientific research at the time of this publication.
Incredibly Nutritious
Chia seeds are an excellent source of protein; just 1-ounce packs nearly 5 grams of protein. What's more, while chia seeds are high in calories, fat, and carbohydrates, the high concentrations of other nutrients make them nutrient-dense and worth a place in your diet. For starters, chia seeds contain nearly 9 grams of fiber per 2-tablespoon serving as well as 5 grams of alpha-linoleic acid and 14% of the daily recommended value of calcium. Moreover, they're a good source of iron, magnesium, and phosphorus as well as zinc. Lastly, chia seeds contain 15% of the daily recommended value of vitamin B1 and 16% of the daily recommended value of vitamin B6.
General Consensus: 5/5 and here is why. For such a small serving size, chia seeds pack an incredible punch of nutrients, many in high concentrations.
Packed with Antioxidants
Chia seeds are a rich source of antioxidants that fight off harmful free radicals and reduce oxidative stress that may otherwise lead to some chronic illnesses. Of note, the oxidation of free radicals is a prime cause of aging and illnesses such as some cancer types and diabetes. Chia seeds are rife with five powerful antioxidants, particularly chlorogenic acid, caffeic acid, myricetin, quercetin, and kaempferol. Chlorogenic acid is known to reduce blood pressure, a risk factor for heart disease, and caffeic acid has anti-inflammatory properties. Myricetin is linked to a reduced risk for diabetes while also acting as an anti-inflammatory. Lastly, quercetin and kaempferol have been linked in animal studies to improved cardiovascular health. Together, all of these antioxidants also have anticancer and liver-protective properties.
General Consensus: 5/5 and here is why. Chia seeds are fraught with many powerful antioxidants that protect humans from an array of illnesses.
Supportive of Weight Loss
The significant concentrations of both protein and fiber found in chia seeds may assist you in your weight loss goals. A 1-ounce serving of chia seeds packs a whopping 10 grams of dietary fiber. Studies show that a high-fiber diet plays a role in preventing weight gain and obesity. Moreover, dietary fiber is known to invoke a longer feeling of fullness which in turn will lead to consuming fewer unnecessary calories between meals. Furthermore, chia seeds are a rich source of protein; protein is linked to appetite suppression and satiety. In a study of people who added chia seeds to their yogurt each day, scientists found that participants felt fuller for longer and consumed fewer calories between meals when compared to those not eating chia seeds. A subsequent study of people with obesity revealed that those fed chia seeds daily experienced significantly higher weight loss results than those fed a placebo.
General Consensus: 4/5 and here is why. Although adding chia seeds to your diet will not, in and of itself, yield optimal weight loss results, they are a noteworthy aid to weight loss.
Reduces Risk of Heart Disease
Chia seeds are rich in fiber and omega-3 fatty acids, both of which are linked to a reduced risk for heart disease. Concerning fiber, chia seeds have high concentrations of soluble fiber which is known to reduce bad cholesterol levels; because high cholesterol is a marker for heart disease, management of cholesterol is essential. Additionally, the omega-3 fatty acids in chia seeds have also been scientifically linked to fewer instances of heart disease. Although research on chia seeds' effect on heart health is limited, one animal study uncovered that chia seeds lower triglyceride and oxidative stress levels, both of which, when left unmanaged, pose risks for heart disease. Likewise, a few human studies have shown that chia seed consumption can lower blood pressure; this is good for heart health because high blood pressure is a marker for cardiovascular disease.
General Consensus: 3.5/5 and here is why. Although research on chia seeds and heart health is limited, the outlook is promising.
Good for Bone Health
Chia seeds contain several nutrients that are essential to strong, healthy bones. Research suggests that consuming adequate levels of calcium, phosphorus, and magnesium, all of which are contained in chia seeds, is important for bone health. Moreover, adequate intake of alpha-linolenic acid, also found in chia seeds, improves bone density. In fact, in one animal study, researchers found that rats who consumed chia seed daily for more than a year experienced elevated bone mineral density than rats who didn't; researchers attributed these results to chia seeds' alpha-linolenic acid content.
General Consensus: 3.5/5 and here is why. Although chia seeds are rich in minerals known to support bone health, human research on this health benefit is indicated.
Lowers Blood Sugar Levels
Researchers believe that the high fiber concentration in chia seeds may help to regulate blood sugar levels. This finding is especially important to diabetics who have difficulty managing blood sugar levels through diet. Early studies have indicated that chia seeds can improve insulin sensitivity which helps to better regulate fasting blood sugar levels. One study showed that eating chia seed bread lowered post-meal glucose numbers in adults with diabetes when compared to those in a placebo group.
General Consensus: 3/5 and here is why. A handful of animal studies draw a correlation between chia seeds and improved insulin sensitivity, however, more human studies are needed.
Unlikely Benefits: Further Research Needed
May Improve Exercise Recovery
General Consensus: 2/5 and here is why. Chia seeds contain proteins and amino acids, both of which are linked to exercise recovery, however, there are only a handful of studies on this health benefit; more research is needed.
---
Recent Recipes