Best Italian Online Specialty Grocery Stores
Key Takeaways
US customers will be pleased to know that there is an abundance of reliable Italian online grocery stores to pick from for cooking up your next recipe from your favorite cookbook. Eataly arises as the ever-popular favorite thanks to its collection of countless Italian products of the highest quality and the ample range of delivery possibilities provided. The only criticism that some have is that most of Eataly's range is in the mid to high-end pricing tier. BellaItalia Food Store easily rivals the number one contender in terms of range and quality with slightly better general affordability. Unfortunately, it doesn't have the same flexibility in terms of same-day shipping.
If there's anything that you can't find at either of the two top Italian e-grocers, be sure to browse through the regional favorites like Ditalia for Southern Italian cuisine, Super Market Italy for Central Italian goods, or buonItalia for anything from North Italy and the islands surrounding. Finally, the curated store YummyBazaar shouldn't be overlooked until shoppers have at least checked out their zip code for groceries and other products from nearby retailers. There are often hidden gems waiting at smaller stores with a lesser online presence but a well-established local reach.
While all of the e-grocers listed here stock ingredients from all around Italy, we have established the best regional retailers based on the Northern, Central, and Southern Italian ingredients each keeps in stock. From fresh and canned must-haves like San Marzano tomatoes and imported extra virgin olive oil to tough-to-source delicacies such as gourmet pasta shapes like bucatini, tagliatelle, and paccheri, you're sure to find it all at one or more of these top twenty-two best Italian online specialty grocery stores. Each ships nationwide across the US, while some also cater to international shoppers.
Best Italian Online Specialty Grocery Store Comparison
| | | |
| --- | --- | --- |
| | Eataly | BellaItalia Food Store |
| Specialization | Imported Italian Food & Wine | Imported Italian Food As If Shopping In Rome |
| Supplier Network | Internal Network Of Stockists, Self-Distributed Or Express Shipped By Instacart/Mercata From Nearest Shopper Location | Internal Network Of Suppliers, Self-Distributed By BellaItalia |
| Product Catalog | Italian Pantry, Salumi, Formaggi, Truffles, Meat, Caviar, Cheeses, Pasta, Rice, Baking, Olive Oil, Vinegars, Snacks, Sweets, Home & Lifestyle Items (Kitchenware, Tableware, Beauty, Candles, Fragrances), Gifts (Gift Boxes & Corporate Gifts) | Italian Pantry, Salumi, Cheeses, Pasta, Rice, Baking, Taralli, Savory Snacks, Cookies, Sweets, Coffee, Beverages, Gifts |
| Location | New York City, Brazil, Canada, Japan, Qatar, Saudi Arabia, South Korea, United Arab Emirates, Kuwait, Germany, France, UK, Italy, Russia, Sweden, Turkey | Closter, New Jersey |
| Physical Store/s | Yes – Main Retail Locations: Boston, Chicago, Las Vegas, Los Angeles, New York City As Well As Several Other International Stores | Yes – Closter, New Jersey |
| Free Shipping Threshold | Above $49 | Above $79 |
| Shipping Charge | $0-$149.99 Order Subtotal = Standard $14.90 | Second-Day $22.90 | Next Day Air $35 | Receivable Delivery Addresses Only (No PO Box) – Orders Up To $79.99 – $9.99 | $5 Additional Flat Rate Shipping Fee Billable For Perishable Items |
| International Shipping | No – USA Shipping Only | No – USA Shipping Only |
| Return Policy | Online Refund Only, No Returns For Unsatisfactory Goods – Contact Customer Service | 14-Day Return On In-Store Purchases | Perishable Goods Must Be Received In Person To Qualify | Goods Not Delivered Within 10 Working Days Eligible For Refund | Return Shipping Costs Paid By Customer |
| Payment Methods | American Express, Mastercard, VISA, Discover, Paypal, Eataly E-Gift Cards | VISA, Mastercard, Discover, AMEX, PayPal, Amazon |
Free Delivery For Orders Over $149
Fixed $35 Shipping Charge On Fresh Items
UPS Ground – $14.90, 2nd Day Air – $22.90, Next Day Air – $35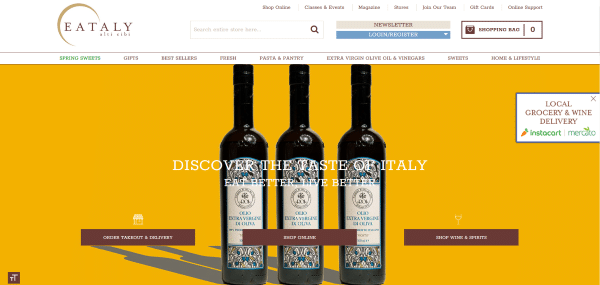 From its brick-and-mortar gourmet Italian market and food hall home in its original New York store, Eataly offers all the hard-to-find delicacies and every specialty grocery item a cook could hope for. Eataly is a must-try for anyone who values Italian cuisine. Shopping in person at any of the thirty-five physical locations spanning over 45,000 feet each is said to be a one-of-a-kind experience that surrounds one with restaurants, take-away shops, cooking schools, and grocers that rival any ristorante, trattoria, and osteria found in Italy itself. But, the best thing about Eataly is that all these local specialties and more are also available online.
Shopping via the third-party sites Instacart or Mercato enables rapid delivery of groceries and wine, while standard shipping is also available if using Eataly's own interface. Shoppers can look forward to finding Pat LaFrieda meat, Urbani truffles, Calvisius caviar, high-quality passata, and a full selection of salumi and formaggi in addition to the grocery items listed. All pasta is made in Italy. Fresh products are sourced from premier producers in both the USA and Italy. Every last item stocked is of exemplary quality, so shoppers should expect to pay a premium. However, Eataly's prices for gourmet food are highly competitive relative to the industry. There are also gift boxes presenting considerable savings on bundled goods, so be sure to look around.
Best Way Priority Shipping – $9.99
USPS & FedEx Express / Priority Mail – $100+ Delivery Charge Region Dependent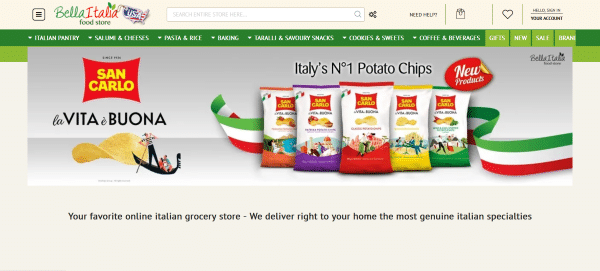 BellaItalia Food Store is a family-run e-grocer aiming to make shopping for Italian foods as easy as if you were in Italy. Since 2014, the New-York based webstore has supplied an all-encompassing range of Italian groceries, meats, cheeses, and fresh products at some of the best rates seen online. The fantastic prices are often as low as shopping at an in-person market, but the impressive affordability doesn't translate to lesser quality goods. Quite the contrary, the imported brands kept by BellaItalia are frequently well-recognized as setting the standard within their line.
Expats will love how all their favorite childhood brands are kept in one place. From sauces to oils and freshly sliced meats to cheese, shoppers will never be disappointed. Testimonials praise everything from the speedy way that orders are dispatched to far-in-the-future expiry dates found across all goods delivered. If you can't find it at BellaItalia, the company encourages shoppers to send in their requests. The ever-growing catalog is clearly reflected by the massive updated selection of products filling the 'New' category weekly.
Free Shipping On Orders Over $99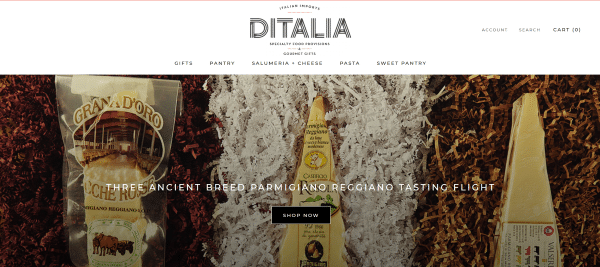 Ditalia is an online store offering Italian imports of specialty food provisions and gourmet gifts. Few stores can compare to the quality of groceries kept here. Prices are a little higher than one may at first expect. However, after inspecting the quality of the organic pasta, various imported oils and products seldomly found elsewhere, like oven-dried figs with Barolo wine, goat cheese stuffed olives, and Romana style artichokes, to name but a few, one begins to realize that you're actually receiving great value for money.
Since 1987, Ditalia has remained a family-owned business that keeps a complete range of Italian foods. It is one of the few e-grocers that keeps Southern Italian ingredients like spreadable Nduja sausage and the ever-so-spicy Bomba Calabrese condiment made from hot Calabrian peppers. The selection of goods on offer at Ditalia never ceases to amaze. There's both whole and sliced salami across countless varieties, an equal number of Italian cheeses, and snacks and beverages so specific that you'll even find treats like blood orange soda waiting.
Free Delivery On Orders Over $69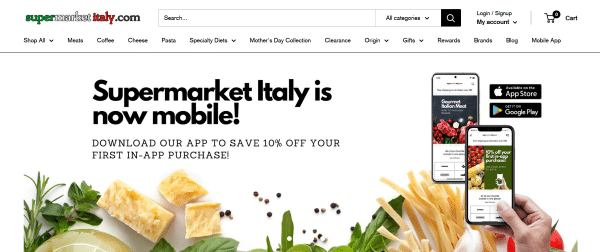 Super Market Italy is part of a chain of Super Market e-grocer websites that sell cuisine from various specific regions of the world. The New Jersey-based Italian online grocery store carries both perishable and non-perishable groceries across every food category while also stocking collections, gift boxes, and gift baskets, presenting considerable discounts. At just $69 for free delivery, it's one of the most affordable places to shop online. Just wait until you see the deals for under a dollar in the clearance section for even more value.
Grocery prices across the board are a little higher than an in-person market but still not as expensive as competing high-end gourmet e-grocers. An abundance of Central Italian ingredients is waiting aside the already impressive selection of imported groceries from all around Italy. Farro in all its forms, various balsamic vinegar brands from Modena, and up to whole wheels of authentic Parmigiano Reggiano for those who cook up classics like irresistible gramigna pasta with sausage or anolini often.
Free Shipping On Orders Above $100 For Those In New York, New Jersey & Connecticut
FedEx – Ground Shipping, 2-Day, Standard Overnight Available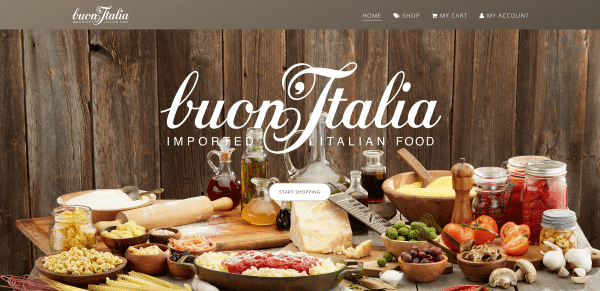 The brick-and-mortar imported Italian food marketplace, Buon'Italia, based in New York, offers online shopping at highly competitive rates. Just like other e-grocers, buonItalia keeps foods from all around Italy with delicacies specific to the North as its focus. Northern Italian groceries include Barolo red wine vinegar, Dolcetto wine jelly, fregola, gnocchi, organic trofiette pasta, and even fresh white truffles, Tuber Magnatum Pico, themselves when in stock instead of sold out.
Unbeatable quality and a near-complete selection of Italian food are on offer at buonItalia. Just a glance at buonItalia's social media presence reveals freshness and premier products that make you want to try them. Those living in the New York City area can also order freshly prepared take-aways for same-day delivery through the Mercato online shopping platform.
Free Shipping For Orders Over $69 Otherwise $6.99 Flat Rate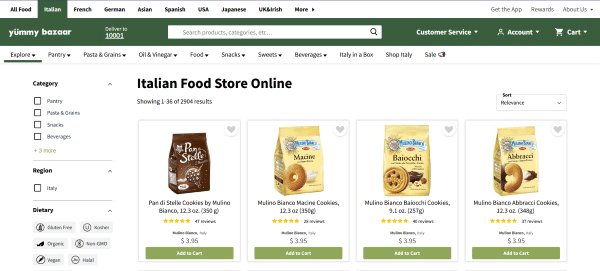 Yummy Bazaar is an online grocery store that specializes in groceries and foods from various specific international locations. Instead of carrying its own selection of goods, Yummy Bazaar keeps a curated network of gourmet food suppliers from around America. Shoppers simply input their zip and select the type of national cuisine they prefer from Italy, France, and Asia, and they're instantly connected to an extensive list of options from nearby, vetted suppliers. The Italian bazaar generally has a blend of ready-to-order food and groceries, with competitive prices all around.
Yummy's packaging is reputed to be among the best in the industry, which means that goods always arrive in perfect condition. Between the flat rate charged for smaller orders and the reasonable threshold for free shipping, it's hard to fault this curated market's general affordability. It's also a great place to shop for specials, as Yummy Bazaar has a whole section devoted to goods that are on sale.
Best General Italian Online Specialty Grocery Stores
Each one of the upcoming Italian online specialty grocery stores is a reliable source of quality food products and other imported goods from Italy. Our top contenders may rule the reviews, but these stores have their own specialty with tons to choose from and should definitely be kept in mind when stocking up any pantry.
Free Economy Shipping On Orders Over $50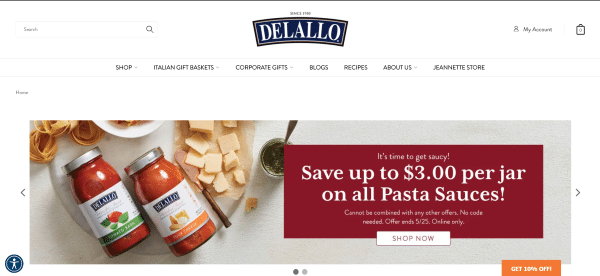 For over fifty years from its retail location in Pennsylvania, Dellalo has been supplying a range of fine Italian products spanning everything from groceries to corporate gifts and informal gift baskets. Those shopping for high-end groceries will be impressed by the selection and astonishing affordability. Furthermore, almost every product listed online is backed by customer testimonials, and there are far more overall reviews than one commonly finds at other online grocery stores. Gifts bundle meats and cheeses, sweets and snacks, and even group available products according to the recipient you're shopping for. Overall, Delallo is an impressive retailer that should be a prime consideration for anyone looking for superior quality and the go-to store for anyone in or around Philadelphia.
Free Shipping For Orders Over $79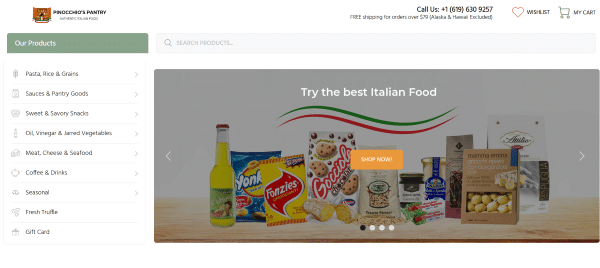 Pinocchio's Pantry is a San Diego-based Italian online grocery store with one of the largest collections of fine imported goods seen at any outlet. Fresh white and burgundy truffles are available seasonally. The meats and cheese leave nothing out. There's everything from cotechino, nduja, and wild boar chub to pecorino Moliterno, robiola, and primo with pistachios on sale. With countless products at fantastic prices and ongoing promotions on a massive amount of goods, Pinocchio's Pantry could easily become your new favorite place to shop. Even the free delivery threshold is very reasonable and extremely enticing.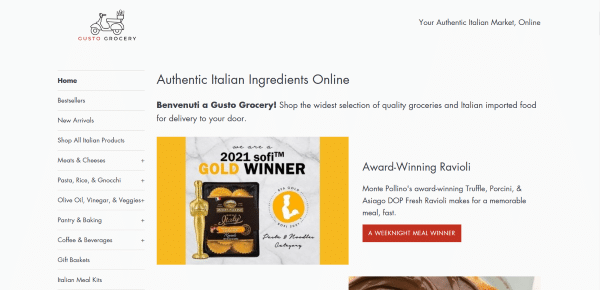 Leading highlights of this particular San Diego-based Italian grocer are its tasty weeknight meals like Monte Pollino Truffle, Porcini, & Asiago DOP Ravioli (an award-winning pasta), and a diverse selection of affordably priced deli meats. From Northern Italy's Nduja to guanciale, mortadella, and Tartufo truffle salami, there are ample options to decide between. There's no storefront, but local customers are free to explore the fulfillment center in addition to ordering online and collecting their goods. Gusto Grocery also offers bulk deals on commonly used ingredients like Italian flours, cheese, and olives.
No Free Shipping Threshold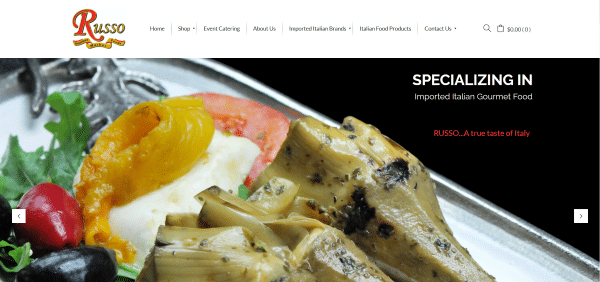 All of the products stocked by the Wyomissing-based e-grocer Russo Food Market are either made in Italy or traditionally created by a family with over sixty years worth of experience in the Italian gourmet food market. While not as broad as some other online retailers, each product category holds artisanal foods only. Anyone in Pennsylvania should treat themselves to a trip to the store to browse through an extraordinary selection of excellent freshly prepared goods. Shoppers will be surprised by just how affordably priced Russo's products are. From savory sauces, olive oils, and bakery treats to specialty pasta, everything is stocked and slightly cheaper than one commonly finds elsewhere. Be on the lookout for seasonal imports at great prices too.
Free Delivery On Orders Over $49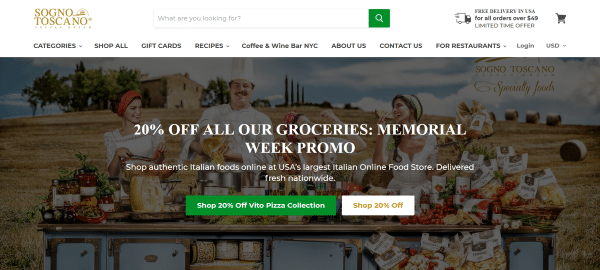 The Italian e-grocer Sogna Toscano is a New York-based company that focuses on quality first, procuring ingredients primarily, specifically from Tuscany. All products listed are certified to be GMO-free, and the company upholds emplary packaging standards when shipping goods. Sogno Toscana has it all, from imported Italian wines to every grocery item one could hope for. Cured meats, seafood, cheese, fresh produce, sweet treats, imported beverages, and even certain health and beauty products are readily available at prices that'll wow you. Despite putting quality first, affordability here is fantastic, and there are tons of promotions and giveaways for doing nothing more than being a regular customer or placing large enough orders.
No Free Shipping Threshold
As a brick-and-mortar Italian marketplace with locations in Oakland and Berkeley, Market Hall Foods carries a broad range of pantry items at affordable prices. The vast majority of gourmet ingredients kept here are significantly cheaper than you typically find at most high-end grocers. The entire online store is well-sorted, which makes finding specific groceries a breeze. There are even collections grouping cheese, foods, and cuisine from Sicily, to name but a few of the key classifications that make shopping for exacts a breeze. Expect to find a broader selection of Italian sweets, baking ingredients, and teas than is commonly kept at other stores.
$75 Minimum Order
Wholesale Prices Available On Application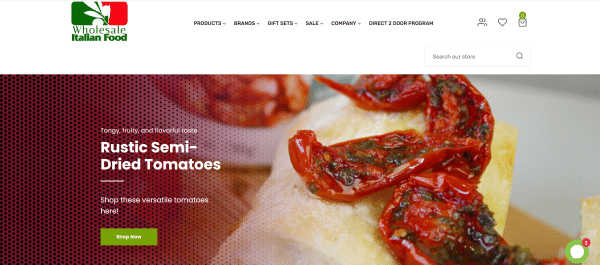 It may take a wholesale account that anyone can register for and a minimum purchase of $75 per order, but Wholesale Italian Foods' ultra-low prices sure make this e-grocer a worthy consideration for anyone who shops for a lot of Italian groceries. A minimum order of $150 qualifies customers for direct-to-door shipping, which is far more attainable than one would at first think when witnessing catalog and ultra-low prices of the range. The Miami-based e-grocer charges half of what most other gourmet Italian marketplaces price their goods at, and the selection covers just about everything a cook could hope for. Popular products are accompanied with far more short reviews/customer testimonials than one would commonly find, which is a fantastic hallmark of quality.
No Free Shipping Threshold
Email Subscribers Eligible For 15% Discount On First Order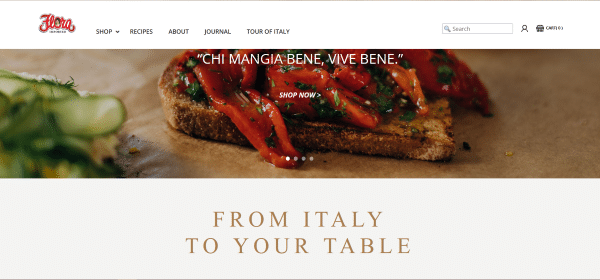 Flora Foods is a company that began as a family-run drive-in pizza parlor in 1972. Within just two years, it expanded to become one of Florida's best Italian restaurants and grocery stores. Today, shoppers get to pick from a plethora of products distributed from the company's 60,000-square foot distribution center. Prices are as low as shopping at an Italian market in person, and there's a broad range of product offerings available for each item and category. From low-priced but quality brands to the high-end, high-cost imports, it's all there, and there's no Italian classification of groceries that is not stocked with several products on offer.
Free US Shipping For Orders Over $79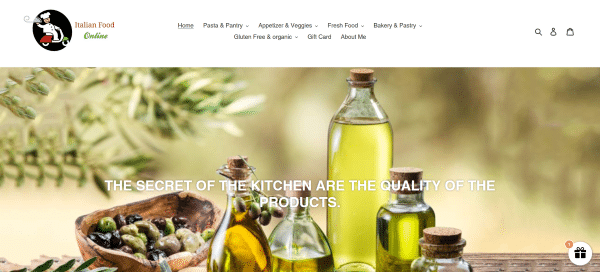 Italian Food Online is a well-priced Italian online grocery store with a truly massive selection of imported goods from Italy at bargain prices. While the majority of the high-quality groceries are priced on par with in-person markets, it is the promotional goods that immediately grab one's attention. Significant discounts are waiting, making this an e-grocer of particular interest to bargain-hunters. Anyone searching for an Italian-themed gift should consider Italian Food Online as there's a beautiful collection of terracotta crocks filled with various herbs and other hand-crafted imported goods that each make for the ideal present for a loved one.
No Free Shipping Threshold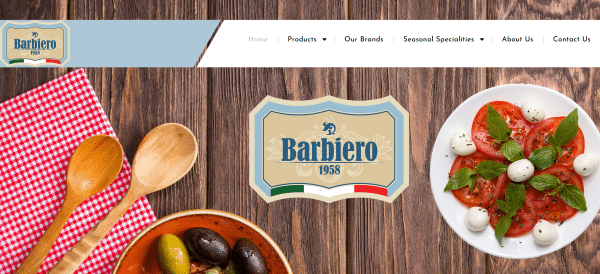 From its headquarters in Massachusetts, Barbiero Italian Foods has supplied supermarkets, hotels, and restaurant chains with high-quality imported Italian food products. Today, the company that is also known as Italimport, also offers online shopping. Customers can look forward to an awesome selection of pasta, including all the hard-to-find shapes like pappardelle, trofie, and tortiglioni, to name but a few. There's rice and grains, an assortment of excellent olive oil, coffee, sweets, and various beverages. Barbiero also keeps a range of seasonal specialties, including Italian delicacies made for Christmas like pandoro and Easter treats like pastiera Napoletana. Those purchasing significant quantities for business use should reach out to request a wholesale catalog which presents better prices.
No Free Shipping Threshold
UPS Standard Shipping Charged At Minimum Of $7.75 + $2 Per Item
Maximum Shipping Charge Of $19.75 Applies To Orders Of 7 Items Or More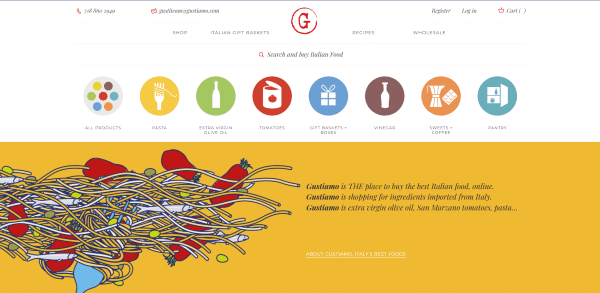 If you're on the hunt for a high-end Italian food product, Gustiamo should be one of the first places you check. All the very best ingredients, most exclusive brands, and specific groceries are kept here at competitively high prices. For many, it's the definitive gourmet marketplace for Italian groceries like 25-year aged vinegar, caperberries, and specific pasta shapes like mezzi paccheri and tummia busiate made from Tumminia. Wholesale rates for businesses and bulk purchases are available by request.
No Free Shipping Threshold
7% Of Sub-Total Surcharge On All Purchases In Lure Of Packaging & Shipping (Standard Shipping Costs Apply)
Leonard Labriola's Italian Market is a gourmet Italian grocery operating on the motto "Where the best costs less." The company's vision sure does appear to ring true as one browses through the broad selection of deli items, general groceries, dairy, and frozen food available at super-low rates. Goods are shipped from one of the company's four locations across Pittsburgh, and you'll have to look long and hard to beat the goods on promotion as the standard rates alone are rather cheap in comparison to the majority of competitors. Those in the vicinity are strongly urged to pop into the Monroeville, Aspinwall, Penn Hills, or Warrendale store in person.
No Free Shipping Threshold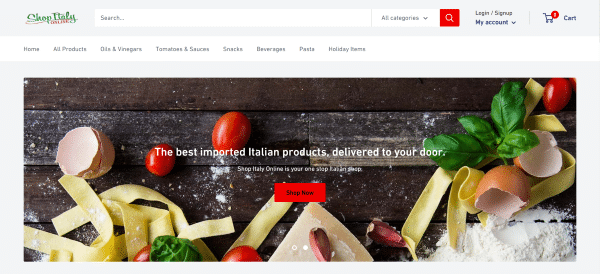 Shop Italy Online is an Italian online grocery store situated in New Jersey with a truly mammoth selection of imported oils & vinegar, sauces, snacks, beverages, and pasta. Customers will be instantly impressed by the comprehensive range and the surprisingly low prices for high-end imported goods. A major highlight of this otherwise great all-around Italian e-grocer is its selection of holiday items. Within this category, you'll find treats like Colomba Italian Easter cake, Bauli pudding, Daoli Mostaccioli, Rococo, and many other celebratory delicacies. There are over two hundred seasonal products sold, making Shop Italy the definitive go-to store for most Italian sweets and baked goods.
No Free Shipping Threshold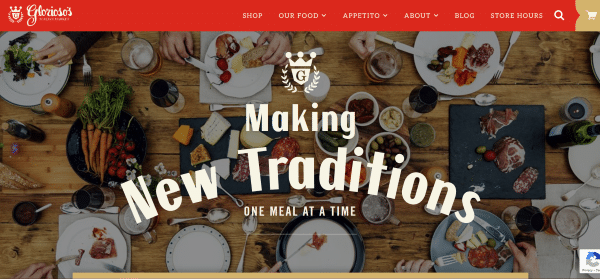 Glorioso's has been a proud family-run Mediterranean-Italian deli for over seventy years. From its 10,000-square foot store in Milwaukee, Glorioso's offers its extensive product catalog filled with only the highest quality foods and groceries to in-store and online shoppers. Shopping at Glorioso's Italian Market is an enticing experience. Each product category comes with weekly recommendations, and the layout provides ample information concerning every prospective purchase, which is particularly valuable to those new to Italian cuisine.
Free Delivery For Orders Over $99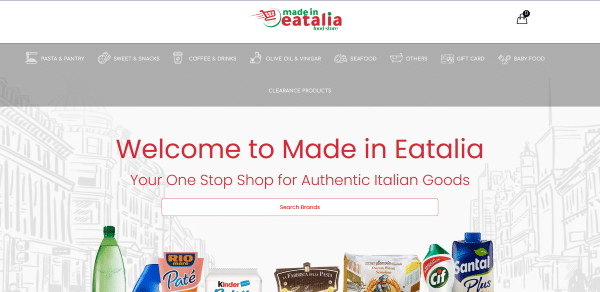 You'll only find the most prestigious Italian brands stocked by the New York-based e-grocer, Made In Eatalia. All of Italy's best and most popular products are available as the retailer sustains a focus on big brands. Kinder Schoko-Bons, Melegatti Due Dilzie chocolate-covered biscuits, fluffy Mulino Bianco Tegolino, Cirio Passata Verace, and Ferro Fiesta Classica are just a few of the sought after but hard-to-find items sold at Made In Eatalia. Prices are a little higher than competing marketplaces, but the brands kept on hand more than compensate for the slightly elevated cost. After all, many can't be found anywhere else.
No Free Shipping Threshold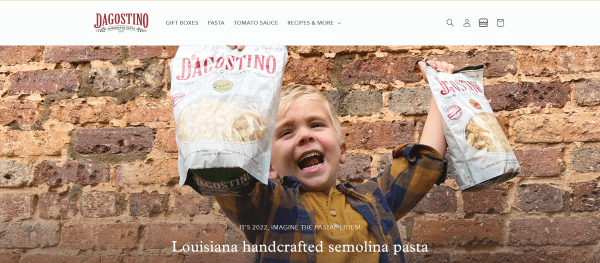 Dagostino Handmade Pasta is an Italian online store that specializes in producing a diverse selection of pasta shapes. There are all the classic varieties waiting as well as distinctive ribbon pasta, rod pasta noodles, short pasta and intricate Louisiana pasta shapes resembling emblems, crawfish, and alligators on offer. The company aims to put a Creole spin on Italian cooking and supplies sauces, gift boxes, and its proprietary range of pasta that we highly recommend checking out especially if you're cooking for kids.
---
Recent Recipes