Homemade Black Garlic Ice Cream
Is it possible to make garlic flavored ice cream? Yes! We went with black garlic. Black garlic is garlic that has been specially cooked to result in a dark color and intense flavor. This ice cream includes honey and vanilla extract alongside the black garlic to add dimension and sweetness, so it is not just a savory ice cream. You may find that the strong taste means you can only eat it in smaller quantities, which can be a useful portion control tactic. It also means you might be able to eke out more than 6 servings. If you are interested in other unique sweet-savory ice creams, you can check out this easy sweet onion ice cream. It is also super yummy and just a touch sweeter than this black garlic confection. 
Some ice cream recipes use only heavy whipping cream and milk. Some use eggs for a more custardy base. Both ways are equally delicious, but the custard base for this ice cream combined with the intense flavor of the black garlic makes it really stand out. Both methods usually require cooking on a stovetop, so while adding eggs to your ice cream may seem scary, it is not that much different in terms of effort. If it still seems intimidating to you, try not to worry; just stick to the instructions and you will be fine.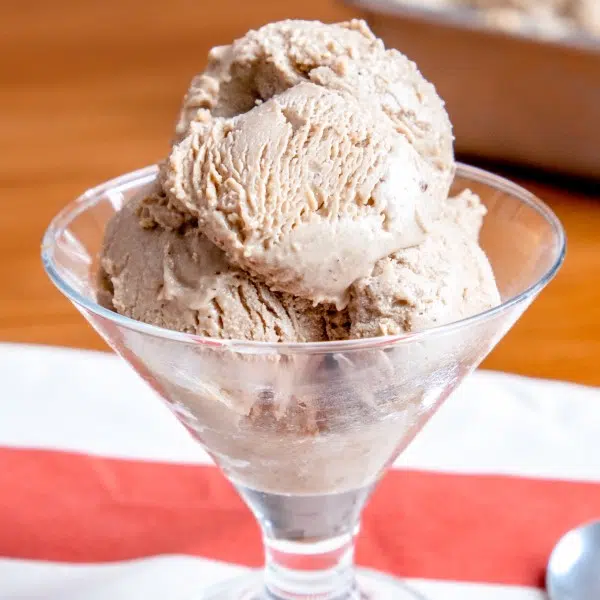 Ingredients
2

cups

milk

1

cup

heavy whipping cream

½

cup

honey

2

tbsp

black garlic paste

½

cup

sugar

1

tsp

vanilla

4

eggs
Instructions
In a medium pot, add the milk, heavy whipping cream, honey, and black garlic.

Turn the heat to medium and bring the milk to a simmer, just below a boil. Once it starts to bubble at the edges, remove from heat.

While the milk is brought to a simmer, separate the egg yolks from the egg whites.

Add the egg yolks to a small bowl. Also add the vanilla and sugar. Whisk together until the yolks are broken and all ingredients are combined.

Remove the milk from the stovetop and gently pour a little bit into the egg yolk mixture while whisking the whole time to prevent the egg yolks from curdling.

After whisking for a minute longer, pour the egg mixture into the pot with the hot milk. Put it back on the stovetop over medium-low heat.

Stir constantly for about 8 minutes or until the milk becomes very thick. It should coat the back of a spoon and be stiff like pudding.

Remove from heat and pour through a sieve into a new bowl. This will remove any eggy bits or skin that might have formed.

Cover the bowl and put in the fridge. Leave for a minimum of two hours or until fully chilled.

When the custard is cold, you can transfer it into the bowl of your ice cream machine.

Follow the machine's manufacturer instructions to freeze the ice cream. This can take several hours.

Once the cream has reached the correct consistency, you can serve it immediately as soft-serve ice cream.

If you prefer a harder ice cream, put it in a freezer-safe container and leave it in the freezer for a few hours before serving.

Serve and enjoy!
Nutrition
Calories:
385
kcal
|
Carbohydrates:
47
g
|
Protein:
8
g
|
Fat:
20
g
|
Saturated Fat:
12
g
|
Polyunsaturated Fat:
1
g
|
Monounsaturated Fat:
5
g
|
Trans Fat:
0.01
g
|
Cholesterol:
164
mg
|
Sodium:
85
mg
|
Potassium:
236
mg
|
Fiber:
0.2
g
|
Sugar:
45
g
|
Vitamin A:
874
IU
|
Vitamin C:
2
mg
|
Calcium:
154
mg
|
Iron:
1
mg
Notes & Tips
To store this black garlic ice cream, keep it in a freezer-safe, air-tight container in the freezer for several months. Homemade ice cream tends to get much harder when stored in the freezer, so you can pop it in the microwave for a few seconds at a time before serving again. This is helpful if you prefer a softer ice cream, but it also helps dethaw it enough to scoop, which can sometimes be difficult.
How to Separate the Egg Yolks?
This can be done a few different ways: crack the egg over a bowl and transfer the yolk back and forth from the different shell halves while allowing the white to fall into the bowl. Then put the yolk in a different bowl. The other method is cracking the egg over a bowl and dumping the whole thing into your hand. Transfer from hand to hand with your fingers slightly apart so the egg white can fall through but the yolk remains intact in your hand. Then put the yolk in a different bowl. Another, less reliable, method is to carefully crack the whole egg into a bowl then use a fork or slotted spoon to scoop the yolk out into another bowl.
The remaining whites can be discarded or you can use them for another recipe. Egg whites are used for meringue, which can go with a dessert or even be eaten on its own. You could also add egg whites to an easy omelette or make an egg white only omelette. I hate wasting food, so I recommend popping a whole egg in with the egg whites and whisking it together with some salt, pepper, paprika, and oregano. Pour it into a lightly greased skilled and cook over medium heat, stirring with a spatula to make scrambled eggs. Now you have a quick lunch and a delicious dessert for after.
Other Flavor Combos
I chose to use a honey and vanilla flavor for this particular rendition of black garlic ice cream. I think the kick of the black garlic is a really pleasant accent for the smooth tones of the honey and vanilla. Another popular and delicious flavor combination is black garlic and chocolate. All you need to do to make a black garlic chocolate ice cream is roughly chop some chocolate chunks and add them to your ice cream machine about halfway through mixing.
You can also play around with the amount of flavor add ins. For example, you do not need to add honey or vanilla at all if you want an ultra-pure garlic taste. If you do that, I advise adding more sugar. If making a chocolate version, you could omit the honey entirely and instead add the 1/2 cup of sugar and 2 tbsp cocoa powder. If you would rather just have homemade creamy chocolate ice cream you can do that too.
---
Recent Recipes