Homemade Creamy Chickpea Pasta
I cook pasta in some form or the other at least three times a week. Buttered noodles, mac and cheese, spicy fettucine and vegetable pasta are on constant rotation. Suffice to say I am always either experimenting with pasta recipes or searching for new exciting ones. And this was the result of all that searching: creamy chickpea pasta. It is delicious, it is filling, and the combination of pasta, chickpeas and creamy sauce is heavenly.
I made it with spaghetti, canned chickpeas, roasted garlic and spinach and a lot of yummy herbs and spices that up the ante. This is not a vegan or gluten-free pasta, but you can make it however you like. You can use chickpea or rice pasta and also not use heavy cream but substitute with coconut milk or almond. The sauce is what makes this pasta, so go all in with the spices and oils and other accoutrements.
This pasta packs a punch but so easy to put together. It makes for a perfect dinner recipe, pair with some salad and red wine and you are good to go.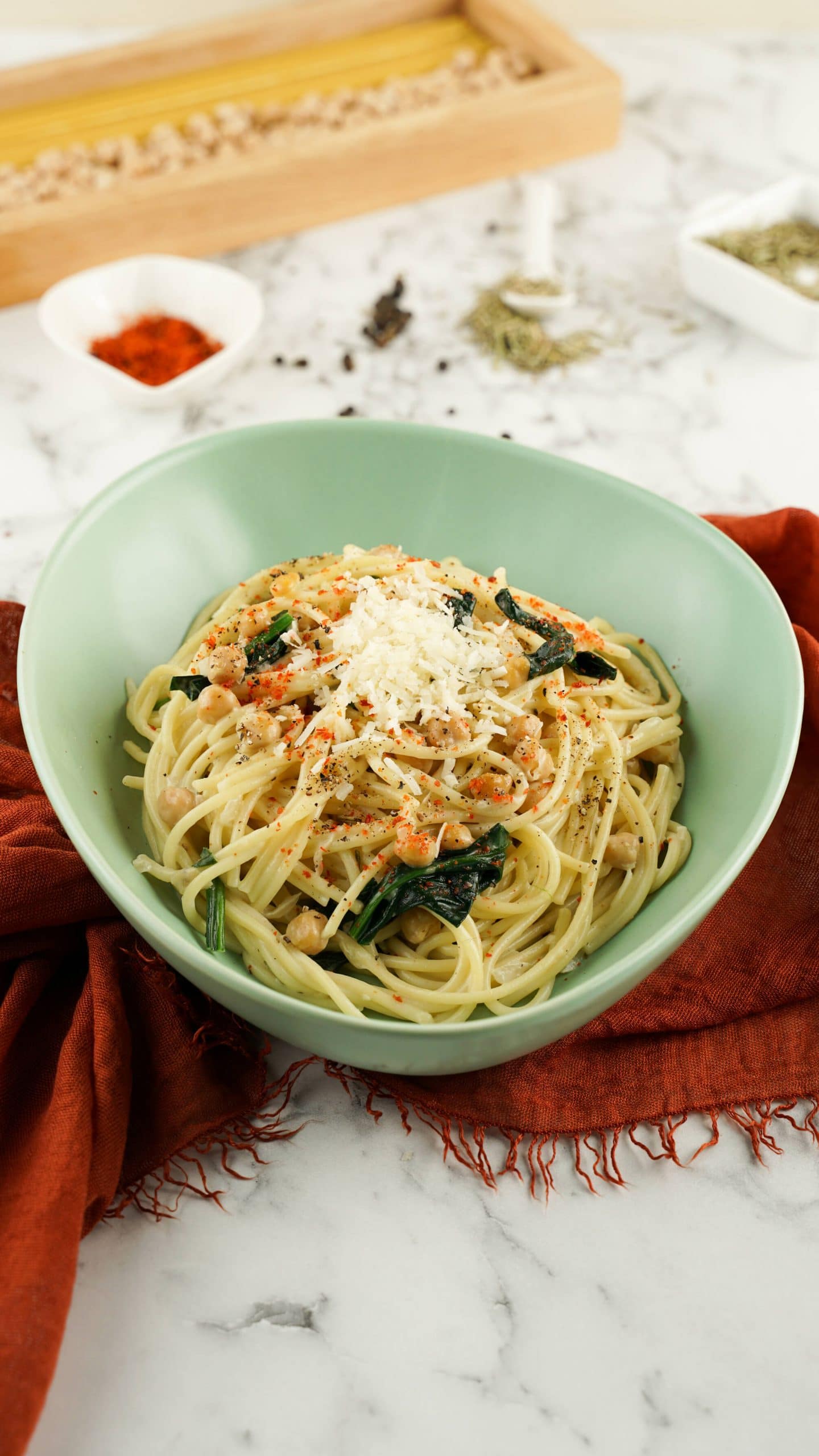 Ingredients
12

oz

of spaghetti

4

cloves

of garlic

1

cup

onions

finely chopped

1

cup

heavy cream

3

cups

spinach

1

can chickpeas

drained and rinsed

1/2

tablespoon

of rosemary

Olive oil

Salt and pepper

Freshly grated parmesan

optional

Chili flakes

optional
Instructions
Cook the spaghetti according to package instructions and set aside. Save one cup of pasta water.

Heat 2 tablespoons of olive oil. Add the onions and garlic and sauté till well roasted. Add salt to speed up the process.

Add the rosemary and mix well. Sauté for about a minute.

Add a little bit more oil and then add the chickpeas and the spinach. Mix and sauté for about a minute. The spinach will start wilting and the chickpeas will start darkening.

Now add the heavy cream and mix well. Add salt and pepper and let it all simmer together for about 3-4 minutes. The chickpeas will soften, and the spinach will get cooked. If the sauce gets too thick, add a little but of the saved pasta water.

Take it off heat and add the cooked spaghetti. Combine well.

Garnish with pepper, parmesan and chili flakes.
Nutrition
Calories:
552
kcal
|
Carbohydrates:
71
g
|
Protein:
14
g
|
Fat:
24
g
|
Saturated Fat:
14
g
|
Polyunsaturated Fat:
1
g
|
Monounsaturated Fat:
7
g
|
Cholesterol:
82
mg
|
Sodium:
68
mg
|
Potassium:
432
mg
|
Fiber:
4
g
|
Sugar:
4
g
|
Vitamin A:
2995
IU
|
Vitamin C:
11
mg
|
Calcium:
108
mg
|
Iron:
2
mg
Tips and Tricks
Canned chickpeas work best because it doesn't involve soaking overnight and cooking. You can use dry chickpeas, the taste remains the same, it is just a longer process.
Use fresh spinach instead of frozen. Frozen spinach gives off too much water. If you are using frozen spinach, increase the quantity, thaw and drain before adding it.
Don't roast the chickpeas and spinach too long, because they get too hard and dry. We just need them slightly softened and roasted. They cook completely when simmering in the heavy cream.
Don't be too heavy-handed with the rosemary, it can be overpowering
You can use more spinach if required, as spinach wilts and reduces in size when cooking.
Storage
The pasta can be stored in the fridge for up to 3 days. When reheating, add a little bit of water to thin the sauce out. It can also be eaten cold. If you want to freeze the creamy chickpea pasta, cook the spaghetti al dente. Fully cooked or overcooked pasta of any sort get very mushy when reheated.
Questions
Can it be used without rosemary?
Of course. You can use thyme or oregano instead, if you prefer or you can forgo the herbs and garnish at the end with fresh parsley or basil. Rosemary and spinach pair well together and along with the rich, creamy sauce it tastes fantastic and gives the sauce a pleasant yet powerful flavor.
Does the spinach and chickpeas have to be sauteed?
Not at all. This comes down to personal preference and taste. I like them slightly roasted but you can skip the step. Add the heavy cream and then add the spinach and chickpeas. They will get cooked.
The sauce turned out more watery than creamy, how can I fix it?
This can happen if you've added too much water or pasta water or if you have used a lot of frozen spinach. If you don't want to add any more cream, take about ½ a cup of chickpeas and blend to a smooth paste. Add it to the sauce, it not only makes the sauce thick, but also rich with flavor.
Can I add cheese to the sauce?
It is not necessary as the sauce is already very rich and creamy because of the heavy cream. If you really need cheese, sprinkle some fresh, grated parmesan right before serving.
Substitutions
Spinach: The best substitute for spinach in this recipe will be kale. But if you are looking at more vegetables, mushrooms would make a great addition. As would broccoli.
Chickpeas: The chickpea and cream make this dish what it is, so I would refrain from switching it up, but in case of allergy or unavailability, your best bet would be a white bean like cannellini.
Heavy Cream: Now this has plenty of options. Best bet is half-and-half. You can also use heavy whipping cream, but it is rally heavy and has a lot more calories. If you want a lighter cream sauce, regular whole milk or skim milk will work. Adding a little bit of butter to the milk makes it creamier.
For dairy-free alternatives, almond milk and coconut milk both work well. But they are much "thinner" milk, so the sauce won't be as creamy. In that case, add a little bit more of the chickpeas and blend it before adding to the sauce. It gives the sauce some heft.
Spaghetti: Any and all pastas work with this. The chickpeas and the cream sauce kind of take center stage on this dish, so substitute with whatever you have on hand.
For a gluten-free option, you can go with chickpea pasta, but that might be a bit of an overload. There are other gluten-free pastas like rice noodles and pasta that will work.
Garnish: The creamy chickpea pasta is a heavy dish, so you want to maintain some kind of balance with the garnishes. Pepper and chili flakes give the pasta a bite and that works well, because it is so heavy otherwise. Fresh parsley is another great option. It gives it a fresh, light aftertaste. A squeeze of lemon juice will also achieve the same result, but just a dash you don't want to add too much and curdle the heavy cream. Grated parmesan will also work.
Accompaniments
Green salad is the best and simplest side to the creamy chickpea pasta. A lovely, fresh tomato bruschetta will also pair well. A simple tomato salad will give the meal that hit of acidity it needs. This Chicken Diavolo brings the heat to the meal, a great accompaniment to the spaghetti.
You can also indulge in more creamy goodness with this Chicken Rasta Pasta.
---
Recent Recipes