All About Drinks & Cocktails That Start With The Letter B
Things certainly heat up with the B list of cocktails. With selections of sophisticated martini-style drinks, Italian sensations, shots, and rum drinks galore, this is a well-rounded list of adult beverages. From juicy and complex to simple and understated, the B drinks have something for every palette.
B-52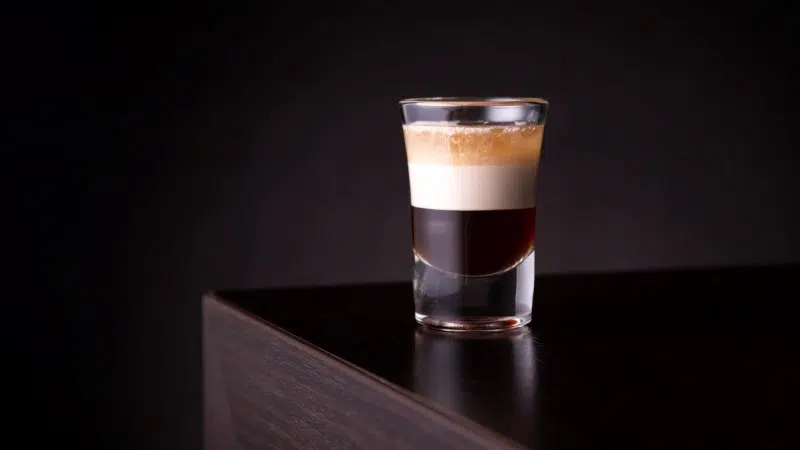 Though there's disagreement over the origin of the B-52, it seems most likely that the drink was named after the popular 70s band and not the military bomber. Of note, the B-52 is a shot and will surely get you bombed if you drink too many. Significantly, the B-52 was created by a bartender in Alberta, Canada. This shot is a fancy layered drink that's tedious and takes patience to make. B-52s have just three simple ingredients: Irish cream, coffee liqueur, and orange liqueur. The three liquors are slowly layered, one on top of the other, to create three distinct lines of demarcation in the drink. The B-52 is best served in a clear shot glass allowing you to appreciate the beautiful layered effect.
Bacardi Cocktail
This tasty spirit has its roots in Cuba; invented in 1917, the Bacardi Cocktail became uber popular following Prohibition. The Bacardi Cocktail is a pretty pink drink that's typically served before dinner. There are two variations of this cocktail's recipe; the Cuban recipe calls for Bacardi Light Rum, lime juice, and simple syrup, whereas the American version adds a splash of grenadine thus the pink hue. Of note, if ordering a Bacardi Cocktail at a bar, a 1936 Supreme Court ruling governs that Bacardi brand rum must be used. Moreover, a Bacardi Cocktail is shaken in ice and strained into a coupe glass with a cherry garnish.
Bahama Mama
The Bahama Mama is a sweet, juicy, punch-like cocktail that evokes island images. Named for a Caribbean dancer who went by the nickname Bahama Mama, this tasty cocktail gained popularity during Prohibition when the Bahamas were a hub for rum smuggling. The main ingredients in a Bahama Mama are light and dark rums, pineapple juice, and a citrus juice such as lemon or orange juice. The result is a sweet, golden-colored beverage that goes down way too easily. Whether sipping a Bahama Mama aboard a cruise ship (where they're popularly sold) or from your own backyard, these yummy drinks transport you to the islands. Notably, a Bahama Mama is served in a hurricane glass over ice and garnished with a combination of an orange slice, pineapple wedge, and/or a cherry.
Bay Breeze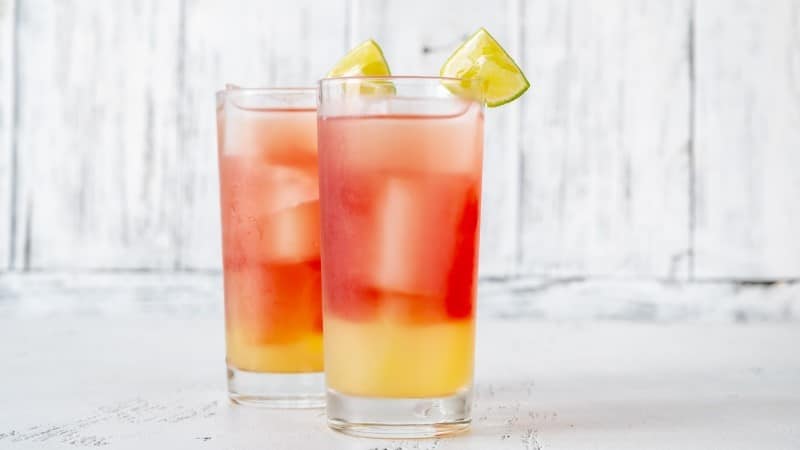 The Bay Breeze is a fruity and refreshing cocktail that has been popular for many decades. The Bay Breeze is a popular summertime drink that gained popularity in the 1980s with aggressive marketing campaigns by Ocean Spray, the cranberry juice conglomerate. The Bay Breeze is a close relative to the Cape Codder (vodka and cranberry) and the Sea Breeze (vodka, cranberry, and grapefruit). A Bay Breeze is made with three simple ingredients: vodka, cranberry juice, and pineapple juice. They're served over ice in a highball glass and garnished with a lime wedge. A popular variation of the Bay Breeze is the Malibu Bay Breeze which substitutes the vodka for coconut rum.
Bee's Knees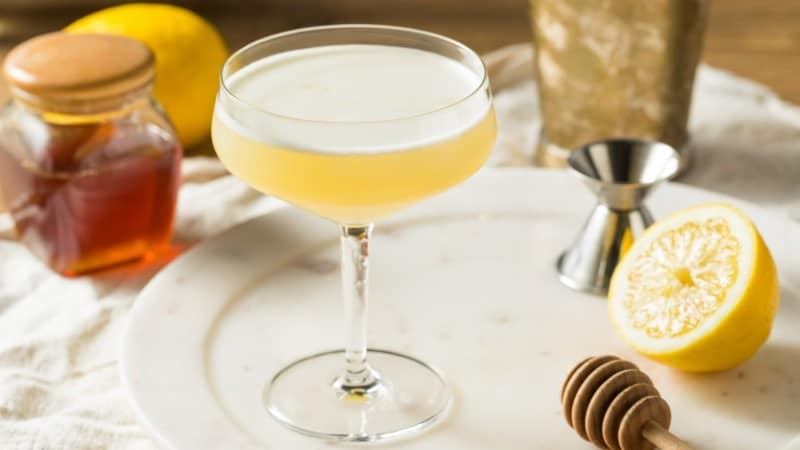 Named for the 1920s slang phrase meaning something is awesome (it's the bee's knees), the Bee's Knees is a gin drink that became popular during Prohibition. The invention of this cocktail is said to have its roots in Paris. Essentially, a Bee's Knees is a derivative of the gin sour which is made with gin, lemon, and sugar; the Bee's Knees swaps the sugar out for honey (of course!). The Bee's Knees is sweet and refreshing and easy to make for a crowd. Its ingredients are shaken in ice and strained into a coupe glass. The recipe is easy to double and triple, making pitchers for a crowd in a pinch. 
Bellini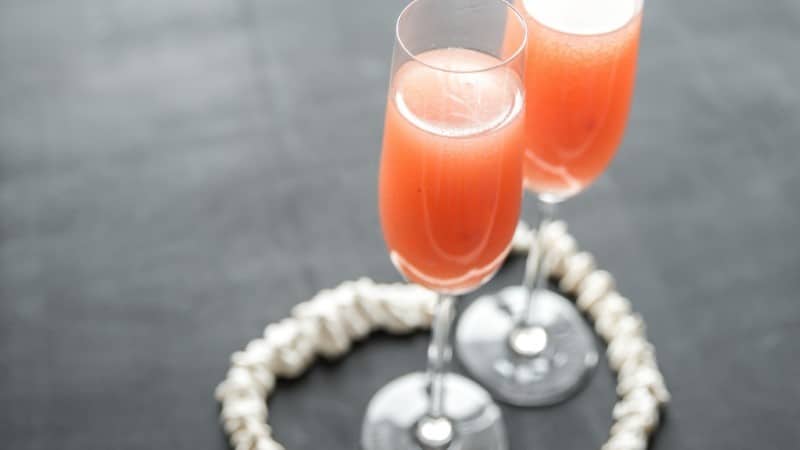 Invented by a bartender at the famed Harry's Bar in Venice, Italy, the Bellini was first served in the late 1930s. The Bellini is a refreshing and effervescent bubbly cocktail that's commonly served at brunch or as a dinner aperitif. The Bellini is a spinoff of the classic Mimosa but instead of champagne and an orange juice splash, the Bellini features chilled prosecco with a splash of peach puree. The Bellini is served in a chilled champagne flute and garnished with a peach slice. The perfect cocktail to toast in celebration or to enjoy al fresco with friends, the Bellini is a classic.
Between the Sheets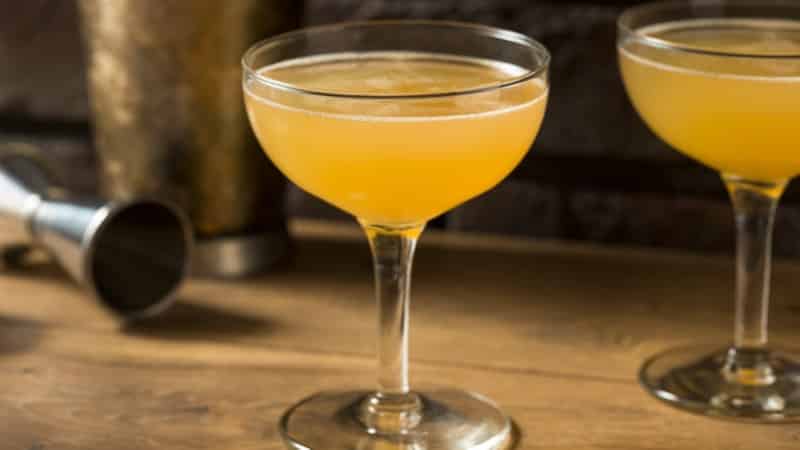 Another fancy cocktail that was purportedly invented in the 1920s at Harry's Bar in Paris, Between the Sheets is a martini-like drink with flair. Similar to drinks like the Boston Sidecar (see below) and the Embassy Cocktail, Between the Sheets seamlessly blends brandy and light rum. Between the Sheets takes this cocktail a step further by including triple sec and lemon juice giving the drink a light, citrusy, and refreshing flavor. A popular twist on Between the Sheets substitutes the rum with gin and calls it the Maiden's Prayer. Of note, the ingredients of Between the Sheets are shaken with ice and strained into a chilled martini glass then garnished with a zesty and colorful lemon twist.
Black Russian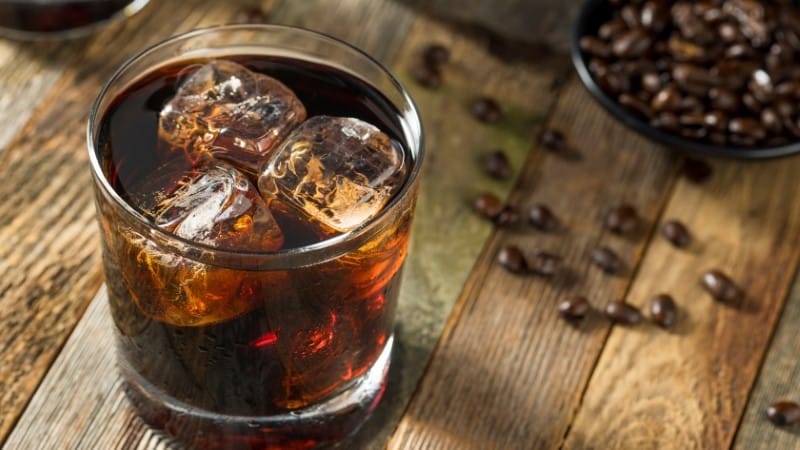 Invented in Brussels in 1949, a Black Russian is commonly served as an after-dinner drink. A simple blend of just two ingredients, a Black Russian contains vodka and coffee liqueur. It's these two ingredients that give this cocktail its name; black for the dark color of the coffee liqueur and Russian for the vodka which is typically a Russian import. The coffee liqueur lends itself perfectly to consumption after dinner. This drink is made by pouring the two ingredients over ice and gently stirring with a spoon or straw. A Black Russian is served in a rocks glass and can be garnished with a lemon twist or cherry though a garnish isn't entirely necessary.
Blood & Sand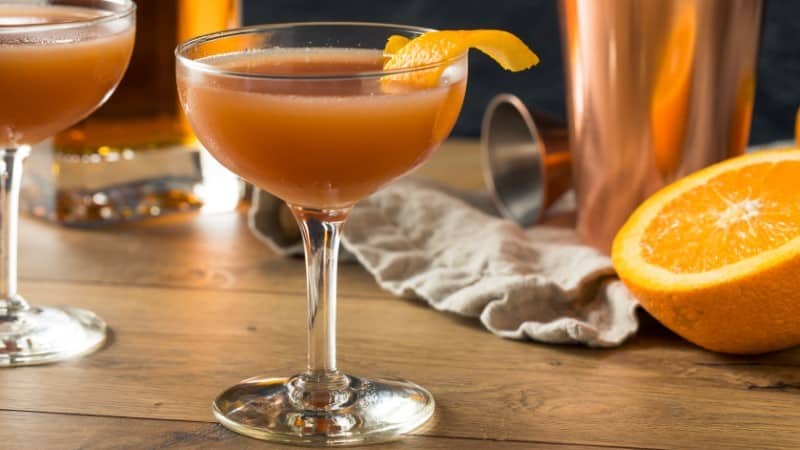 The recipe for Blood & Sand was first published in the early 1930s and was named after a bullfighter movie of the same name. Though the film for which the cocktail is named is a silent film, the drink's flavor is far from silent. A Blood & Sand is made with equal parts scotch, brandy, orange juice, and sweet vermouth; the latter liqueur gives the cocktail a deep amber color which is said to represent the blood in the drink's name. An interesting fact is that this drink is one on a short list of mixed drinks that features scotch as an ingredient; typically scotch is enjoyed by its lonesome. Of note, a Blood & Sand is shaken in ice and strained into a chilled coupe glass then garnished with a vibrant orange peel.
Bloody Mary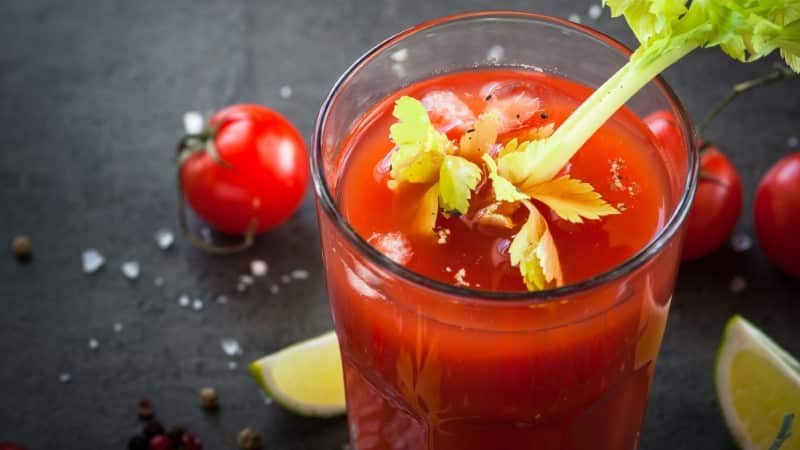 An iconic brunch cocktail, the Bloody Mary's origin dates back to the 1920s. A bartender named Fernand Petiot mixed equal parts of vodka and tomato juice and the cocktail was born. Besides a much-loved brunch drink, the Bloody Mary is a "hair of the dog" hangover cure-all. Even though a basic Bloody Mary is just two ingredients the recent craft drink movement has made way for many delicious variations of the cocktail. Want a spicy Bloody Mary? Just add horseradish and black pepper. How about a savory Bloody Mary? Add a bacon strip or chilled shrimp garnish. The options for modifying your Bloody Mary are limitless. Just pour your two base ingredients over ice in a hurricane glass and add your favorite garnish.
Blue Bird
A Blue Bird is a gin or vodka drink that's served chilled and straight up. There are variations on the exact recipe, however, one thing remains constant: the curacao liqueur that gives the cocktail its blue color. In the gin recipe, gin is mixed with bitters and curacao, while the vodka recipe uses vodka in addition to maraschino liqueur and lemon juice. No matter which Blue Bird sounds most appealing to you, both recipes are shaken in ice and strained into a chilled martini glass. Finally, a Blue Bird is typically garnished with a vibrant orange peel. Of note, the Blue Bird is a rather sweet drink that doesn't lend itself to drinking many in a row.
Blue Hawaiian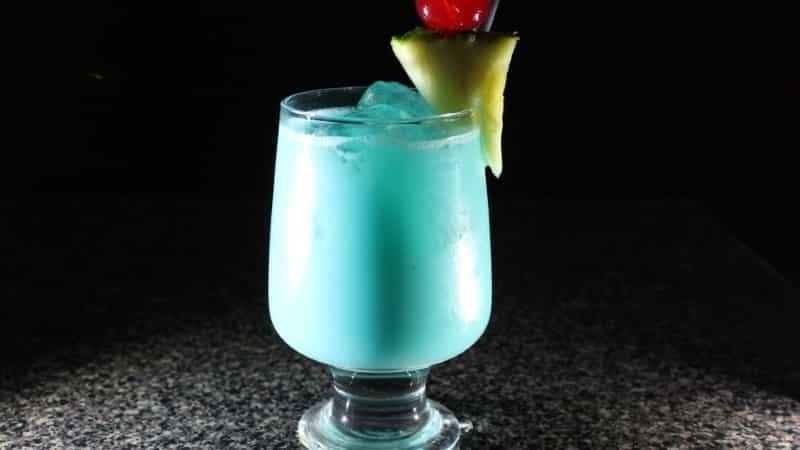 Invented in Hawaii in 1957 buy a bartender named Harry Yee at the Hilton Hawaiian Village, the Blue Hawaiian is a fruity blue cocktail that's as refreshing as it is tasty. As its name suggests, the Blue Hawaiian is a popular summertime or vacation beverage. Blue Hawaiians are a close relation to the frozen Pina Colada; its main ingredients are rum, coconut cream, blue curacao, and pineapple juice. The drink is blended with crushed ice to elicit a delightfully slushy and fruit-flavored frozen drink. The Blue Hawaiian is best served in a hurricane glass and garnished with a pineapple wedge and cherry. If you're looking for an extra kick in your fruity drink, you can add a shot of dark rum, a "floater" if you will, for a little something more.
Brandy Alexander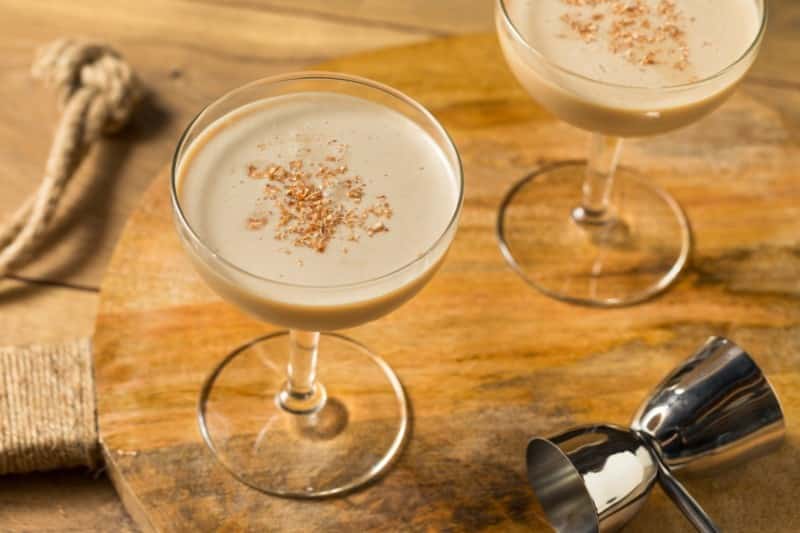 Developed in honor of Pheobe Snow and created by a New York bartender named Troy Alexander, the Brandy Alexander came out sometime in the early 1900s. Phoebe Snow was a fictional advertising character who wore all-white to market "clean" train travel. Like Snow's garb, the all-white drink is enigmatic of purity and cleanliness. Notably, a Brandy Alexander is made with a few simple ingredients: brandy, cream de cacao, and heavy cream. The ingredients are shaken in ice and strained into a coupe glass then garnished with freshly grated nutmeg.
Bocce Ball
Named after the sophisticated Italian ball game, a Bocce Ball is a cocktail that was popularized in New York City nightclubs of the 1980s. A Bocce Ball is a crisp and refreshing cocktail with subtle fruit undertones. Significantly, the Bocce Ball builds upon the Screwdriver which is comprised of just vodka and orange juice. The Bocce Ball, however, adds a splash of club soda and a hint of amaretto. The club soda dilutes the sweetness of the juice while the amaretto adds a perfect hint of almond. Finally, a Bocce Ball is served over ice in a highball glass. An orange wedge is the customary garnish for this drink.
Boston Sidecar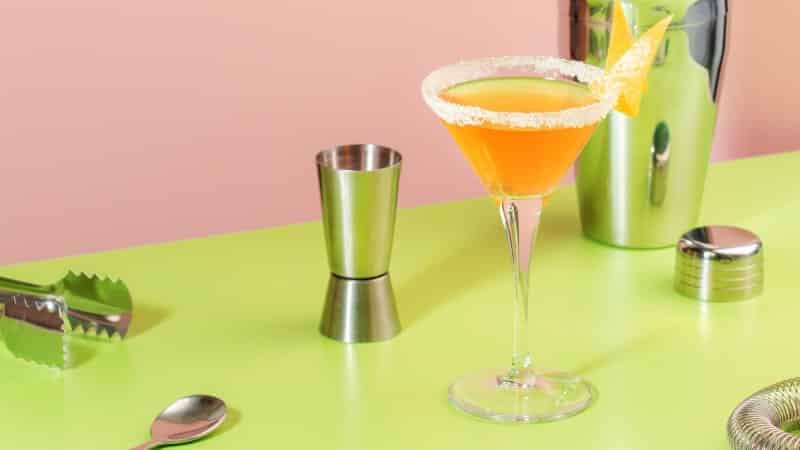 The Boston Sidecar is a variation of the original Sidecar cocktail with a Boston twist. Essentially, a Boston Sidecar is the same as a Between the Sheets with the substitution of lime juice instead of lemon juice. The Boston Sidecar is a simple sour drink to mix and it's a perfect summertime beverage. The main ingredients in a Boston Sidecar are triple sec, brandy, rum, and lime juice. Like a martini, the drink's components are shaken in ice and strained into a chilled martini glass. Lastly, the Boston Sidecar is garnished with a lime wheel.
Bushwacker
A Bushwacker is a sweet and creamy frozen drink akin to a milkshake. They are delicious yet heavy so drinking too many of these will surely fill you up. The Bushwacker is an island drink that's said to have originated in 1975 on Sapphire Beach in beautiful St. Thomas. These delightful frozen concoctions can be blended individually or by the pitcher making them perfect for a crowd. A Bushwacker is made with dark rum, coffee liqueur, dark creme de cacao, milk, and coconut cream. The ingredients are blended with shaved ice and the end product tastes similar to a frozen Mudslide. Bushwackers are best served in a hurricane glass and garnished with a dash of fresh nutmeg.
Butterball
A Butterball is a sweet cocktail often served as an after-dinner drink. Although the origin of this sweet and comforting cocktail is not well-known, it's the perfect winter drink to enjoy by the fireplace or after a cold snowy day. Of note, a Butterball is made simply with just two key ingredients: equal parts of Irish cream and butterscotch schnapps. The two liquors are poured over ice in a highball glass, gently stirred, and sipped slowly. The Butterball is the perfect after-dinner drink during the winter months!
The Final Letter
How many ways can you say cheers? With this fine list of B cocktails, you'll probably run out of ways. But sit tight because things are just heating up. Wait until you see what the rest of the alphabet has in store for you. Bottoms up!
---
Recent Recipes