All About Drinks & Cocktails That Start With The Letter C
The C list of cocktails is loaded with variations of classics such as the Bloody Mary, Margarita, Brandy Alexander, and others. The C list is a place where classic and traditional meet bold and imaginative. From fruity punches perfect for summer drinking to the best in after-dinner drinks, the C list of cocktails does not disappoint. 
Caesar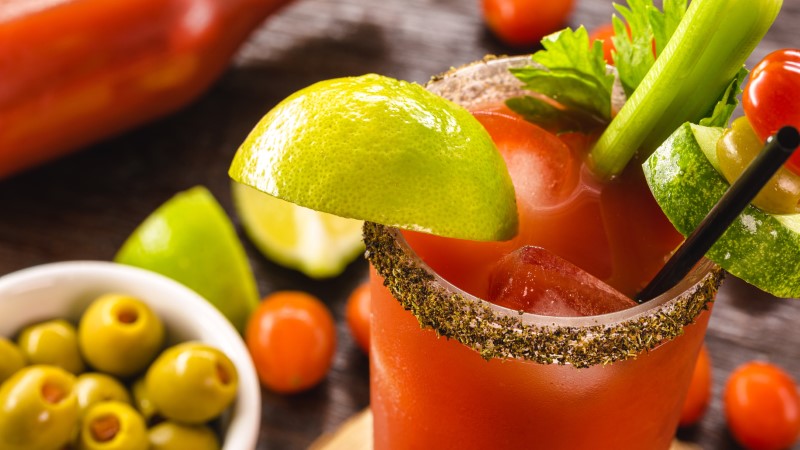 A Caesar is Canada's answer to the Bloody Mary. Legend has it that the drink was given its name to honor the Italian heritage of its inventor. Similar to a Bloody Mary, the Caesar's base consists of vodka and tomato juice, however, the Caesar mixes in clam juice which gives a briny note to this rich cocktail. A Caesar also includes dashes of Worcestershire and hot sauces. A Caesar is best served in a highball glass over ice with a salted rim. It's customarily garnished with a celery stalk and lime wedge.
Cafe Royal
The ultimate after-dinner drink, a Cafe Royal is an alcoholic coffee drink. The blend calls for more than five times more coffee than liquor, giving it a higher caffeine content than alcohol. Though the origins of the Cafe Royal are unclear, this recipe's smooth and robust flavor is worth having handy. A Cafe Royal calls for a half-ounce of your favorite brandy in a mug topped with hot black coffee. A Cafe Royal is well-garnished with whip cream and a dash of cocoa powder.
Campari Cocktail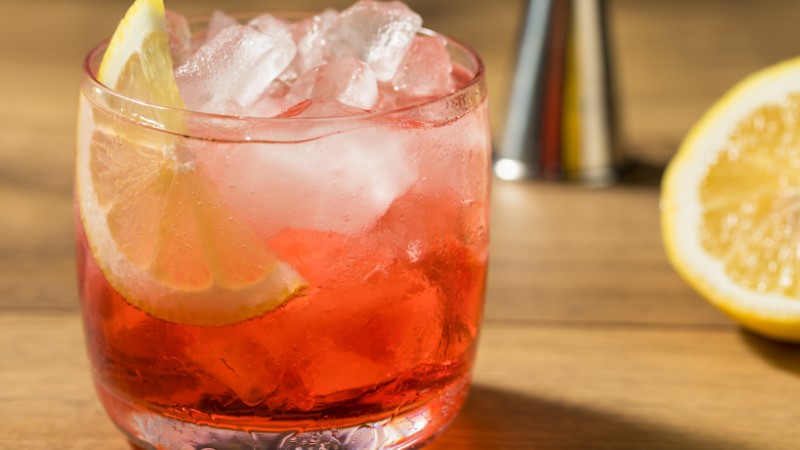 A Campari Cocktail highlights the tasty yet bitter flavor of Campari, an Italian aperitif, as the star of this drink. The recipe for the Campari Cocktail was developed shortly after the invention of Gaspare Campari's bright red apertif in 1828. A Campari Cocktail is a small sipping drink, measuring only two ounces or so in total; it's not a cocktail you'd drink many of in one sitting. Instead, the Campari Cocktail has a job to do. The bitter, herbal notes perfectly equalize your palette in preparation for the flavors of an impending meal. Of note, the Campari Cocktail is made with vodka, Campari, and bitters; it's shaken in ice and strained into a classic martini glass then garnished with a bright and zesty lemon twist.
Cape Cod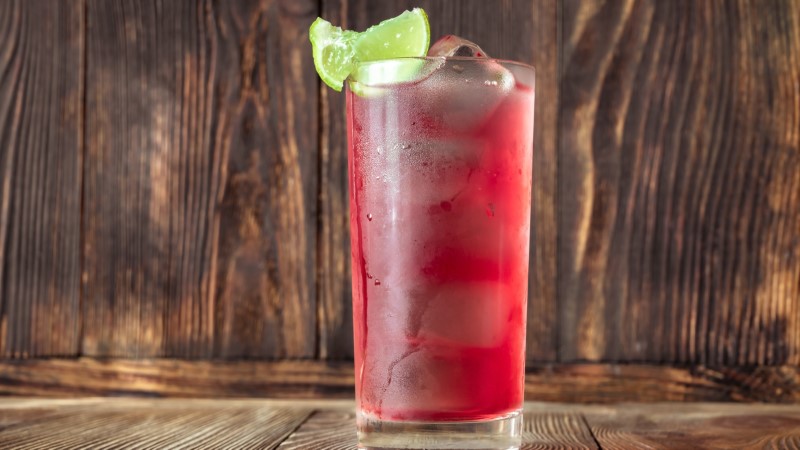 Invented sometime in the mid-1940s, the Cape Cod is a classic vodka drink perfect for any occasion. The cocktail was invented by the Ocean Spray Company as a marketing ploy for their Cranbery Cocktail Juice. It's worth noting that the Cape Cod is also interchangeably called the Cape Codder. The Cape Cod is a simple cocktail; it's a mix of vodka and cranberry juice over ice in a highball glass. It's common to garnish a Cape Cod with a lime wedge and some even enjoy it with a splash of soda water.
Caribbean Cooler
The recipe for the fruity and refreshing Caribbean Cooler was first published in 1964 in a cookbook entitled "Jamaican Cuisine." Although variations to the original recipe exist, the original is a classic punch-style drink that's popular during the summer months and on island time. While some recipes feature rum as the star ingredient and others substitute vodka, the pineapple juice and simple syrup are mainstays. The recipe for the original Caribbean Cooler includes rum, bitters, simple syrup, and pineapple juice. The ingredients are mixed over ice in a hurricane glass and topped with soda water.
Catalina Margarita
The Catalina Mararita is a fun yet simple spin on the standard Margarita. Just like a standard Margarita, the Catalina Margarita is a summertime favorite that transports you to the islands. Popularly served at beach resorts and aboard cruise ships, this tequila-based cocktail substitutes blue curacao for triple sec and adds peach schnapps. The result is the perfect blend of sweet and sour; these cocktails go down smoothly and are uber refreshing. The Catalina Margarita can be served straight up or over ice and with or without a salted rim. The best vehicle for a Catalina Margarita is a stemmed margarita glass and, like its standard counterpart, is garnished with a lime wheel.
Catcher in the Rye
Like the J.D. Salinger novel for which it's named, the Catcher in the Rye is a coming-of-age cocktail. Expectedly, the Catcher in the Rye is a cocktail that prominently features rye whiskey as its main ingredient. Like most cocktail concoctions, the Catcher in the Rye has a few variations, but rye, simple syrup, and bitters are constant ingredients in the recipe for this beverage. The bitters and simple syrup draw out the sophisticated flavors of a good rye just like Holden's life experiences draw out his more mature perspective at the end of the novel. Nevertheless, the Catcher in the Rye is shaken in ice and strained into a cocktail glass; it's garnished with a colorful lemon twist.
Centennial Punch
Created by the bar staff at New York City's Stanton Social, Centennial Punch is an answer to a previously untouched niche of whiskey punches. This punch-style drink is easy to make for a group; it's a true crowd pleaser. If you love a fruity, refreshing punch as well as have an affinity for whiskey you'll love this cocktail. Notably, a Centennial Punch is made with pineapple-infused whiskey, pineapple syrup, lemon juice, and pureed fresh pineapple. The ingredients of this cocktail are served over ice in a hurricane glass and garnished with a caramelized lemon wheel. Undoubtedly, this cocktail requires some tedious preparation but the result is well worth it.
Charlie Chaplin
The Charlie Chaplin is an old-timey drink that was concocted pre-Prohibition at New York's exclusive Waldorf-Astoria Hotel. Indulgent and glamorous, this cocktail was named for Chaplin, the comedic actor. A Charlie Chaplin is made with equal parts sloe gin, apricot liqueur, and lemon juice. It's shaken in ice and strained into a chilled cocktail glass and left ungarnished. A pro tip is to over-shake it so the ice dilutes the syrupy viscosity of this very sweet drink.
Cherry Alexander
A spinoff of the Brandy Alexander which originated in 1915, the Cherry Alexandar is a sweeter version of this classic cocktail. A Cherry Alexander substitutes vanilla-flavored vodka for cognac, giving the drink less of a bite. Of note, a Cherry Alexander is also made with cherry liqueur, white creme de cacao, and half-and-half in addition to vanilla vodka. The ingredients of this cocktail are shaken in ice and strained into a coupe glass and garnished with a cherry.
Chi-Chi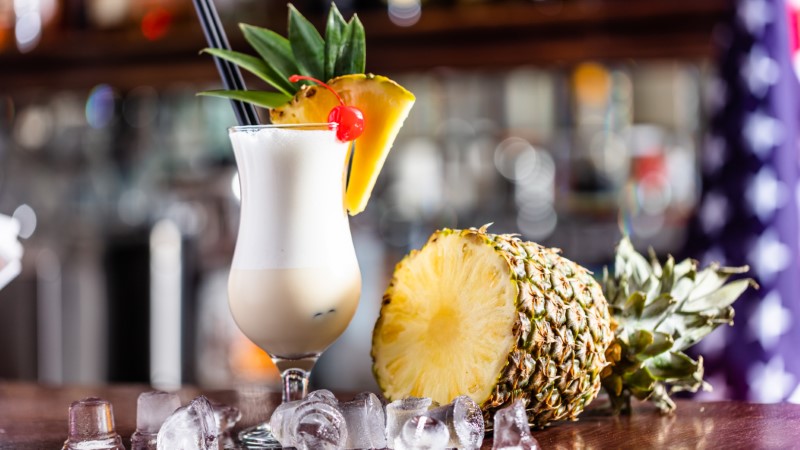 The Chi Chi is a fruity and tropical cocktail perfect for poolside imbibing. Essentially, a Chi Chi is a Pina Colada that substitutes the rum for vodka. If you're more of a vodka-lover than a rum-lover and are typically disappointed by frozen drink menus, here's your answer. Simply order a Chi Chi and you'll be sipping an island-inspired frozen beverage in no time. A frozen blend of vodka, pineapple juice, and coconut cream, a Chi Chi is typically served in a hurricane glass and garnished with a pineapple wedge and cherry.
Chicago Fizz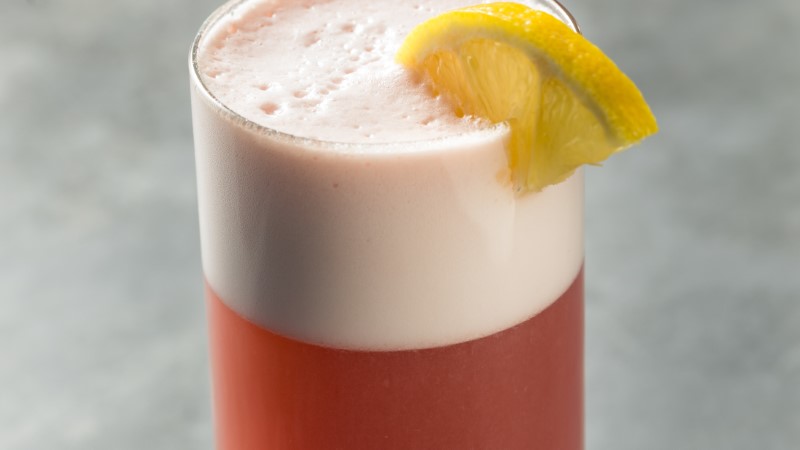 The first musings of the Chicago Fizz in the hisotry books is as a popular cocktail served in Chicago's Waldorf-Astoria Hotel. The Chicago Fizz is a rich, flirty, and uber tasty cocktail. Although this was once a wildly popular drink, you don't hear much about it outside of a few vintage bar books. Nonetheless, a Chicago Fizz is made of dark rum, ruby port wine, lemon juice, egg white, and sugar. The ingredients are dry-shaken (without ice) and strained into a chilled collins glass. It's then topped with club soda which gives it its fizzy, frothy head.
Chimayo
This bold tequila cocktail was invented in a New Mexico restaurant in 1965. Not only did this cocktail become the restaurant's signature drink, but it's also still a popular tequila drink today. A perfect cocktail for afternoon gatherings, the Chimayo is light and fruity and definitely a drink you can order over and over again. This cocktail mixes tequila, creme de cassis, and apple cider with freshly squeezed lemon juice over ice. The drink is served in an old-fashioned glass and garnished with an apple slice. The overt apple cider flavor has superb autumnal notes which make it a Fall favorite.
Chocolate Martini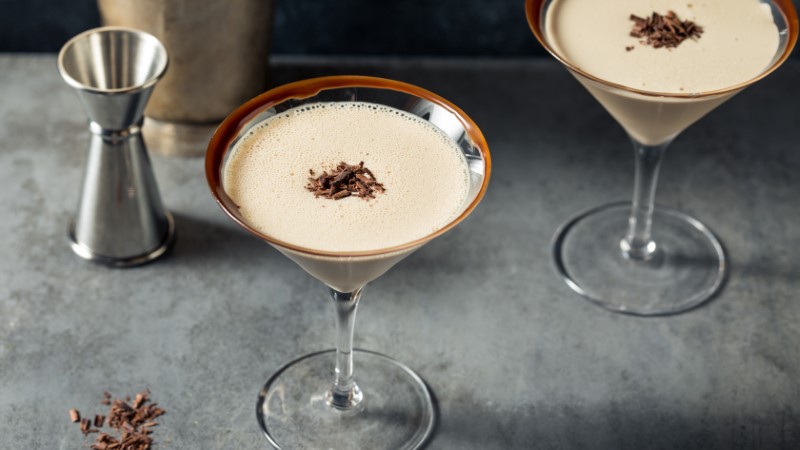 The Chocolate Martini is an American invention straight out of the mid-1980s. The drink was unexpectedly conceived of by chocolate-loving film stars Elizabeth Taylor and Rock Hudson. The two chocoholics were feeling inventive and added chocoate syrup and chocolate liqueur to vodka to come up with this delightful martini. The drink is made by swirling chocolate syrup around the inside of a chilled martini glass. The other two ingredients are shaken in ice and strained into the prepared martini glass for the perfect after-dinner cocktail.
Clockwork Orange
If you're a fan of orange flavors, the Clockwork Orange is for you. This citrusy cocktail delivers orange on orange on orange. Although little is known about the origins of this cocktail, it stands to reason that it was named for the Stanley Kubrick film and Anthony Burgess novel of the same name. Nevertheless, the Clockwork Orange doubles down on orange flavor and color. A Clockwork Orange is made with cognac which is orange in color, orange liqueur, and freshly squeezed orange juice. The citrus notes of the orange liqueur and juice coupled with the oak and vanilla notes of the cognac are irresistible. Lastly, a Clockwork Orange is served in a collins glass and garnishsed with an orange wheel.
Collins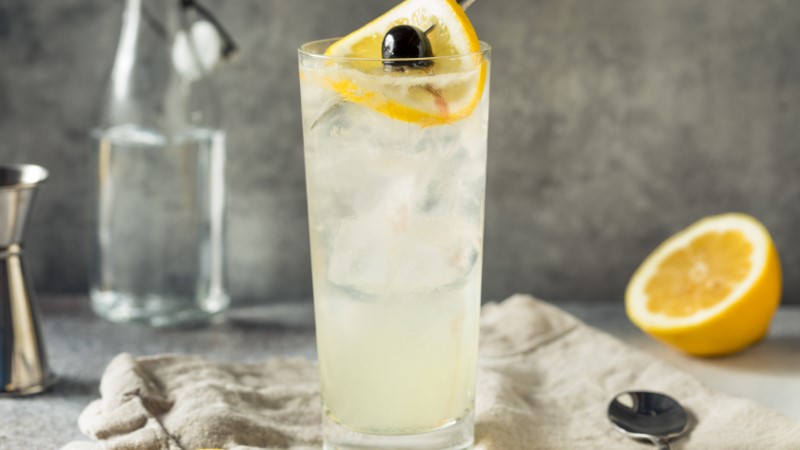 First published in a bar recipe book in 1876, the Collins is an iconic bar drink. A Collins drink is a classically refreshing cocktail that's quickly and easily made. The two popular varieties of the Collins drink are the Tom Collins and the Vodka Collins. This cocktail is tart and refreshing and tastes like an adult lemonade. The Tom Collins is made with a mix of gin and sour mix over ice and topped with a splash of soda water. The Vodka Collins simply substitutes the gin for vodka. Best served in a collins glass, the Collins is typically garnished with an orange wheel and cherry.
Cosmopolitan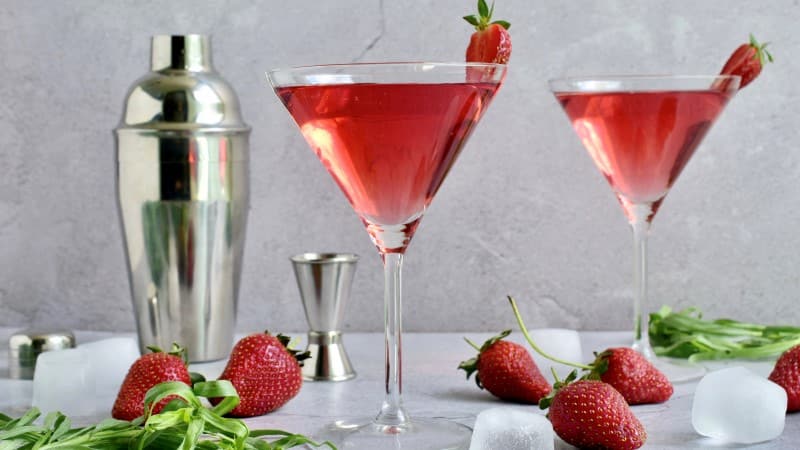 A spinoff of the Kamikaze, the Cosmopolitan was invented in 1975 when a Minneapolis bartender added a splash of cranberry juice to a Kamikaze base. A Cosmopolitan is a martini-style drink that can be served both straight up or on the rocks. Although the Cosmopolitan has always been a tasty cocktail, it gained mainstream popularity when it became the signature cocktail of the "Sex and The City" girls. The main ingredients in a Cosmopolitan are vodka, triple sec, lime juice, and a splash of cranberry juice; these components are shaken in ice and strained into a chilled martini glass then garnished with a lime wheel. Of note, the Cosmopolitan is typically called by its nickname, the Cosmo.
Creamsicle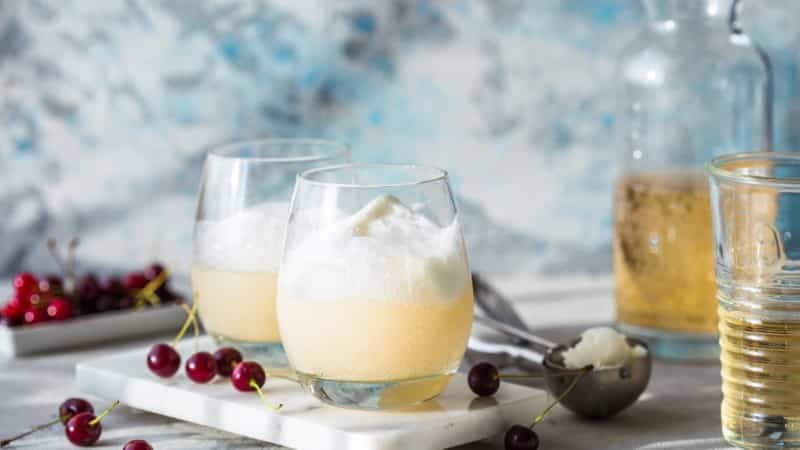 The Creamsicle is basically the cocktail version of your favorite childhood ice pop. A creamy and orangey delight, this drink is like a liquid dessert. The creamsicle ice pop was invented in the early 1900s and the cocktail version followed soon thereafter. The recipe for a Creamsicle calls for either vanilla- or whipped cream-flavored vodka, triple sec, half-and-half, and orange juice. The ingredients are mixed over ice in an old-fashioned glass and garnished with an orange wheel. The combination of flavors, like those in the ice pop, is genius.
Cuba Libre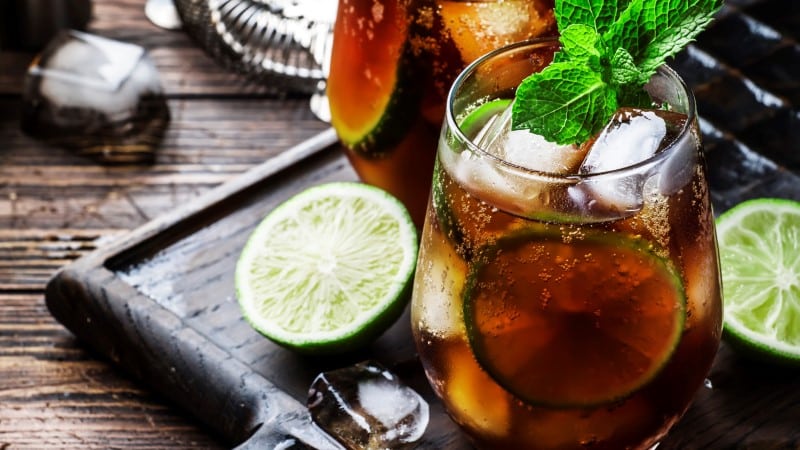 Accidentally invented in 1900, the Cuba Libre, which translates to "free Cuba," is a simple and classic drink. Simply a rum and Coke with a squeeze of fresh lime, this drink is more often than not ordered by its ingredients than its name: "rum and coke with a lime, please." The Cuba Libre is served over ice in a highball glass with that freshly-squeezed lime as a garnish.
Cuban Rose
The recipe for this polished cocktail was first found in an old copy of "The Old Waldorf-Astoria Bar Book" which was published in 1935. With a sweet combination of orange notes and grenadine, the Cuban Rose has a pleasing yet powerful flavor. The Cuban Rose gets its name from rum, a Cuban fave, and the rose color acquired from the grenadine. In addition to light rum and grenadine, the recipe also calls for orange juice. The ingredients for this cocktail are shaken in ice and strained into a chilled cocktail glass; no garnish is required.
The Final Letter
With so many incredible concoctions to choose from, this list of cocktails is worth noting. From high-brow martinis to fun and fruity punches, there's a cocktail and occasion for each cocktail on the C list of drinks. Which C drink will you toast with next?
---
Recent Recipes