All About Drinks & Cocktails That Start With The Letter D
Delicious drinks by the dozen come through on the D list of cocktails. From the classic Dry Martini to tasty Martini spinoffs and the original Daiquiri to a bevy of other fruity drinks, the D list is a stunner. Take a peek!
Daiquiri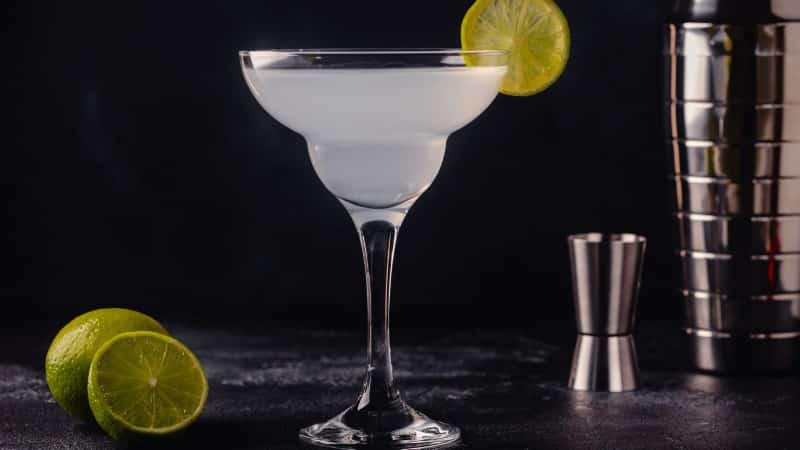 A Daiquiri, not to be confused with the frozen variety, is a martini drink that originated in Cuba in the late 1800s. The Daiquiri was a favorite of Ernest Hemingway who spent time living in Cuba. The recipe for this cocktail traveled with a Navy man to the US a few years later. A Daiquiri is a rum-based drink made with light rum, lime juice, and sugar. The ingredients are shaken in ice and strained into a martini glass then garnished with a lime wedge. The Daiquiri is white in color and sweet in taste.
Danny Ocean
Named for the George Clooney character in "Ocean's Eleven," the Danny Ocean is a delicious cocktail introduced by Casamigos Tequila. The Danny Ocean is fruity and refreshing and perfect for casual al fresco sipping. A Danny Ocean is made with tequila, maraschino liqueur, fresh lemon juice, grapefruit juice, and agave nectar. These ingredients come together to make a sweet yet tart drink that goes down with ease. The Danny Ocean is mixed over ice in an old-fashioned glass; the recipe doesn't call for a garnish.
Daphne Martini
If you enjoy the occasional fruity martini, the Daphne Martini is for you. With a subtle blue hue, the Daphne Martini is more sophisticated than those aqua-colored punch drinks; it's a great drink to enjoy all year long. The Daphne Martini is made with gin, pear vodka, blue curacao, orange bitters, and dry vermouth. Like a standard martini, the ingredients are shaken in ice and strained into a martini glass. Though there's not a standard garnish for the Daphne Martini, some options include a lemon twist or blueberries.
Dark Continent
A Dark Continent is an alcoholic coffee drink perfect for after-dinner sipping. This drink gets its name from Africa's nickname, the Dark Continent because one of the main ingredients hales from Africa. Significantly, a Dark Continent is made with Amarula Creme Liqueur and hot, black coffee. The ingredients are poured into an Irish coffee mug, topped with whipped cream, and dusted with grated chocolate. A Dark Continent is the perfect drink for cozying up on cold winter days.
Dark 'n Fluffy
This sweet, decadent, and tasty cocktail makes a wonderful dessert drink. The recipe is a new one that was first published in 2007 in an online cookbook called the Corrigan Family Cookbook. With a name like Dark 'n Fluffy, you'd expect this cocktail to have a Fluff effect, and that it does. This cocktail is made with (gasp!) marshmallow-flavored vodka, chocolate liqueur, and cream. The ingredients are shaken in ice and strained into a martini glass then topped with mini marshmallows and cocoa powder for a garnish.
Dark & Stormy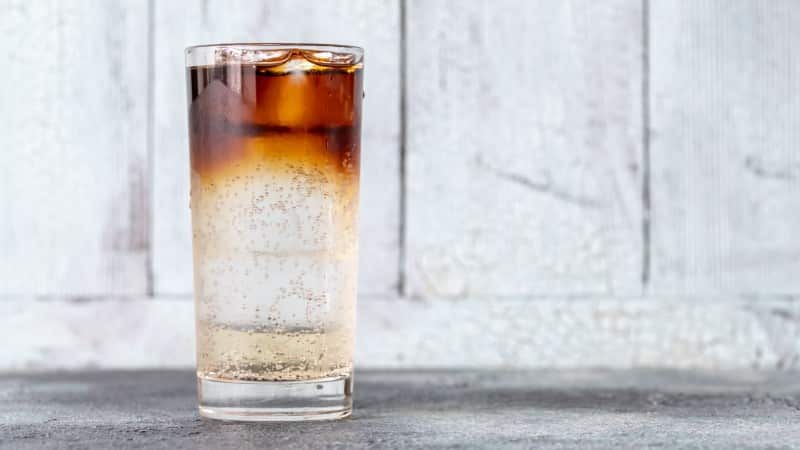 Legend has it that this drink was named by a sailor who thought the dark, murky liquid of this beverage resembled storm clouds. Nevertheless, the Dark & Stormy was born following the end of World War I. A Dark & Stormy is made with dark rum, ginger beer (not to be confused with ginger ale), and a fresh lime squeeze. The drink is served over ice in a highball glass with a lime garnish. Until recently, the Dark & Stormy was a popular island drink because ginger beer wasn't always available in the US. However, today the Dark & Stormy is a popular cocktail in the US too.
Death By Chocolate
This frozen chocolate drink is chocolate overkill, thus its name. Essentially, Death By Chocolate is a spiked chocolate milkshake of divine proportions. The drink is a spinoff of the popular Death By Chocolate dessert invented by French chef Marcel Desaulniers in the 1980s. This drink version of the popular dessert is made with vodka, coffee liqueur, creme de cacao, and chocolate ice cream. The ingredients are blended with shaved ice and poured into a hurricane glass that's been prepared with chocolate syrup swirls; it's then topped with whipped cream and a cherry garnish. A truly decadent cocktail, the Death By Chocolate is rich and filling.
Delilah
A member of the Sidecar family of cocktails, the Delilah is also interchangeably called the White Lady or the Chelsea Sidecar. The Delilah is a martini-style cocktail that perfectly blends sweet and sour elements for a refreshing beverage. The Delilah is made with gin, triple sec, and lime juice which are shaken in ice and strained into a chilled cocktail glass. A maraschino cherry is typically used to garnish this lovely cocktail.
Deliverance
The Deliverance is a refreshing and sweet drink perfect for sipping in the warm summer months. Named for the backcountry movie of the same name, it's easy to picture yourself strumming your banjo or listening to some bluegrass music as you sit on your porch rocker in the hot summer heat. Nevertheless, a Deliverance is a perfect blend of bourbon, apple-flavored brandy, Fernet Branca (a type of Italian bitters), and maple syrup. The ingredients of this drink are shaken and poured over ice into an old-fashioned glass then garnished with an apple slice.
Diamond Martini
Created in 2007 by the Ritz-Carlton in Tokyo, this super sophisticated and ultra classy cocktail is one for the ages. It's also a $22,000 martini designed with ultimate luxury in mind. The recipe for the Diamond Martini is simple enough: Grey Goose Vodka with a hint of fresh lime. Like a standard martini, it's stirred or shaken in ice then strained into a martini glass. The most special facet of this drink, however, is in the garnish. The finishing touch for a Diamond Martini is a whopping one-carat diamond for the keeping; thus, the exorbitant price tag.
Dirty Bird
At its heart, the Dirty Bird has all the same components of the ever-popular White Russian that's been around since the 60s. However, a Diry Bird shifts the ratios making it sweeter and not as strong as its White Russian counterpart. A moderately popular bar drink, the Dirty Bird is made with coffee liqueur, vodka, and half-and-half. The components of this drink are mixed over ice in an old-fashioned glass; this drink is not garnished. A popular variation of the Dirty Bird is to substitute tequila for vodka.
Dirty Martini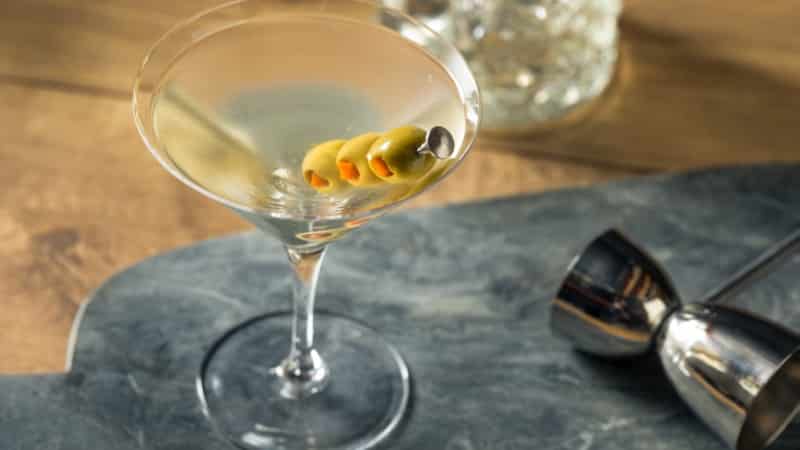 A popular spinoff of the standard martini, the Dirty Martini was invented by a New York City bartender in the early 1900s. Though the Dirty Martini is noted in many pop culture instances, one of its most popular cameos includes when it was ordered by Reese Witherspoon's character in "Sweet Home Alabama." Be that as it may, a Dirty Martini is simply a standard martini with a splash of olive juice. Vodka or gin, dry vermouth, and olive juice are shaken or stirred in ice and strained into a martini glass then garnished with an olive or two.
Dom Pedro
This drink has its roots in South Africa and was invented by a bartender with a special interest in whiskey distilleries. Originating in the 1970s, the Dom Pedro is a sweet dessert drink that is now much-loved around the world. Notably, the Dom Pedro is a frozen coffee drink made with vanilla ice cream, Amarula liqueur, fresh cream, and crumbled chocolate. Essentially, the Dom Pedro is the vanilla answer to the decadent Death By Chocolate (see above) cocktail. The ingredients of the Dom Pedro are blended with shaved ice, served in a hurricane glass, and topped with chocolate crumbles.
Double Dutch
Double Dutch is a series of bottled drink mixers made in the Netherlands. Double Dutch bottles are essentially pre-mixed cocktail mixers that merely require the addition of your favorite spirit. These bottled mixers run the gamut from juices, sodas, and tonics in unique flavors and blends. They take the thinking and preparing out of serving cocktails. Simply set out these bottles with your favorite spirits and mix them to your liking. Some of the divine blends that the Double Dutch mixes come in include Bloody Mary Soda, Cranberry & Ginger, and Cucumber & Watermelon to name a few. Perfect for entertaining or mixing up a quick and tasty drink, Double Dutches are highly recommended.
Dry Martini
Invented sometime before World War II, the Dry Martini is said to have been created by a New York City bartender at the famed Knickerbocker Hotel. The Dry Martini simply mixes equal parts of gin and dry vermouth; a common variation of this recipe is to substitute the gin for vodka. The ingredients of a Dry Martini are shaken or stirred in ice and strained into a martini glass. Depending on your preference, a Dry Martini can be garnished with either an olive or lemon twist.
Dubonnet Cocktail
The Dubonnet is a gin cocktail designed with gin-lovers in mind. Invented in the mid-1800s, the Dubonnet was created by and named for Joseph Dubonnet who was looking for a gin drink with chutzpah when he ordered, "a gin and tonic, hold the tonic." Though a Dubonnet is more than straight gin, this old-fashioned drink is out of fashion in modern times. Nonetheless, a Dubonnet Cocktail is gin and Dubonnet Rouge (an aperitif) gently mixed in ice and strained into a cocktail glass. The Dubonnet Cocktail is typically garnished with a lemon twist which accentuates the flavors of the gin.
The Final Letter
The drinks listed herein are a diverse blend of martinis, mixed drinks, frozen concoctions, and coffee drinks. With wonderful selections for any time of day and pairings for an assortment of mealtimes, the D drinks truly deliver. Don't think twice about giving a few of these cocktails a try.
---
Recent Recipes