Easy Malawian Chambo (Fried Fish in Gravy)
Malawi is located in southeast Africa and has a massive lake that takes up nearly a third of the country. Lake Malawi is home to several unique species of fish, including chambo. Chambo is not much different to Tilapia, which is a fish commonly available in shops. Chambo and Tilapia are mild-flavored fishes, so this recipe pairs them with a zesty fruit chutney and intense spice mix. If you would rather a fish-based dish where the fish has a stronger taste, try baked basa fillets.
The curry spice mix is easy to make and can be stored for a few months. The fruit chutney takes over an hour due to soaking and simmering times, so it might be a good idea to make the chutney and spice blend the day before actually cooking the fish.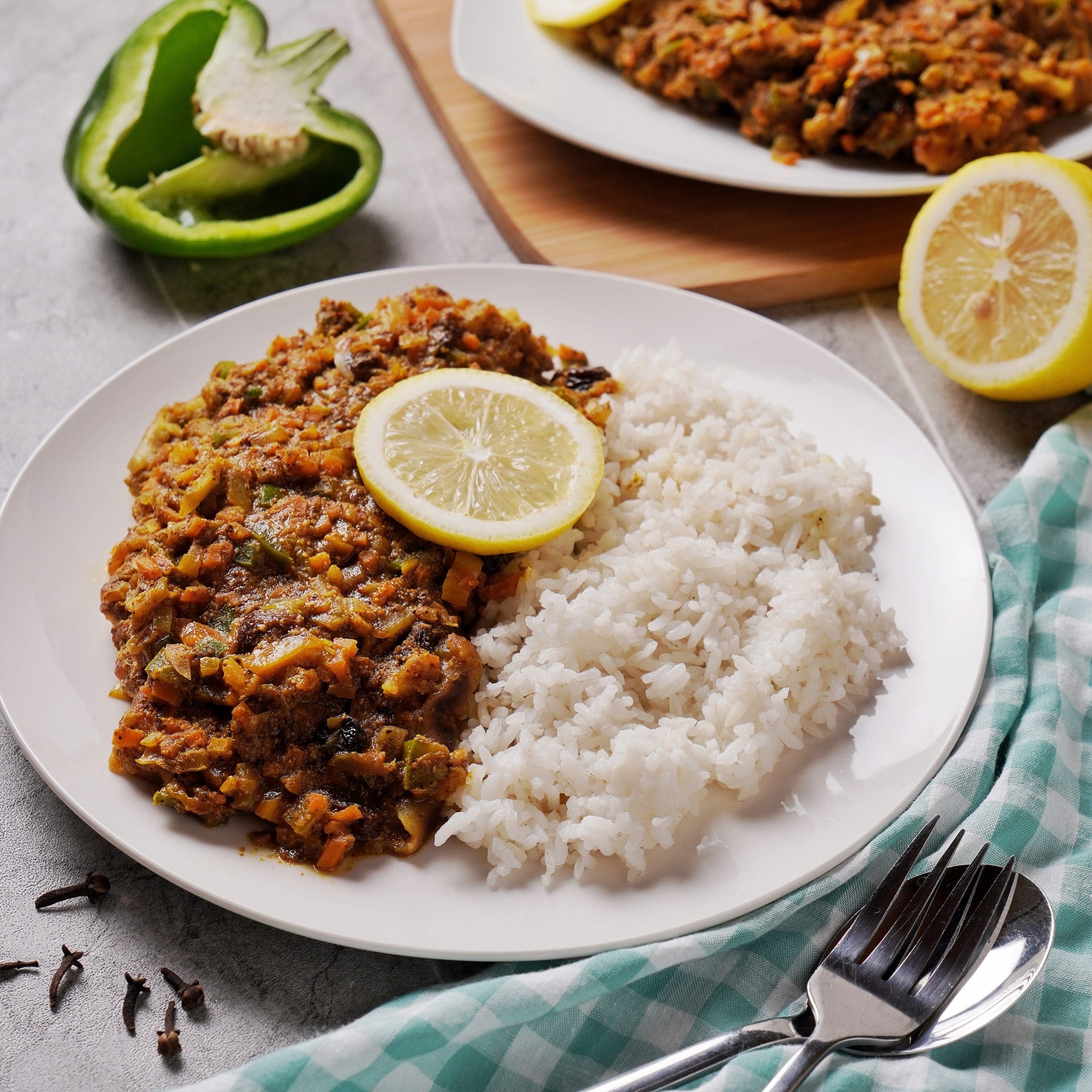 Ingredients
10

dried peri peri chilies

3

tbsp

coriander seeds

1

tbsp

black peppercorns

3

tbsp

poppy seeds

2

tsp

black mustard seeds

1

tbsp

cumin seeds

1

tbsp

turmeric

2

tsp

ground cinnamon

10

whole cloves

4

peaches

1

cup

dried apricots

1

cup

raisins

2

red onions

2 ½

cups

sugar

2

tsp

chili powder

2

tsp

ground coriander

2

tsp

salt

4

Tilapia fillets

1

cup

lemon juice

1 ½

cup

flour

4

tbsp

vegetable oil

1

large onion

1

carrot

1

green pepper
Instructions
All ingredients ready? Let's begin!
To make the curry spice blend:
If the chili peppers still have their seeds, carefully slice them lengthwise and scrape the seeds out with a knife or spoon. Discard the seeds.

In a strong blender, add the chili peppers, coriander seeds, black peppercorn, poppy seeds, black mustard seeds, turmeric, cinnamon, and cloves.

Blend on high until everything is finely ground. If you don't have a blender, you can use a good old-fashioned mortar and pestle.

Transfer the spice blend to a jar with a tight lid or another airtight container for storage.
To make the fruit chutney:
Put the apricots in a large bowl. Boil several cups of water and pour over the apricots until they are covered. Leave them to soak for at least an hour. They should have ballooned and grown in size.

Drain the water into another bowl and save it. Roughly chop the apricots into small pieces.

Peel the peaches by making a careful cut all the way around the perimeter that only just cuts through the skin. Make another similar cut going around through the first (so it will be in fourths). Pinch the corner of the skin between a knife and your finger and pull the skin off. It may take a few pulls.

Cut the peaches in half and remove the pits before cutting into small chunks.

Peel and dice the red onions.

In a pot, add the apricot water, chopped apricots, chopped peaches, chopped onion, raisins, sugar, chili powder, coriander powder, and 2 tsp salt.

Place the pot over medium-high heat until it begins to boil then turn it down to low and allow to simmer for an hour. Don't cover it and make sure to stir occasionally.

After an hour, remove from heat and allow to cool to room temperature before transferring to a glass jar or other airtight container.
To make the fish:
Generously rub salt on all sides of the fish. Drizzle lemon juice across the surface of the fish then dunk it in a bowl of flour until it is coated.

In a large skillet, heat 4 tbsp of oil over medium-high heat.

Place each fillet in the skillet and cook for 4 minutes. Flip the fillets to the other side and cook for another 4 minutes. If you have a food thermometer, you can use it to check if the fish is done.

Cooked fish should be at least 145F in the middle.

Remove the fish and place on a plate covered with a paper towel.

Peel and dice the white onion. Deseed and chop the green pepper. Chop the carrot.

Add the onion to the skillet over medium heat. Cook for 5 minutes or until the onions become translucent.

Add 2 tbsp of the spice blend you made earlier and stir for 2 minutes.

Add the rest of the spices as well as 1 ½ cups of water. Stir constantly until well mixed.

Add to the skillet the green pepper and carrot. Bring to a boil then turn the heat to low.

Allow to simmer for 10 minutes or until the vegetables are soft.

Add ¼ cup of the previously made fruit chutney. Stir thoroughly.

Place the fish fillets into the saucepan and spoon the sauce over until the fillets are covered.

Cover the skillet with a lid and allow to sit for 5 minutes over low heat.

Remove from heat and serve. Make sure to coat the fish in plenty of gravy first and enjoy!
Video
Nutrition
Calories:
1208
kcal
|
Carbohydrates:
250
g
|
Protein:
47
g
|
Fat:
10
g
|
Saturated Fat:
2
g
|
Polyunsaturated Fat:
4
g
|
Monounsaturated Fat:
3
g
|
Trans Fat:
1
g
|
Cholesterol:
85
mg
|
Sodium:
1328
mg
|
Potassium:
1986
mg
|
Fiber:
17
g
|
Sugar:
162
g
|
Vitamin A:
4988
IU
|
Vitamin C:
65
mg
|
Calcium:
271
mg
|
Iron:
10
mg
Notes & Tips
Malawian chambo is best served alongside steamed rice. If you like extra spicy food, why not make this fermented sriracha to mix in with your gravy?
The spice mixture can last for up to a couple months and the fruit chutney for roughly two weeks. Keep them in their airtight containers and put the chutney in the fridge. The spice mix can be stored in a dark, cool pantry.
Any leftover fish can be stored covered in the fridge. If it doesn't have gravy on it, you can reheat it in the oven so it becomes crispy again. Otherwise, microwave it.
Substitutions
The specific type of chili pepper is not terribly important–any will work. Peri peri chilies are also known as bird's eye chilies, so you might find them under that name. If not, good substitutes include red cayenne peppers, red jalapeno peppers, or other red chili peppers.
Canned peaches work if you can't find any fresh peaches as well.
Vegetable oil can be substituted for a different type of oil such as olive or grapeseed oil.
All of the spices should be used to achieve the best result, but if you realize you're missing one halfway through, don't worry. A little less or the absence of one spice won't be a massive hit to your dish
---
Recent Recipes