Homemade Grandma Ople's Apple Pie
Apple pie is such an American staple that I think pretty much every family has tried to make one at some point. But why do that when you can buy a beautifully baked apple pie? I have plenty of reasons why.
When apples are plentiful and super fresh in autumn, you can get a bag or basket full for very little money. There is nothing better than a crisp apple that has just been just picked off the tree. When I go to our local orchard, I am blown over by the aroma of the apple pies baking in the kitchen behind the seasonal market. I want to just grab one and call it a day. But, $17.00 for a pie!?!? I always opt for picking my own apples and making a pie, apple sauce, and some apple butter for canning.
The only part of making an apple pie that is iffy for me is the pastry or crust. Pie crust can be finicky, depending on the temperature and humidity inside your kitchen. It is also a bit time-consuming. I am admittedly lazy when it comes to making pastry from scratch.
Grandma Ople's apple pie recipe gives you permission to skip the pie crust step and use crusts that you can pick up at any market, either fresh or frozen. These are affordable and actually quite good. Now, I don't know exactly whose grandma Ople is, but this recipe is a classic and super easy, failsafe method for making a delicious pie using fresh apples.
The ingredient list is manageable. You only need pie crusts, apples, butter, flour, sugar, and water to make the original recipe. I have added a couple of extra ingredients that I think enhance the recipe: lemon juice and cinnamon. You can skip these additions. But here is why I add them. Lemon juice helps to keep the apples from turning brown and cinnamon is just a great pairing with apples.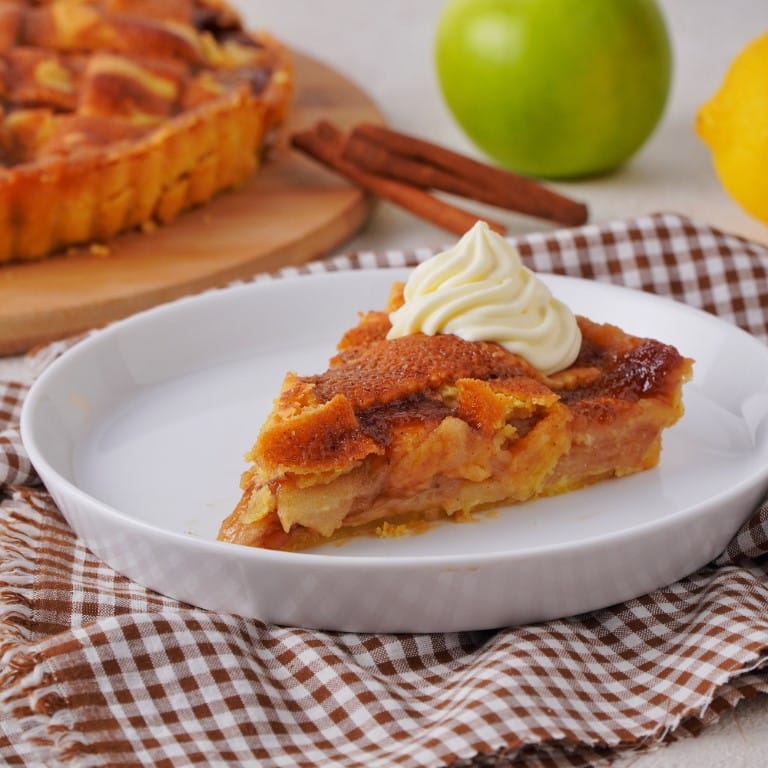 Ingredients
2

9-inch unbaked pie crusts, defrosted if frozen

8

granny smith apples

peeled, cored, halved, and sliced thinly

2

Tbsp

fresh lemon juice

½

cup

8 Tbsp or 1 stick salted butter

4

Tbsp

all-purpose flour

½

cup

granulated sugar

½

cup

packed brown sugar

½

tsp

ground cinnamon

¼

cup

of water
Instructions
All ingredients ready? Let's begin!

Preheat your oven to 425°F. Line a baking sheet with parchment paper or aluminum foil.

Place one of the pie crusts into a 9-inch pie pan. Place the pie pan on the lined baking sheet.

Place the peeled, cored, and sliced apples in a bowl and pour the lemon juice over them. Toss to coat. Set this aside.

In a heavy-bottomed saucepan over medium-high heat, melt the butter. Stir in the flour and cook for 1 minute. Stir in the 2 sugars, cinnamon, and water. Lower the heat and simmer for 5 minutes.

While the sauce is simmering, cut the second crust into 1-inch wide strips.

Place the apples in the dough-lined pie pan. Take 3 heaping spoonsful of the sugar mixture and pour it over the apples.

Take the strips of pie dough and layer them in a crisscross lattice pattern over the apples. Trim the excess dough and crimp the edges with the tines of a fork to seal the dough or pinch the edge with your fingers to form a seal. This short video shows how to form a lattice top – just skip the egg wash and sugar in the video.

Carefully pour or ladle the remaining sugar-based sauce over the pie so that it seeps down into the apple filling through the lattice openings.

Place the baking sheet with the pie into the preheated oven and bake for 15 minutes. Reduce the heat to 350°F and continue to bake for 35 to 45 minutes until the apples are soft when pierced with a sharp paring knife. Remove the pan from the oven and allow the bubbling hot pie to rest while it sets up and cools.

Serve the pie warm or at room temperature with whipped cream, ice cream, or a slice of cheddar cheese.
Nutrition
Calories:
679
kcal
|
Carbohydrates:
100
g
|
Protein:
5
g
|
Fat:
31
g
|
Saturated Fat:
15
g
|
Polyunsaturated Fat:
3
g
|
Monounsaturated Fat:
11
g
|
Trans Fat:
1
g
|
Cholesterol:
41
mg
|
Sodium:
366
mg
|
Potassium:
356
mg
|
Fiber:
8
g
|
Sugar:
60
g
|
Vitamin A:
605
IU
|
Vitamin C:
13
mg
|
Calcium:
48
mg
|
Iron:
2
mg
Notes & Tips
Don't forget to defrost your pie crusts, if they are frozen, prior to starting the recipe.
Be sure to use salted butter for the sweet sauce. Salt always enhances sweetness in desserts. If using unsalted butter, add a couple of pinches of salt to your sauce.
The original recipe calls for pouring the entire sweet sauce over the assembled pie. I had a little issue with that because the lattice weave was a little too tight and the sauce didn't really get down into the apple filling. That is why I recommend adding some of the sauce to the apples before placing the top layer of dough over the apples.
Substitutions & Additions
What if I am gluten-free? There are some really good pre-made gluten-free pie crusts available. For the sweet sauce, you can substitute rice flour or cassava flour for the all-purpose flour. I would think almond flour would add a mild nutty flavor if that interests you.
Apples are not a low-fodmap fruit. If that concerns you, I would recommend making this pie using blueberries or strawberries.
I personally love spicing up my apple pie. Cinnamon is my go-to spice when making anything with apples. It is a little sweet and great for gut health and is also antibacterial. I also like to add allspice, nutmeg, or cloves, depending on my mood. Sometimes I will add a little bit of pure vanilla extract to the sauce. Kids seem to enjoy that addition.
I have been known to add raisins or dried currents to my apple pie. Some people love this and some don't. Dried fruit adds sweetness and texture to pies. Granny smith apples can be very tart, so dried fruit can balance the tang. Another way to deal with the pie being too tart is to use a combination of granny smith and honeycrisp apples.
---
Recent Recipes