I got a chuckle when I was thinking about Oreos this morning because it is actually National Oreo Cookie Day in the US. Who knew we would ever honor a sandwich cookie? That tells you how iconic these snacks are.
Oreos are not just for dunking in milk or snacking on when you need a sweet pick-me-up. So many food choices and recipes are centered around the addition of Oreo cookies, such as ice cream sundaes, Oreo lasagna, milkshakes, pies, Kansas City dirt cake, cupcakes…… Well, you get the idea. One of the best Oreo recipes is pancakes. I think maybe IHOP came up with the idea first.
I love the texture the chopped cookies add to the pancake batter. The cookies actually remain crunchy when you cook the cakes. If the chunky bits don't appeal to you, go ahead and pulse the cookies into a powder that will simply add Oreo flavor to the batter. I like that technique for really young kids who are still navigating a variety of textures.
Back when my father allowed me to help with Sunday breakfast, we started with Bisquick pancake mix, which I still think is a great product. I stirred in the eggs and milk until almost smooth, but still lumpy (on purpose). I was allowed to experiment with things to add to the batter, such as berries, banana slices, chocolate chips, bacon crumbles, M&Ms, and even raisins. I won't lie, the raisins were not well received. We poured the batter onto our flattop griddle and I waited until I saw the air bubbles before attempting to flip. It was fun.
Today, I make pancakes on a flat cast-iron pan that belonged to my great-grandmother. It is beautifully seasoned and retains heat evenly. You can use any large, heavy-bottomed skillet for this pancake recipe with Oreos. The ingredient list is simple: egg, milk, butter, sugar, salt, flour, baking powder, and of course Oreo Cookies.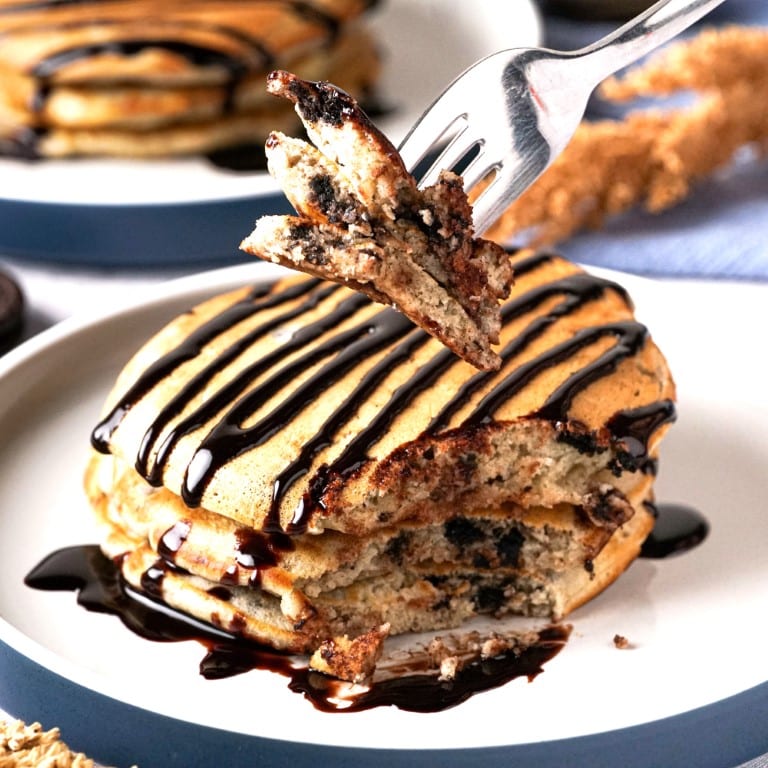 Ingredients
1

extra large whole egg

⅔

cup

whole milk

2

tsp

granulated sugar

¼

tsp

sea salt

2

Tbsp

butter

melted

1 ¼

cups

all-purpose flour

2

tsp

baking powder

¾

cup

about 8 crushed Oreo cookies

Neutral vegetable oil for cooking

Chocolate syrup for serving
Instructions
All ingredients ready? Let's begin!

In a large mixing bowl, break and whisk the egg. Add the milk, sugar, salt, and butter and whisk again until well combined.

Place the flour on top of the liquid mixture and add the baking powder to that. Then, combine the dry ingredients with the wet ones until almost smooth. Don't overmix the batter. It can be lumpy.

Gently fold in crushed Oreos. Set this aside.

Heat a griddle or heavy-bottomed large skillet over medium heat. Pour in just enough vegetable oil to coat the bottom of the pan.

When the oil is shimmering, add 1/4 cup measures of batter to the pan in small discs. Cook until air pockets are visible and the undersides are golden brown, approximately 3 minutes.

Flip the pancakes over and continue to cook until the bottoms are golden, approximately 2 more minutes. Repeat until all the pancakes are cooked.

Serve the pancakes with chocolate syrup drizzled over the top.
Nutrition
Calories:
249
kcal
|
Carbohydrates:
40
g
|
Protein:
7
g
|
Fat:
8
g
|
Saturated Fat:
2
g
|
Polyunsaturated Fat:
3
g
|
Monounsaturated Fat:
2
g
|
Trans Fat:
0.03
g
|
Cholesterol:
52
mg
|
Sodium:
414
mg
|
Potassium:
116
mg
|
Fiber:
4
g
|
Sugar:
11
g
|
Vitamin A:
146
IU
|
Vitamin C:
0.02
mg
|
Calcium:
210
mg
|
Iron:
2
mg
Notes & Tips
The way I crush Oreos is to place them in a sealable plastic baggie and go over them with my rolling pin. That way they stay in place and don't go jumping off my cutting board when I chop them with a chef's knife.
Remember not to overwork your pancake batter. It is okay to have a few small lumps and air pockets. This helps the pancakes to rise a little better when they are cooking.
I like to test a small bit of batter in the oil before I ladle out the pancakes. You want to make sure the oil is hot enough for the pancakes to get a nice golden-brown color.
Substitutions, Shortcuts & Additions
Egg: If you are vegan, you can leave the egg out. I like to add a little apple cider vinegar to the batter to encourage the baking powder to rise a little better.
Whole Milk: Again, if vegan, you can definitely make pancakes with non-dairy milk. Coconut milk works really well. I also like unsweetened almond milk.
Butter: Your favorite vegan butter or simply vegetable oil will work in this recipe.
All-Purpose Flour: I often make pancakes with buckwheat flour for a whole grain that is gluten-free. A good gluten-free flour blend will work just as well.
Oreo Cookies: There are different varieties of Oreos. You can choose from the original chocolate sandwich cookies, blond. Mint, and even gluten-free. You might be surprised to learn that Oreos are vegan. There is no real cream in the cream filling.
Vegetable Oil: I often cook pancakes in vegetable oil with a good pat of butter added to the pan. I love buttery pancakes.
Chocolate Syrup: When I make these pancakes for kids, they want chocolate syrup drizzled over the top. Personally, I still like pure maple syrup. Whipped cream is also a nice topping. Warmed-up honey is good too.
Pancake Mix: To save a step, go ahead and use your favorite boxed pancake mix. Some of these are gluten-free.
Additions: A little pure vanilla extract is a lovely addition to pancake batter. Cinnamon is another favorite addition of mine. And if you want a slightly healthier addition, toss some sliced ripe strawberries into the Oreo pancake batter.
If you really enjoy pancakes for breakfast, I think you will really like our good old-fashioned pancakes recipe. For super fluffy pancakes, try our potato milk pancakes. In Finland, spinach pancakes are popular served either as a healthy breakfast treat or as a savory dish with sour cream.
---
Recent Recipes