Homemade Guyanese Chow Mein
There are many renditions of chow mein, but the pivotal difference between regular chow mein and Guyanese chow mein is the fact that Guyanese style uses cassareep. Cassareep is made from the cassava root and has a thick texture like molasses. It is made with additional spices as well, so it makes an excellent base for recipes and is a staple of many Guyanese dishes.
This recipe has a lot of ingredients, though it's relatively simple. The chicken can be marinated for as little as 30 minutes, but best results involve marinating the chicken overnight.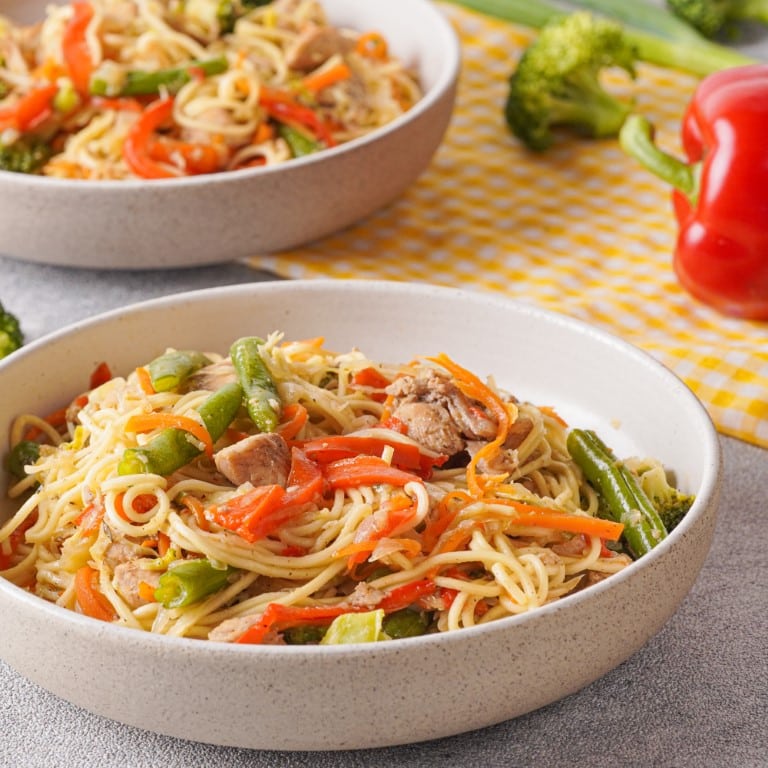 Ingredients
For the chicken:
2

lbs

chicken breast

2

tbsp

sesame oil

3

tbsp

soy sauce

1

tbsp

cassareep

½

tsp

ground pepper

1

tbsp

dried thyme

1

tbsp

dried thyme

1

tsp

Chinese 5 spice

2

tsp

honey

2

tsp

garlic powder
For the vegetable:
½

Green cabbage

5

green onions

1

carrot julienned

1

head broccoli

1

cup

green beans

2

bell peppers

1

wiri wiri pepper

1-

inch

fresh ginger

1

onion

5

cloves

garlic

1 ½

tsp

oil
For the noodles:
1

parcel dried chow mein noodles

½

tsp

salt

1

tbsp

olive oil

2

tbsp

sesame oil

½

tsp

ground pepper

½

tsp

Chinese 5 spice powder

1/2

tsp

salt.

1

tsp

garlic powder
Instructions
All ingredients ready? Let's begin!

Chop the chicken into chunks, roughly an inch in size.

Place it into a bowl with 2 tbsp sesame oil, 3 tbsp soy sauce, 1 tbsp cassareep, ½ tsp ground pepper, 1 tbsp dried thyme, 1 tsp Chinese 5 spice, 2 tsp honey, and 2 tsp garlic powder.

Mix well before covering with a lid or plastic wrap and setting aside to marinate. (If you're marinating it overnight, put it in the fridge and finish the recipe the next day).

Shred the green cabbage. This can be done by thinly slicing it with a sharp knife or by using a potato peeler to grate it. Set aside.

Finely chop the green onions. Use a potato peeler to grate the carrot. Cut the stem off the broccoli so you have only florets. Cut the beans into even segments about 2 inches wide. Set aside.

Destem and deseed the bell peppers before cutting them into thin strips. Repeat the process with the wiri wiri pepper. Set aside.

Use a fine grater to grate roughly 1 inch of fresh ginger. Set aside.

Peel the onion and finely chop. Finely chop or press the garlic. Set aside.

Fill a large pot with water and bring to a boil over high heat. Add ½ tsp salt and 1 tbsp olive oil.

Once the water is boiling, add the noodles and cook according to the packet or until they are soft.

Drain the cooked noodles and rinse with cold water to remove excess starch, then drain again.

Transfer the noodles to a large mixing bowl away from heat. Add 2 tbsp sesame oil, ½ tsp ground pepper, ½ tsp Chinese 5 spice powder, ½ tsp salt, and 1 tsp garlic powder. Mix well and set aside.

Place a large skillet over medium high heat and place 1 ½ tsp of oil in it to cover the surface (the kind of oil doesn't matter).

Once the oil is hot, add the marinated chicken to the skillet, including all the juices. Sauté for 5 minutes until all sides of the chicken have browned.

Reduce the heat to medium and let the chicken cook for roughly 10 minutes or until cooked through. You can check chicken's doneness by cutting it open; if it's pink on the inside, it needs more time. You can also check with a meat thermometer. Done chicken will be at least 165F.

Once the chicken is done or mostly done, add the chopped onion and garlic. Sauté for 2-5 minutes or until the onion becomes soft and transparent.

Add all the prepared vegetables and carefully mix amongst the meat.

Place a lid over the pan and allow to steam cook for 5 or so minutes (you may need to add a tiny bit of water if there is no liquid left) or until the veggies reach your preferred softness.

If there is liquid left after the veggies have steamed, remove the kid and allow it to cook off.

Add the noodles to the pan and mix in. Allow to cook until the noodles have heated through.

Serve hot and enjoy!
Nutrition
Calories:
607
kcal
|
Carbohydrates:
65
g
|
Protein:
47
g
|
Fat:
19
g
|
Saturated Fat:
3
g
|
Polyunsaturated Fat:
5
g
|
Monounsaturated Fat:
7
g
|
Trans Fat:
0.02
g
|
Cholesterol:
97
mg
|
Sodium:
1482
mg
|
Potassium:
1313
mg
|
Fiber:
11
g
|
Sugar:
11
g
|
Vitamin A:
4014
IU
|
Vitamin C:
181
mg
|
Calcium:
155
mg
|
Iron:
7
mg
Notes & Tips:
If you do have leftovers, keep them in an airtight container in the fridge. To reheat, warm in microwave. You may need to add some water to soften the noodles again. You can also reheat them over the stovetop.
I don't recommend freezing cooked noodles, but you can freeze everything else. Cook the chicken and veggies then freeze them before adding noodles. They can be kept that way for several months. To reheat, use the microwave, or reheat over the stove (my preferred method). To serve, cook noodles as before and add to the reheated toppings. Quick and easy!
1 parcel of noodles should be around 12oz.
Substitutions:
Instead of using cassareep, you can use more soy sauce, though it won't have the same amount of depth. If you want another alternative, coconut aminos can work too, though soy sauce is probably the easiest to find.
Depending on your preferred level of spice, you can adjust the amount of wiri wiri pepper in your dish. If you don't like heat at all, leave it out completely. If you want it even hotter, add another one.
If you don't have fresh ginger, you can use ginger powder instead. Use about a ½ tbsp. Alternatively, you can buy fresh ginger paste at most shops and use that instead. Use 1 tbsp.
If you find fresh chow mein noodles at the store, feel free to use those instead. Cook or prepare according to the package before adding it to everything else.
---
Recent Recipes