Homemade Guyanese Spanish Rice
You might be wondering why you should make a Guyanese version of a Spanish dish, which is fair. The definition of Spanish rice in general can vary wildly (particularly outside of Spain). It's one of those dishes that you might not always know what's in it but you can always identify it. From what I've learned, Guyanese Spanish rice tends to have a lot more in it. Spanish rice usually has a heavy tomato base, while Guyanese Spanish rice does not. Regardless, both dishes are lovely and you can always experiment with your preferences.
Guyanese Spanish rice is an excellent side dish or base for protein (see below the recipe for my recommendations), so it is a good option for any of your daily meals, even breakfast! This recipe makes enough for 2 full servings or 4 if the rice is a side dish. If you want to make more, you can always double the recipe.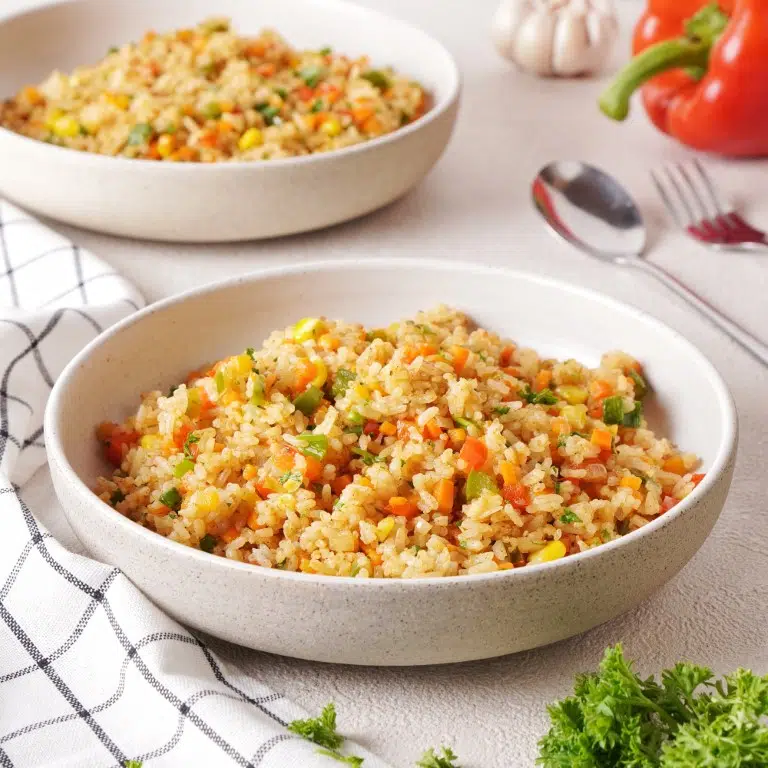 Ingredients
1 ½

tsp

vegetable oil

1 ½

cups

basmati rice

1 ½

tsp

salt

1

tsp

paprika

½

tsp

cumin

½

tsp

ground coriander

½

tsp

garlic powder

½

tsp

dried oregano

1

tsp

ground pepper

2

tsp

Cajun seasoning

1

bouillon cube

2 ½

cups

water

2

carrots

2

bell peppers

5

garlic cloves

1

onion

3

green onions

Bunch of parsley

1

tbsp

butter

2

tsp

ginger powder

½

cup

sweet corn
Instructions
All ingredients ready? Let's begin!

In a large skillet with a lid, heat the oil over medium heat.

In a small bowl, add the salt, paprika, cumin, coriander, garlic powder, oregano, ground pepper, and Cajun seasoning. Mix together.

Rinse the rice a few times in cold water then place in the skillet. Add half the spice mixture and the bouillon cube.

Sauté for 2-5 minutes or until the spices all mix in with the rice and become wonderfully aromatic.

Add 2 ½ cups of water and bring to a boil over high heat.

Once the water has begun to boil, reduce the heat to medium, cover, and allow to cook for half an hour or until the rice is soft.

Wash any excess dirt off of the carrots before finely dicing them. Set aside.

Cut the bell peppers in half and remove the stem and seeds before dicing. Set aside.

Finely dice the garlic. Peel and dice the onion. Set aside.

Go ahead and roughly chop the scallions and parsley. Set aside.

In a skillet, melt the butter over medium heat. Add the onion, garlic, ginger powder, and bell peppers. Sauté for several minutes until the onions become transparent.

Add the chopped carrots and sweetcorn. Mix briefly then add the other half of the spices and sauté for about 5 minutes or until the carrots have softened.

Add the cooked rice to the skillet full of vegetables and mix thoroughly to incorporate everything well. Continue cooking for about 5 minutes.

Add the chopped green onions and parsley. Stir until combined and then remove from heat.
Nutrition
Calories:
670
kcal
|
Carbohydrates:
147
g
|
Protein:
16
g
|
Fat:
3
g
|
Saturated Fat:
1
g
|
Polyunsaturated Fat:
1
g
|
Monounsaturated Fat:
1
g
|
Cholesterol:
1
mg
|
Sodium:
2312
mg
|
Potassium:
1002
mg
|
Fiber:
10
g
|
Sugar:
14
g
|
Vitamin A:
15339
IU
|
Vitamin C:
172
mg
|
Calcium:
159
mg
|
Iron:
4
mg
Notes & Tips
Leftover Guyanese Spanish rice can be stored in a tupperware in the fridge for 5 days. You can reheat it in the microwave, though sometimes rice dries out, so you might want to add the tiniest bit of water to it before reheating.
If you want to freeze the rice, that can work too. Put it in a tupperware and it will last several months in the freezer. To reheat from there, leave in the fridge overnight, at room temperature for a few hours, or carefully reheat it in the microwave, making sure to stir it often to avoid burning.
You can use sweet corn from a can as long as you drain off excess liquid. You can also use frozen sweetcorn, but make sure to defrost it first and drain any liquid.
Serving Suggestions
I said earlier in the intro that this Guyanese Spanish rice can be eaten for any meal of the day, which is true! It is amazing on its own at any time and it's the kind of dish that makes a great packed lunch or quick snack afterwards because you've got your filler (rice) and your vitamins (veggies) all in one beautifully spiced dish.
That being said, even a loaded rice like this one might not be suitable for a full dinner. Because of that, I liked to serve mine alongside chicken. Pretty much any sort of chicken goes well, but I particularly enjoy it with this easy Calabrian chicken.
If you want to use the rice for breakfast but are a little hesitant as to whether it's a healthy option, I have a solution for you: add egg! Scrambled egg from a pan (or even from the microwave) can be easily mixed in. If you're cooking the egg in a pan, you can even toss the rice in with it towards to end to help it warm up. Personally, I enjoy a fried egg on top so the soft yolk can drip down and add flavor (although it usually becomes scrambled if I accidentally pop the yolk in the pan).
Substitutions
This recipe has a long list of spices, but that's because I didn't include complete seasoning. Complete seasoning is a spice blend commonly used in Hispanic dishes. I've never bought it, preferring to make my own blend which you can do to save for later or you can just buy complete seasoning. If you do buy it, substitute the paprika, cumin, coriander, garlic powder, and oregano, and use 2 tsp of complete seasoning instead.
If you're out of Cajun seasoning, it's sold out, or you just want to customize it, you can learn to make your own at home! This Cajun seasoning recipe is also low FODMAP, but even if that's not a concern of yours, it's still delicious.
---
Recent Recipes