Simple & Scrumptious Haitian Fritay
Haitian Fritay or Fritaille, one of Haiti's most popular dishes, is an assortment of fried food. It is often fried plantain (Bannan Peze), fried malanga (Akra), fried pork (Griot), fried beef (Tassot), fried meatballs (Boulette) and so much more. Usually, a whole combination of fried food is made together creating a Fritay platter and no Fritay is complete without a side of pikliz, a spicy side and condiment that is made with cabbage, grated carrots and spices that are then pickled together.
For this Simple & Scrumptious Haitian Fritay I have made fried plantain, fried malanga and fried pork. I am making it as simple and easy as possible, not too many ingredients, but it still delivers a healthy robust, flavor profile. Now bear in mind that prep is what takes time here, so get all your ingredients ready and organized. It definitely helps to have a deep fryer or even a fry basket that you can lower into a big pot.
For your next big party serve up a platter of this Simple & Scrumptious Haitian Fritay.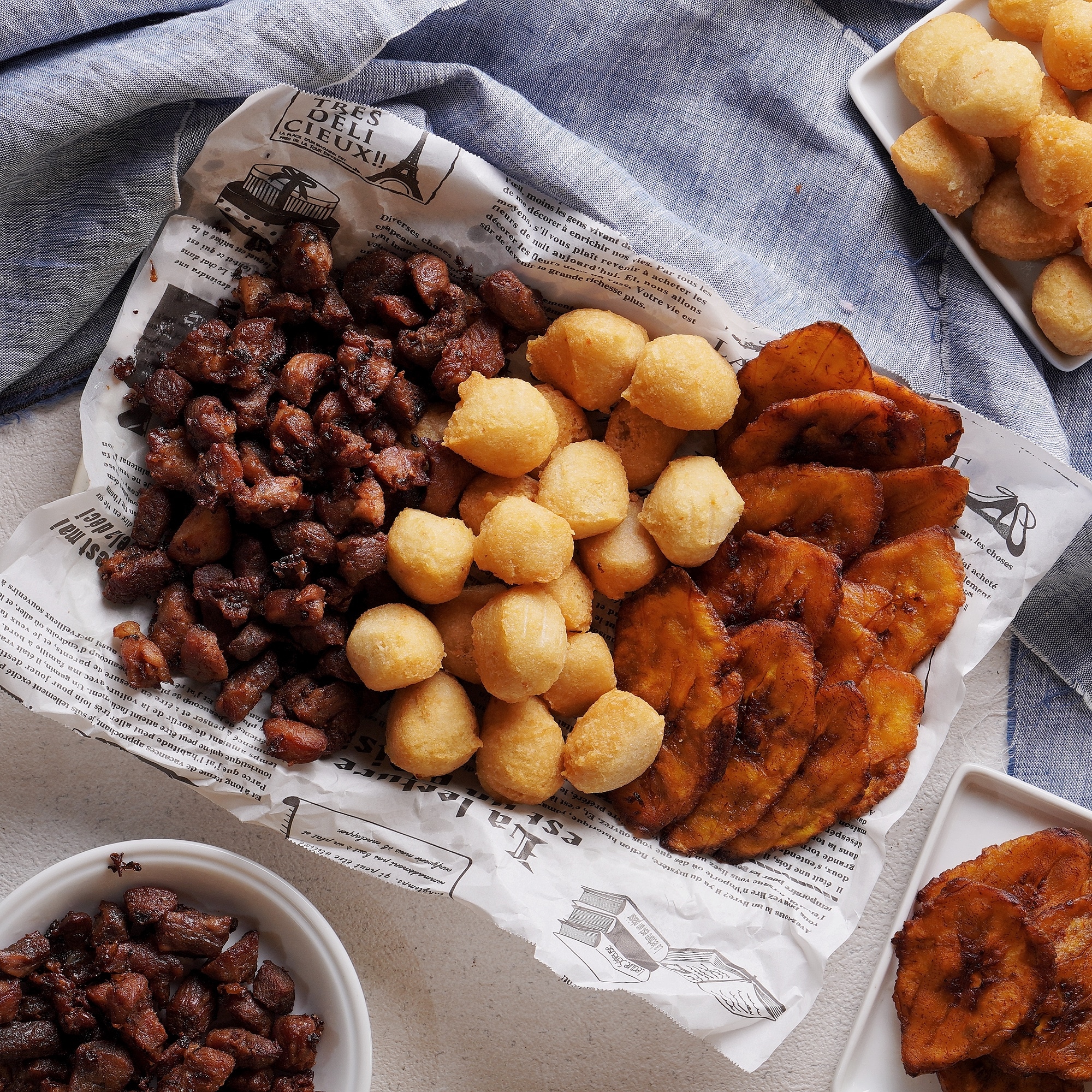 Ingredients
For the fried plantain:
2

plantains

Water

Salt

Oil to fry
For the fried malanga:
3

malangas

1

scotch bonnet pepper

2

cloves

of garlic minced

Salt

Oil to fry
For the fried pork:
3

lbs

pork

chopped

1

small onion

chopped

1

scallion

chopped

1

shallot

chopped

2

cloves

of garlic minced

3

sprigs thyme

4

cloves

1

scotch bonnet pepper

diced

1

tablespoon

of Epis

½

cup

of sour orange juice

1

cup

water

Salt

Pepper

Oil to fry
Instructions
All ingredients ready? Let's begin!
Fried Plantain:
Peel the plantains and chop them into diagonal pieces.

Heat oil in a deep pan. Put the chopped plantain into a fryer basket and lower into the oil. Fry them for about 2-3 minutes.

Then take them out and remove excess oil. Take each piece of the fried plantain, smash it with a heavy object like a glass or bowl till it has flattened. Sprinkle some water and salt on each piece, or dip it in a bowl of salted water.

Place the plantains back into the basket and deep fry again. It should get a nice deep brown coating. Take it out and drain the excess oil.

Place it in a serving platter.
Fried Malanga:
Peel and grate the malanga and place in a blender.

To the blender add some garlic, salt and scotch bonnet pepper.

Place in a parchment paper and refrigerate for at least 30 minutes. This is because the malanga does have a lot of water and this will help it firm up for frying.

Now roll the malanga paste into balls.

Place in a frying basket and deep fry.

Take it out, drain the excess oil.

Place along with the fried plantain on the serving platter.
Fried Pork:
Clean the pork with lemon and water and set aside.

Marinate the pork in Epis, cloves, thyme, garlic, onion, shallots, scallions, salt, pepper and some sour orange juice for at least 30 minutes.

Then add the marinated pork to a pan and add 1 cup of water.

Cover the pan and cook the pork for about 45 minutes.

Take it off heat and remove just the cooked pieces of pork.

Place it in the frying basket and deep fry.

Drain the excess oil and add the serving platter.

Serve the Simple & Scrumptious Haitian Fritay with traditional pikliz.
Video
Nutrition
Calories:
563
kcal
|
Carbohydrates:
29
g
|
Protein:
30
g
|
Fat:
36
g
|
Saturated Fat:
13
g
|
Polyunsaturated Fat:
3
g
|
Monounsaturated Fat:
16
g
|
Cholesterol:
122
mg
|
Sodium:
978
mg
|
Potassium:
1000
mg
|
Fiber:
4
g
|
Sugar:
13
g
|
Vitamin A:
604
IU
|
Vitamin C:
33
mg
|
Calcium:
59
mg
|
Iron:
2
mg
Tips & Tricks
You can cut the top and bottom of the plantain for a more even cut.
Cover the pork in lemon juice and then wash with cold water. Repeat the process once or twice. This is the best way to clean the pork.
You can marinate the pork for as long as you want, but you can also not marinate it and start cooking it straight away. Sauté all the ingredients with the chopped pork, add the water and cook.
You can add whatever spice, herb or condiment you want for the Simple and Scrumptious Haitian Fritay.
You can use a frying basket or a deep frier for the Fritay or you can fry the Fritay in a deep pan with oil.
Storage
Since all of this is deep fried, I would not recommend storing them for too long as fried food gets dense and soggy. You can cover the Fritay up tightly in foil and store in an airtight container in the fridge for 2-3 days. Heat it in the oven or microwave. I would not recommend freezing it as the texture would get chewy.
FAQs
What else be included in a Haitian Fritay?
Haitian Fritay includes all manner of meat, seafood and vegetables that can be deep fried. What is as important as the frying is the seasoning added to it. You can keep it simple, like in the fried plantain or make it sing with flavor and spice like in both the fried pork and malanga. Besides pork, fish and beef are popular in Fritay platters.
Substitutions
Once you've decided what you are going to fry, whether it is pork or plantain or whatever else catches your fancy, it is up to you to figure out how to spice it.
Fried Plantain: This is as simple as it comes, you can add other spices you like but the dish is best with just salt.
Fried Malanga: You can play around with the flavors here a little. You can use habanero, garlic and onion powder, lemon salt, black pepper or any other spice or dry herb that can be mixed with the blended malanga.
Fried Pork: You can add tomatoes, habanero or jalapeno instead of scotch bonnet peppers. You can also add a bouillon cube when the pork is cooking for some extra flavor. You can use any other herb or seasoning that you prefer.
You can use vegetable oil for frying
Accompaniments
This Simple & Scrumptious Haitian Fritay is usually served along with pikliz. This is a traditional Haitian side to Fritay. It is shredded cabbage and carrots with seasoning and spices that is pickled in vinegar.
For more delicious and decadent fried food, try the Simple and Savory Latin Fried Potatoes or these Air Fryer Chicken Fries.
---
Recent Recipes