Homemade Red Wine Simple Syrup
Have you ever eaten vanilla ice cream and wished it had more pizazz? Have you ever had a sponge cake and thought it was a bit dry and dull? Have you ever poured your morning coffee and wistfully contemplated how it would taste with wine? Well, wonder no longer. As it turns out, you can distill pretty much anything into a simple syrup flavor.
You might be asking yourself, why would I want that? What you should be asking yourself is, why wouldn't you want that? And I do not have an answer to that second question.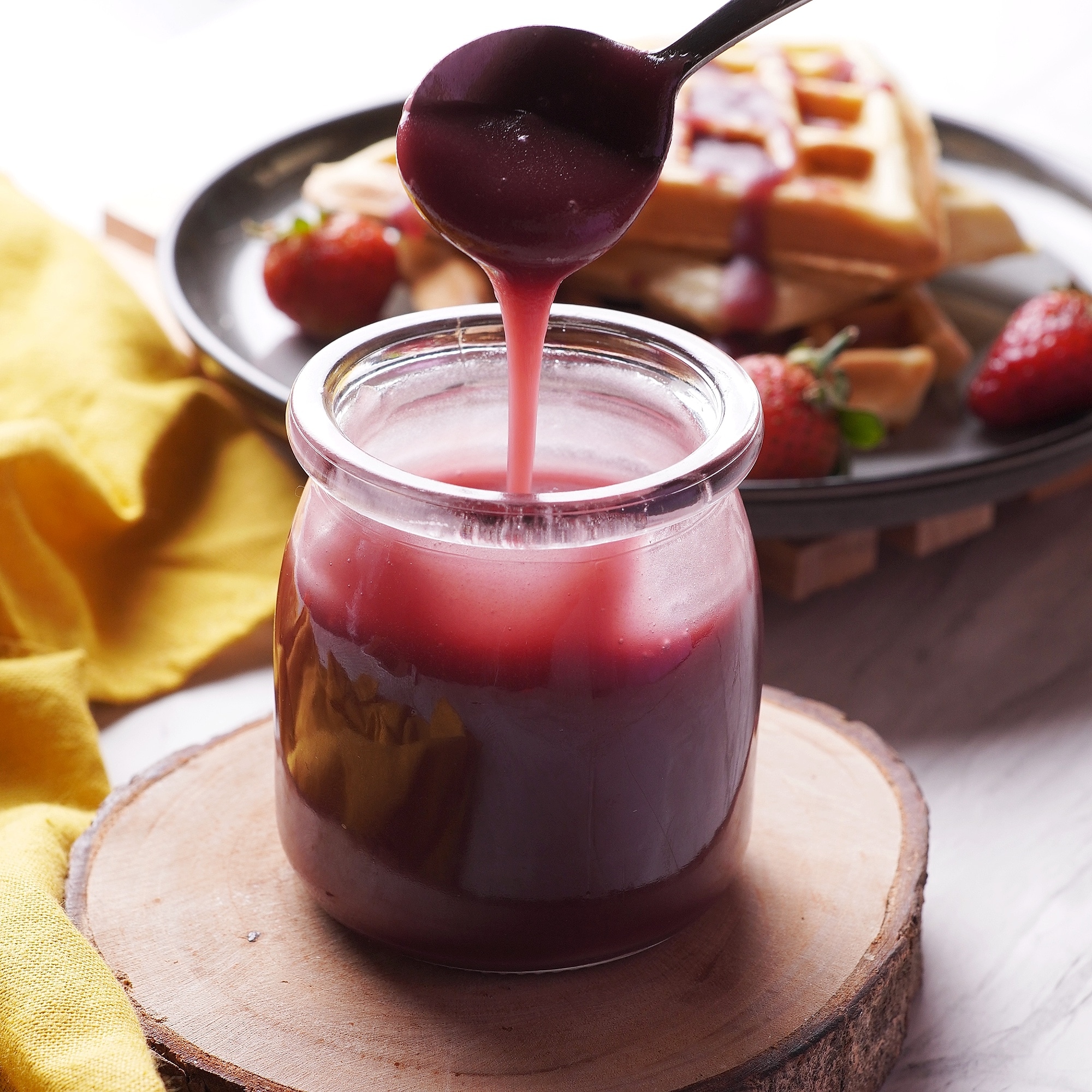 Ingredients
1 ½

cups

sugar

1

cup

red wine
Instructions
All ingredients ready? Let's begin!

In a small pot, add the wine and sugar.

Turn the heat to high and bring to a boil. Once it reaches a boil, turn the heat down to medium and let it cook just below simmering for 20 minutes, stirring occasionally.

The syrup is done when it can coat the back of a spoon and is a thick, syrupy texture.

Let the syrup cool completely in the pot then transfer it to a mason jar or other similar container and store in the fridge.
Video
Nutrition
Calories:
1365
kcal
|
Carbohydrates:
306
g
|
Protein:
1
g
|
Sodium:
13
mg
|
Potassium:
311
mg
|
Sugar:
301
g
|
Vitamin A:
5
IU
|
Calcium:
22
mg
|
Iron:
1
mg
Notes & Tips
This makes about 1 cup of syrup and it can be stored in an airtight container in the fridge for around 2 weeks.
If you want to make a larger batch, just increase the amount of sugar and wine.
If you find this syrup too sweet, feel free to add less sugar. There are only two ingredients, so you can't mess it up! Keep in mind though that the less sugar you add, the more liquidy it will be from the get go, so it might take a little longer to cook down to a syrup consistency.
Is It Still Alcoholic?
When it comes to booze in foods, most of us might question it at first but we are quickly reassured that the alcohol cooks out of the food. However, that's not necessarily true. Read on before you use this to flavor something you'd share with a child. Alcohol will begin to burn out of foods or liquids when cooked, that is true. However, there are a lot of factors that contribute and may help or hinder the retention of alcohol.
When alcohol is at a boiling point of 173F degrees, it still takes time for it to fully burn away. After 15 minutes at 173F, there is still around 40 percent of the alcohol content remaining. Even after two and a half hours, you will likely be left with 5 percent of the original alcohol content.
Of course, that is still not the end of the story. If the alcohol has a large surface area exposed during the cooking, more alcohol will evaporate as opposed to a smaller surface area. That is because, in easy terms, the larger exposed area gives more room for alcohol to evaporate.
The alcohol content is also affected by the other ingredients involved in the dish. This particular recipe only has sugar that dissolves, so that is not much of a factor.
That was the long answer. The short answer is yes, this red wine simple syrup will still have some alcohol in it. Because of that, you should avoid serving this to children, pregnant people, or people with other alcohol specific restrictions. All that in mind, whatever you end up using this for is unlikely to get an adult drunk.
On the other hand, if you're looking for a fun alcohol-with-a-twist that will get you drunk, why not try simple jello shots?
What Kind of Wine to Use?
This is an easy question! You can use any red wine. If I'm making a large batch for an occasion or particular recipe, I usually go for cheap, bottom shelf wine. If it's something particularly dry or bitter, I add more sugar.
If you're like me and buying wine is a little overwhelming, I'll give you a few specific recommendations. Cabernet Sauvignon is a rich, full flavored wine that is popular alongside steak. Another good steak-type wine is Merlot, and a third is Malbec. All three are fairly heavy (and also affordable) wines. Of course the quality can vary, but that's to be expected of any wine.
What Goes with Red Wine Simple Syrup?
This red wine simple syrup can be used anywhere else you would use a flavored syrup. There are recipes you can make with flavored syrups, but they are also a lovely garnish for a lot of dishes. This makes a great drizzle for ice cream or a bowl of fresh fruit. Even better if you combine all three.
It can also be used to great success in salad dressings, or on its own as a sweet vinaigrette-type dressing. Don't limit it just to traditional salads though, try tossing it with grilled veggies. Also consider using it as a scrumptious garnish for tofu.
It's also a great way to spice up boring, plain yogurt or a regular pancake or waffle breakfast. You can even drizzle a little over banana bread.
Can I Use Things Instead of Red Wine?
Sure! One of the beauties of simple syrup is its versatility. You can substitute the wine with any liquid and achieve a flavored syrup. Not all of them will taste good, but, on principle, you can boil down anything.
Another option is adding spices. Maybe you opened a bottle of wine and decided you just didn't like it, but it's a lot to waste. You can use it to make simple syrup but mess around with spices. For a red wine, I recommend adding cinnamon, clove, orange peel, cardamom, and even basil. If you use the first four ingredients, you'll be on your way to making a mulled wine syrup. Yum!
Because this recipe truly is what it says -simple- you can experiment with it. Every time you have a little leftover wine, turn it into a syrup and enjoy it in another form.
---
Recent Recipes