Homemade Captain Parker's Clam Chowder
Captain Parker's restaurant is situated on Parker's River in West Yarmouth on scenic Cape Cod. The restaurant is known for its fresh local seafood, burgers, and soups. It is best known for its award-winning thick and creamy New England style clam chowder.
In case you aren't familiar with New England clam chowder, this is a cream-based soup with chopped clams, potatoes, celery, and onions. To be clear, this is not a soup for the faint of heart. It starts with salt pork and butter and is finished with a roux made with more butter and flour and some cream.
The restaurant's recipe doesn't go into detail about the clams used in this chowder. It simply calls for chopped clams and their juice. I happened to live in Rhode Island for some time and spent some summers on the coast of Maine. From all that time, it was apparent that authentic New England clam chowder is made with Quahog clams.
Quahog clams are hard-shell clams that go by various names, depending on their size. The smallest is the Littleneck with a sweet flavor and tender meat. The Cherrystone is next in size and often found at raw bars. Then there is the Topneck clam that is about 3-1/2 inches with a briny flavor best suited for stuffed clams. The largest are the Chowder calms that heave meaty bellies and are often sold chopped.
My favorite clams for chowder are Cherrystones. They are not as chewy as the larger calms and have a mild, sweet, and salty flavor. Whatever clam you choose for this recipe, I urge you to use fresh, not canned or frozen, for best results.
Parker's clam chowder is a meal all by itself. It is rich and filling. If you have it as an appetizer, you might want to finish your meal with a fresh seafood salad.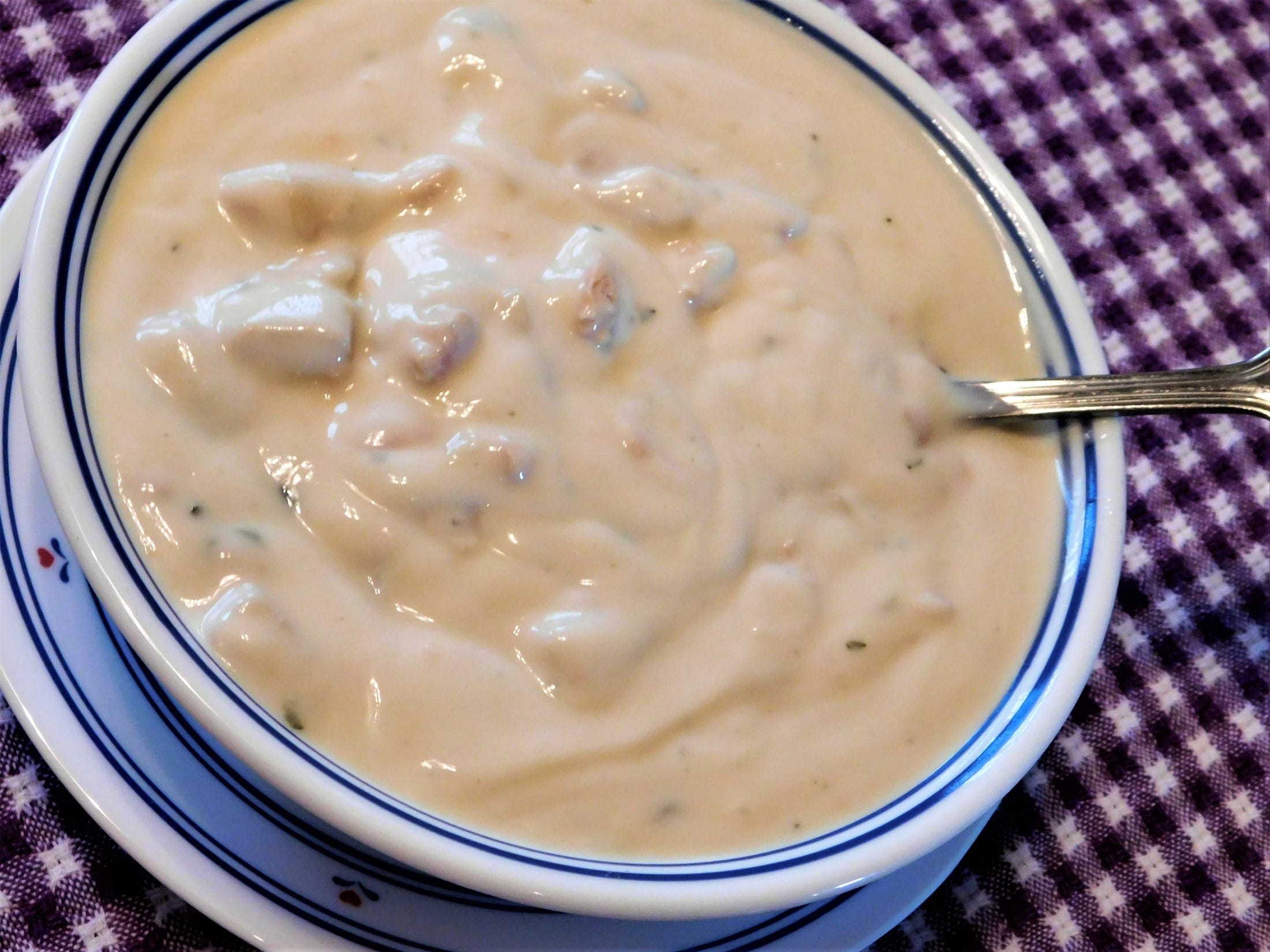 Ingredients
2

ounces

salt pork

cubed

1/4

pound

1 stick butter

4

cups

diced white or yellow onions

1-1/2

cups

diced celery stalks

1

tsp

celery seed

1/2

tsp

dried thyme

1

bay leaf

1

quart

filtered water

3

chef or russet potatoes

washed, peeled, and diced

6

oz

clam base

see notes and tips

4

cups

fresh chopped clams and juice

3/4

pound

3 sticks butter

1-1/2

cups

all-purpose flour

4

cups

light cream

1

tsp

sea salt

1

tsp

freshly ground pepper
Instructions
In a large heavy-bottomed pot on medium heat, add the salt pork and 1 stick of butter. Cook until the salt pork is lightly browned. Using a slotted spoon, remove the browned salt pork and discard.

Add the onion, celery, celery seed, thyme, and bay leaf to the butter. Cook until the onions have softened, approximately 5 minutes.

Turn the heat to medium-high. Add the water and potatoes to the pot. Bring to a boil. As soon as the water boils, stir in the clam base. Then, add the clams and clam juice and allow the soup to come back to a rolling boil. Cook until the potatoes are almost tender when checked with a sharp knife, approximately 10 to 15 minutes. While the potatoes are cooking, prepare a roux (Step 4).

In another pot over medium heat, add 3 sticks of butter. As soon as the butter starts to melt reduce the heat to low. Add the flour and whisk together continuously until you have a creamy and nutty-smelling mixture that is still pourable.

As soon as the potatoes are tender, start adding the hot roux to the pot, stirring well to thicken the soup. Turn the heat down to low and simmer for approximately 5 minutes.

Slowly add the cream until you get a smooth chowder consistency. Season with salt and pepper, adding more if needed.

Serve while hot with oyster crackers or saltines.
Nutrition
Calories:
346
kcal
|
Carbohydrates:
11
g
|
Protein:
3
g
|
Fat:
33
g
|
Saturated Fat:
18
g
|
Polyunsaturated Fat:
2
g
|
Monounsaturated Fat:
11
g
|
Cholesterol:
97
mg
|
Sodium:
684
mg
|
Potassium:
128
mg
|
Fiber:
1
g
|
Sugar:
0.2
g
|
Vitamin A:
864
IU
|
Vitamin C:
1
mg
|
Calcium:
76
mg
|
Iron:
1
mg
Notes and Tips
Clam base is an ingredient that you can find pre-made in many markets and especially at a fish market. There are a few different brands that will work fine. If it is not available in your area, you can make your own. Take one 6 ounce can of clams (drained), 1 tablespoon of sea salt, and 2 tablespoons of lemon juice and blend into a purée.
For the chowder, use fresh hard-shell chopped clams, not steamers and not canned clams. Canned clams are cooked already. You want that briny flavor you can only get from fresh clams.
Substitutions and Additions
Salt pork is basically fatty pork belly that has been cured in salt. It is an essential ingredient in chowders and baked beans because it offers richness and flavor. I can't always find salt pork at the market. I have found that thick-cut bacon is a perfectly fine substitution and imparts a smokiness that I enjoy.
Parker's clam chowder is an award-winning recipe that is pretty hard to improve upon. However, I have seen versions of this recipe made with seafood stock instead of water. Those recipes will generally leave the clam base out because fish stock is so flavorful. Homemade seafood broth made from shrimp shells and the bones and heads of ocean fish that have been filleted is a personal favorite. You can ask your fishmonger to fillet a fish and give you what they would normally discard. You have likely paid for that anyway.
Being a big fan of vegetables, I sometimes add sweet corn kernels and diced carrots to my clam chowder. I enjoy the added nutrition and the bright colors. I also love a sprinkling of fresh green minced parsley as a garnish on top of the soup.
---
Recent Recipes