Simple Undrallu / Kudumulu Recipe
Kudumulu and Undrallu are both names for Indian steamed rice dumplings traditionally made as celebratory offerings during the Ganesh Chaturthi festival. Both terms refer to the same dish, but in Andhra Pradesh, South India, where Telugu is spoken, and the meal is a must, they're called Undrallu. Kudumulu/Undrallu can be made as either a savory snack typically served with a mouth-tingling chutney or a sweet dessert. Our Undrallu/Kudumulu recipe will be showing you how to make atraditional savory steamed rice balls that you just won't be able to stop eating.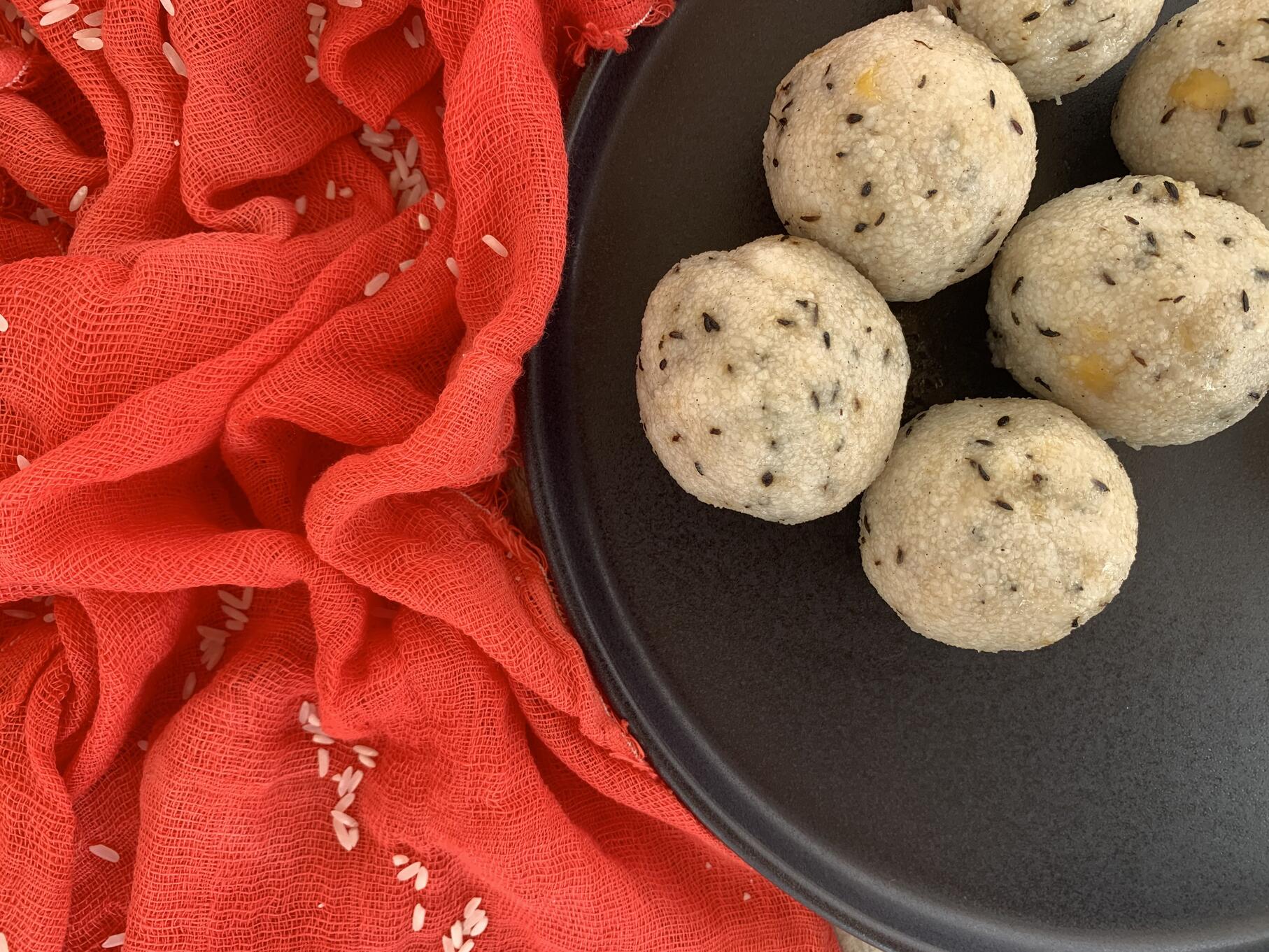 Ingredients
1 ⅓

Cups

Long Grain Basmati Rice

Preferably Aged Basmati

4

Tablespoons

Split Baby Chickpeas

1

Tablespoon

Ghee or Butter

1 ½

Teaspoon

Cumin Seed

1

Pinch

Asafoetida

Optional

1

Tablespoon

Salt
Instructions
Rinse the basmati rice three to four times until the water begins to clear.

Soak the rice in clean water for 1 hour and then drain it using a sieve or colander.

Allow the rice to drip dry in the colander suspended above a bowl for at least 30 minutes.

Transfer to the damp rice to clean paper towels and allow it to try for 2 to 3 hours.

Before finishing off your rice, wash and start soaking the split chickpea lentils allowing them to soak for no more than 15 minutes.

Toast the rice in a lightly oiled non-stick skillet over medium heat, constantly stirring to prevent sticking for 7 to 8 minutes until each granule breaks easily between your fingers.

Dispense your cup of toasted rice into a blender and pulse using short bursts repeatedly until a powdery, coconut-like consistency is reached.

Heat ghee or butter in a large saucepan or pot on medium heat and add the cumin seeds.

Once the cumin seeds start popping, drain the split yellow chickpeas (discarding the water) and add them and the asafoetida to your pan.

Saute while constantly stirring for 5 minutes before adding the prepared rice powder, otherwise known as 'rava.'

Add 2 ½ cups of water and a tablespoon of salt and turn the heat up to high.

Once the water starts rapidly boiling, add the rava slowly while stirring to prevent lumps and turn the heat to low.

Bring the mixture to a simmer while constantly stirring to prevent sticking.

Lower the heat as far as possible and cover the pot or pan with a lid, allowing it to cook gently until there's no more water left.

Remove the lid and stir thoroughly to prevent sticking before letting it cook covered for 15 to 20 minutes or until a sticky dough-like texture is reached.

Remove the hot dough and transfer it to a clean surface to cool down. Once cool enough to handle, knead well once to make it pliable.

Oil your hands and shape roughly 20 to 22 lime-sized balls from the dough.

Steam the rice balls in either an electric steamer, stovetop steaming pan, or a pressure cooker steamer for 7 to 10 minutes, gauging when they're done by how hard they've become.
Video
When Is Undrallu / Kudumulu Made?
Undrallu / kudumulu are made for the ten day festival of Ganesh Chaturthi, which is also known as Vinayaka Chavithi. Ganesh Chaturthi is the celebration of the Hindu deity Lord Ganesha's birth which falls during Bhadrapada in the Hindu calendar or Panchang. This equates to between August and September each year. Dishes like undrallu, modak, and pooran poli are prepared for family, friends, and visitors while also used as offerings to Lord Ganesha at public devotional pandals.
Shortcuts
Pressure cooking is a far faster way to cook rice rava but also riskier for inexperienced cooks. Those who wish to speed up the process can make the rice dough in a pressure cooker/instant pot. Instead of 15 to 20 minutes of stovetop cooking, the mixture cooks to soft and sticky within just 5 minutes in most cases, depending on the coarseness of the rava.
Recipe Tips
Don't make the mistake of grinding your rice too fine. You're looking for a consistency that's considerably courser than flour. Turning your rice into anything near flour-like will result in rock-hard steamed rice balls. Another sure-fire way to turn tasty Undrallu into inedible white stones is to steam them for too long. Ten minutes is already pushing it. Keep a close eye on the firmness from eight minutes onward – most are done by then.
Rice Rava Storage
Feel free to process rice rava in advance as it stores well in an airtight container at room temperature. It's far easier to make a big batch once so that you have it handy to try in other recipes. Ensure that the rice is dried out completely before storing it, or within no time, it'll develop a rancid smell and become unsuitable for eating.
Rice Rava Substitutions
Aged basmati rice makes the best rice rava, but you can essentially make rava with any variety of rice. The best alternative to aged basmati is regular short-grain. Many South Indian chefs choose to combine short-grain rice with basmati rice for a varied texture that works really well for helping the steamed rice balls hold together while steaming to a delectably firm but chewy texture.
Shortcuts
To save yourself the hassle of making rice rava, store-bought rice flour can be used instead. The final product is similar but flatter in flavor and far denser than homemade rava.
Substitutions
Both split chickpea lentils, or senagu pappu, and split baby chickpeas, or chana dal, work in this recipe. If you can't find either, use yellow split peas instead. While not traditional, yellow split peas are the best substitute. One can alternatively include regular split peas or yellow lentils if yellow split peas are unavailable.
What To Serve With?
Tasty undrallu is typically enjoyed simply with nothing more than a good chutney. We suggest trying our recipe for vankaya pachadi, a spicy South Indian brinjal chutney that explodes with flavor. Allam pachadi made from pickled ginger, tamarind, and jaggery is another winner and popular favorite during festivals. Otherwise, dip your rice balls in any condiment that you prefer. The flavor works wonderfully with a range of different dipping sauces and relishes even exotic tastes like homemade ajvar spread.
---
Recent Recipes