Simple Taiwanese Taro Balls
Taiwanese food is my absolute favorite cuisine. Something about Taiwanese flavors hits something in my bones, it's all so good! To be fair, I have mostly been exposed to dishes popular in the West, but I have never tried a Taiwanese dish I didn't like. One of the best flavors and ingredients from Taiwan is taro; a sweet purple yam. Not to be confused with ube, which is also a sweet purple yam. It can be a little confusing, but they are different tubers and they do have different tastes, though they can be interchanged in a lot of recipes. If you want to know more about the differences between ube and taro, see the section about it below the main recipe.
Taro is a much-loved dessert flavor and can be found in boba tea (also known as bubble tea), steamed buns, cookies, candy, and more. It has a sweet, starchy taste and a light purple or beige color that can tint dishes lavender, which makes the food not only taste good but look good too.
These taro balls are traditionally made with equal amounts taro and sweet potato which adds a nice visual balance to the bowl. Please note that the size of your tubers will vary, so you may need to add a little more or a little less starch. You can also add more starch if you want chewier balls, so I recommend playing around with amounts the first few times you make these to see what your preference is.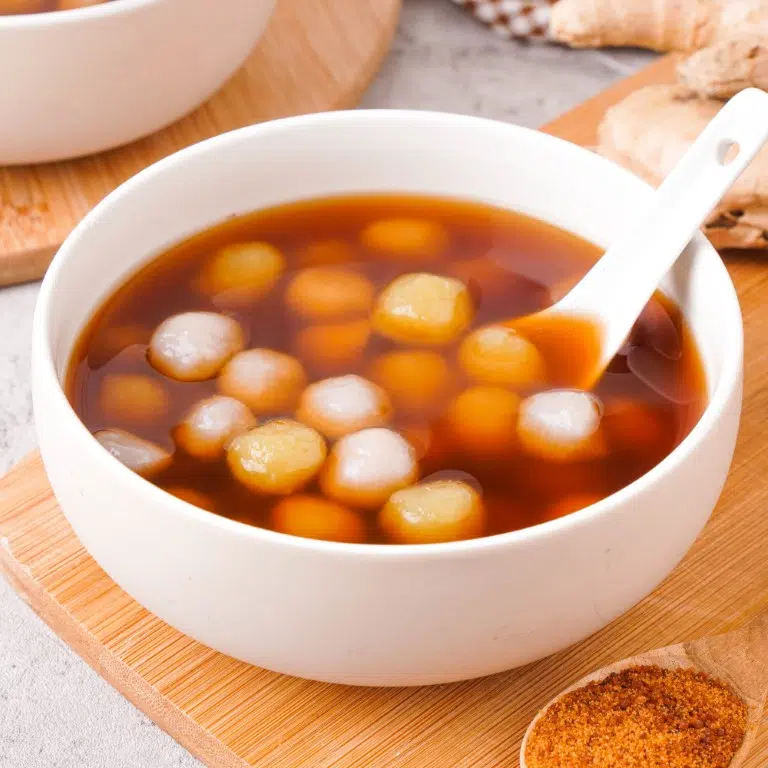 Ingredients
2

taros

2

sweet potatoes

1

cup

sweet potato starch

5

tbsp

sugar

½

inch

fresh ginger

¼

cup

brown sugar
Instructions
All ingredients ready? Let's begin!

Peel the sweet potatoes and the taro. Cut into small cubes about an inch in size.

Steam the potatoes and taro for 30 minutes or until they are soft all the way through. You can do this using a bamboo steamer or in a rice cooker if it has a steamer basket.

Once the potatoes are all soft, remove and separate the sweet potatoes and the taro into separate bowls.

Use a potato masher or fork to smash the contents of each bowl until smooth and without chunks. Add to each bowl 2 ½ tbsps of white sugar and ½ cup of potato starch. Mix well using a fork or your hands.

If the mixture is too wet, add more potato starch. If it becomes too crumbly and dry, add a little bit of water. The texture should be similar to play-dough.

Section the taro in half and the sweet potato in half.

Roll each section in a thin log about 1/3rd inch wide. Chop the logs into pieces that are roughly equal in width and height.

Sprinkle extra potato starch around all the pieces and roll them around to coat them in the starch.

Place a large pot of water over high heat and bring to a boil. Add the taro and sweet potato balls once the water boils. When they float to the top, turn the heat to medium-low and allow to simmer for 3 minutes before removing from heat and draining.

To make the syrup, add 4 cups of water to a pan. Roughly slice the ginger and add to pan then bring to a boil.

Add the brown sugar. Allow it to boil for 2 minutes and stir to make sure the sugar melts.

Remove the syrup from heat and discard the pieces of ginger.

Add the taro and sweet potato balls to the syrup and serve warm.

Enjoy!
Nutrition
Calories:
458
kcal
|
Carbohydrates:
113
g
|
Protein:
2
g
|
Fat:
0.2
g
|
Saturated Fat:
0.04
g
|
Polyunsaturated Fat:
0.1
g
|
Monounsaturated Fat:
0.01
g
|
Sodium:
71
mg
|
Potassium:
648
mg
|
Fiber:
6
g
|
Sugar:
33
g
|
Vitamin A:
16061
IU
|
Vitamin C:
4
mg
|
Calcium:
75
mg
|
Iron:
1
mg
Notes & Tips
If you have leftovers, you can store them in the fridge for a day with the syrup or for 2 days if the balls and syrup are kept separate. You can also freeze the balls without syrup. To cook from frozen, put them in boiling water until they float to the top.
Different kinds of potatoes have different starch contents, so you may want to add slightly different amounts of starch to each.
For a stronger ginger flavor, you can simmer the syrup for longer.
If you don't have any way to steam the potatoes, you can boil them in water like you would regular potatoes if you were making mashed potatoes. It will probably take around 30 minutes.
For more variety, you can make this with ube as well, which will yield an even brighter purple color.
Where To Find Ingredients
Your best bet to source everything you need is at an Asian supermarket. You can also order ingredients online through a place like amazon or an online Asian market website. Depending on where you look, you could also find pre-made frozen ube balls that can save you a few steps.
Serving Suggestions
You can eat taro balls on their own in the hot syrup and they will be delicious. However, you can also add other toppings, several of which are more appealing during hot months than the hot taro ball soup.
Common toppings include sweet red beans, tofu pudding, and grass jelly. You could try adding taro balls and syrup over shaved ice or regular ice cream or try drizzling coconut milk or sweetened condensed milk on top. All of these are yummy and all can be eaten together.
What Is the Difference Between Taro and Ube?
Both taro and ube are a type of sweet potato and they both share a resemblance in their exterior. Visually, taro is much lighter in color, varying from white to purple (generally depending on how ripe it is) while ube is a bright purple. You can see the vibrant purple color in this easy ube smoothie which looks like a fairy cloud in a cup. Ube is significantly sweeter than taro and has a flavor that is similar to vanilla syrup while taro is a bit starchier and has a slightly earthier taste.
---
Recent Recipes