Simple Low FODMAP Guacamole
We love guacamole, but we have to watch what we eat when following the low FODMAP diet. This recipe will show you how you can enjoy guacamole without interfering with your diet. The recipe is very straightforward and provides 16 servings of about 1 ½ tablespoons each.
If you have about 10 or 15 minutes, you can whip up this recipe so that it's ready for your main course. You can also enjoy it with corn chips as a snack any time of the day. Finally, you can safely enjoy guacamole without compromising your low FODMAP diet.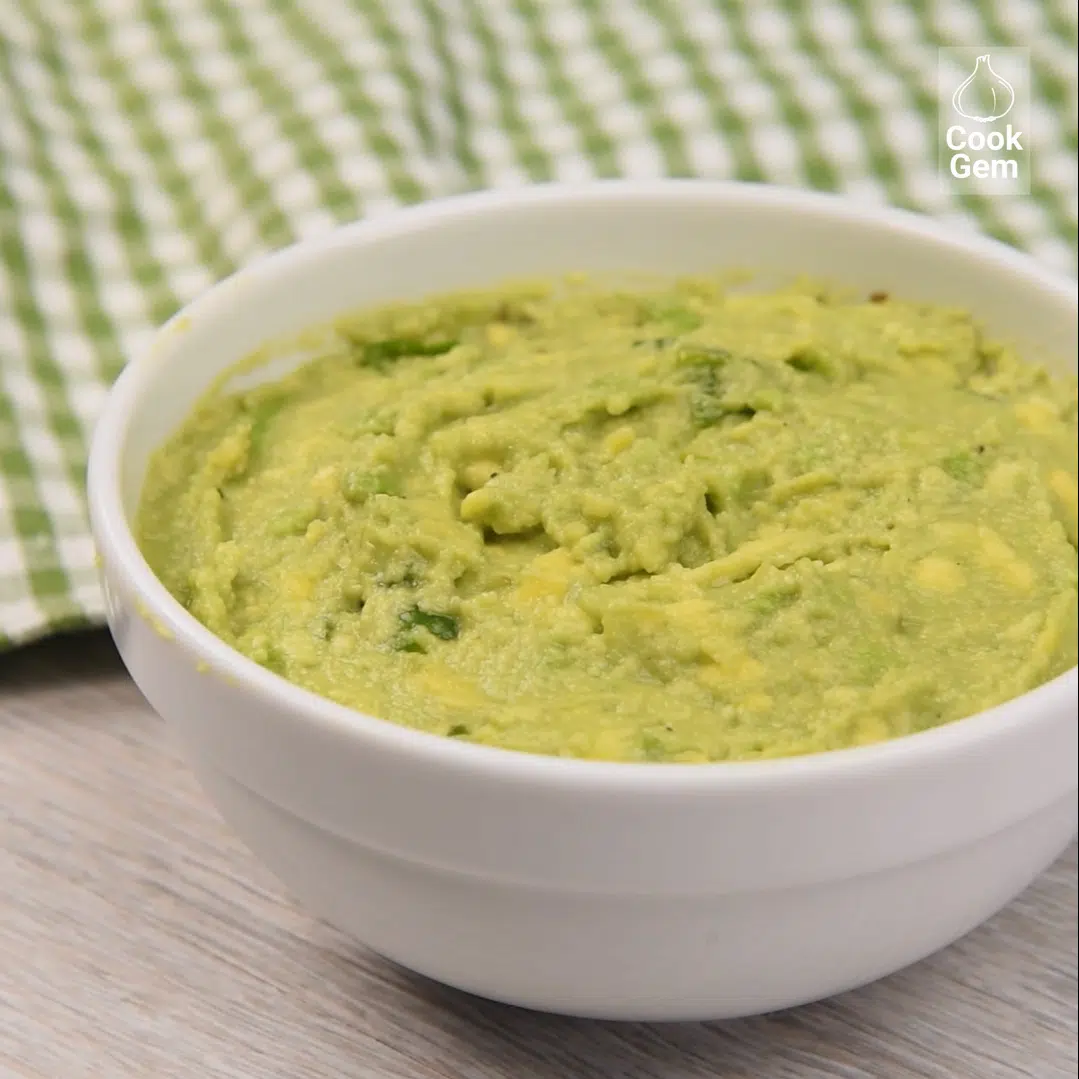 Ingredients
1

tablespoon

of finely minced scallions

use only the green parts

2

Hass avocados

6 ounces each, ripe

1

teaspoon

of minced jalapeno

Black pepper

freshly ground

1

tablespoon

of lime juice

Kosher salt
Instructions
Cut each avocado in half and take out and throw away the pits.

Spoon out all the avocado pulp and place it in a non-reactive mixing bowl.

Add the lime juice immediately.

Mash the avocado with a fork, as this will help mix the lime juice, which will also delay oxidation and prevent discoloration.

Season with jalapeno and scallion.

Add additional seasoning with generous amounts of salt and pepper. If you decided to use the optional cumin, add it now, as well.

Your mixture will likely be a bit chunky at this point. So if you prefer yours to be smoother, mash for a while longer until you get the consistency you like.

Enjoy your Simple Low FODMAP Guacamole!
Video
Notes
* You may add ¼ teaspoon of cumin you desire. This ingredient is optional and not part of the main recipe.

* You may eat the guacamole fresh or you can place it in the fridge to chill. For the latter, you'll need to place some plastic wrap directly on the guacamole's surface. Let chill for 4 hours.
Nutrition
Calories:
41
kcal
|
Carbohydrates:
2
g
|
Protein:
1
g
|
Fat:
4
g
|
Saturated Fat:
1
g
|
Polyunsaturated Fat:
1
g
|
Monounsaturated Fat:
2
g
|
Sodium:
2
mg
|
Potassium:
125
mg
|
Fiber:
2
g
|
Sugar:
1
g
|
Vitamin A:
44
IU
|
Vitamin C:
3
mg
|
Calcium:
3
mg
|
Iron:
1
mg
Notes & Tips
Some people believe that placing one of the pits of an avocado under the plastic wrap will expedite the browning process. This is completely optional and entirely up to you as to whether you choose to try a pit. Otherwise, just throw the pits away after removal.
To ensure that your guacamole adequately browns, prepare it well in advance before eating. This will ensure that the recipe has plenty of time to brown.
Traditional guacamole contains red onions. If you've been on the low FODMAP diet for any length of time, you know that red onions have high FODMAP content. As such, it's hard for dieters to enjoy guacamole.
Thankfully, this recipe delivers the same great taste as that traditional guacamole without the addition of red onions. That said, it's still important that you don't overindulge in this low FODMAP recipe. As long as you refrain from consuming more than 30 grams of this guacamole per serving, you'll be within acceptable low FODMAP limits.
Feel free to increase the minced jalapeno up to 1 tablespoon according to preference. Just keep in mind that the more jalapeno you add, the hotter your recipe will taste. This could potentially cause some digestive issues if you're especially sensitive to hot foods.
As such, you should proceed with caution. We recommend starting out with a small amount and seeing how you respond to it. If you find that you can handle more and you want to give your guac a bit more kick, feel free to increase the jalapeno content.
Substitutions
As stated below the list of ingredients, you have the choice of adding ¼ teaspoon of cumin. This is completely optional, so not using it isn't going to affect the overall taste of the recipe one way or another.
What ultimately matters most is that you stay within the acceptable FODMAP range per serving. If you can manage to keep your intake at 30 grams or less, you'll be in good shape. The recipe yields about 1 ½ cups of guacamole, with each serving size measuring about 1 ½ tablespoons.
If you don't think 1 ½ cups will serve your family or guests, make another batch just to be on the safe side. You can keep it in the fridge until ready to serve.
Common Questions
Why add cumin to the guacamole recipe?
Cumin helps give the low FODMAP guacamole recipe some extra kick. Since red onions are left out of this recipe to keep it from going over the acceptable FODMAP limit, spices like salt and pepper are used in their place to help give it some flavor and boldness.
Not everyone will like the taste that cumin adds, so it's not a necessary ingredient. If you do decide to add it, you only need a very small amount, as a little goes a long way here. Be careful not to overdo it, and you can look forward to a well-balanced blend of spices in your guacamole.
What kind of consistency should my guacamole be?
This is also completely optional and is based on your personal preference. Some people like their guac to be really chunky, while others appreciate a smoother blend. If you've never tried guacamole before, you might enjoy a smoother mixture to start, as some people find it to be more palatable when it's not so chunky.
Sides & Pairings
Tortilla chips are absolutely divine with low FODMAP guacamole. Of course, any Mexican cuisine will taste better with guacamole, assuming you're a fan of it. So if you're planning a Mexican food night, be sure to prepare this recipe in advance.
In doing so, it will be sufficiently brown and ready to serve come dinner time. We also like just snacking around on chips and guac in the middle of the day or at night. This recipe is versatile enough to enjoy just about any time you like.
And because it doesn't contain red onions, you don't have to worry about it upsetting your digestive system.
---
Recent Recipes