Low FODMAP Salsa Verde Recipe
Salsa Verde is an essential Mexican salsa consisting of tomatillos, scallions, jalapeno, and cilantro. Traditional Salsa Verde usually includes onions and garlic, however, both are high FODMAPs. Most commercially prepared salsas will not meet low FODMAP requirements. So, we make our own! Don't worry this recipe is simple and requires minimal ingredients.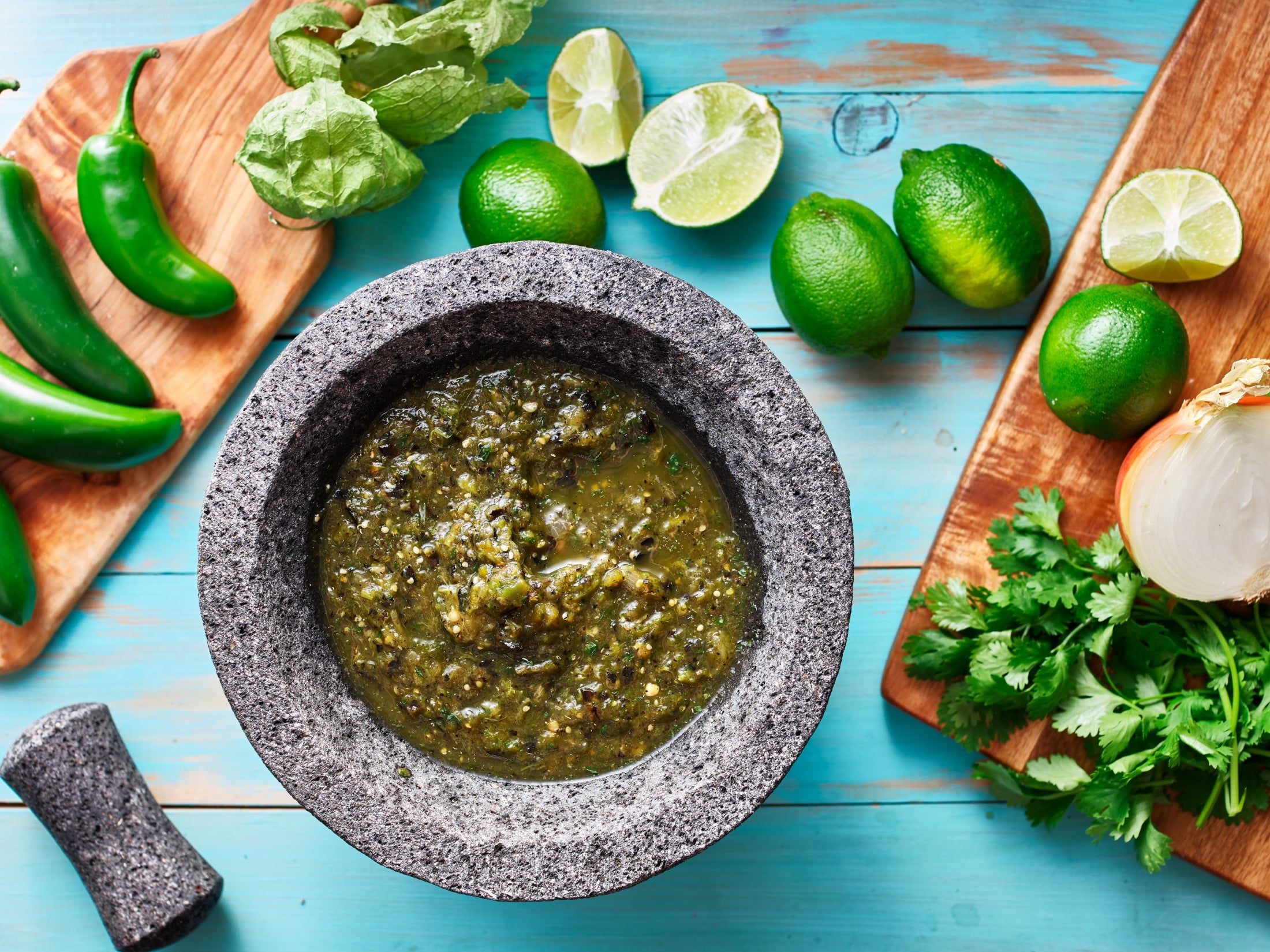 Ingredients
1

pound

green tomatillos

or 680g canned green tomatillos

1

cup

scallions

green parts only

3

tbsp

lime juice

add more or less according to preferences

1

fresh green serrano pepper

seeded and minced

2

tsp

salt
Instructions
Peel skin from tomatillos and slice in halves. Place on a lined sheet pan and broil on high for 7-8 minutes till they are blackened.

Blend roasted tomatillos, scallions, pepper, cilantro, and lime juice. Add salt and more lime according to taste preferences.

For maximum flavor, refrigerate salsa overnight or up to 1 hour to marinate and gather as much flavor as possible.
Nutrition
Calories:
43
kcal
|
Carbohydrates:
7
g
|
Protein:
0.3
g
|
Fat:
1
g
|
Saturated Fat:
0.01
g
|
Polyunsaturated Fat:
0.01
g
|
Monounsaturated Fat:
0.01
g
|
Sodium:
1322
mg
|
Potassium:
208
mg
|
Fiber:
0.5
g
|
Sugar:
5
g
|
Vitamin A:
642
IU
|
Vitamin C:
8
mg
|
Calcium:
14
mg
|
Iron:
0.3
mg
What are tomatillos?
Tomatillos are in the same family as tomatoes but contain a papery husk, similar to a gooseberry. Whenever you eat green salsa at any Mexican restaurant, you are most likely eating tomatillos. Tomatillos are a bit more acidic and sweeter than regular green tomatoes and go well in various sauces and salsas, like salsa verde.
To prepare tomatillos, it is essential to remove the husk and clean them with hot water, as they are a bit sticky under the husk. When buying, look for smaller tomatillos about 1 ½ inch wide in size. The smaller tomatillos contain more flavor than the bigger ones. Tomatillos are high in iron, magnesium, fiber, potassium, and magnesium making them a perfect ingredient for your low FODMAP diet.
Shortcuts and Substitutions
To cook tomatillos, you can either roast, brown on the stovetop, or broil them. Roasting the tomatillos is recommended as they retain more flavor. However, all three methods will leave you with delicious salsa.
If you decide to use canned tomatillos, make sure to drain water before combining it with the rest of the ingredients.
Sides & Compliments
Common Questions
Is salsa verde gluten-free?
Yes, no gluten or wheat is used in salsa.
Is salsa verde vegan?
Yes, salsa verde is made solely with vegetables.
Is salsa low FODMAP?
No, most commercially produced salsa typically contains onions or garlic.
Is salsa keto-friendly?
Yes, salsa is keto-friendly. Salsa is low in carbs and sugar making it a perfect keto-friendly addition.
---
Recent Recipes