Homemade Mini Montanara Pizza
Originally from the hills of pizza paradise in Naples, the Montanara Pizza is a delicious fried pizza dough. The toppings on a montanara pizza are slathered on after the pizza has been fried, so the taste remains crisp even though the pizza has been cooked to a golden brown. If you take a bite of this, the different textures on your taste buds may spontaneously combust.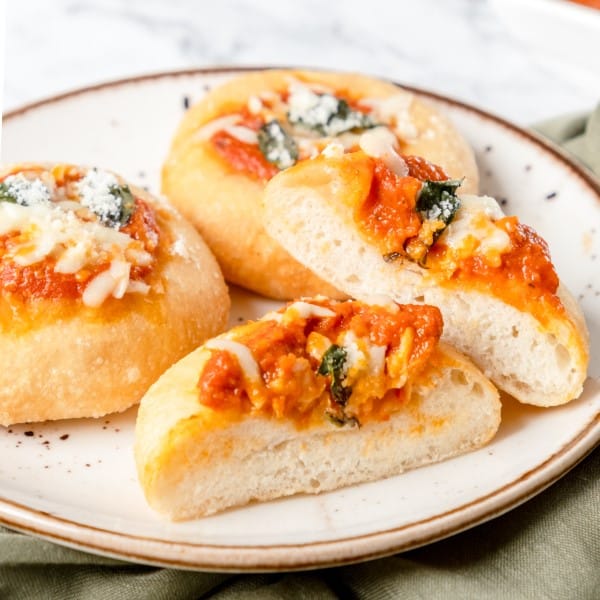 Ingredients
Pizza Sauce
Tomato paste

Olive oil

Dried oregano

Italian seasoning

Salt

Pepper

Garlic powder
Pizza Dough
2

cup

250 g flour

1

cup

240 mL water

1 ½

tsp

yeast

½

tsp

salt

½

tsp

baking powder
Mini Montanara Pizza
1

cup

homemade pizza sauce or store-bought pizza sauce

400

g

pizza dough

1

cup

shredded mozzarella cheese

½

cup

parmesan cheese

Fresh basil leaves
Instructions
Mix all the pizza sauce ingredients in a bowl until it's homogeneous then set aside.

To make pizza dough, mix the flour, salt and yeast then add water and knead them well. Rest the dough for about 2 hours in an oiled and covered bowl.

After 2 hours, dust the bench which you will roll out the dough with flour. Divide the dough in half. Then divide each piece into five small pieces. Roll the small pieces into the balls.

Press the balls with your hands and expand it by gently pulling on the edges and continue to rotate it. You will get 3 mm thick discs.

Deep fry the discs in a medium pot with vegetable oil at 180°C/355°F, until each side turns golden. When it is fried, it will turn into low dome-shaped discs. Place these discs on a baking tray lined with waxed paper. Press in the middle to get little dents.

Put 1 tablespoon of pizza sauce in the dent of each disk.

Scatter the mozzarella cheese on pizza sauce. Place the fresh basil leaves on mozzarella cheeses. Sprinkle the parmesan cheese on top. 

Bake until the cheeses completely melted for about 10 minutes at 190°C/375°F preheated oven.

After the mini montanara pizzas are baked, remove the baking tray from the oven, drizzle the olive oil on top.

Serve slightly warm.
Nutrition
Calories:
545
kcal
|
Carbohydrates:
77
g
|
Protein:
27
g
|
Fat:
15
g
|
Saturated Fat:
8
g
|
Polyunsaturated Fat:
1
g
|
Monounsaturated Fat:
4
g
|
Cholesterol:
41
mg
|
Sodium:
1402
mg
|
Potassium:
555
mg
|
Fiber:
7
g
|
Sugar:
4
g
|
Vitamin A:
857
IU
|
Vitamin C:
7
mg
|
Calcium:
495
mg
|
Iron:
6
mg
Tips, Notes & Substitutes:
The amount of oil used for deep frying is one of the key ingredients in this recipe.
Use a kitchen thermometer to check the temperature and make sure it doesn't get above 180 degrees. Otherwise it will turn brown very quickly.
You don't want the color to change too much from golden.
The tiny montanaras shouldn't be exposed to excessive oil absorption. Make sure to wipe off extra oil with a paper towel after taking it from the deep fryer.
It's crucial to know when to remove it from the oven. The intensity and time varies depending on the oven. You'll need to periodically check it as you bake it. Prior to the cheeses changing color and turning crispy, you must remove them from the oven as soon as they are totally melted.
---
Recent Recipes