Homemade Mexican Goat Stew
Mexican goat stew is pure comfort food.
Tender goat meat is paired with black beans and spicy chipotles to create a meal that will keep you warm as fall approaches. If you've never tried goat meat before, this hearty stew is sure to make you a convert. What's more, goat is a cheaper alternative to beef and pork.
This recipe is based on birria, a popular goat stew from the Jalisco state of Mexico. Let's dig in.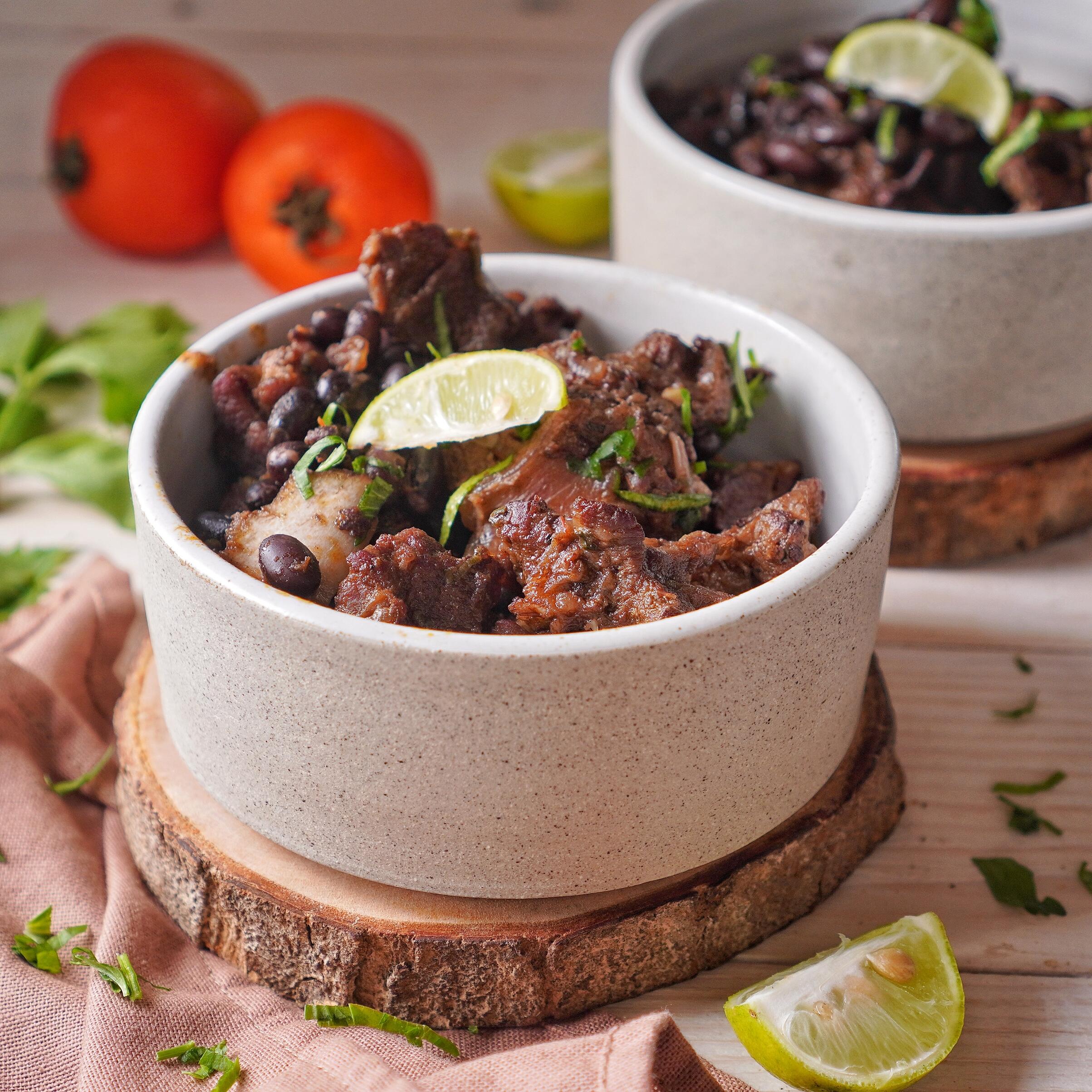 Ingredients
1 3/4

pounds

goat meat

bone in

1

onion

chopped

2

plum tomatoes

chopped

2

tablespoons

vegetable oil

3

garlic cloves

crushed

1

orange

1

bay leaf

3

cloves

1

pinch

black pepper

3

chipotles

canned

Juice from 1 lime

2 3/4

cups

water

15

ounce

can black beans

drained and rinsed

Salt

to taste

3

scallions

thinly sliced

2

tablespoons

cilantro

finely chopped
Instructions
Assemble the ingredients.

Cut the goat into bite size pieces. Add the garlic cloves and the juice from the orange. Stir to combine. Marinate for at least 8 hours or overnight in a shallow airtight container placed in the fridge.

Heat the vegetable oil in a large pot. Add the goat meat and cook for about 5-8 minutes on high heat. The pieces should be slightly browned. Remove the meat from the pot and set aside.

Add the chipotles from can, onions and tomatoes to the pot. Sauté for 1-2 minutes, stirring frequently with a silicone turner. Transfer to blender and pulse gently. Add back to pot.

Return goat to pot. Add the bay leaf, 2 cups of water, salt and pepper, and cloves. Stir and bring to a gentle boil with little bubbles forming around the perimeter. It should not be a rolling boil.

Add 3/4 cup water and lime juice. Cook, partially covered, for an additional 15 minutes. Stir occasionally.

Add the black beans, scallions, and cilantro. Stir to combine.

Continue to cook for 15 more minutes, stirring occasionally.
Video
Nutrition
Calories:
356
kcal
|
Carbohydrates:
15
g
|
Protein:
21
g
|
Fat:
24
g
|
Saturated Fat:
10
g
|
Polyunsaturated Fat:
2
g
|
Monounsaturated Fat:
10
g
|
Cholesterol:
72
mg
|
Sodium:
271
mg
|
Potassium:
489
mg
|
Fiber:
5
g
|
Sugar:
4
g
|
Vitamin A:
221
IU
|
Vitamin C:
15
mg
|
Calcium:
54
mg
|
Iron:
3
mg
Notes & Tips
Budget plenty of time for marinating the meat and cooking the goat.
Goat takes a lot of time to cook, so plan accordingly and watch it closely. You could make this in a slow cooker if you have one.
The age of the goat will impact cooking time. It will be fully cooked when it is tender and falling off the bones. Add more water as necessary the longer it cooks to prevent the meat from drying out. It may take up to 3 hours to cook completely.
If you want more heat, use more peppers or real peppers. If using real peppers like guajillo chili peppers, toast them lighty, then add water, blend until soft and remove the stems/seeds and blend again to make a sauce for this dish in step 3.
Common Questions
What are plum tomatoes?
Plum tomatoes are roughly egg shaped and are bred for canning and sauces. They are highly flavorful. You can find them in the produce section of your local grocery store.
What kind of chili pepper should I use?
You can use chipotles, which are smoked and dried jalapenos, but guajillo chili peppers, which are smoked and dried mirasol chilis, are also commonly used in this recipe. Guajillos are slightly sweeter than chipotles.
How do I find good quality goat meat?
You can find goat meat at most grocery stores or specialty meat markets. You can also shop for goat meat online from small farmers or ranchers.
Can I use a different type of meat instead?
Yes. If you can't source goat meat you can use mutton or lamb. Note that the cooking time will be slightly less if you use lamb since lamb is younger and more tender.
What does Mexican goat stew taste like?
Mexican goat stew is a spicy and protein-rich meal full of good flavor.

Goat meat can be described as slightly gamey, with a strong smell, and the taste is often compared to beef or lamb. Goat meat is a red meat like beef or pork.
Sides & Compliments
Cooked green beans
Green salad: romaine lettuce, arugula, and spinach spritzed with lemon
Roasted potatoes with olive oil and salt
Crusty bread (regular or gluten-free)
Brown rice
Warm tortillas
Storage
The Mexican goat stew should be refrigerated within two hours of cooking. Refrigerate the cooked meat in a shallow airtight glass container. Place a layer of wax paper between the container and the lid if you do not want the lid to absorb the smell of the stew.
Properly stored, the stew will last for three to four days in the fridge. To reheat, simply pour a serving into a small saucepan and heat on low, stirring occasionally.
Freeze the stew in an airtight container or heavy-duty freezer bag. Properly stored, the stew will last for two to three months in the freezer.
Defrost the stew in the fridge before reheating, then pour a serving into a saucepan and heat it on low, stirring occasionally.
You can also reheat the stew in the microwave. Place in a microwave-safe bowl and place a microwave cover over the top to avoid splatters. Microwave at medium power for 45 seconds at a time, stirring in between rounds, until the stew reaches your desired temperature.
History
Jalisco, Mexico is home to a rich and varied culinary tradition that draws upon the region's pre-Hispanic cuisine and Spanish influences.
Many traits that are thought of as quintessentially Mexican originated in Jalisco, including birria. Authentic tequila is also produced in Jalisco.
Goats were introduced to Mexico by the Spanish. The conquistadors themselves didn't care for goat meat, but native Mexicans embraced it, marinating the meat with local spices. Each municipality in Jalisco today has their own version of birria. In Mascota, for example, birria is made using cow's head.
---
Recent Recipes