Simple Spinach & Feta Pizza
Once or twice a week we have pizza night at our house. We have been through the rounds of trying different toppings, doughs, crusts, sizes and shapes and we decided we needed to up our pizza game by making it. The first time I was so enthusiastic about this pizza adventure, I decided to go all out and make even the dough/crust. Deciding the topping is easily the fun part, making the dough, not so much for me. Between the flour and yeast, hoping to get the right shape and color and rise was a lot. From there on out, I have stuck to store-bought dough, and I don't regret it.
For those who enjoy baking with such precision and patience, go for it, there is something so satisfying about making your own dough, it's quite heady. But if you are cooking for a hungry, pizza-loving, preschooler, buy the dough, saves you time, energy and stress. I have tried every kind of topping on my home-made pizza, from broccoli and baby corn to cottage cheese and pineapple, and my Classic Spinach and Feta Pizza always comes out on top. Spinach and feta are a winning combination and put it on some dough and bake till it is nice and warm and gooey, what's not to love? I make this with and without pizza sauce and it tastes amazing both ways. I also keep it heavy on the cheese and lighter on the spinach, and sometimes like to play around with artichokes or olives. I have kept this recipe as simple and basic as possible. So, for a simple weekday (it's that easy) or weekend meal that is fun, delicious and easy try out the Classic Spinach and Feta Pizza.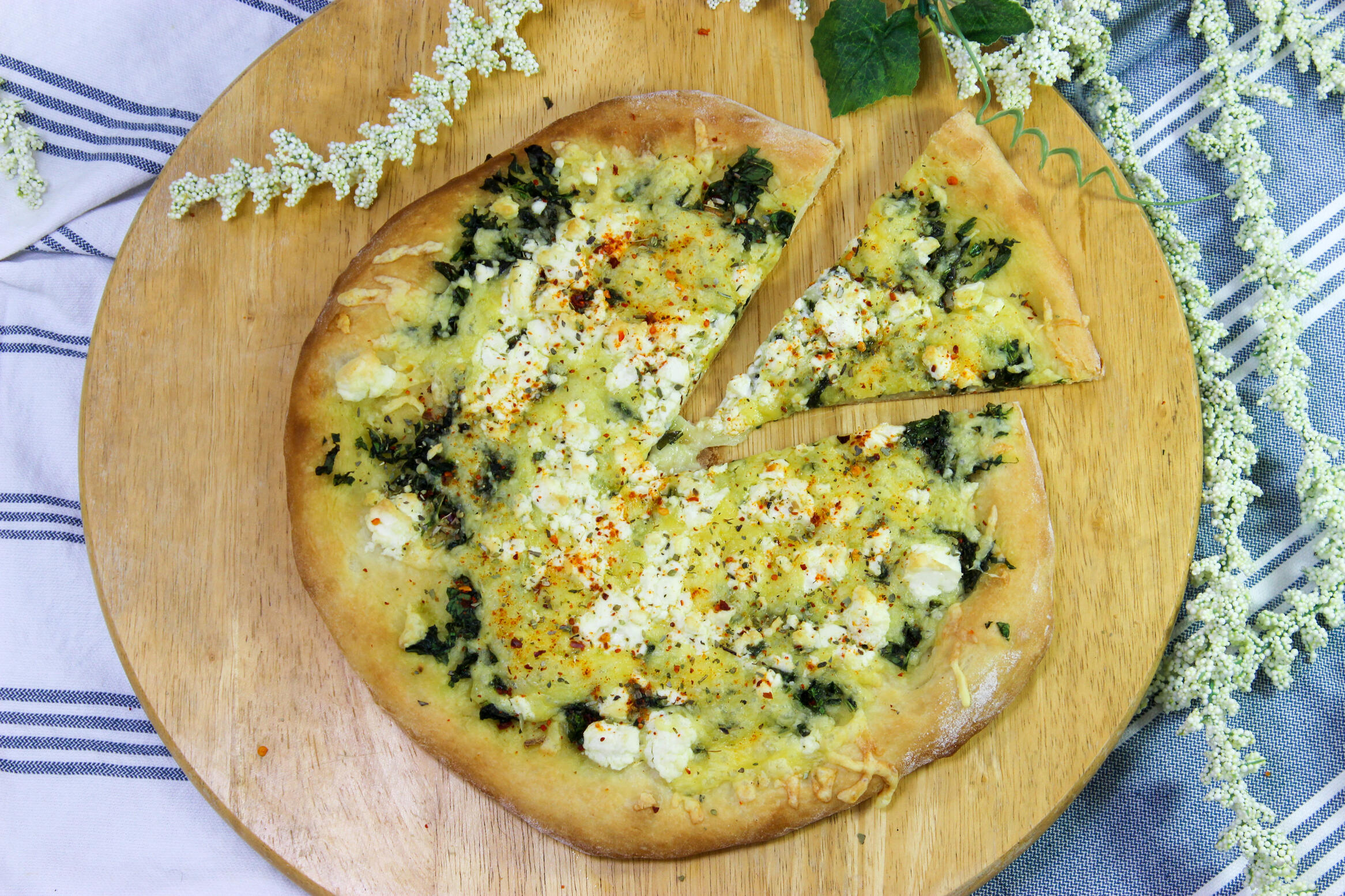 Ingredients
1

tube of store-bought pizza dough

2

tablespoons

of olive oil

2

cloves

of garlic

minced

1

cup

chopped up fresh spinach

½

cup

crumbled feta cheese

1

cup

shredded mozzarella cheese

1

teaspoon

dried basil for seasoning

Chili flakes

optional
Instructions
Preheat the oven to 450 degrees

Roll out the pizza dough and place on a baking tray, pizza stone or cookie tray with parchment or baking sheet

Heat the olive oil in a small pan

Add the minced garlic and cook on low for about 4-5 minutes until slightly browned and switch off the stove.

Brush the "garlic oil" all over the pizza dough

Sprinkle the cup of spinach all over the oiled dough

Now add the feta and mozzarella cheese

Place it in the oven and bake for 12-15 minutes. The crust should brown but not burn

Take it out of the oven and sprinkle with dried basil and chili flakes, if using

Slice, serve and enjoy
Video
Nutrition
Calories:
440
kcal
|
Carbohydrates:
49
g
|
Protein:
17
g
|
Fat:
20
g
|
Saturated Fat:
8
g
|
Polyunsaturated Fat:
2
g
|
Monounsaturated Fat:
8
g
|
Cholesterol:
39
mg
|
Sodium:
1098
mg
|
Potassium:
81
mg
|
Fiber:
2
g
|
Sugar:
7
g
|
Vitamin A:
972
IU
|
Vitamin C:
3
mg
|
Calcium:
244
mg
|
Iron:
3
mg
Tips & Tricks
Let the store-bought pizza dough sit out for about 30-60 minutes before you roll it out.
You can use a little bit of flour to avoid sticking
Use fresh spinach, they can either be precut and prewashed or you can chop it up yourself.
You need to use a parchment paper or baking sheet and most pizza tubes come with it.
Storage
After baking it, the pizza will last for two days in the fridge, but it tastes good for one day only. It gets a bit chewy and dry after that.
Questions
Why didn't you use any pizza sauce for this recipe? Doesn't it make the pizza dry?
You can use any pizza sauce you want, a red sauce for a richer flavor and white sauce for a creamier one. Don't use too much sauce, it sometimes prevents the pizza bottom from getting that nice crisp texture. I used the garlic oil as the base for the pizza, and that keeps it from getting dry and ensures it cooks through, make sure you oil the edges of the pizza dough as well.
Can I use the dough straight from the fridge or do I need to keep it our overnight?
Let the dough sit out for at least 30 minutes before you start kneading because the colder it is the more difficult it is to stretch it out. Let it get to room temperature, makes it easier to roll out. Unless the temperature is cool, don't leave store-bought pizza dough overnight. Many of them contain eggs and in warmer weather, if it is left overnight, there is a higher chance of it spoiling.
Substitutions
This is my very favorite part of making my own pizza, the amount of room for substitutions and customization. And as long as you have dough (whatever kind) you can make pizza, you don't need a particular sauce or cheese or topping.
Pizza Sauce: You can use Alfredo sauce, since this is a white, cheesy pizza. You can also use any traditional tomato-based pizza sauce.
What I sometimes do is add a tablespoon of tomato paste to Step 4 and sauté it with the olive oil and garlic, making sure it doesn't burn and then spreading it on the dough.
I do love a little hit of spice or acidity to any rich, cheesy dish, so I chop up a tomato and top just my part of the pizza with it.
A little bit of kale or spinach pesto is a great choice, tastes wonderful with the cheese and the spinach taste is not overwhelming.
Pizza Dough: You can use, cauliflower dough, whole wheat dough or any other options they have out there. Just follow package instructions.
Toppings: Now I have kept this very straight forward, but you can give the Classic Spinach and Feta pizza a delicious, little twist by adding artichokes and olives. I used canned/bottled artichokes and olives.
Sliced red onions or caramelized onions also work well on this pizza, as does mushroom.
Spinach and feta pizzas are usually just that, no frills or fuss but make it your own. If you want to add some kind of meat to it, sliced up sausage is a good idea. I know bacon is the go-to but the feta is already salty and the bacon adds to the saltiness.
Cheese: You can always just keep it plain feta and not even add the mozzarella. Asiago is another good option; you can also add shaved or grated parmesan on top.
Garnish: The dried basil and chili flakes are optional, depends on personal taste. You can also add oregano or Italian seasoning.
Accompaniments
A fresh, light salad goes great with the Classic Spinach and Feta Pizza.
Coleslaw is another favorite.
And most soups pair well with pizza.
But pizza dip is huge in my family. Ranch is a favorite, as is spicy chipotle. But if you know me, you know I love tomatoes and I actually make a small tomato soup to accompany my pizza.
If you love feta like I do, keep the party going with these Fried Feta Cheese Balls or here is another delish pizza to try, the simple 'Nduja Sausage Pizza.
---
Recent Recipes