Chatamari is a special Nepalese dish that is also called Nepali Pizza. It looks similar to a pizza, but it is more like a cross between pizza and a savory crepe. The crust of the pizza is made from a rice-flour based batter that cooks like a slightly thicker crepe. On top of the crust goes a mixture of minced meat and spices. The last step is an egg cracked on top to give it a clean aesthetic and delicious, gooey accent. If you would rather make a slightly more traditional pizza that is also gluten-free, you should try an easy low FODMAP pizza.
Chatamari is easy and quicker than a regular pizza. The crust is made from a batter instead of a dough and there is no rising agent like yeast, so you do not have to wait for hours for dough to rise. As soon as you have mixed up the batter, it is ready to cook! The list of ingredients looks long, but it is mostly just spices added to the mince to create a powerful flavor.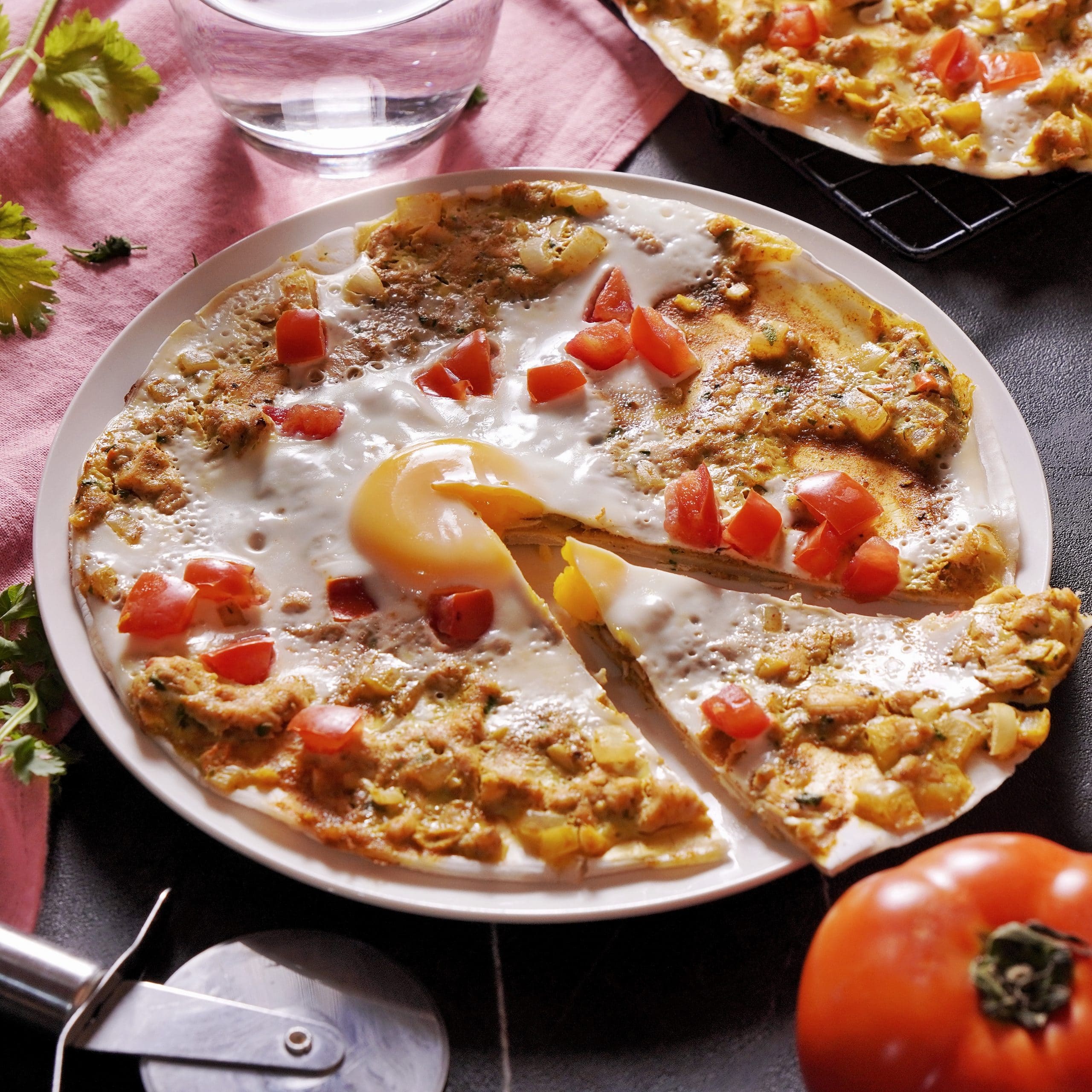 Ingredients
2

cups

rice flour

6

eggs

1

cup

minced meat

¼

cup

fresh coriander

1

tsp

cumin powder

1

tsp

coriander powder

1

tsp

salt

½

onion

1

tsp

red chili powder

1

serrano chili pepper

1

tsp

black pepper

3

garlic cloves

1

tbsp

ginger paste

1

tsp

turmeric powder

1

tsp

paprika powder

1

tsp

curry powder

1 to

mato

1

tbsp

oil per chatamari
Instructions
All ingredients ready? Let's begin!

In a large mixing bowl, combine the rice flour and ¾ cup of water. Whisk together. You want the batter to have a consistency similar to thin pancake batter, so you may need to add a little more water.

Peel and dice the onion. Finely chop the fresh coriander. Cut the serrano chili pepper in half and scoop out the seeds before finely chopping it. Finely chop the garlic. Dice the tomato.

In a new bowl, add the minced meat, chopped onion, fresh coriander, cumin powder, coriander powder, turmeric powder, chili powder, paprika powder, curry powder, black pepper, salt, ginger paste, garlic, serrano pepper, and two eggs.

Mix together until well incorporated using a wooden spoon or a spatula.

Over medium-high heat, warm 1 tbsp of oil in a large skillet. It is best to use a skillet or pan with a lid.

Once the oil has become hot, spoon around ¾ a cup of batter into the skillet.

The batter should be thin enough to cook quickly, so once it becomes solid, pat a scoop of the meat mix on top and spread it across in a decent layer.

Put the lid on the skillet and cook like that for around 7 minutes.

Remove the lid and crack a whole egg in the middle of the chatamari. Try to do it so the yolk remains intact. Sprinkle some chunks of tomato around the egg.

Cover with the lid again and cook for another 3-5 minutes, depending on how well cooked you want your egg to be.

Once the meat is cooked through and the egg cooked to your preferences, remove from heat. Use a large spatula to transfer from the skillet to a plate.

Repeat with the remaining batter and meat mix.

Before serving, cut the chatamari like you would a pizza.
Video
Nutrition
Calories:
589
kcal
|
Carbohydrates:
70
g
|
Protein:
24
g
|
Fat:
23
g
|
Saturated Fat:
7
g
|
Polyunsaturated Fat:
3
g
|
Monounsaturated Fat:
10
g
|
Trans Fat:
1
g
|
Cholesterol:
285
mg
|
Sodium:
727
mg
|
Potassium:
479
mg
|
Fiber:
4
g
|
Sugar:
2
g
|
Vitamin A:
1103
IU
|
Vitamin C:
7
mg
|
Calcium:
83
mg
|
Iron:
4
mg
Notes & Tips
Chatamari can be stored in an airtight container or ziplock bag in the fridge for roughly 5 days. The egg will run or squish, but it will still taste good. You can reheat in the microwave, in the oven, or by putting it back in a skillet.
Modifications
If you want, there are a few ways you can make this dish your own. If you want a chatamari more similar to a traditional pizza, you can add some cheese. Once you have cracked the egg on top, sprinkle some shredded cheese on top as well. If you choose this, I recommend mozzarella, parmesan, or cheddar.
If you like certain tastes more than others (such as coriander or pepper), chop up a little extra and sprinkle it on top after the egg.
If you are vegetarian or vegan, you can still enjoy chatamari. For vegetarians: you will need to omit the meat, but still mix together the spices and eggs. Spread the spiced egg mixture on the cooked dough and crack an egg on top like normal. I recommend using at least two eggs on top.
For vegans: without the meat or eggs, try mixing some of the spices into the batter before cooking the crust. Use any veggies you like and toss with the rest of the spices. This will be a bit more like a vegetable crepe. Sprinkle some vegan cheese on top to add a little protein.
What Minced Meat to Use?
It doesn't matter! A popular choice is minced chicken meat. Another really popular choice is minced buffalo meat, common in Nepal. Other options include turkey and lamb. My personal favorite to use is turkey, but I'll tell you a secret: you can mix your meats.
Sometimes I make meals with minced meats but I end up with a little mince leftover. I won't throw it away, so I store it in the freezer. Eventually, I end up with little balls of different kinds of minced meats. Chatamari is a fantastic way to use up that leftover mince! Add it all together in a bowl along with your other ingredients.
Where Is Nepal?
Nepal is located in South Asia and largely in the Himalayas. Nepal has a beautiful landscape, including plains, forests, and 8 of the world's tallest mountains. The country–or the concept–of Nepal seems to date back to the fourth century BC. The country is landlocked and boasts an incredible amount of biodiversity for an area of its size. One of Nepal's money makers include "cereals" which is produce such as barley, corn, wheat, and more.
---
Recent Recipes