All About Drinks & Cocktails That Start With The Letter H
The H list of cocktails has some of the most interesting names you'll likely encounter. With names that conjure images of hair, blood, making love, and horse anatomy, the monikers for these cocktails are not that enticing. However, read a bit about each, and you'll think otherwise. Which of these H cocktails will you think to order at your next happy hour?
Hair of the Dog
Named for the belief that "the hair of the dog that bit you" will cure any hangover, this drink was developed as a cure-all. If you're hurting from a hangover, have a cocktail and you'll be as good as new. Though the idiom suggests that any old drink can cure you, the cocktail recipe for the Hair of the Dog is specific. A Hair of the Dog is a whiskey cocktail made with honey and cream. The ingredients are shaken with ice and strained into a cocktail glass; it's left ungarnished.
Hairy Navel
The Hairy Navel is a simple spinoff of the famed Fuzzy Navel. The Hairy Navel is a fruity highball perfect for breakfast or brunch. Whereas a Fuzzy Navel simply calls for peach schnapps and orange juice, the Hairy Navel adds an extra kick with the addition of vodka. The Hairy Navel is mixed over ice in a highball glass and can be garnished with an orange wedge. This is a super simple drink to pour and can be easily made by the pitcher to serve a crowd.
Hangman's Blood
This mighty cocktail was first mentioned in a Richard Hughes novel published in 1929. This is a high-octane cocktail that's not recommended for the faint of heart. Read: welcome drinkers with a hardened palette. A wild mix of liquors and beer, Hangman's Blood is a name that perfectly reflects this cocktail. Notably, a Hangman's Blood is made with a blend of gin, whisky, rum, port, brandy, stout, and a champagne topper. The liquor ingredients are poured into a chilled pint glass and then topped with the beer and champagne. The drink does not call for a garnish.
Hanky Panky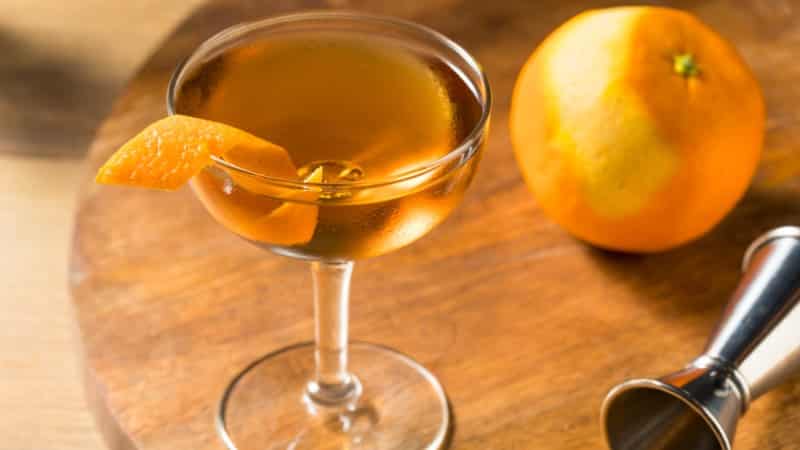 The Hanky Panky is a sweet gin cocktail that was fashioned by a bartender at London's Savoy Hotel in the early 1900s. The recipe for this drink was even once featured in the famous "The Savoy Cocktail Book". A delightful aperitif, the Hanky Panky is a mix of gin, sweet vermouth, and Fernet-Branca served straight-up in a martini glass. This cocktail is perfectly garnished with a vibrant orange twist. Described as an "elegant drink for sophisticated drinkers," the Hanky Panky is perfect for your most fancy occasions.
Harlem Mugger
Though little is known about the origins of the Harlem Mugger, this strong yet tasty cocktail is worth a try. Some sources suggest it gets its name from the idea that it "does your head in and takes your money." The Harlem Mugger is made with vodka, gin, rum, tequila, champagne, and cranberry juice. In essence, it's built like a Long Island Iced Tea with cranberry juice instead of sour mix and champagne instead of Coke. The ingredients of the Harlem Mugger are mixed over ice in a collins glass and garnished with a fresh lime squeeze.
Harvey Wallbanger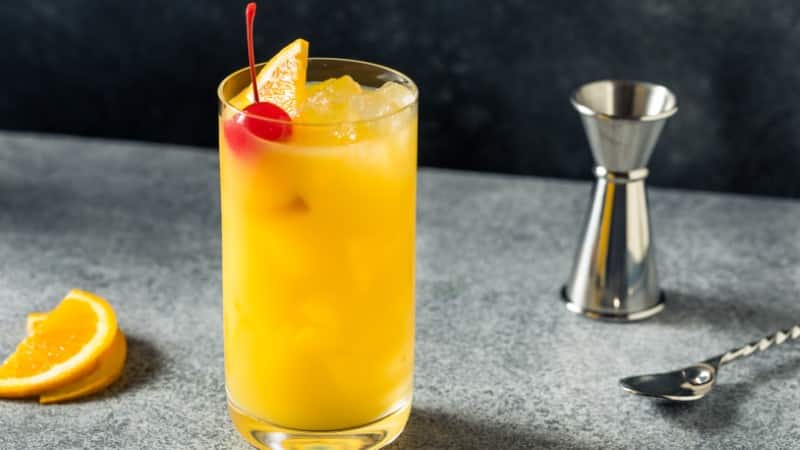 The Harvey Wallbanger is a classic cocktail that hails from Los Angeles in the 1970s. Purportedly named for the surfer, Tom Harvey, the Harvey Wallbanger is a simple mix of vodka, orange juice, and Galliano. These components are mixed over ice in a collins glass and garnished with an orange wedge. The Galliano, a unique facet of this drink, is an herbal liquor that comes in an 18-inch tall bottle. As a result of the bottle's size, it's always shelved on a back shelf so as not to obscure other bottles. Thus, any drink ordered "up against the wall" or as a "wallbanger" must include Galliano.
Hawaiian Iced Tea
The Hawaiian Iced Tea is a sweet and tasty spinoff of the classic Long Island Iced Tea. A much-loved island favorite, the Hawaiian Iced Tea is a fruity and refreshing variation of its New York counterpart. Of note, the Hawaiian Iced Tea is made with vodka, gin, rum, tequila, and triple sec just as the Long Island Iced is. However, the Hawaiian version of the drink substitutes pineapple juice for the sour mix and removes the soda topper. This drink is mixed over ice in a collins glass and can be happily garnished with a lemon wedge.
Hi-Fi
This delectable variation of the classic Screwdriver is a newfangled drink of mystifying origins. Nevertheless, if you're a child of the 80s, you'll surely want to give this one a try. The Hi-Fi is a simple mix of vodka and orange soda instead of orange juice. Unlike the Screwdriver from which this recipe is derived, the Hi-Fi is a brighter orange hue and most notably, carbonated. Whether you prefer Orange Crush, Orange Fanta, or Orangina, this is an easy drink to make and an even easier one to go down. Finally, the Hi-Fi is served over ice in a lowball glass and garnished with an orange slice.
Highball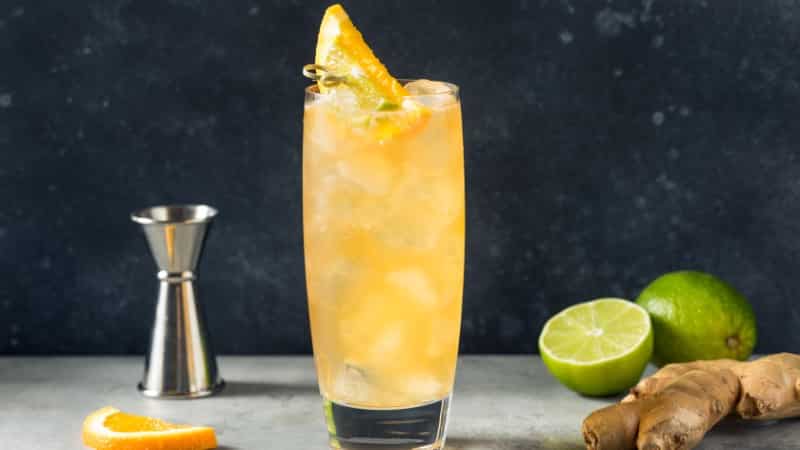 Over the years, many bartenders, mixologists, and liquor brand bigwigs have laid claim to the invention of the Highball. Although there's no clear answer as to who or when it was created, the Highball is a classic whiskey drink whose origins date back to sometime in the early 1900s. A Highball simply mixes two ounces of whiskey with either ginger ale or club soda. The soda dilutes the whiskey enough to make it a light and refreshing cocktail to enjoy. Not surprisingly, the Highball is served in a highball glass. Like the origins of the cocktail itself, there is much disagreement over whether the cocktail or glassware came first, much like the old chicken-or-the-egg debate.
Honey I'm Home
Created as part of a vodka brand's advertisement campaign, the Honey I'm Home is a drink that has a few variations. The most popular variation is made with honey-pepper-flavored vodka, Galliano, passion liqueur, maple syrup, and cream. The ingredients of this drink are shaken in ice and poured over fresh ice in a sling glass. It's customary to garnish this sweet concoction with an orange wedge.
Honeymoon
First published in a 1916 bar book entitled "Recipes for Mixed Drinks," the Honeymoon is a sweet and sour cocktail that's easy on the palette; it's boozy, sexy, and well-balanced. A Honeymoon is a blend of apple brandy, orange curacao, Benedictine, and fresh lemon juice. The ingredients are mixed in an icy shaker and strained into a chilled coupe glass. Lastly, the Honeymoon is left ungarnished.
Horsefeather
Invented in the 90s in Kansas, the Horsefeather is a whisky drink with a bite. Essentially, the Horsefeather is a refreshing derivation of the Moscow Mule. Whereas the Moscow Mule mixes vodka, ginger, beer, and fresh lime juice, the Horsefeather substitutes whiskey for the vodka and also adds a few dashes of bitters. A perfect cocktail for a dinner party or an unexpected guest, the Horsefeather is a cold and refreshing beverage. The Horsefeather is simply mixed over ice and served in a highball glass and then garnished with a lime wedge.
Horse's Neck
Historically, the Horse's Neck is both an alcoholic and non-alcoholic beverage and both are equally popular. The non-alcoholic variety of the Horse's Neck is simply ginger ale over ice in a highball glass and garnished with a lemon rind. The alcoholic, and arguably more fun, version of the Horse's Neck calls for the same ingredients with the addition of brandy. Moreover, other variations allow for the substitution of whiskey or bourbon instead of brandy.
Hot Buttered Rum
This hot after-dinner drink is a perfect dessert beverage or cocktail to warm up with on a cold winter's day. A classic rum drink for which a national holiday has been named, mark your calendar for National Hot Buttered Rum Day which is celebrated on January 17th each year. Nonetheless, a Hot Buttered Rum is the perfect combination of melted butter, brown sugar, vanilla, cinnamon among other spices, dark rum, and hot water. The finish is a spicy and warming cocktail that's as smooth as butter (pun intended). The Hot Buttered Rum is served in a footed mug and garnished with a whole cinnamon stick.
Hugo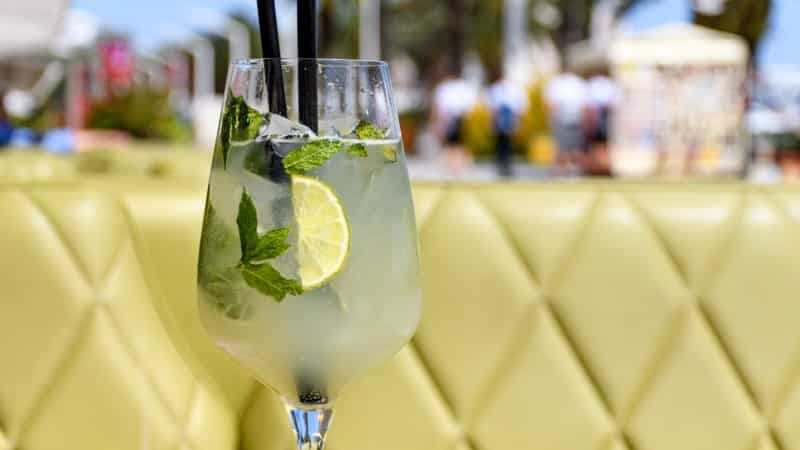 The Hugo is an aperitif that originated in South Tyrol which is situated at the northernmost point of Italy. This widespread cocktail is only mildly alcoholic and full of effervescent bubbles. Wildly popular in Germany and Austria, the Hugo consists of prosecco, elderflower syrup, mint leaves, and a lime slice. The only source of alcohol for this drink is prosecco which in its own right has a low alcohol content. The Hugo is served in a champagne flute and garnished with that lime slice.
Hurricane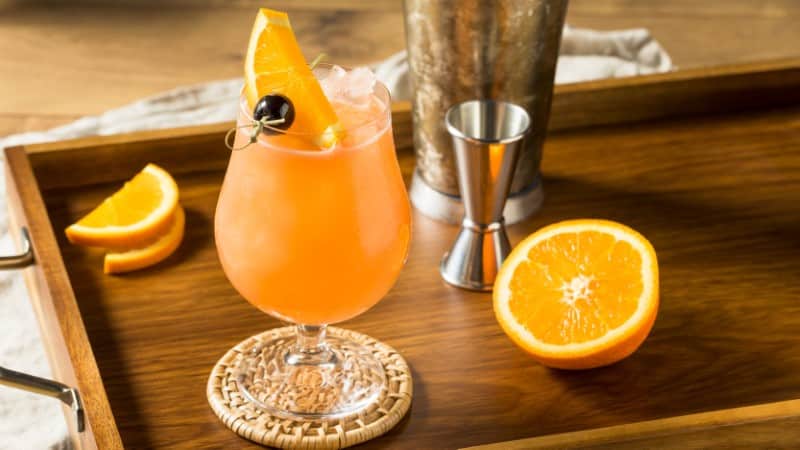 This rum cocktail was created sometime after World War II in the New Orleans French Quarter. Fruity, cold, and sweet, the Hurricane goes down easily and is perfect for a hot summer's day. This punch-style drink is made with both light and dark rums as well as a blend of three fruit juices, simple syrup, and grenadine. Undoubtedly, the ingredients of this drink are tasty, however, it's rather saccharine. The Hurricane is served in a hurricane glass (duh!) and garnished with an orange slice and cherry.
The Final Letter
Despite having some of the most off-the-wall cocktail names, the H drinks have heart. Speaking of heart, some of these drinks will truly get your blood pumping. From fruity punches to nostalgic classics, the H list of cocktails is far-reaching. Consider choosing one or two to try at your next dinner party.
---
Recent Recipes