White wine vinegar is a fantastic ingredient to have in your pantry. With its mild tang and gentle acidity, this vinegar is handy for adding zest to salad dressings, brightening up sauces, and making exciting marinades. There are several kinds of white wine vinegar on the market. Which is the best white wine vinegar?
The best white wine vinegar is made with high-quality wine grapes and barrel-aged to ferment naturally. The top 10 white wine vinegars are made by Giuseppe Giusti, Noble Tonic, Katz, Martin Pouret, Napa Valley Naturals, Pomepeian Gourmet, Monari Federezoni, Colavita, Forum, and Pojer e Sandri.
If you're a serious home cook, then your pantry probably has several different kinds of vinegar in it. White wine vinegar is an excellent option when making fish and chicken and goes well with most greens. Let's look at the best options for white wine vinegar available.
What Is the Best White Wine Vinegar?
Most of us are familiar with white vinegar and may even use balsamic occasionally, but white wine vinegar is a more unusual ingredient.
Before we investigate the best-tasting white wine vinegar out there, let's look at what white wine vinegar is and what makes it unique.
What Is White Wine Vinegar?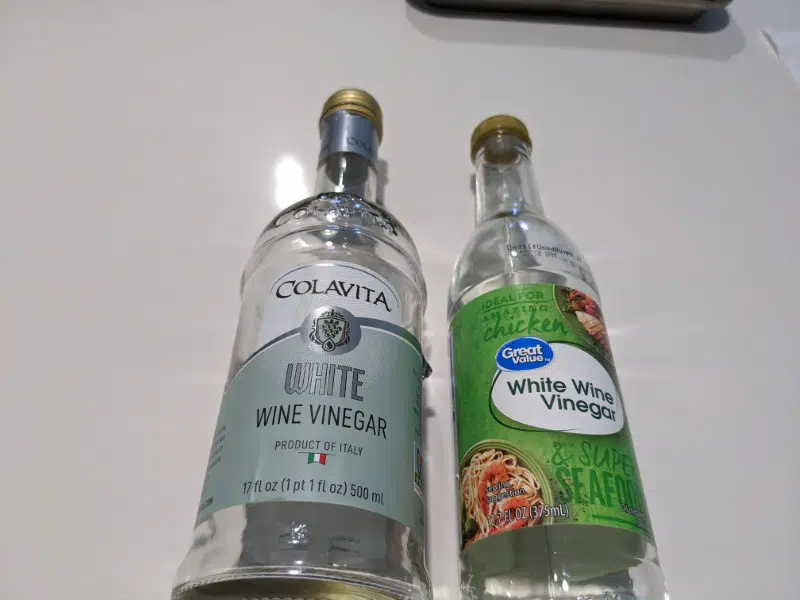 As you can see from the name, white wine vinegar is made from the grapes used for white wine. It is not white but can range in color from clear to golden, just like white wine.
Unlike ordinary white vinegar, white wine vinegar has a sweet, tangy taste because it is often aged in wooden barrels, either oak or ash, just like wine. White wine vinegar is milder than other kinds of vinegar with complex and mellow flavors.
Being made from wine grapes, this kind of vinegar is not the cheapest – you can find high-end, barrel-aged, and organic white wine vinegar that's best for salad dressings, but there are more budget-friendly options available as well.
How Do You Use White Wine Vinegar?
Vinegar is a versatile and valuable item in your cooking arsenal. Adding a dash of vinegar to soups, sauces, and braises brightens and balances the salty and fatty elements of a dish. Vinegar is also helpful for deglazing a pan and creating marinades and brines.
White wine vinegar is less acidic and milder than many other kinds of vinegar, making it ideal for salad dressings, vinaigrettes, and sauces.
Use it to make the classic Hollandaise and Béarnaise sauces, mayonnaise, and deglazed pan sauces for chicken and fish.
White wine vinegar is more than a vinaigrette ingredient. It's also zesty enough for quick pickled onions and radishes and brines (add a dash of white wine vinegar to your usual salt and water solution).
You can use white wine vinegar for cooking, and it goes particularly well with white meats, fish, and shellfish, just as white one does as an accompaniment. Splash in some vinegar when braising fish or chicken.
With its clean freshness and fruity sweetness, white wine vinegar is more subtle than ordinary distilled vinegar (save that for cleaning windows). It has the advantage of not changing the color of your food, like red wine or balsamic vinegar does.
What Makes White Wine Vinegar Good?
There are a few criteria that you can look at when considering whether or not to purchase white wine vinegar. We used these criteria when compiling this list of the best white wine vinegar.
Quality ingredients: A good quality, gourmet vinegar begins with the best ingredients, wine-grade grapes. Look for vinegar made in wine-producing regions, like France and Italy, or the Napa Valley in the US. The best quality white wine vinegar will indicate strictly which wines were used in their production.
Lack of additives: A top white wine vinegar doesn't need flavoring agents or additives to improve the taste. For instance, if vinegar contains sugar and preservatives, it probably isn't the best quality.
Long fermentation process: Like wine, wine vinegar needs to age and ferment slowly. Industrial processes can speed this up using heat, but the traditional French Orléans process typifies the best wine vinegar. In this process, a "mother" vinegar is introduced into a barrel of wine or vinegar and then left to ferment naturally over months or years to achieve a rich flavor and level of acidity, tempered with sweetness.
The Top 10 White Wine Vinegars
As a pantry staple, it's helpful to have a relatively inexpensive white wine vinegar that you can use for dressings, sauces, braises, pickles, and brines — an all-rounder that's versatile and fresh. It's also luxurious to have a high-end brand when making a special-occasion dish. This list covers both ends of the white wine vinegar spectrum.
Best For: Salad dressings, sauces for seafood, dressings for vegetables
This high-end white wine vinegar comes from an Italian manufacturer with 300 years of experience and history: the vinegar distillery in Modena is the oldest in the world.
Although based on French Trebbiano grapes, this product is profoundly Italian, so much that it is IGP (Indicazione Geografika Protetta) authorized — that is, the mark of origin that states that this vinegar comes only from that specific region of Italy, in the same way as Parmigiano Reggiano or Champagne are identified by region.
Aged in ash and oak barrels, this vinegar has extremely low acidity and is mild and floral, with a complex citrus flavor. It is also noted for the multi-stage de-alcoholization process, making this an alcohol-free white wine vinegar.
Understandably expensive, this beautifully packaged white wine vinegar is delicious enough to be used sparingly when you want to add an elegant element to a meal.
Best For: Finishing, vinaigrettes, sauces for fish, chicken, and meat
With its lemon flavor provided by Egyptian heirloom organic lemon peel, this white wine vinegar is unusual, tart, and zesty. The vinegar's sweetness tempers the pronounced citrus flavor due to the oak-barrel aging process.
This Orléans-method vinegar has a moderate level of acidity and is smooth and bright, with a rich spiciness.
Use this as a finishing vinegar or in a butter sauce to allow the lemon to shine through. In fact, use it instead of a lemon.
Best For: Salsa verdé, vinaigrette, fruit dressing
Described as agrodolce, which means sweet and sour in Italian, this beautiful amber American vinegar is made with grapes from the Suisun Valley, which borders Napa.
This artisanal vinegar uses the process for making Sauternes wines in France. The grape juice comes from Sauvignon Blanc grapes that are left to age on the vines to increase fruit sugar levels. This juice is then combined with wine vinegar and aged in barrels to create a unique agrodolce white wine vinegar.
Katz's product is exceptional, with complex vanilla, apricot, fig, and pear flavors. Try it drizzled over berries or a fruit salad, or use it in a dressing instead of balsamic.
Best For: Reductions, beurre blanc and other sauces for fish and seafood, salad dressings
If you enjoy drinking Chardonnay, then reach for this deliciously tongue-tingling wine vinegar. Imported from Spain, this vinegar is a more pricey option than the run-of-the-mill supermarket varieties but is worth every cent.
With its sweet, honey-like flavor, because of the addition of 30 percent grape juice, this Spanish vinegar is well-rounded and goes well with citrus.
The grape juice makes Forum's vinegar a lot milder than others, so this is ideal for people who prefer less acidic wine vinegar.
Best For: Mayonnaise, salad dressings, dressing for cooked greens, pickles
This delightful Italian white wine vinegar contains a blend of local wines from the Trento region of Italy, including Sauvignon Blanc, Riesling, Muller Thurgau, Traminer, and Kerner. These unusual grapes result in the vinegar having beautiful floral and citrus notes.
With its crisp and fresh flavor, this is such a unique vinegar that you can use it instead of white wine in cooking, so use it wherever you want to taste the vinegar itself.
Best For: Salad dressing, especially for tomato salads, pan sauces for braised chicken, brines
Although created using aged Italian wine, this organic vinegar is made in California, in the Napa Valley.
An excellent everyday vinegar, Napa Valley Naturals is light, crisp, and fresh. It has a balanced flavor that makes it versatile enough to drizzle on vegetables and add acidity to cooked sauces.
If you like your vinegar tart with a hint of sweetness, then choose this popular, budget-friendly brand.
Best For: Salad dressing, sauces for shellfish, pickles
This white wine vinegar contains American and Spanish grapes despite its Italian name. Pompeian Gourmet has a bright, fresh flavor and mild acidity.
This affordable option is a tasty vinegar for everyday purposes, so if you're new to white wine vinegar, try Pompeian as an introduction to the ingredient.
Just take care if ordering online — this product comes in batches of six bottles, so be sure you like its sweetness before committing.
Best For: Seafood, dressings for vegetables, salad dressings
An affordable Italian brand, Monari Federezoni is a venerable manufacturer of balsamic vinegar. Their white wine vinegar offering is robust, with a sweet acidic bite and a hint of lemony tartness — the acid level is around 7, making it one of the more acidic varieties of white wine vinegar.
Aged in ash and oak barrels, this gourmet vinegar is versatile and balanced, with fans enjoying its smoothness.
Best For: Marinades, salad dressings, sauces for fish and chicken
Another Italian vinegar, Colavita, is also barrel-aged but is one of the tarter and more acidic brands of white wine vinegar.
This vinegar packs a punch and is crisp and intensely flavored, so you can use it for pickles and brines as well as for other cooking purposes.
Best For: Salad dressings, sauces for pork, white butter sauce
This magnificent French white wine vinegar uses grapes from the Loire valley. The vinegar is made by the ancient Orléans method, much like wine, and is aged for five years in oak barrels, only improving as it ages.
This vinegar develops sweet, almost candied tastes and an intense aroma with age.
A variation of this vinegar includes shallots for extra zest and bite.
White Wine Vinegar FAQs
How Is White Wine Vinegar Made?
All vinegar is made via the fermentation process, just as wine is. To make vinegar from white wine, the producer uses twice-fermented white wine, straining and bottling it to neutralize the alcoholic components and transform them into acetic acid.

Good quality white wine vinegar is aged like wine in wooden barrels, from a few months to several years. Many brands of commercially available vinegar are industrially produced, hastening the aging and fermentation process, resulting in a more acidic, harsher product that likely includes additives and preservatives.

Some white wine vinegar includes fruit juice, herbs, and spices to alter the flavor: look out for tarragon, pepper, and garlic.
Does White Wine Vinegar Contain Alcohol?
Although white wine vinegar does come from white wine, the vinegar-making process halts the production of alcohol. There may be slight traces of alcohol, but white wine vinegar is not an alcoholic product.
Is White Wine Vinegar The Same As White Vinegar?
White vinegar is not made from white wine and has a much higher acid content, between 7 and 20%. White wine vinegar is far milder, with only 5 to 6% acid.
Final Thoughts About The Best White Wine Vinegar
White wine vinegar is a gourmet ingredient made from white wine and judged by similar standards — the quality of the grapes, the aging process, the barrels used, and the flavor and aroma. Milder and sweeter than other vinegar, white wine vinegar is best used for salad dressings and finishing sauces.
---
Recent Recipes