Shrimp sinigang is a delicious Filipino recipe that combines a sweet and sour broth with succulent shrimp. It is a classic comfort food from the region. This dish can be made with any protein, but here, bright and complex shrimp take center stage. Embark on a culinary adventure to make this easy under 30-minute meal.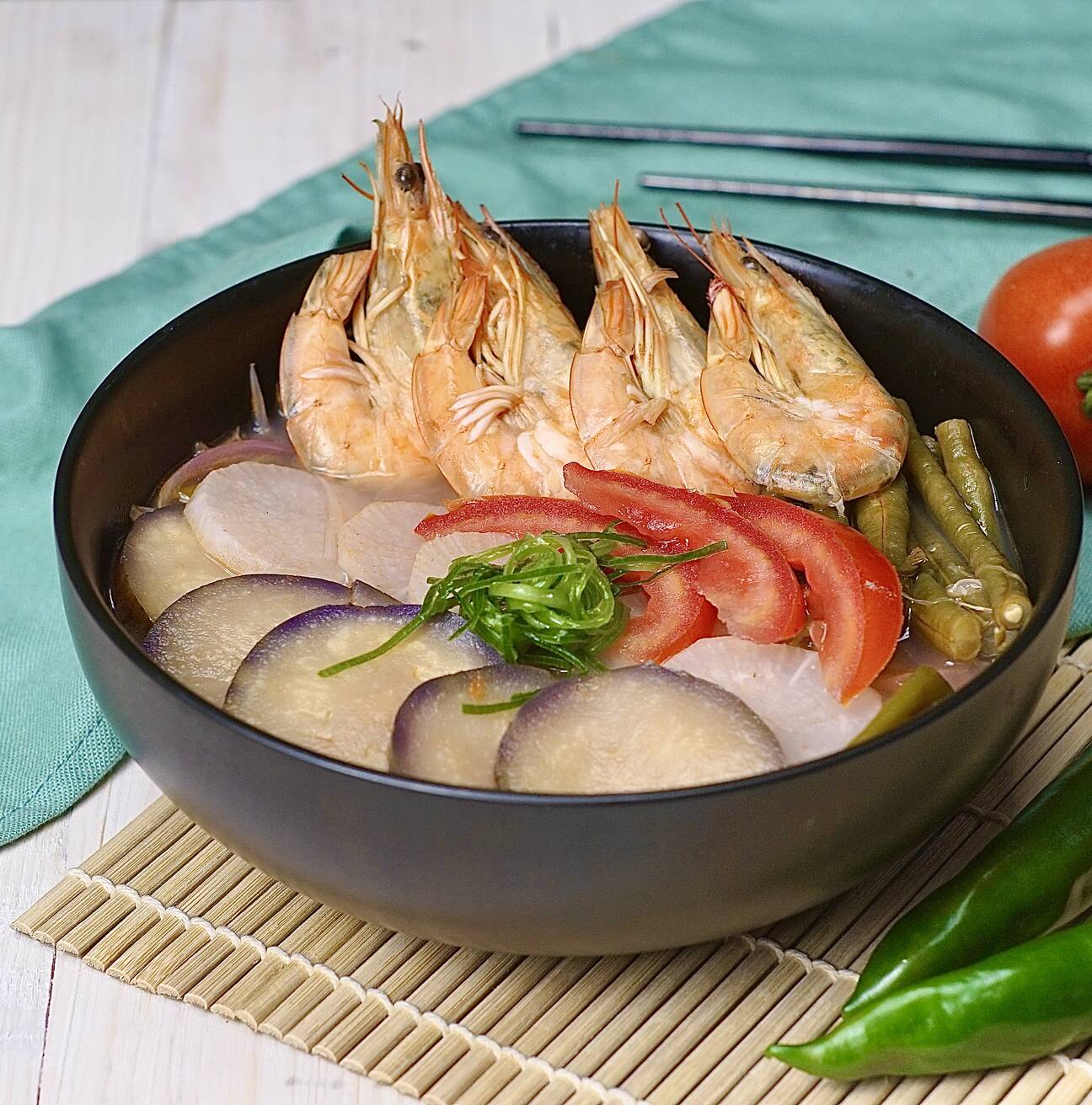 Ingredients
4

ounces

tamarind pulp

see shopping notes, soaked in hot water for fifteen minutes

24

pieces

frozen or fresh shrimp

2

tablespoons

vegetable oil

1

red onion

sliced

2

large tomatoes

quartered

1

green chili

8

cups

water

1/2

bunch snake beans

cut into two-inch pieces

1

daikon

peeled and sliced

2

Japanese eggplants

sliced

1

bunch water spinach

1/4

cup

fish sauce

see shopping notes or to taste

1

teaspoon

sugar or to taste
Instructions
Assemble ingredients and make sure you have them all or valid substitutes.

In a deep pot, heat the vegetable oil and sauté the red onion, tomatoes, and green chili for two-three minutes.

Strain the tamarind pulp into the pot and add the water.

Bring everything to a boil, then turn heat to low.

Add the vegetables to the pot based on cooking time. Add the vegetables that will cook longer first. The snake beans will take the longest to cook (around 7 minutes), the daikon and eggplant will take about five minutes, and the water spinach will take around 3 minutes.

Add the shrimp when the vegetables are just tender. The shrimp should take about three minutes to cook.

Add the fish sauce and sugar, adjusting the seasoning according to taste.

Put it all in a bowl and enjoy once it cools down to your preferred temperature.
Video
Notes
This recipe will serve either six people or just one person with a lot of leftovers!
Nutrition
Calories:
146
kcal
|
Carbohydrates:
25
g
|
Protein:
4
g
|
Fat:
5
g
|
Saturated Fat:
4
g
|
Polyunsaturated Fat:
1
g
|
Monounsaturated Fat:
1
g
|
Cholesterol:
6
mg
|
Sodium:
842
mg
|
Potassium:
637
mg
|
Fiber:
6
g
|
Sugar:
19
g
|
Vitamin A:
1002
IU
|
Vitamin C:
36
mg
|
Calcium:
71
mg
|
Iron:
2
mg
Notes & Tips
Don't be intimidated by the long list of ingredients. After the vegetables have been chopped and prepared, this dish comes together very quickly.
Japanese eggplants are smaller and thinner than regular eggplants. They will broil quickly at high heat. To cook the vegetables evenly, use medium heat and stir frequently.
If you don't like shrimp heads, you can separate the heads from the bodies before adding them to the pot.
How to shop for shrimp sinigang ingredients
Where to find tamarind?
Tamarind can be hard to come by outside of the Philippines. However, tamarind pulp is readily available in most Asian grocery stores.

You can also look for bouillon cubes that have a tamarind base. Bouillon cubes are dehydrated broth in cube form. One bouillon cube mixed with one cup of boiling water will make one cup of broth. For this recipe, you would only need one tamarind bouillon cube.
Where to buy Asian vegetables?
Snake beans, daikon, Japanese eggplants, and water spinach can all be found in an Asian supermarket or online.
How to shop for shrimp?
Choose frozen shrimp if possible. Most frozen shrimp has usually been frozen since they were harvested or caught, which preserves the shrimp's fresh flavor.

Fresh shrimp can sometimes be a bit iffier, because they were likely frozen when caught, then thawed, then frozen again at the fish counter of your local grocery store.

If you are buying fresh shrimp, avoid ones that smell like ammonia or have soft or slimy shells. These are easy signs that the shrimp has gone bad.

What about wild-caught versus farmed shrimp? Wild-caught will have a crisper "shrimp" flavor than farmed shrimp. If the package says the shrimp are farmed, make sure to check that they were sustainably raised.
How to buy fish sauce?
Fish sauce enhances the umami, or savory, taste of this dish. The fish sauce that's sold in grocery stores usually comes from one of three countries: Thailand, Vietnam, or the Philippines. Filipino fish sauce is often the heaviest of the three.

Avoid fish sauce that contains sodium benzoate as a preservative, which will leave an unpleasant aftertaste.

Finally, be willing to spend a little extra money to get a higher-quality sauce. Your taste buds will thank you!
Optional sides or compliments
Combine this soup with other delicious Filipino recipes for a full compliment of southeast Asian flavors. Here are a few suggestions.
Absolutely serve shrimp sinigang with a bowl of white rice! You could also make fried rice noodles instead.
To go with the rice or noodles, make some sawsan, which is a dipping sauce made with a bit of chili, calamansi (Philipine lime), and fish sauce. You can find calamansi extract online or in an Asian grocery store.
Filipino chicken skewers bring more protein to the table.
Filipino spring rolls (lumpia) would also be delicious as a side. They are typically made with ground pork and mixed vegetables.
What does shrimp sinigang taste like?
Thanks to the shrimp, this soup has a slightly salty taste, but the soup also blooms with the flavor of sour fruits native to the Philippines, like tamarind.
Storage
Refrigerate the soup in covered containers within two hours of cooking it. Glass containers are best. To avoid the smell of shrimp lingering on the lid, place a piece of wax paper over the soup before closing the lid. The soup will last for about three to four days in the fridge.
You can also freeze this soup. Use a covered airtight container (again, glass will be best) or a heavy-duty freezer bag. It will last for four to six months in the freezer at peak quality.
History
The word sinigang comes from the Tagalog verb sigang, which means to stew. Sigang dishes are typically different from paksiw dishes because the former uses a tamarind base, while the latter uses vinegar.
Making sinigang was once very labor intensive since the tamarind fruits had to be boiled with water to remove the shell. Today, with tamarind paste and bouillon cubes available, it is much more convenient to make.
---
Recent Recipes