Sha cha, also referred to as Sa cha, is a versatile sauce with a unique flavor and it is a common and important ingredient in many Asian dishes. It is both savory and sweet with a subtle earthiness.
This condiment is quite popular in Guangdong, Malaysian, and Fujian cuisines. It is a blend of peanuts, dried shrimp, soy sauce, garlic, and onions. It is boiled down into an orange/brown paste that is added as an interesting and somewhat addictive flavoring to many dishes. Sha cha is enjoyed in stir-fries with beef, chicken, shrimp, or tofu. It is also delicious on noodles, rice, and veggies.
You can purchase sha cha sauce in cans online or in Asian markets. Or, you can be adventurous and make your own. Try our easy homemade Sha Cha sauce recipe. Make a batch on a weekend and use it during the week to enhance stir-fried dishes and bowls of noodles. Just store it in an air-tight container in the fridge for a couple of weeks.
This sha cha shrimp recipe is not complicated and only takes about 20 minutes to make. It has shrimp, onions, bell peppers, garlic, and of course sha cha sauce. I like to serve this over a steaming bowl of rice. You can serve some pickled bok choy on the side to round out the meal.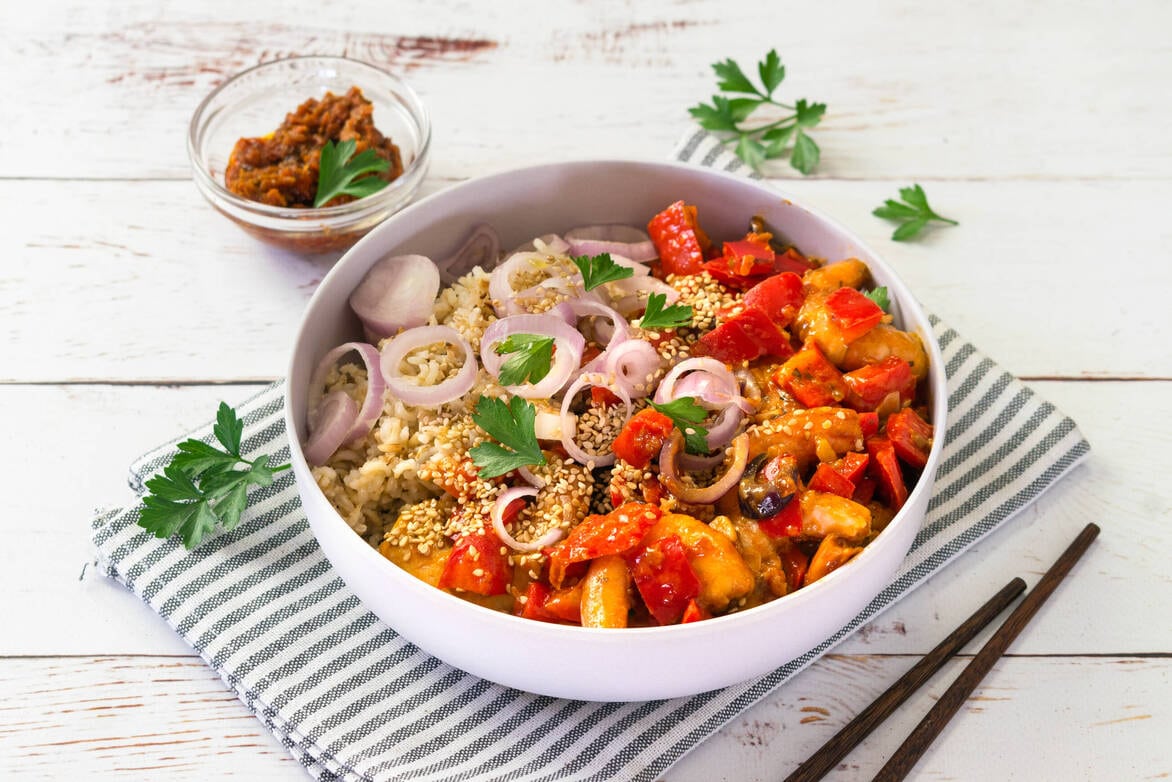 Ingredients
12

large shrimp

shelled and deveined

2

tsps

cornstarch

2

tsps

cold water

1

tsp

soy or tamari sauce

2

tsps

neutral oil

untoasted sesame or grapeseed

2

red bell peppers

seeded and diced

1/2

red onion

cut into half-moon slices

1

clove

garlic

minced

1

tsp

fresh ginger

minced or grated

2

TBS

sha cha sauce

3-1/2

TBS

vegetable stock or water

2

scallions

sliced for garnish

2

tsps

toasted sesame seeds for garnish

Cooked rice for serving
Instructions
In a medium bowl, whisk together the cornstarch, water, and soy sauce or tamari. Place the cleaned shrimp in the bowl and set aside.

Heat a wok or large, heavy skillet on high. Add the cooking oil to the hot pan. Add the peppers, onion slices, garlic, and ginger to the oil. Stir fry until aromatic and the onions begin to wilt, approximately 2 to 3 minutes.

Stir in the shrimp and cook until just barely starting to turn pink, about 30 seconds to 1 minute.

Add the sha cha sauce and stock to the wok or pan. Simmer until the liquid has thickened and the shrimp are cooked, but not rubbery.

Serve immediately over white or brown rice. Top with scallions and sesame seeds.
Video
Nutrition
Calories:
129
kcal
|
Carbohydrates:
15
g
|
Protein:
5
g
|
Fat:
6
g
|
Saturated Fat:
1
g
|
Polyunsaturated Fat:
1
g
|
Monounsaturated Fat:
4
g
|
Cholesterol:
8
mg
|
Sodium:
1048
mg
|
Potassium:
389
mg
|
Fiber:
4
g
|
Sugar:
7
g
|
Vitamin A:
3857
IU
|
Vitamin C:
157
mg
|
Calcium:
53
mg
|
Iron:
2
mg
Notes and Tips
If the shrimp haven't been cleaned, you will have to do that. The shells need to be removed and the veins need to come out. "Vein" is a nice way of saying intestinal tract, so please remove that. This is a short video that shows exactly how to clean shrimp.
I highly recommend making this dish in a very hot wok. A wok is designed to distribute heat evenly throughout the surface area of the bowl. The shape also makes it very easy to stir or flip the proteins and vegetables. If you don't have a wok, try a cast-iron skillet or a rounded sauté pan.
You will need to work quickly when making sha cha shrimp so that the shrimp don't overcook to the point that they are chewy. I like to remove them from the heat as soon as they start to turn pink. They will continue to cook in the warm sauce.
If you are worried about overcooking the shrimp, stir fry them first until they look done, and remove them to a plate while you cook the vegetables and sauce. Add them back in just before you serve the dish.
Substitutions and Shortcuts
The protein can be swapped out from shrimp to scallops, beef, chicken, duck, or tofu. We have a similar recipe for Sha Cha Chicken that you might enjoy. You could also leave the protein out and substitute it with cauliflower florets or green string beans.
I keep a variety of organic frozen vegetables and cooked shrimp in my freezer for quick stir-fries. I also make a large batch of brown rice once a week. You can make sha cha shrimp in minutes with precooked rice, a medley of frozen vegetables, and pre-cooked shrimp. My favorite combination is Asian-style frozen veggies with carrots, red bell peppers, green beans, mushrooms, broccoli, and onions. For a little crunch, I might add some canned, sliced water chestnuts. I take the pre-cooked shrimp out of the freezer the night before and place it in the refrigerator to thaw. You will need to drain the water from the defrosted shrimp.
Some cultures like this dish with a little kick of heat. You can find or prepare sha cha sauce with some spice. If you want the heat, add a pinch or two of cayenne pepper or a few dashes of sriracha to either the sauce or the shrimp dish.
Lessons Learned and a Little Caution
This sauce and dish are both gluten-free if made with wheat-free soy sauce, such as liquid aminos or tamari. You can control this if you make your own sha cha, using our recipe.
However, be mindful that sha cha sauce does contain other ingredients that are not a good match for anyone with these allergies: peanut allergy, shellfish allergy, lactose intolerance. Again, you can control this by making your own and substituting peanut butter with sunflower seed butter, shrimp powder with bonito flakes or dried anchovies, and cow's milk with non-dairy milk.
---
Recent Recipes