I am always looking for ideas on how to add more plant-based meals into my diet. Wanting a change from the usual veggie bakes and stuffed mushrooms, I decided to take my favorite dishes and make them vegetarian. An Italian classic, Ragu is rich, hearty, and the ultimate comfort food.
With its smokey taste, roasted eggplant makes an excellent alternative for meat in a Ragu. When eggplant is left to simmer with tomatoes, celery, onions, carrots, and fragrant herbs, the flavors mingle and infuse together to create a delicious, complex sauce. Here is an easy Eggplant Ragu recipe.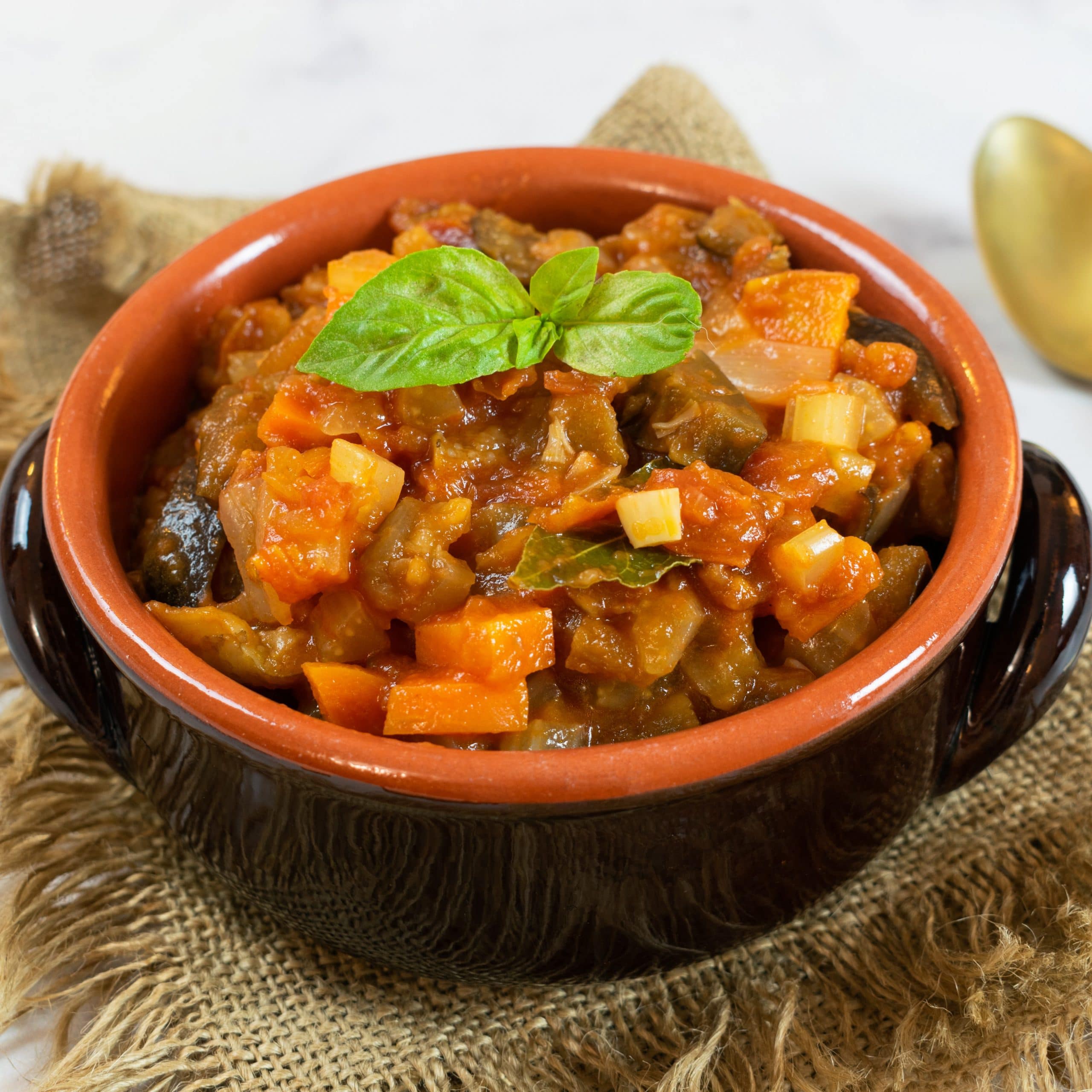 Ingredients
2

eggplants

Olive oil

1

onion

finely chopped

1

carrot

diced

3

stalks celery

diced

1

tin tomatoes

5

cloves

garlic

minced

1

tsp

smoked paprika

2

bay leaves

2

tsp

dried basil

4

cups

vegetable stock

Salt to taste
Instructions
Slice eggplants into 1cm discs and coat with olive oil.

Place on eggplant discs on greased baking trays and sprinkle with salt. Allow to roast in the oven at 350⁰F for 30 minutes.

Add some olive oil to a pot and heat.

Add onions to the heated olive oil and sauté until they are soft and translucent. Mix in the garlic and bay leaves and allow to cook for a few seconds.

Then add the carrots and celery. Let the carrots and celery cook on low heat for about 10 minutes.

Add the dried basil and paprika and mix to combine.

Stir in the tomatoes and vegetable stock and allow to simmer.

When the eggplant has been roasted, remove it from the oven and add it to the pot. Turn the heat to high.

Stir every so often. The eggplant will start to break apart as it cooks with the other veggies.

Allow to simmer for 60-70 minutes. You will know it is done when the liquid has reduced and the eggplant has broken down to form the Ragu sauce.
Video
Nutrition
Calories:
48
kcal
|
Carbohydrates:
11
g
|
Protein:
2
g
|
Fat:
1
g
|
Saturated Fat:
1
g
|
Polyunsaturated Fat:
1
g
|
Monounsaturated Fat:
1
g
|
Sodium:
480
mg
|
Potassium:
331
mg
|
Fiber:
4
g
|
Sugar:
6
g
|
Vitamin A:
1684
IU
|
Vitamin C:
5
mg
|
Calcium:
26
mg
|
Iron:
1
mg
Notes & Tips
This recipe is not to be rushed. The longer you let the sauce simmer, the more intense and more decadent the flavor will be. 
The eggplant may be roasted in a skillet on the stove instead of in the oven. Place eggplant discs in a preheated cast-iron skillet and roast until it is charred on both sides. 
While it is edible, the skin of an eggplant can be bitter. Larger eggplants are older and tend to have thicker, more bitter skin. Smaller eggplants have thinner, more tender skins. When making a Ragu, it is a good idea to peel the skin off after it has been roasted and before adding it to the pot of veggies.
The flesh of the eggplant soaks up liquid like a sponge. The oil that you add will be absorbed into the flesh before it even gets into the oven. For this reason, you need to add a little extra oil before roasting. Also, use a good quality oil that has a neutral taste, so it does not affect the flavor of the eggplant.
Why Do I Have To Roast The Eggplant Before Adding It To The Pot?
Eggplant can have a very bitter taste if it is not pre-roasted. Roasting the eggplant on the stove or in the oven draws out the bitter taste and gives the eggplant a smoky flavor profile.
If raw eggplant is added to the pot with the other vegetables, the bitter taste will infuse with the different flavors.
What Can Eggplant Ragu Be Served With?
Ragu is traditionally served with pasta like tagliatelle or penne, but there are so many other options.
Layer the Eggplant Ragu in sheets of lasagna and pour over a bechamel sauce. Top with shredded cheese before baking in the oven until the lasagna sheets are soft.
Pour the Eggplant Ragu into an oven-safe dish. Peel and thinly slice some potatoes before tossing them with olive oil and salt. Arrange the potatoes over the Ragu. Place foil over the dish and bake in a preheated oven at 180C or until the potatoes are tender when poked with a knife. Remove the foil, top the potatoes with grated cheese, and pop the dish back into the oven until the cheese is melted.
Eggplant Ragu is terrific served with Creamy Polenta. Cook the Polenta with water and seasoning before plating it in single servings or on a big platter, family-style. Then top with the Eggplant Ragu. The delectably tangy Ragu is offset when it soaks into the velvety Polenta.
The saucy nature of Eggplant Ragu makes it an excellent topping for baked potatoes. If you have any Ragu leftover from dinner the night before, bake some potatoes in the microwave and top with the Ragu. You have a quick and easy lunch for the kids.
Why Is Eggplant A Good Meat Substitute?
The flesh of eggplant is like a sponge. It has quite a mild flavor, so it will absorb the taste of whatever it is cooked with. Adding herbs like thyme, oregano, basil, and garlic gives the eggplant a meaty flavor.
Like meat, eggplant is filling because of its bulkiness and texture. It can be used in a number of dishes from Moussaka to a salad.
Can Eggplant Ragu Be Frozen?
It certainly can! Eggplant Ragu is one of those sauces that is great to have in the freezer for those days when you don't feel like cooking or are time-pressed to prepare a meal.
Take out of the freezer and allow to thaw for an hour before you reheat it.
What To Include in Eggplant Ragu?
If you want to include more vegetarian meals into your diet, Eggplant Ragu is one recipe you have to try. It is the perfect comfort dish for a cold winter night and is sure to become a family favorite.
Eggplant Ragu is so versatile. Cook a few batches and stash them in the freezer. Enjoy this luscious sauce with your choice of pasta, or get creative with anything you have in your pantry.
---
Recent Recipes