Homemade Spiedino Di Mare Copycat
If you Google Spiedino Di Mare, what keeps popping up is Carrabba's Italian Grill. It makes sense that Carrabba's put this dish on the map. So, what is it and does it taste good?
Yes, this is a really good seafood dish. It is elegant and tasty, albeit easy to make.
Spiedino is the Italian word for skewer. Mare is Italian for the sea. Basically, spiedino di mare is skewered seafood that is grilled. In this recipe, we are using scallops and shrimp because that is typical and because they both taste delicious when grilled. The cooked seafood is then served with a lemony butter sauce.
I think this dish is best when served over herbed rice or angel hair pasta. You could also serve it with creamy polenta or even risotto if you have the energy to make either of these. Simple boiled pasta is just fine with some extra lemony butter sauce.
You will need either 8 metal or bamboo wood skewers. If using wood, you will need to soak them in water for about an hour so they don't burn on the grill. Of course, you will also need a grill. Gas, charcoal, or an indoor grill pan all work. I have cooked these skewers on a contact grill with good success. In a pinch, you can do this under a broiler.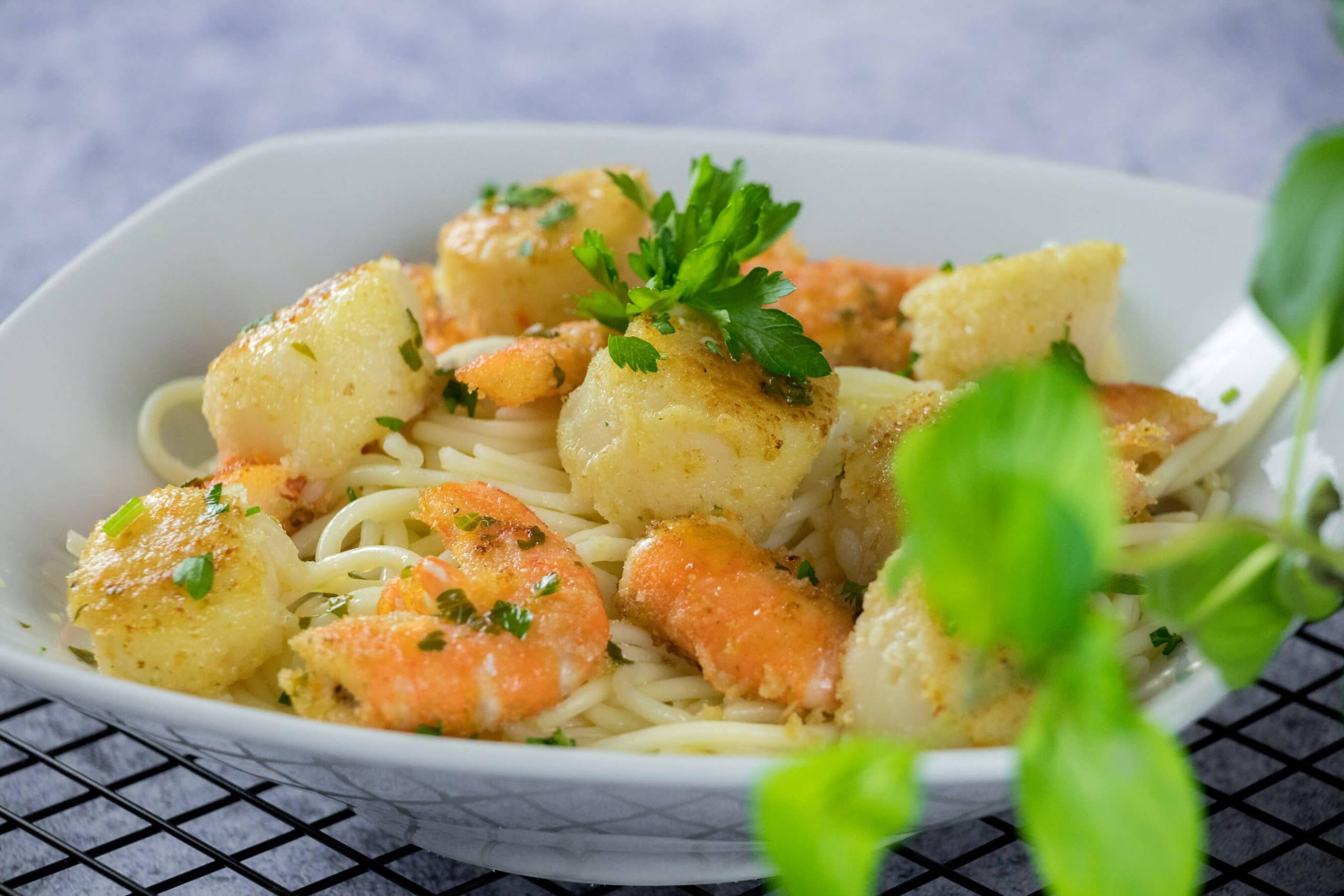 Ingredients
1

box angel hair pasta

1/2

lb.

large shrimp

peeled and deveined

1/2

lb.

sea scallops

rinsed and patted dry

1

cup

bread crumbs

1

tsp

Italian seasoning blend

1/4

tsp

garlic powder

1/4

tsp

sea salt

1/4

tsp

freshly ground pepper

2 to 3

Tbsp

extra virgin olive oil

some for grill

6

Tbsp

butter

3/4

cup

freshly squeezed lemon juice

1-1/2

Tbsp

minced fresh parsley leaves

Salt and pepper to taste
Instructions
Place a large pot of salted water over high heat and bring to a boil.

Prepare and preheat your grill or grill pan. Meanwhile, drop the pasta in the boiling water and cook according to the directions on the box. Continue with the rest of the recipe while the pasta cooks. When the pasta is cooked, drain it and set it aside until the rest of the meal is prepared.

In a small bowl, combine the bread crumbs with the Italian seasoning, garlic powder, salt, and pepper. Place the bread crumb mixture on a sheet pan.

Place the shrimp on 4 metal or soaked wood skewers. Do the same with the scallops on the other four skewers.

Coat the shrimp and scallops with the breadcrumbs. Then, drizzle the olive oil over both sides of the shrimp and scallops.

Using a paper towel held by tongs, lightly oil your grill or grill pan. Place the scallops on the grill. At 3 minutes, flip them over and place the shrimp on the grill. At 1 minute, flip the shrimp over and grill for another minute. The scallops take approximately 5 minutes to cook and the shrimp take approximately 2 minutes.

In a medium saucepot over medium-high heat, melt the butter. Whisk in the lemon juice and allow the sauce to come back up to a simmer. Add the parsley to the sauce.

Place the pasta in shallow serving bowls. Slide the scallops and shrimp off of the skewers onto the pasta. Dress each dish with lemon butter sauce and season with salt and pepper if desired. Serve while warm.
Nutrition
Calories:
273
kcal
|
Carbohydrates:
26
g
|
Protein:
19
g
|
Fat:
10
g
|
Saturated Fat:
2
g
|
Polyunsaturated Fat:
1
g
|
Monounsaturated Fat:
6
g
|
Trans Fat:
1
g
|
Cholesterol:
88
mg
|
Sodium:
911
mg
|
Potassium:
314
mg
|
Fiber:
1
g
|
Sugar:
4
g
|
Vitamin A:
144
IU
|
Vitamin C:
18
mg
|
Calcium:
112
mg
|
Iron:
2
mg
Notes and Tips
Sea scallops are tricky shellfish to purchase properly. You want them to be in season and as fresh as possible. Scallops are often soaked in a milky phosphate solution that whitens their flesh. This also makes them wet and heavier = $$$. It is better to buy dry-packed scallops and ones that are not frozen. When you buy fresh scallops, it is best to use them the same day.
As mentioned in the intro, you can cook the seafood on a contact grill. This is a great option when the weather is bad. If cooking on a contact grill, it may take half the time to cook than what is suggested in the recipe because a contact grill has heating elements on the top and the bottom, similar to a panini press.
Substitutions
This spiedino di mare recipe is a copycat. That is why it is traditionally made with scallops and shrimp. I definitely wouldn't mind this dish made with calamari, crab legs, crawfish, or even oysters.
I am ridiculously fond of rice especially when it is topped with fresh seafood and a nice sauce that the rice can soak up. You could use white, brown, or black rice. If pressed for time, definitely go for par-boiled minute rice or boxed rice pilaf.
What to Serve with Spiedino Di Mare?
There are many who like to serve a grilled medium-rare petit filet mignon with this dish to make it a surf and turf meal. That has a lot of merit and sounds delicious.
This is a pretty substantial meal as is. But I always like to serve some green vegetables with my protein and starch for added nutrition, color, and fiber. We have a recipe that is a perfect side dish for this Italian entrée. Pesto butter beans with broccoli is a great match. It has vegetables, legumes, herbs, and aromatics. It is loaded with fiber.
I am also partial to finishing the meal with a salad. What comes to mind immediately is a Caprese salad with fresh tomatoes, buffalo mozzarella, and basil dressed with a little aged balsamic vinegar and extra virgin olive oil. A Caprese salad has all the colors of the Italian flag, making this vibrant and inviting.
---
Recent Recipes