Homemade Arroz Verde Peruano
Rice is a staple in my pantry. I have organic white, brown, black, and wild rice. Some is long grain. Some is short grain. I will make simple rice in water with a knob of butter and a good pinch of salt to serve with protein or veggie stir-fries. I make congee where the rice is cooked low and slow in bone broth until it is the consistency of porridge. I love to make wild rice salad with pecans and orange vinaigrette. I think my favorite way to prepare rice is to cook it with bright green herbs and fresh or frozen peas. I will eat an entire bowl of this dish for lunch in winter when I am working from home.
Arroz Verde Peruano, or Peruvian Green Rice, is exactly that herbal-infused rice with peas. It is distinctively green in color, fragrant with cilantro, and textural with the pop of peas and carrots. The rice is cooked in broth for added richness.
For me, this is an entire vegetarian meal. The rest of my family requires protein with my herbed rice. I get it, and so does the Peruvian culture. Green rice in Peru is often served with chicken or duck that can be cooked with the rice or separately. I love roasting well-seasoned whole chicken legs until the skin is crisp and serving those right on top of the Arroz Verde Peruano. You could easily serve a spicy chicken diavolo or a Latin-inspired fried chicken with this rice. Of course, beef, pork, or fish would be terrific as well.
It is winter here right now, so I am using frozen vegetables in this green rice recipe. Flash-frozen peas and carrots are absolutely fine for this dish because they are frozen right after being harvested. I keep a bag of peas and carrots in my freezer for making rice, stir-fries, stews, and soups. If you can only find a classic peas, carrots, and corn mix, that is definitely okay because corn is another staple in the Peruvian diet.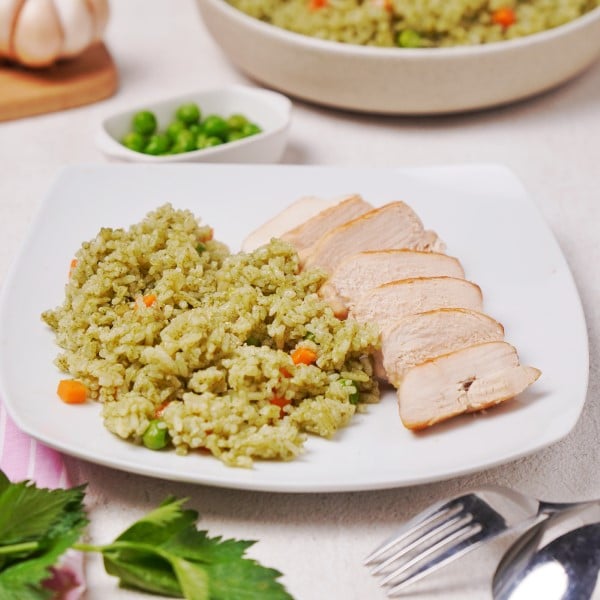 Ingredients
2

packed cups fresh cilantro leaves

stems removed

½

cup

filtered water

2

Tbsp

extra virgin olive oil

1

medium yellow onion

diced

1

large garlic clove

peeled and minced

1

tsp

ground cumin

½

tsp

sea salt

1

cup

long-grain white rice

rinsed very well under cold water

1 ½

cups

chicken or vegetable broth

⅔

cup

frozen peas and carrots

Salt and freshly ground pepper to taste
Instructions
All ingredients ready? Let's begin!

Place the cilantro and water in blend and purée until smooth. Set aside.

In a medium saucepot over medium heat, warm the olive oil. Add the onion and cook until the onion starts to soften and smells fragrant, approximately 5 minutes.

Stir in the garlic, cumin, and salt. Continue to cook for 1 minute until aromatic.

Add the rice to the pot and stir to combine with the onions and seasonings. Toast the rice for a couple of minutes, stirring often.

Turn the heat to high and add the broth and cilantro purée.

Bring this to a boil. Reduce the heat to a low simmer and cover the pot.

Cook the rice for 8 minutes.

Add the peas and carrots to the pot just layered on top of the rice. Cover and continue to cook until all the liquid is absorbed and the rice has softened, approximately 8 more minutes.

Remove the pot from the heat and gently fluff the rice with a fork to incorporate the peas and carrots. Cover and allow it to rest until ready to serve.

Season with salt and pepper to taste and serve while still warm.
Video
Nutrition
Calories:
264
kcal
|
Carbohydrates:
43
g
|
Protein:
5
g
|
Fat:
8
g
|
Saturated Fat:
1
g
|
Polyunsaturated Fat:
1
g
|
Monounsaturated Fat:
5
g
|
Cholesterol:
2
mg
|
Sodium:
646
mg
|
Potassium:
208
mg
|
Fiber:
2
g
|
Sugar:
2
g
|
Vitamin A:
2765
IU
|
Vitamin C:
7
mg
|
Calcium:
42
mg
|
Iron:
1
mg
Notes & Tips
Rinsing the rice will remove any dust and some of the starch from the rice kernels. This will clean the rice and help it to be less sticky or mushy once cooked.
Don't be tempted to take the lid off the pot more than once to add the frozen vegetables. Doing so will cause too much steam to escape and could result in undercooked rice.
Substitutions
There are so many rice options to choose from. I am partial to jasmine and organic long-grain domestic white rice. However, I do make this dish with short-grain brown rice often. Short grain brown rice is nutty and slightly sweet in flavor. If using brown rice, reduce the broth to 1 cup and cook for 30 to 40 minutes, adding the peas and carrots after 20 minutes.
Cilantro can be an acquired taste for many. As a child, I disliked the taste of cilantro very much. I crave it as an adult. Cilantro is a very healthy and detoxifying herb. If you don't care for cilantro, you can make the puree with flat-leaf parsley, basil, spinach, or a combination of herbs and greens.
While the peas and carrots are not absolutely necessary, I do enjoy the texture and extra pop of color. As mentioned, you can use a mixed vegetable blend that includes corn kernels and even green beans. I have made this with frozen edamame when that is all I have in my freezer. I think it is delicious. Peru has a rich culture of Japanese immigrants, so edamame is not a stretch for this recipe.
To keep this dish vegan and gluten-free, use gluten-free vegetable broth. If you want to be paleo compliant, you could make this with cauliflower rice. You would need to reduce the liquid. I haven't tried this yet, but will for a grain-free alternative.
---
Recent Recipes