Simple Homemade Bulgarian Lutenitsa Spread
Lutenitsa, also referred to as lyutenitsa or lutenica, is one of the signature foods of Bulgaria. It's known as a national relish. It is a puréed fruit and vegetable-based spread or relish made with red peppers and tomatoes. This chutney-like condiment can be chunky and is often enjoyed spread on toasted bread and crackers. It is also paired with grilled meats, sausages, and meatballs.
This tasty pepper and tomato-based spread is popular in the Balkans, Serbia, and Macedonia with regional recipe variations. The recipe here is more of the basic traditional Bulgarian version. Other recipes may include eggplant like Ajvar or carrots in the purée.
The recipe here will yield approximately six 8 ounce jars of lutenitsa that should keep for a week in the refrigerator. Chances are, you will be having this with every meal for several days. It is a little addictive. And, you don't have to be a native to Bulgaria to enjoy this relish.
What Makes This Recipe Interesting?
The best part about this lutenitsa recipe is that it is very basic and not very difficult to prepare. There is room to personalize the recipe with the addition of herbs, spices, and other vegetables.
The end result is a slightly chunky spread that is delicious on crusty bread, spooned over grilled meats, mixed into scrambled eggs, or topped on a bowl of steaming rice. You can process the lutenitsa for longer if you prefer a smoother texture to spread on sandwiches.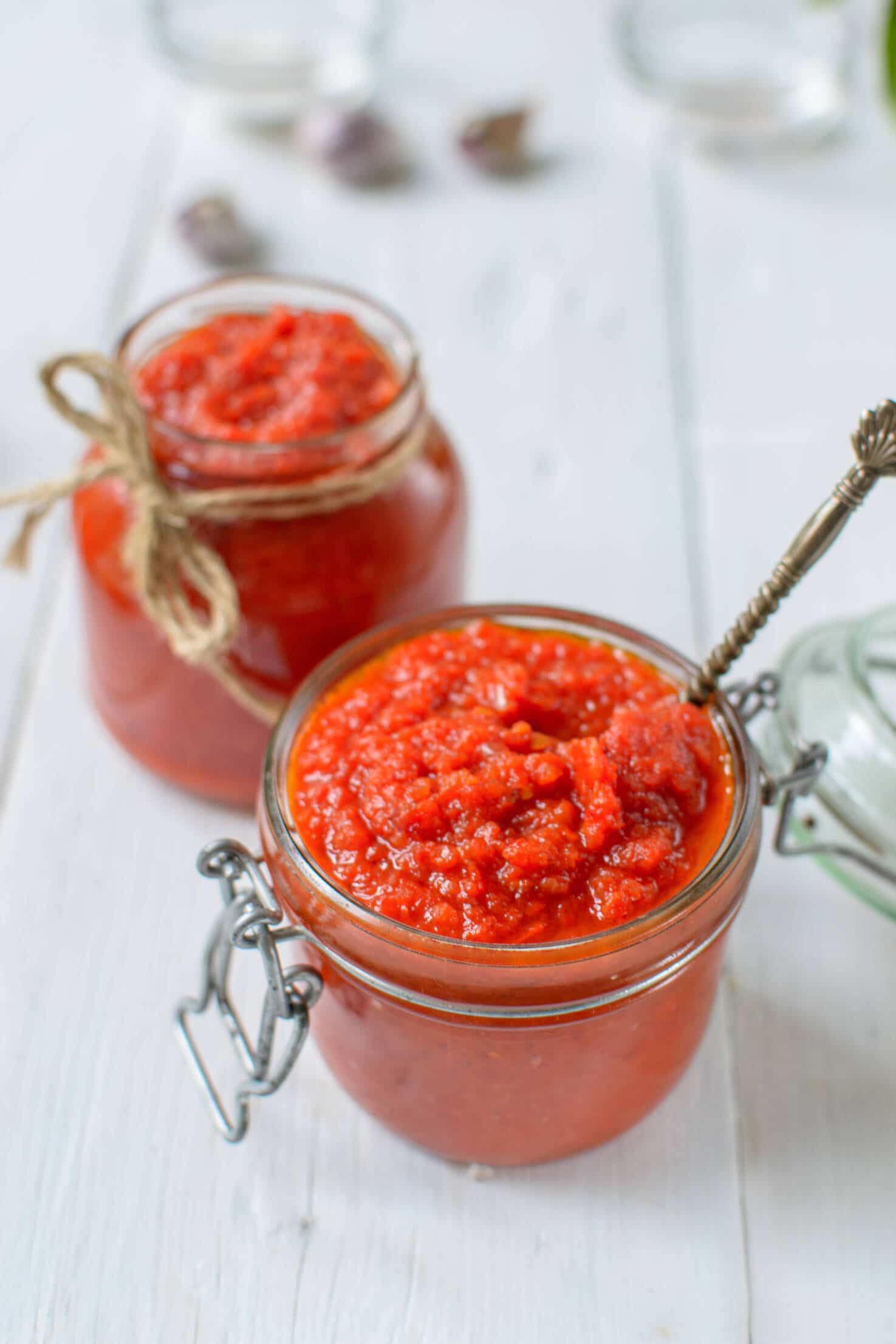 Ingredients
4

lbs

sweet red peppers

2

peppers

jalapeño peppers

2

lbs

ripe tomatoes

1/4

sweet onion

roughly chopped

2-1/2

TBS

extra virgin olive oil

1

TBS

sea salt

1

tsp

sugar
Instructions
Turn the oven on to broil. Arrange the red and jalapeño peppers on a sheet pan. Place them under the broiler and cook for 10 to 15 minutes until just charred. Turn the peppers over and broil an additional 10 to 15 minutes. When the peppers are just blackened on all sides, remove them from the oven and cover them with foil so they can steam. Allow them to cool for 30 minutes.

While the peppers are cooling, bring a large pot of water to boil. Using a sharp paring knife, make an X in the skin of the bottom of each tomato. Place them in the pot of boiling water. Boil for 1 or 2 minutes until the skins just start to split. Remove the tomatoes to a colander and rinse under cold water. Peel the skins off and roughly chop. Set the chopped tomatoes aside.

Remove as much of the skins and seeds from the cooled peppers as possible. Place the peppers in a food processor or large blender.

Add the tomatoes, onion, and olive oil to the food processor or blender. Process everything at high speed or blend everything on the low-medium setting of your blender until the mixture resembles a chunky sauce similar to relish or chutney. You might have to do this in batches.

Place a large heavy pot over medium-low heat. Pour the pepper and tomato mixture into the pot. Stir in the salt and sugar. Cook uncovered for 1-1/2 to 2 hours, stirring frequently.

Clean six 8 ounce mason jars and lids with soap and hot water. Rinse all of them with boiled hot water to sterilize.

After the lutenitsa has thickened and reduced by half, run a wooden spoon from the side of the pot towards the center. The valley made by the spoon should not fill in immediately. That's how you will know it is finished cooking. Allow it to cool.

Place the lutenitsa in the clean jars. Seal the jars and store in the refrigerator until ready to serve. Enjoy as a spread, dip, or condiment for other Bulgarian dishes.
Notes
If you plan on preserving the lutenitsa for long periods, you could process the jars in a gently boiling water bath or pressure canner until the lids are vacuum sealed. While I haven't tried it yet, I think you could freeze any extra.
Nutrition
Calories:
149
kcal
|
Carbohydrates:
26
g
|
Protein:
4
g
|
Fat:
4
g
|
Saturated Fat:
1
g
|
Polyunsaturated Fat:
1
g
|
Monounsaturated Fat:
2
g
|
Sodium:
1184
mg
|
Potassium:
1014
mg
|
Fiber:
8
g
|
Sugar:
18
g
|
Vitamin A:
10731
IU
|
Vitamin C:
408
mg
|
Calcium:
40
mg
|
Iron:
2
mg
Substitutions and Shortcuts
You can adjust the heat in this recipe by either leaving out the jalapeño peppers altogether or adding more hot peppers.
While the recipe calls for a sweet onion, such as Vidalia, you can use whatever type of onion you have available, such as Spanish, red, or white.
You could add other vegetables for more variety. 2 boiled carrots would add sweetness and dietary fiber. A small broiled or roasted eggplant is not uncommon in some lutenitsa recipes. It offers an interesting texture.
Lutenitsa doesn't generally have herbs. However, you could add a clove of crushed garlic, parsley leaves, chives, basil leaves, or some smokey paprika for a more elevated spread.
If you aren't in the mood to do so much prep and cooking, you can use roasted red peppers from a jar and tomato paste rather than fresh tomatoes. This is a perfect shortcut for when you are craving lutenitsa in winter when peppers and tomatoes are not in season.
Lessons Learned and Success Tips
The reason for broiling the peppers and boiling the tomatoes is to make it easier to remove the skins. The skins are not a good texture in this relish.
I highly recommend not cooking the lutenitsa in a cast-iron pot. I tried that and it tasted a bit metallic. Use an enameled Dutch oven or a stainless steel pot for best results.
You do need to stir the sauce while it is cooking so that it doesn't scorch or burn. A long-handled wooden spoon is perfect for this.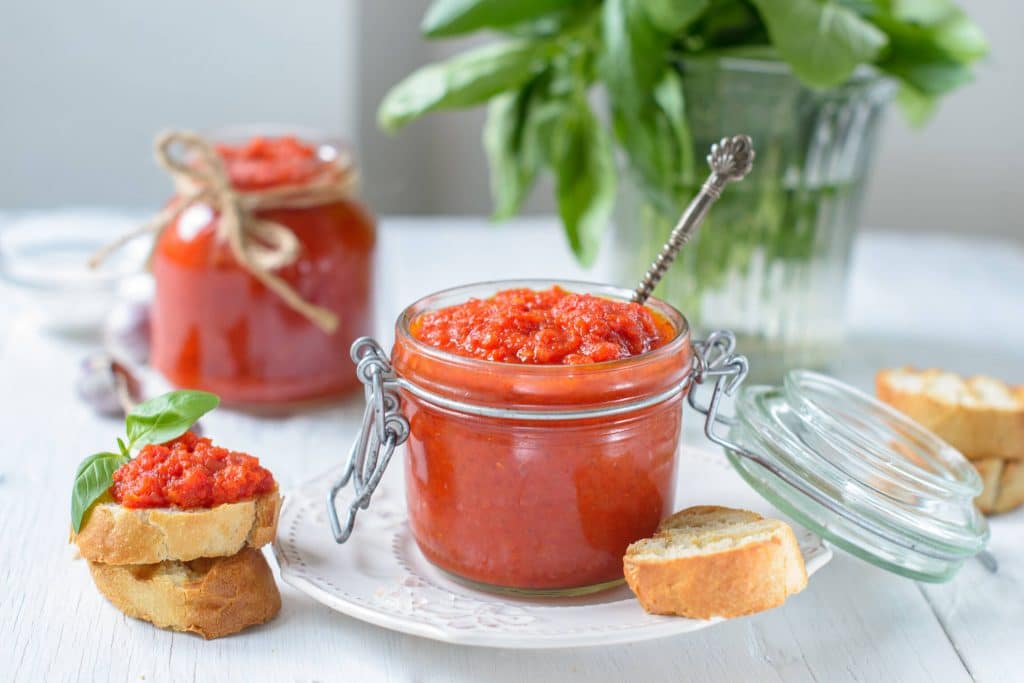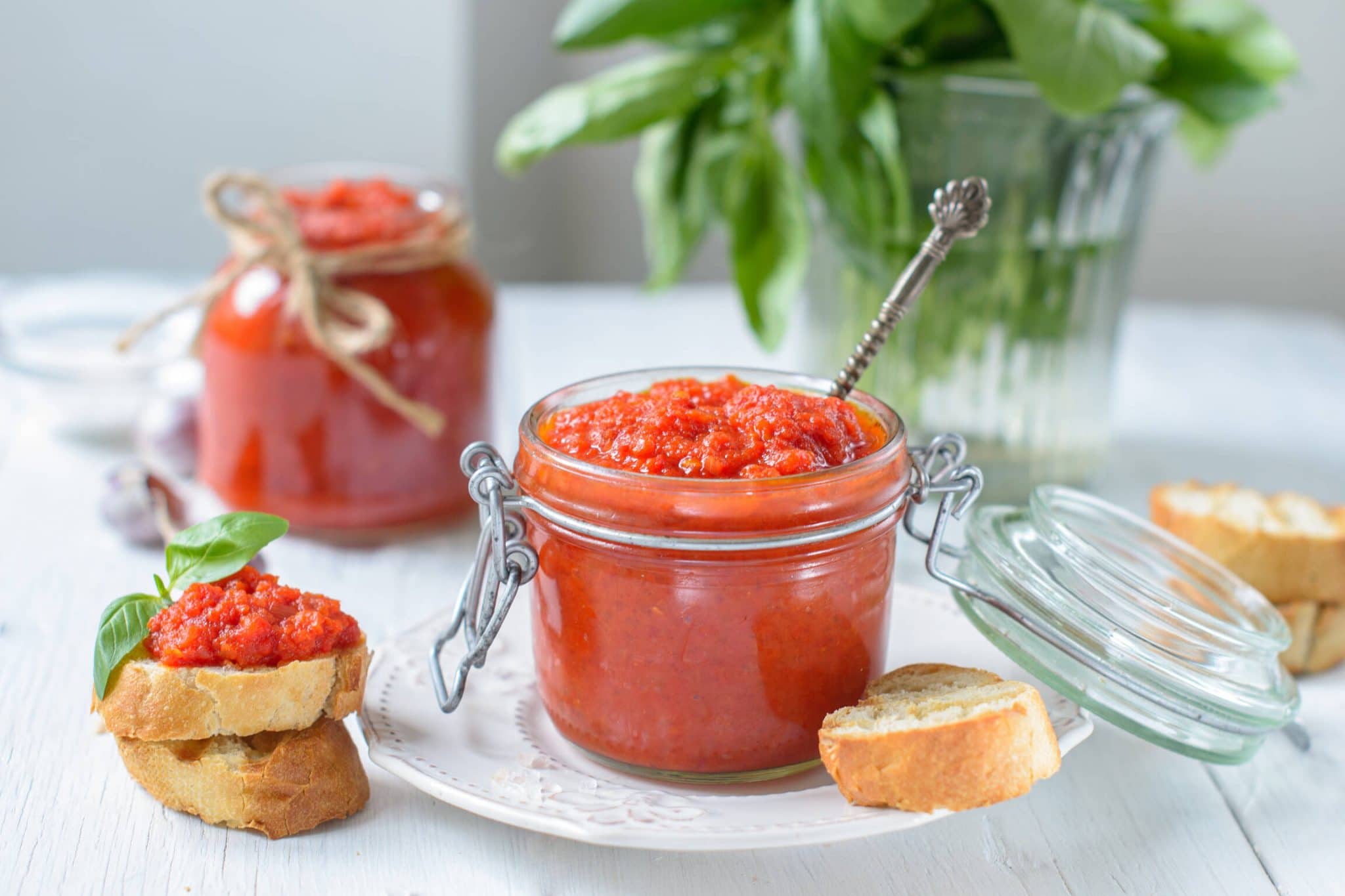 ---
Recent Recipes