Simple Chicken Thigh Schnitzel
When I was traveling through Bavaria the week of my 30th birthday, I had a few dishes I really wanted to try from the region. One of those was wiener schnitzel. This classic entrée is tender escalopes of veal pounded thinly, coated with breadcrumbs, and lightly fried to a golden brown. The outer layer is crispy and the interior is tender and moist. It's pretty simple but very delicious. And I did get to order it a couple of times while in Austria. It was always served with potatoes, sweet and sour red cabbage, and pickled cucumbers. I was not disappointed.
When I returned home, I wanted to replicate this dish and I did, when I could find veal. Veal is not always offered at my local markets. And to be honest, I find veal filets to be a little lacking in depth of flavor. I much prefer thinly pounded pork, turkey cutlets, or chicken. I once even had a filet of beef schnitzel on a more recent trip to Spain where some believe this method of preparing protein originated.
For this schnitzel recipe, we are making it with chicken thighs. What I love about chicken thighs is what a lot of people do not like about them. They have a bit of fat that I find makes the meat very tasty and moist. They are also quite affordable compared to veal, especially if you are feeding a crowd. Boneless, skinless chicken thighs can be pounded thinly between 2 layers of plastic wrap using either a meat mallet or a rolling pin.
After the thighs are flattened to about 1/4-inch thickness, I dredge them in flour, then beaten eggs, and finally coat them generously with seasoned bread crumbs. These are pan-seared in clarified butter until golden and crisp. I serve them garnished with fresh parsley leaves and lemon wedges. The sides are often potatoes, especially creamy patatoes mousseline, pickled vegetables, and maybe beets or sautéed leafy greens.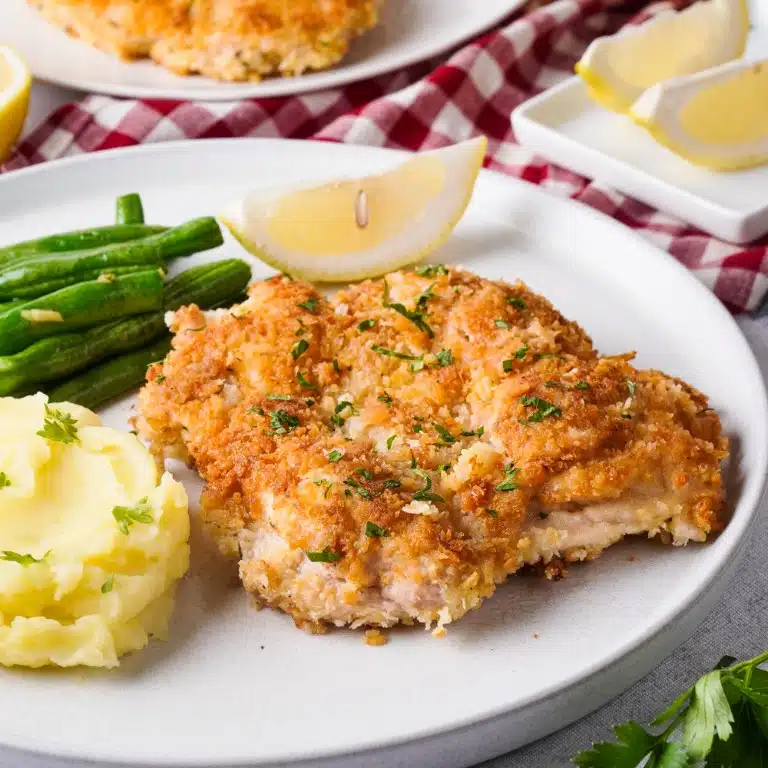 Ingredients
6

skinless boneless chicken thighs

¾

cup

all-purpose flour

2

whole eggs + 2 Tbsp water

¾

cup

of basic breadcrumbs

¾

cup

Panko breadcrumbs

½

tsp

dried thyme

½

tsp

sweet paprika

½

tsp

sea salt

¼

tsp

freshly ground black pepper

⅛

tsp

ground nutmeg

optional

½

cup

clarified butter

divided

2

Tbsp

minced flat-leaf parsley for garnish

6

wedges of fresh lemon
Instructions
All ingredients ready? Let's begin!

Remove the chicken from the refrigerator and pat it dry with paper towels.

Prepare your dredging station: In a shallow bowl, place the flour. Next to that, whisk the eggs and water in another shallow bowl. Then, combine the 2 breadcrumbs, thyme, paprika, salt, pepper, and nutmeg in a third shallow bowl.

Place the chicken thighs between 2 sheets of plastic wrap. Pound them with the flat side of a meat mallet or a rolling pin to an even thickness of 1/4 inch.

In a large heavy-bottomed skillet over medium-high heat, melt 1/4 cup of the clarified butter.

While the butter is warming up, dredge 3 of the chicken thighs (or as many will fit in the pan in a single layer). First, coat the thighs lightly in the flour, shaking off any excess.

Next, dip them in the egg wash. Finish by coating them well with the breadcrumb mixture.

Have a paper towel-lined platter or sheet pan ready.

Sauté the coated chicken in a single layer in the hot butter for about 5 minutes until golden and crispy on the bottom.

Turn the cutlets over and continue cooking for another 5 minutes or so until both sides are golden brown and crisp and the internal temperature reaches 165°F when checked with a digital meat thermometer.

Transfer the cooked schnitzel to the paper towel-lined platter and continue cooking the rest of the cutlets in the remaining butter.

Serve the schnitzel while warm with parsley sprinkled over the top and lemon wedges with your favorite vegetable side dishes.
Nutrition
Calories:
427
kcal
|
Carbohydrates:
28
g
|
Protein:
28
g
|
Fat:
23
g
|
Saturated Fat:
11
g
|
Polyunsaturated Fat:
2
g
|
Monounsaturated Fat:
7
g
|
Trans Fat:
0.02
g
|
Cholesterol:
200
mg
|
Sodium:
470
mg
|
Potassium:
376
mg
|
Fiber:
3
g
|
Sugar:
2
g
|
Vitamin A:
308
IU
|
Vitamin C:
11
mg
|
Calcium:
76
mg
|
Iron:
3
mg
Notes & Tips
You can place the chicken thighs in a resealable plastic baggie to pound them flat without worrying about raw chicken juices contaminating any surfaces. When pounding, I like to start in the center and press out toward the edges that are generally thinner. This helps to make the cutlets more even in thickness.
When sautéing the chicken, be sure to do this in a single layer for best results. You may have to cook in 3 batches, depending on the size of your pan. You can keep the cooked schnitzels in a warm oven until all of them are cooked.
Substitutions
Chicken Thighs: If you are feeding children, you might consider using chicken tenders for this recipe. If you don't want chicken, this recipe also works with veal scaloppini, turkey tenders, and pounded pork loin chops.
Breadcrumbs: I often make gluten-free meals. Some of my favorite gluten-free flours include brown rice flour, teff flour, and garbanzo bean flour. The good news is that there are also some excellent gluten-free breadcrumbs available. Other good substitutes for wheat-based bread crumbs are ground pork rinds, almond meal, and ground roasted soybeans or chickpeas.
Herbs and Spices: Traditional wiener schnitzel is often seasoned simply with salt and pepper and perhaps garnished with fresh parsley before serving. I happen to love thyme and paprika with chicken. You can really use whatever herbs and spices you like, such as dried parsley, sage, or chives.
Clarified Butter: Butter adds a lot of flavor to the schnitzels. However, butter that is not clarified (milk solids removed) will brown too much and become bitter at high heat. Clarified butter tends not to do that. You can use 1/2 olive oil and 1/2 butter to achieve the same results. Or, you can use a high-smoke vegetable or fruit oil, such as avocado or grapeseed oil.
---
Recent Recipes