Easy Low FODMAP Vegan Chocolate Cake Recipe
When you're on a low FODMAP diet, sweets can be a real hard thing to resist. They can be even harder to replace, especially when you're looking for something like baked goods. Pastries, cakes, and brownies are often too decadent to pass up. However, hardly any low FODMAP options are available for these sweet treats.
Of course, the answer to this is being able to bake them yourself! If you're looking for a delicious low FODMAP, vegan cake, look no further! We've got a decadent chocolate cake built for your dietary needs. Keep reading to learn how to make this treat for yourself at home!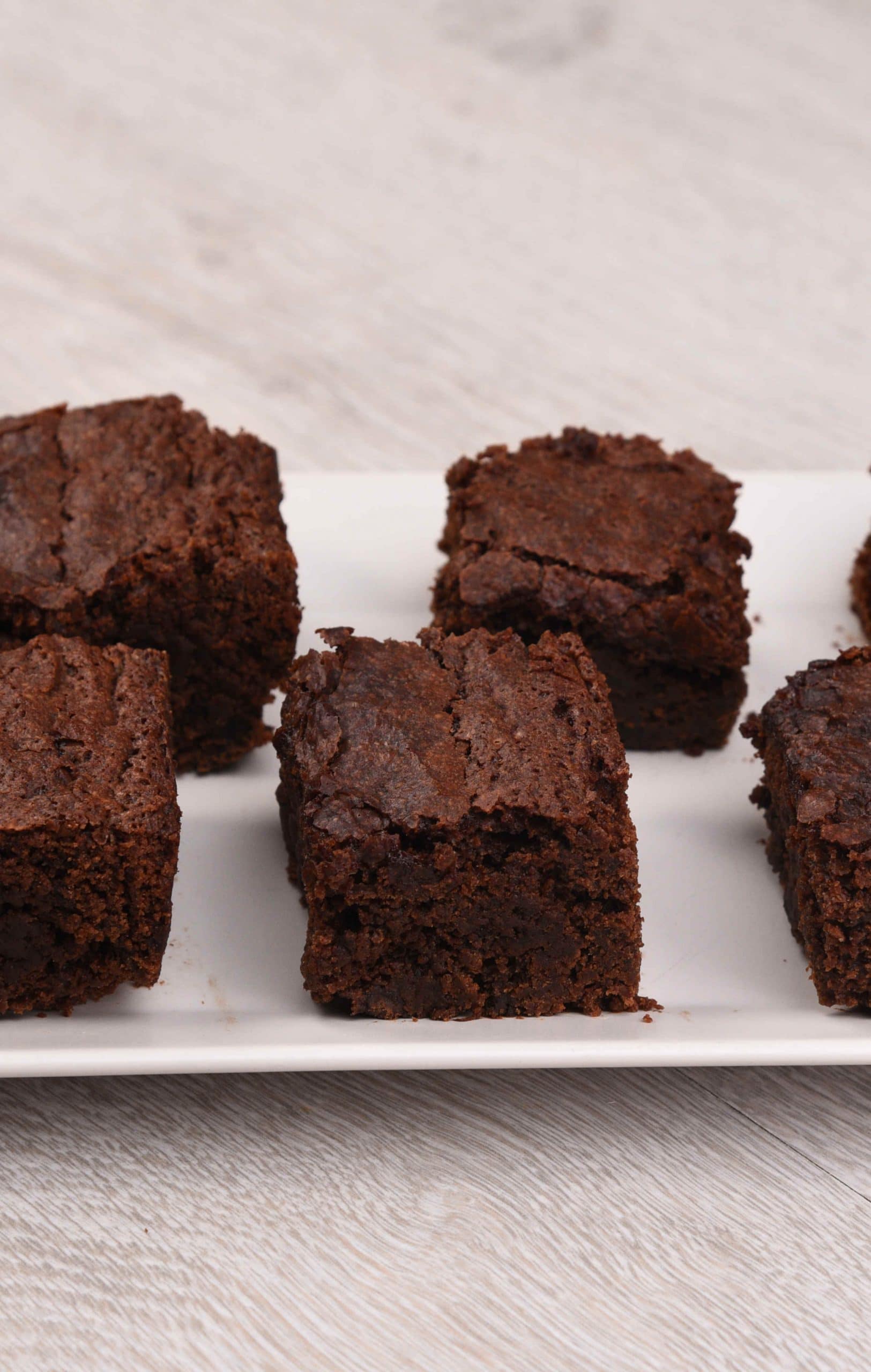 Ingredients
6

tablespoons

of melted coconut oil

1 ½

cups

of dairy-free dark chocolate

1 ⅓

cups

of gluten-free flour

2

teaspoons

of baking powder

⅛

teaspoon

of xanthan gum

3

heaping teaspoons of cocoa powder

1 ⅓

cups

of light brown sugar

1

teaspoon

of sea salt

1

cup

of unsweetened dairy-free milk of your choice

1

teaspoon

of vanilla extract
Instructions
Preheat your oven to 350°F.

Using the double boiling method, melt your chocolate. If you're unsure of how to do this, it's easy! Place 1 cup of your dairy-free dark chocolate in a heat-safe bowl. Place this bowl over a pan of simmering water, making sure that the bowl doesn't come into contact with the water. As the chocolate melts, stir it, allowing it to melt evenly.

While the chocolate is melting, sieve your flour, baking powder, xanthan gum, and cocoa powder into a large bowl.

Once finished sieving, stir in the brown sugar and the salt.

Make a well in the center of the mixed ingredients, and add 5 tablespoons of melted coconut oil, dairy-free milk, vanilla extract, and melted chocolate. Stir until combined.

Break apart the remaining ½ cup of chocolate, and stir it into the mixture.

Grease an 8"x8" pan with the remaining tablespoon of coconut oil. Pour the cake batter into the pan, spreading it evenly to cover the edges.

Bake the cake for 30 to 35 minutes, until it is springy to the touch, or a toothpick comes out mostly clean.

Allow the cake to cool in the pan before cutting into evenly sized squares and serving!
Video
Nutrition
Calories:
452
kcal
|
Carbohydrates:
60
g
|
Protein:
5
g
|
Fat:
23
g
|
Saturated Fat:
15
g
|
Polyunsaturated Fat:
1
g
|
Monounsaturated Fat:
4
g
|
Trans Fat:
1
g
|
Cholesterol:
1
mg
|
Sodium:
382
mg
|
Potassium:
295
mg
|
Fiber:
5
g
|
Sugar:
40
g
|
Vitamin A:
114
IU
|
Vitamin C:
2
mg
|
Calcium:
150
mg
|
Iron:
5
mg
Notes & Tips
While this recipe is simple, there are several things to keep in mind when making it! Let's start with the chocolate. If you're expecting this cake to be overly sweet, you'll have to look elsewhere. The only chocolate that you can find that's truly vegan is going to be dark chocolate with a high concentration of cacao. This means that overall, the cake will be much less sweet than one made with milk chocolate, though the light brown sugar does a great job of lifting it.
You may be wondering if the use of xanthan gum is entirely necessary. It isn't! It's understandable to be concerned about this because xanthan gum isn't always readily available. It's an optional ingredient in this recipe but is included because it helps the cake keep its shape. Xanthan gum is only used as a binding agent in this recipe.
Additionally, we encourage people who use this recipe to use any unsweetened dairy-free milk of their choice. Not everyone enjoys almond milk, just like not everyone enjoys soy milk. Find the alternative product of your choice and give it a go. The milk being used doesn't make a major difference in the composition of the cake.
However, removing the cake before it has had a chance to cool, can. If you don't wait to remove the cake from the pan, it is more likely to fall to pieces as you remove it. Allowing it to cool allows it to keep its shape much better, making slicing it a breeze.
Substitutions
While there aren't too many substitutions for this recipe, the one that comes to mind is the milk of choice, as well as the oil used. Of course, when you choose your milk for the recipe, choose one that you like best. That makes it more likely that the overall flavor of the cake will be something that you enjoy.
Coconut oil is not required for this recipe. In fact, if you wanted to, you could use standard vegetable oil or a neutral oil like sunflower oil. Whatever you use, you need to make sure that its flavor palette lines up with what you enjoy. Using a robust olive oil may provide a different tasting cake than what you expect.
If you don't have vanilla extract, you may have a vanilla paste. If that's the case, you can substitute it for the extract instead. Use the same amount as if you were using extract.
Common Questions
What Does A "Heaping Teaspoon" Mean?
When used together in a sentence, a heaping teaspoon sounds kind of like an oxymoron. Of course, teaspoons are small, so how can they be heaping? When you gather a heaping teaspoon, it just means that you don't flatten it out. It can also be called an overflowing teaspoon. You just want a lot of cocoa powder, really!
Can I Line My Pan With Wax Paper?
Of course! Overall, lining the bottom of the pan makes it much easier to remove your cake. However, it's not what everyone would want to do, so we leave that up to the reader.
How Can I Tell That It's Done?
Baking is an art, and being able to tell when a baked good is finished perfectly can be tough. When you check your cake, insert a toothpick about an inch from the edge of the dish. It should come out mostly clean. A few crumbs are okay! That just means it's still moist.
Sides & Pairings
What goes with chocolate better than peanut butter? You can use your favorite vegan-friendly peanut butter as frosting of sorts with this cake. Or, if you're doing a dessert spread, you can make these delicious vegan dark chocolate coconut bites! If you're looking for more recipes that fit your dietary needs, check out our vegan recipe guide!
---
Recent Recipes