Homemade Haitian Plantain Porridge Breakfast
Porridge have been an integral part of Caribbean cuisine for centuries. Haitian plantain porridge (Labouyi Bannann in Haitian Creole) uses plantains instead of the typical oats, wheat, or corn you might find in other porridge dishes.
This is a gluten-free, nut-free, and soy-free breakfast you and your family are sure to love. Let's dig right in.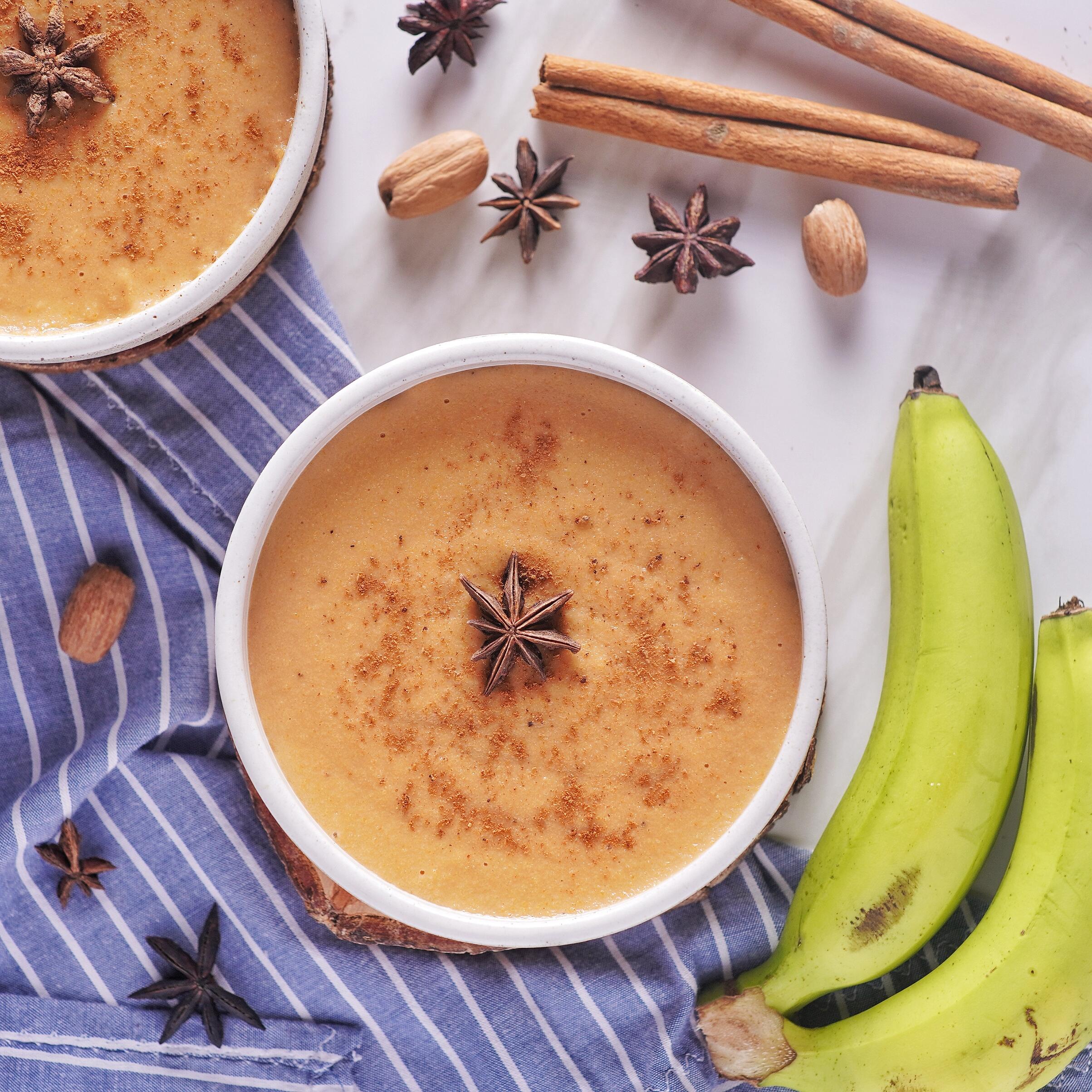 Ingredients
1

green plantain

1

carrot

3

cups

water

1

cinnamon stick

3

star anise

1 12

ounce

can evaporated milk

1/2

cup

coconut milk

1/4

cup

firmly packed brown sugar

or more to taste

1

pinch

freshly grated nutmeg

for garnish

1

pinch

ground cinnamon

for garnish
Instructions
Assemble your ingredients!

Wash, peel and cut the plantain into small pieces. It is ok if there is some skin still left on the plantains.

Wash, peel and cut the carrot into small pieces.

In a blender, combine the plantain, carrot, and 2 cups of water.

Blend for 1-2 minutes until smooth.

In a small saucepan, place the star anise and the cinnamon stick in 1 cup of water. Bring to a boil, stirring continuously. There should be little bubbles forming around the perimeter of the saucepan.

Add the evaporated milk and the coconut milk to the saucepan.

Reduce the heat to low and add the plantain and carrot puree.

Stir until completely combined. The porridge will thicken slightly.

Simmer on medium-low heat, stirring frequently, for about 10-15 minutes or until the plantain is completely cooked. The porridge should be smooth and creamy.

Take a taste. If the porridge tastes a little grainy, it will need more cooking time.

Add the vanilla and sugar. Stir to combine.

Garnish with nutmeg and ground cinnamon if desired.

Serve warm.
Nutrition
Calories:
356
kcal
|
Carbohydrates:
34
g
|
Protein:
3
g
|
Fat:
26
g
|
Saturated Fat:
23
g
|
Polyunsaturated Fat:
1
g
|
Monounsaturated Fat:
1
g
|
Sodium:
41
mg
|
Potassium:
571
mg
|
Fiber:
2
g
|
Sugar:
21
g
|
Vitamin A:
3057
IU
|
Vitamin C:
11
mg
|
Calcium:
59
mg
|
Iron:
5
mg
Notes & Tips
Plantains can be harder to peel than bananas. You can soak the plantain in ice water to make it easier or skin them under running water.
Using a carrot might seem like an unexpected choice for breakfast porridge, but they add natural sweetness to the dish, eliminating the need for too much extra sugar.
You can use half a tin of water to dilute the coconut milk if desired.
Variation Ideas
Drizzle on honey or maple syrup.
Add some lime zest to the porridge.
Use flour and cornmeal to thicken the porridge.
How To Shop For Plantains
Plantains look a lot like bananas but have very different flavor profiles. While bananas are sweet, plantains are tough and starchy. You can typically find this fruit in the produce section of your grocery store or by shopping online. Frozen, ready-to-cook plantain slices are also commonly available. Make sure to check the label to verify that the plantains were farmed and harvested sustainably.
When bananas turn mottled or completely brown, it means that they're overripe and it's time to throw them away or make banana bread. The opposite is true of plantains. Yellow or mottled brown plantains are slightly fruity and more tender. Completely brown plantains have achieved peak ripeness. They will also hold their shape when cooked, unlike bananas, which frequently turn mushy when cooked.
Common Questions
Do I have to use green plantains? Can I use ripe plantains?
Yes, you can use ripe plantains instead, but it will have a slightly different flavor profile. The riper a plantain is, the sweeter it will taste when cooked. Green plantains are not as sweet.

If you want to use ripe plantains, buy some a few days before you plan to make the porridge and store them in a paper bag to make them ripen faster.
Can I use non-dairy milk?
Yes, you can use your preferred nut or oat milk instead of evaporated dairy milk.
Can I make this in advance?
Yes, absolutely. You can make it several days before you want to eat it and leave it to cool in the fridge overnight.

This is a great way to meal plan your breakfasts for the week. See storage below for more information on how to correctly store and reheat the porridge.
What does Haitian plantain porridge taste like?
The porridge has a sweet and creamy taste and has the consistency of light grits.
Sides & Compliments
This is a filling dish that can be part of a complete breakfast.
Haitian bread (pain)
Fruit salad: strawberries, blueberries, and cantaloupe
Black coffee or tea
Benefits
Green, raw plantains are good sources of magnesium, vitamin A (good for immune function), and vitamin K (good for healthy blood). Plantains even have more potassium than bananas.
Green plantains are also a good source of resistant starch, which is good for controlling glucose levels and weight loss. Plantains do lose some of that resistant starch when cooked, but not a significant amount.
Storage
You can refrigerate or freeze Haitian plantain porridge after making it.
Refrigerate in a tightly covered airtight container or resealable plastic bag. It will last for four to six days in the fridge. Freeze in a tightly covered airtight container or heavy-duty freezer bag. It will last for about six months in the freezer.
To reheat from refrigeration, put the porridge in a saucepan on the stove and heat it on low, stirring occasionally.
Alternatively, put the porridge in a microwave-safe bowl and cook it for 30 seconds at a time, stirring in between rounds, until it reaches your desired temperature.
To reheat from frozen, thaw the porridge in the fridge first, then follow the previous steps to reheat it on the stove or microwave.
---
Recent Recipes