There have been times when I want a fancy drink to fit the vibe of the night, but I haven't wanted to feel the buzz that alcohol gives. When I'm at a family birthday party, for example, or when my friends and I want a quick escape from our families and meet for a relaxing brunch. Alcohol is not at all needed to have fun, but that doesn't mean you have to settle for a dull lemonade.
When I was in my early 20s, I can admit that I liked to experiment with my drinks. Any bar or club I went to that had a cocktail I had never heard of before was my favourite. Then I finished school and had to be a little more responsible with my drinking, which was pretty dull, switching from exciting drinks like this smoky and spicy mezcal paloma cocktail to a regular soda. 
It was when I went to a bar with a friend that I learned of the Roy Rogers mocktail when my friend ordered it with confidence It was then that I was introduced to a whole world of non-alcoholic drinks that were more than just plain sodas. Since then I have been perfecting my Roy Rogers drink to enjoy whenever I please and now you can too! If this particular alcohol free drink isn't quite your style, why not try a refreshing watermelon mocktail instead?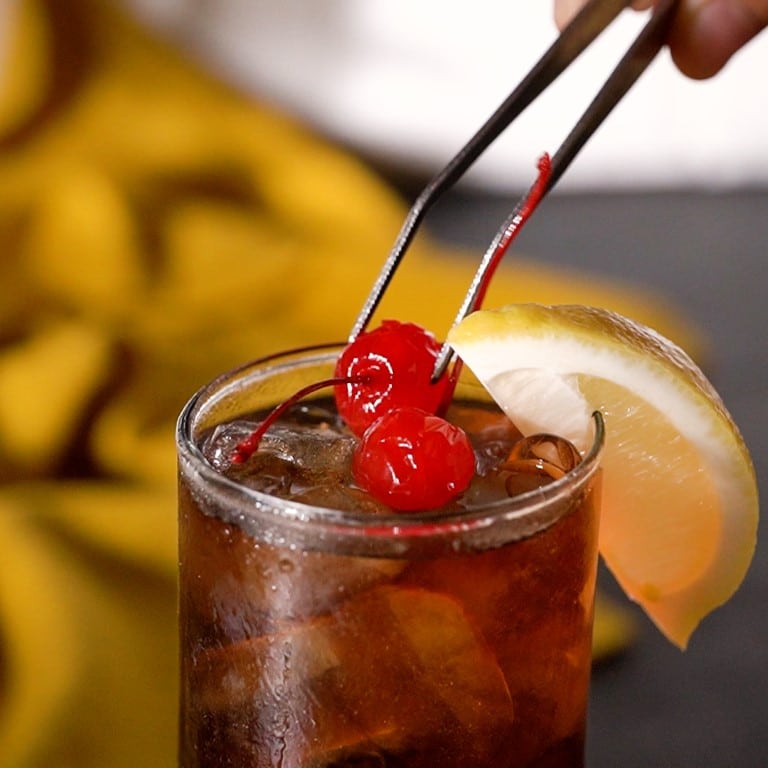 Ingredients
1

cup

of ice

½

can of coke

1 ½

tablespoons

grenadine

2

candied cherries

1

lemon
Instructions
All ingredients ready? Let's begin!

Start making your Roy Rodgers drink by cutting the lemon in half. Cut one side into wedges and set aside.

Next, add your 1 cup of ice to a tall glass.

Crack open a can of coke and pour half of it directly over the ice. Use a stirrer or long spoon to mix the ice and chill the cola.

Next add in the grenadine and the juice of the lemon half (use all but one of the wedges too if you like it a bit more tart), also pouring them directly over the ice where possible.

Use your stirrer once more to give your drink a good, final mix.

Wedge the last lemon slice onto the side of your tall glass.

Finally, grab 1 or 2 candied cherries and gently set them on top to garnish your Roy Rogers.
Nutrition
Calories:
205
kcal
|
Carbohydrates:
54
g
|
Protein:
1
g
|
Fat:
0.4
g
|
Saturated Fat:
0.04
g
|
Polyunsaturated Fat:
0.1
g
|
Monounsaturated Fat:
0.01
g
|
Sodium:
29
mg
|
Potassium:
161
mg
|
Fiber:
3
g
|
Sugar:
37
g
|
Vitamin A:
24
IU
|
Vitamin C:
57
mg
|
Calcium:
41
mg
|
Iron:
1
mg
Notes & Tips
Lemon juice is not a typical ingredient in a Roy Rodgers. However, I have found that it helps to elevate the drink a little more, like how a lemon slice in soda does. Although the added lemon juice does accentuate some of the soda's sweetness, but it also cuts through it with a bit of citrusy tartness.
You need to use a tall glass when making a Roy Rogers because of how much cola is used in the drink. A cocktail glass would be too shallow and would not allow you to mix the grenadine and coke properly. Alternatively, you can make a large batch in a big pitcher and simply pour from there into your cups. Because this drink gets thoroughly mixed, there will be no repercussions if you mix it altogether in a pitcher.
Instead of wasting the other half can of cola, just double this recipe to make 2 Roy Rogers and use up the rest of the soda! It is a great drink to treat both your teens and younger kids so there is no need for waste.
Substitutions
Some people are not a fan of mixing cola and lemon as it does affect the base flavour of the coke, making it taste sharper. However, if you do still want the sweeter version of a Roy Rogers without affecting the coke taste, use plain club soda to replace the lemon juice, or just use a bit more coke.
Grenadine is a very popular syrup used in an array of both alcoholic and non-alcoholic bar drinks. Though it is not an alcoholic ingredient, it is expensive and hard to find out side of liquor or speciality stores. Instead, you can use a much cheaper syrup like strawberry syrup. Other syrups will need to watered down to match the consistency of grenadine and to dilute the sweeter flavours.
Another substitute for grenadine is a combination of pomegranate juice and simple syrup on a 1-to-2-part ratio. Simple syrup is, as its name would suggest, very simple to make. It is the same amount of water and sugar heated together until the sugar has dissolved. Allow the syrup to cool before adding a few tablespoons of lemon or lime juice and that's it! Or, if you want to avoid any citrusness, you can omit the lemon or lime juice altogether. You can substitute the grenadine by mixing the pomegranate juice and syrup together before hand or by adding ½ tablespoon of pomegranate juice and 1 tablespoon of simple syrup directly to your drink.
What Is The Difference Between A Roy Rogers & A Shirley Temple? 
Compared to the infamous Shirley Temple drink, a Roy Rogers drink is not as well known, though they are both non-alcoholic drinks named after world famous film stars from Hollywood's golden era of film.
Likewise, both drinks use grenadine to elevate an otherwise basic soda and make the drink seem just as exciting and fun as the alcoholic drinks at a bar. A delicious candied cherry or 2 is the traditional garnish for a Shirley Temple and Roy Rogers drink with a lemon wedge used occasionally.
The only noticeable difference between the two drinks is the type of soda that they use. A Roy Rogers is made using coke while a Shirley Temple uses a lemon and lime soda such as Sprite in the same capacity. Though such a small difference, the variety affects the overall taste of the drinks, making them a vastly different drinking experience.
---
Recent Recipes