Simple Soft Shell Crab Sushi Roll
If you're a sushi lover, it makes sense to tackle homemade sushi. Making your own sushi does take time and effort and some investment in kitchen equipment. But once you've made it a couple of times, you'll never order take-out again.
The joy of eating sushi is its diversity — sushi can be made from just about any kind of seafood, from the more familiar tuna and salmon to exotic ingredients like eel, abalone, or cockles. One of the most exciting sushi experiences is eating sushi made from soft shell crabs.
Soft shell crabs are regular crabs, but their exteriors are soft because they recently shed hard shells. The soft surface leaves the meat succulent and tender. If you've never had crab and are curious, read What does crab taste like?
If you're already a sushi-making expert, this ingredient won't phase you. But if you're new to eating and making sushi, starting with soft shell crabs can be a good idea because you eat them cooked, not raw, like other sushi fish.
Unlike the more typical crab sticks or imitation crab, you'll often find in sushi rolls, soft shell crab is usually served tempura-style. Tempura means that you bread, batter, or coat the crab in flour before deep-frying it. Making sushi with tempura creates a delicious crunchy mouthfeel and an excellent combination of flavors.
The most common sushi made using soft shell crab is spider roll sushi. The name sounds somewhat alarming, but the spidery legs protruding from the sushi roll are tempura crab legs. There are no spiders involved — only tender, soft shell crab, cucumber, carrots, nori seaweed, and pillowy sushi rice.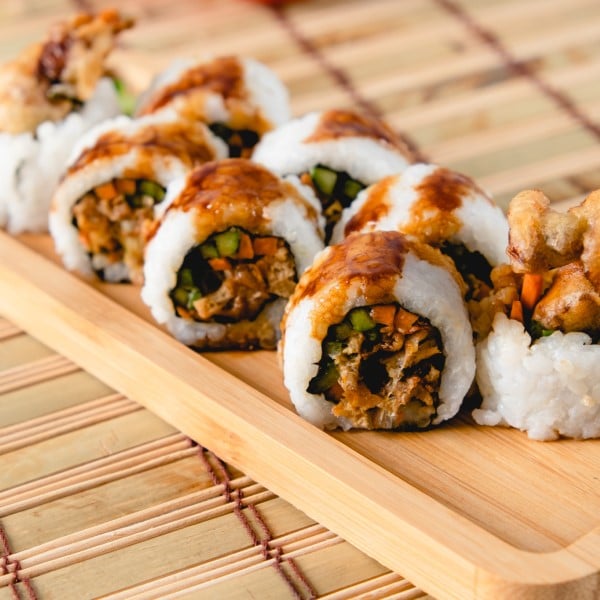 Ingredients
Sushi Rice:
1

cup

sushi rice

1

cup

water

1 ½

Tbsp

sushi vinegar
Crab Tempura:
3

soft shell crabs

¾

cup

iced club soda water or seltzer

1

egg

1

cup

flour

Vegetable oil
Sushi roll:
½

cucumber

1

carrot

2

sheets nori seaweed

Unagi sauce to taste
Instructions
Sushi rice:
Rinse the sushi rice in a colander repeatedly until the water runs clear.

Place the rice and water in a pot and bring to a boil.

Once the sushi rice is boiling, reduce the heat to medium-low and cover the pot.

Allow the rice to simmer for 15 to 20 minutes until it is tender and has absorbed all the water.

Set the rice aside to cool slightly.

Stir in the sushi vinegar.

Allow the sushi rice to cool completely before making the sushi roll.
Crab Tempura:
Rinse the crab thoroughly and pat dry with a paper towel.

Heat the oil in either a deep fryer or heavy-based saucepan to about 350⁰F (180⁰C).

Beat the egg and iced water in a small bowl.

Put the flour in a large bowl.

Slowly add the liquid to the flour, stirring gently until smooth and thick, like heavy cream. Take care not to overmix the batter.

Keep the batter cold by placing the dish in an ice water bath.

Dip each crab into the batter.

Deep fry the crab until crispy and golden brown – about three to four minutes. It should be firm but tender inside.

Lift out the crab with a slotted spoon and drain in a bowl lined with paper towels.

Let the crab rest for a few minutes.

Cut the crab into thirds.
Sushi Roll:
Chop the carrot into thin strips.

Chop the cucumber into thin strips, removing the seeds.

Cover your bamboo sushi mat with plastic wrap and place it on a cutting board.

Cut each sheet of seaweed in half with a pair of scissors.

Place half a seaweed sheet on the bamboo mat, shiny side down. If you're a first-time sushi-maker, lay the seaweed vertically.

Using your hands, spread ¾ cup of sushi rice over the seaweed, patting it to smooth but not squashing it.

Flip over the seaweed strip so that the rice is now facing downwards.

Place the filling of the roll (sliced carrots, cucumber, and one soft shell crab tempura) along the center of the nori. Leave the crab's legs extending beyond the nori to form the "spider's legs."

Drizzle with unagi sauce.

Place your thumbs underneath the edge of the bamboo mat, lifting it up and over the filling.

Use your fingers to keep the filling from spilling out.

Applying firm pressure, roll the mat away from you until the ends of the mat meet.

Gently squeeze the sushi roll.

Remove the mat and plastic wrap.

Slice the sushi roll into eight bite-sized pieces.

Serve with a drizzle of unagi sauce.
Video
Nutrition
Calories:
69
kcal
|
Carbohydrates:
11
g
|
Protein:
5
g
|
Fat:
1
g
|
Saturated Fat:
1
g
|
Polyunsaturated Fat:
1
g
|
Monounsaturated Fat:
1
g
|
Trans Fat:
1
g
|
Cholesterol:
19
mg
|
Sodium:
67
mg
|
Potassium:
101
mg
|
Fiber:
1
g
|
Sugar:
1
g
|
Vitamin A:
467
IU
|
Vitamin C:
1
mg
|
Calcium:
14
mg
|
Iron:
1
mg
Notes & Tips
If you plan on making sushi regularly, buy a bamboo sushi mat or makisu to make sushi rolls.
Always buy your seafood for sushi as fresh as possible from a reputable fishmonger.
Get your fishmonger to clean and trim the crab ready to cook.
If you are keen on making sushi, it is good to invest in a rice cooker.
Let the sushi rice cool completely before rolling the sushi, or else it will collapse.
For the tempura, use a neutral-tasting oil with a high smoke point. Canola is a good option.
Use a splash screen when frying the crab – because it contains a lot of water, the crab will make the oil spit.
Sushi rice is very sticky so to stop it from sticking to your fingers, dip your hands in Tezu water. This weak vinegar solution consists of 1 cup of water, 2 TBS of rice vinegar, and 1 TSP of salt, mixed thoroughly.
Creating a firm sushi roll requires you to squeeze the roll as you roll it. Gently squeeze the roll before releasing and slicing it.
Serving Suggestions
Serve as an appetizer or snack.
Soft shell crab sushi rolls are traditionally served with eel sauce.
Serve wasabi, soy sauce, and pickled ginger as accompaniments.
These sushi rolls are delicious with spicy mayonnaise (combine mayo with sriracha sauce).
Substitutions
Do not substitute other rice for sushi rice – you need the starchy stickiness of authentic short-grain sushi rice to keep the roll together.
If you can't find sushi vinegar, you can substitute 1 Tbsp rice vinegar mixed with ½ Tbsp sugar, warmed together until the sugar dissolves.
Replace the cucumber with avocado or radish sprouts.
Substitute the unagi sauce with teriyaki or sweet hoisin sauce.
For a gluten-free option, replace the regular flour with gluten-free flour. Tempura batter is often made with cornstarch anyway.
Instead of creating rolls, create a hand roll by stuffing a nori sheet with rice, cucumber, carrots, and crab and rolling it into a cone. Dampen the corners to act as "glue."
---
Recent Recipes