Sweet preserved kumquats make a delicious, sweet treat by themselves, and they can be added to yogurt or mixed in a fruit salad.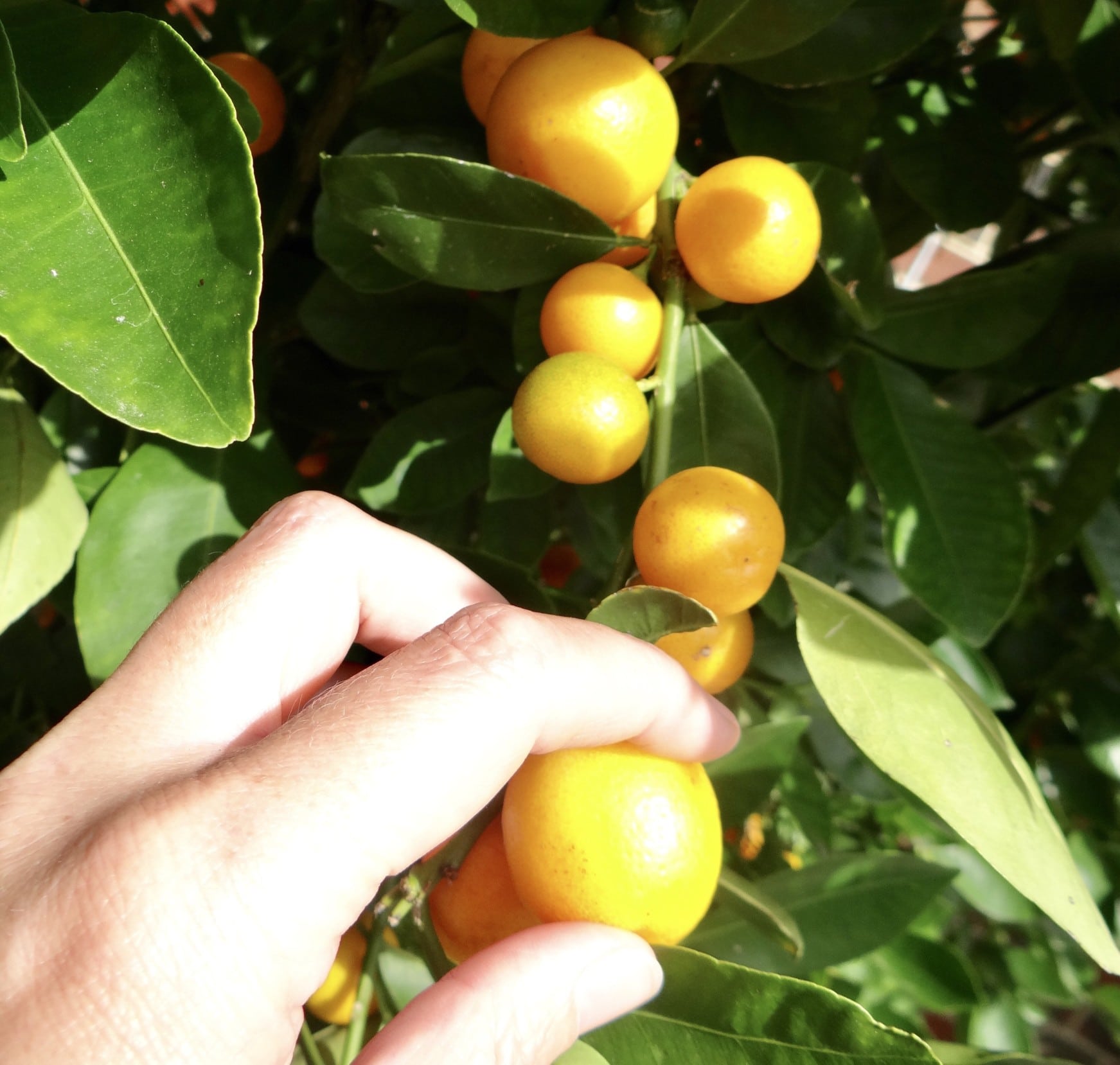 Ingredients
1 1/2

pounds

ripe kumquats

2/3

cup

fresh squeezed lemon juice

4 lemons

4

tablespoons

sea salt

1

tablespoon

black pepper

crushed.

1

tablespoon

fennel seed

crushed.

2

teaspoons

cumin seeds

crushed.

1 3/4

cups

maple sugar

substitute – raw brown sugar, for example demerara or turbinado
Instructions
Using a scrub brush, wash each fruit thoroughly with plain water and make sure to remove any visible green stems. Pat them dry with a paper towel. Ensure they're completely dry, as moisture can produce mold during the preservation process. Once cleaned, place them in a warm, dry spot for an hour or two.

In a small saucepan, gradually heat the lemon juice and maple sugar until the sugar is completely melted. Increase the heat to medium-high and cook for 2-3 minutes, or until the mixture appears slightly syrupy. Allow cooling in the pan until the mixture reaches room temperature.

Make sure the fennel and cumin don't lose their form when crushing the spices. You don't want to make a powder out of them. You can crush the black pepper to your desired fineness. Combine the salt and spices in a mixing bowl.

Remove the button ends of the kumquats. Then slice the kumquats lengthwise in half. If you see obvious seeds, remove them. However, you do not need to scoop out the extremely small seeds that are hidden.

By cutting the kumquats in half, you can easily add the spice combination; toss everything together in a large mixing bowl, then spoon into a 1/2 gallon jar, pour the syrup on top, and close the jar.

There are two ways to preserve kumquats. The process is quick and easy – place the jar(s) in a boiling bath for ten minutes. Then, carefully remove and let cool before eating, refrigerating, or freezing.

The second preserving process is considered traditional by the indigenous people of Japan and China. This process takes a little over two weeks. First, set the jar of kumquats in the sun all day – bring them inside at night and return them to the sun every morning. After 14 days of placing them in the sun (don't count the rainy or cloudy days), test them, and if they are to your liking, they are done. If not, return them to the sun and check them each day until they have the desired taste you want.
Notes
Sweet preserved kumquats make a delicious, sweet treat by themselves, and they can be added to yogurt or mixed in a fruit salad. 
Nutrition
Calories:
509
kcal
|
Carbohydrates:
126
g
|
Protein:
4
g
|
Fat:
2
g
|
Saturated Fat:
1
g
|
Polyunsaturated Fat:
1
g
|
Monounsaturated Fat:
1
g
|
Sodium:
7009
mg
|
Potassium:
707
mg
|
Fiber:
12
g
|
Sugar:
105
g
|
Vitamin A:
519
IU
|
Vitamin C:
91
mg
|
Calcium:
239
mg
|
Iron:
4
mg
Substitutions & Shortcuts
The maple sugar can be substituted with raw brown sugar such as demerara or turbinado or just get any raw cane sugar that you can find.
Lemon juice can be substituted with cream of tartar substitution recommendation is half of the amount required for the recipe. For example, if you need one cup of lemon juice, you would use 1/2 cup of cream of tartar.
Sea salt can be substituted with regular table salt at the same ratio. For example, one tablespoon of sea salt = one tablespoon of table salt.
Lessons learned while making this dish
Make sure the kumquats are ripe before preserving them. Kumquats are yellow or orange when ripe. You do not want to preserve unripe kumquats. They are bitter and tough/chewy even after going through a preserving process.
Ensure there is at least half an inch of head space between the kumquats and lid before storing.
When preserved correctly, sweet preserved kumquats will last up to a year in the refrigerator. 
What makes kumquats an interesting fruit? 
Kumquats are self-fertilizing. There are only a handful of fruits that do not require cross-pollination.
These sweet little fruits have several health benefits. They are loaded with vitamins and minerals.
Kumquats can survive in both extreme hot and cold climates.
Kumquats are cultivated in the United States, Japan, and China.
These little citrus fruits are oblong shaped and belong to the orange family. They have a sweet peel with bitter flesh.
The entire fruit can be eaten, except the seeds. The sweetness of the peel overpowers the bitterness of the flesh, making it a nice flavorful fruit.
---
Recent Recipes