Homemade Turkish Akcaabat Kofte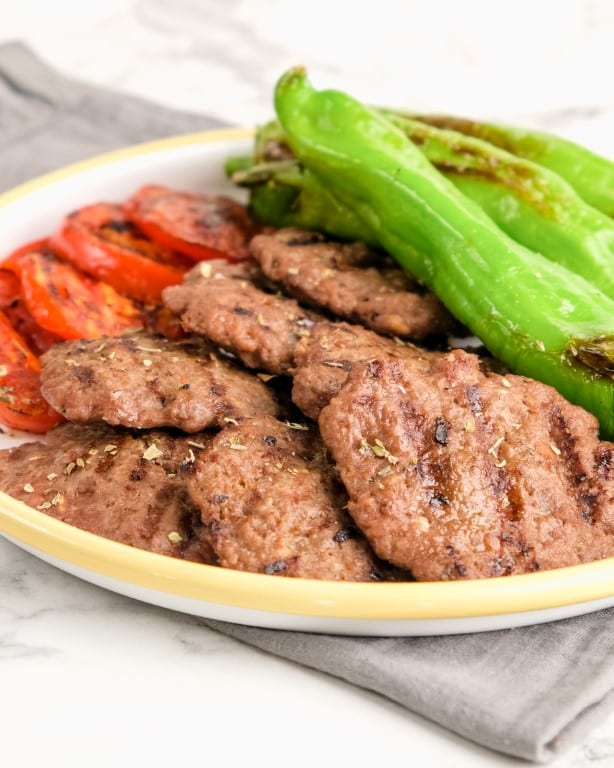 Ingredients
1

lb

medium fat ground lamb and beef

4

cloves

of garlic

minced

¼

cup

bread crumbs

¼

tsp

salt

¼

tsp

black pepper
Instructions
Mix all the ingredients in a large bowl and knead them well.

Cover the bowl with cling film and let them rest in the refrigerator for at least 1 hour.

Take walnut-sized pieces from your meatball mixture and form them into balls, then press them into a disc shape with both palms.

Arrange the prepared meatballs on a large plate.

Cook the meatballs on the grill or cast iron pan, turning them until browned on all sides and cooked through about 8-10 minutes.

Serve with grilled tomatoes and peppers.
Nutrition
Calories:
245
kcal
|
Carbohydrates:
8
g
|
Protein:
32
g
|
Fat:
8
g
|
Saturated Fat:
3
g
|
Polyunsaturated Fat:
1
g
|
Monounsaturated Fat:
3
g
|
Cholesterol:
98
mg
|
Sodium:
359
mg
|
Potassium:
465
mg
|
Fiber:
1
g
|
Sugar:
1
g
|
Vitamin A:
1
IU
|
Vitamin C:
1
mg
|
Calcium:
38
mg
|
Iron:
3
mg
Tips, Notes & Substitutes:
Akcaabat kofte is a delicious Turkish dish that is perfect for any occasion. However, there are a few things to keep in mind when cooking this dish to ensure that it turns out perfectly every time. Keep these tips in mind, and you will be sure to make the perfect Akcaabat kofte!
First, using the correct type of ground meat for the kofte is essential. Akcaabat kofte is traditionally made with ground lamb and beef together, but you can also use ground beef alone. If you are using ground beef, make sure to use a leaner variety so that the kofte does not end up too greasy.
The kofte mixture should be well-seasoned before shaping into patties. Akçaabat köfte is typically seasoned with salt, pepper, and, of course, garlic.
When shaping the kofte patties, be sure to press them firmly so that they hold together well. If the koftes are too loose, they will fall apart during cooking.
Akcaabat kofte is typically grilled but can also be fried and baked. If you are baking the kofte, preheat the oven to 350°F and cook for about 30 minutes, or until you feel that they are cooked enough.
Akcaabat koftes are best served with a side of rice or bulgur pilaf. You can also serve them with a salad, yogurt, or grilled vegetables.
---
Recent Recipes