15+ Ways On How To Thicken Chili
We all love chili, especially on a cold wintery day over some delicious hearty carbs. We love it so much that we try to stretch it by adding more liquid. But that sometimes thins the chili out. So we need to find ways to thicken the chili.
There are several ways to thicken chili, such as adding a slurry made of cornstarch, instant mash, pureed veg, cooking it longer, adding chopped veg, instant soup powder, and so much more. You could also add more beans, noodles, rice, or tortilla chips to thicken your chili.
No one way is best for thickening chili. The ideal method would be what's available to you and is most convenient for you. You can read more about using these 16 effective methods in the list below to thicken your chili.
Slurry
A slurry is one of the most common methods people use to thicken foods, including chili. You can make a slurry using any flour or cornstarch.
Mix 1-2 Tbsp cornstarch or your desired flour with twice the amount (use a 1:2 ratio of flour to liquid) of water or broth. Whisk it well to remove any lumps, and then pour it into the chili while stirring.
Keep in mind that your pot of chili will have to simmer for about 5-10 minutes to cook the flour taste in, and it will thicken within a few minutes. Depending on how much chili you have cooked, you may need to make and add more of the slurry mixture.
Add Instant Mash
Instant mash is a fantastic option to use for thickening foods. It makes the dish more hearty and can enhance the flavor making the chili gravy-like.
Mix 1-2 Tbsp (amounts will depend on how much chili you have) with 2-4 Tbsp water or broth. Use a 1:2 ratio of mash powder to liquid. Add this mixture to your chill and stir it in. You will start to notice the sauce of your chili begin to thicken slightly. Add more of the mash mixture as needed.
The great thing about instant mash is that you don't have to cook the chili any longer. You can add the mash after you have removed the pot off the stove. It is a quick, convenient option, and you whip up the remaining packet of instant mash to serve with your chili!
Use Pureed Vegetables
Pureed veggies are the perfect way to get in some extra healthy nutrition while it helps thicken your chili. It is excellent for hiding those veggies from picky eaters.
Puree some neutral-tasting veggies such as carrots, celery, or potatoes after boiling or steaming them. Add a 1/2 cup to 1 cup vegetable puree (you can mix more than one veg) to your chili and let it simmer for 5-10 mins. Your chili will be thicker almost instantly.
This method does require you to let it cook a little bit after adding the veggies to blend the flavors. Keep in mind that even if you add neutral-tasting vegetables, it will slightly alter the taste of your dish.
With Chopped Vegetables
Similar to using pureed vegetables, chopped veggies are an excellent way to get added nutrition into your meal. It also adds more texture and heartiness to your dish, making it more filling.
Chop up any veggies of your choice, such as potatoes, carrots, butternut, sweet potatoes, etc., and add it to your chili. If you want, you can steam or half boil the veggies first to speed up the process. Once you add the veggies, let the chili cook on low to medium heat until the vegetables are tender. You will notice the liquid reduce, and you will have a thicker chili.
The veggies will add more flavor to your chili, and you may have to adjust the salt and spices slightly. You can use one type of veg for this method or a few different kinds – as you prefer.
Cook Your Chili Longer
The reduction method is probably the most underrated method to thicken the chili. It takes a little longer than most other ways, but it is effective and requires no extra dishes or ingredients.
For the reduction method, remove the pot's lid and simmer the chili on low heat until the liquid evaporates and reduces. Ensure to turn the heat to low, especially if you have already added all the other ingredients such as meat and beans, or it might stick to the bottom and burn.
The reduction method means that your chili will have much less liquid since it cooks down and evaporates, but your chili will be thicker. It is an excellent economical method if you don't have a stocked pantry.
Use Instant Soup Powder
Using instant soup powder to thicken chili is similar to using the instant mash method.
Use the 1:2 ratio method of soup powder to liquid with 1-2 Tbsp instant soup with water or broth. Whisk the mixture well to ensure there are no bumps, and then add it to your chili, stirring it in. Your chili will thicken within a minute as you allow the chili to simmer.
Instant soup powder does contain seasoning and can alter the flavor of your chili. Soup powders are also quite salty, so be aware of that. This method does require a little simmering to cook away the powdery taste of the instant soup.
Add More Beans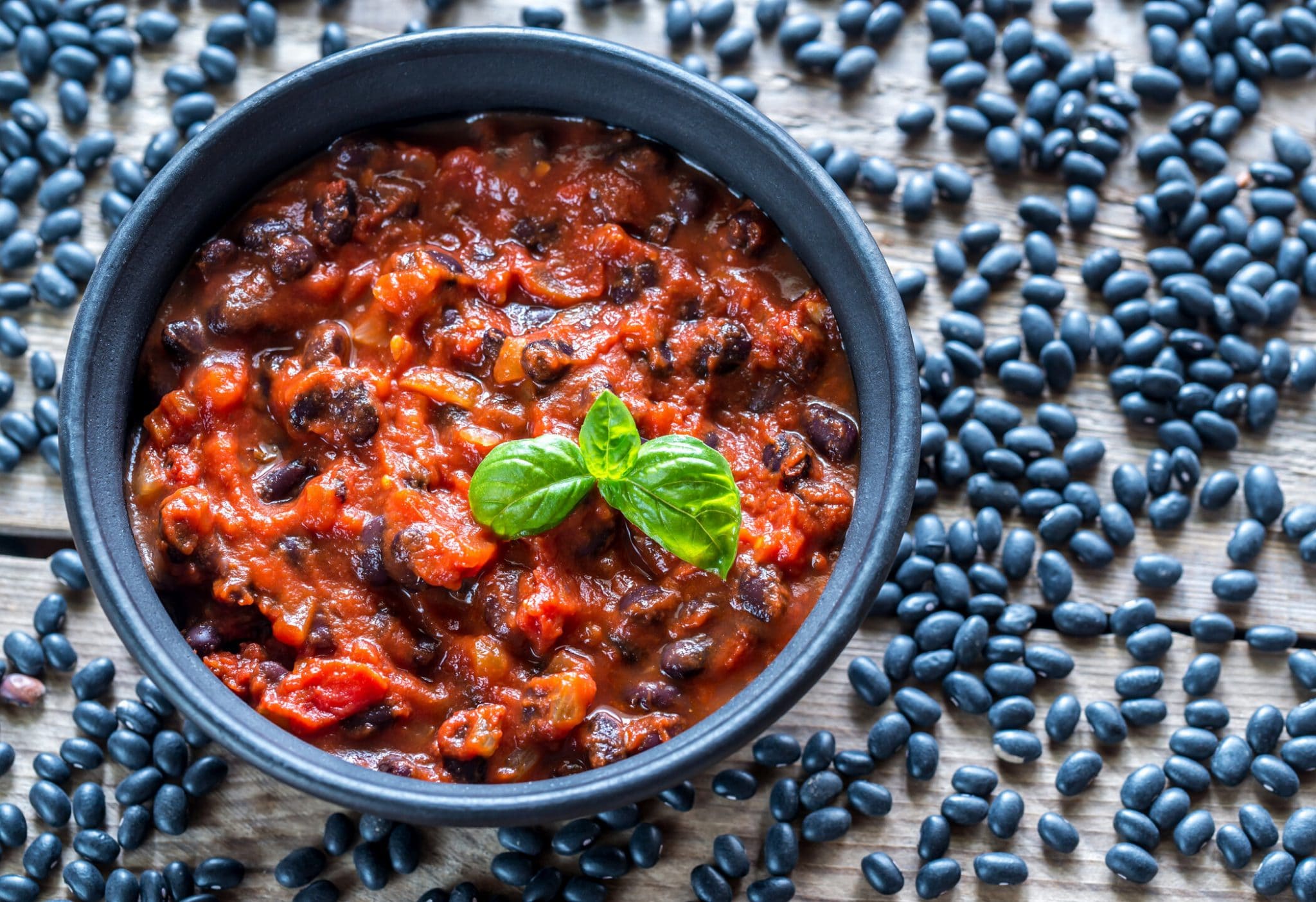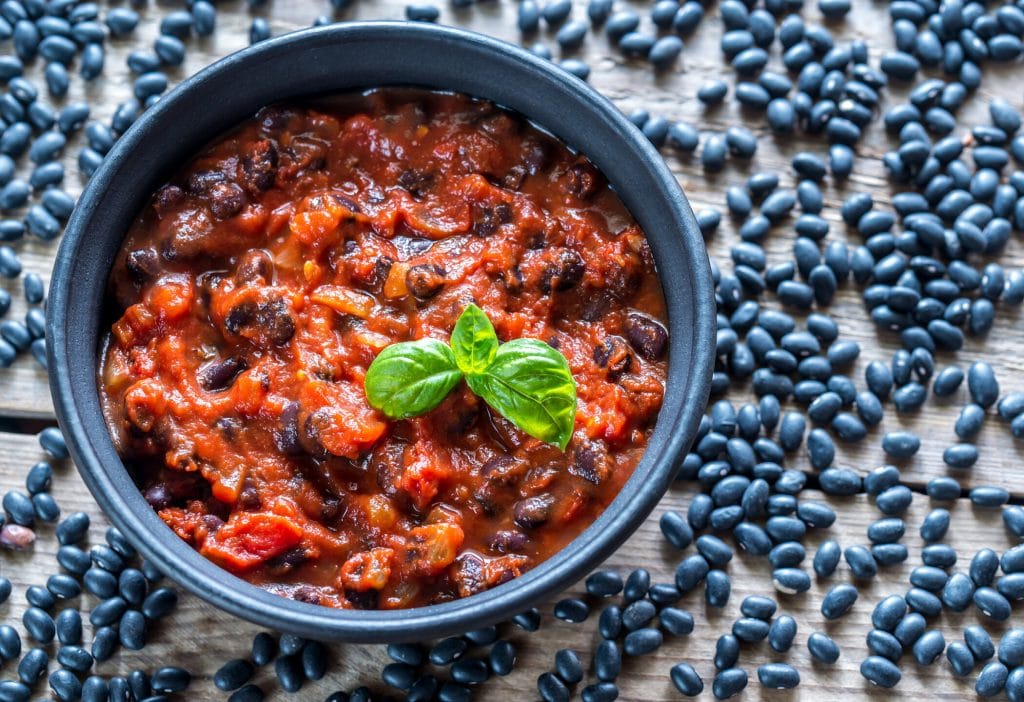 Beans are a staple ingredient that makes up chili, and you can never have too many.
Add around half a cup extra of cooked beans. The beans will help to thicken your chili and absorb some of the watery liquid of the sauce.
Beans will not change the taste of your chili and will only enhance the texture making it more hearty.
Add Noodles
Noodles are a fantastic way to thicken up your chili, and you get a two-in-one meal – pasta and chili!
Add a quarter cup of uncooked noodles to your chili in the last 5-10 minutes of the cooking process. The noodle will cook while absorbing all the watery liquid in the chili. Your dish will be hearty, thick, and delicious.
Keep note that you will need to watch the noodles making sure it doesn't overcook and become mushy. You will also need to watch the liquid to ensure the noodles don't dry your chili out and you still have some sauce left.
Add Rice
Rice is another fantastic carb option that generally goes well with chili. But you can add it to the dish instead of serving the chili over the rice afterward.
Pour about a 1/4 cup washed rice into the chili in the last 5-10 mins of the cooking process. The rice will cook through and absorb any excess runny liquid while still leaving you a hearty, saucy soup with the added texture of the grain.
You may need to add additional salt when using rice in your chili and also keep watch that the rice doesn't overcook and turn mushy or dry out your dish.
Use Crushed Tortilla Chips
Tortilla chips are an excellent way to thicken up your chili.
You can cut up tortillas into small pieces and fry them till crispy. Then add them to your chili, and they will absorb excess liquid while giving your chili added texture.
You want to use this method right before serving the chili because the tortilla chips can become soggy in the dish if it stands for long.
Tomato Paste
Tomato paste is typically a staple ingredient in chili recipes and helps make a thicker sauce.
Add tomato paste alongside fresh tomatoes in the cooking process. If your chili is already cooked and is runny, you can add an extra tin of tomato paste to the pot and cook it for 5-10 minutes to blend the flavor.
The tomato paste will enhance the traditional tomato flavor that chili generally has.
Coconut Cream
Coconut cream will not only thicken your chili but will make it deliciously creamy.
Add a tin of coconut cream to your pot of chili and stir well. Let it simmer for a while for the flavors to mingle, and your chili will have a thick, creamy sauce to it. You can start with a quarter of a tin depending on the quantity of chili you have and add more as needed.
Coconut cream will alter the taste of your chili. It will have a subtle coconut flavor, and if you don't like the flavor of coconut, you can use regular heavy cream or sour cream.
Make A Roux
A roux is similar to a slurry but contains fat, and you cook it first.
Make a roux by melting a tsp butter (you can use bacon grease as well), add a Tbsp flour or cornstarch, and cook that in a little. Then add ½ cup water or broth and whisk it until smooth. Allow it to simmer while stirring for 1-2 minutes, and then add it to the chili.
The roux will add a little bit of a toasty flavor to your chili while thickening the liquid. You would generally use milk to make a roux, but you may not want to add milk to your chili, and that's why broth works best.
Mash Beans
Beans are naturally a part of the ingredient list of chili. You can mash some of the beans to thicken up your chili.
Keep about 1/2 cup to a full cup beans aside when making chili. Towards the end, mash those beans and add them to your chili. Your dish will have a much thicker consistency. You can even remove some of the beans from the pot and mash them, and then add them back.
If you don't want to bite into mushy beans, then take not to try and mash them as smooth as possible using a fork or a potato masher. You can also use a blender to puree them.
Use An Immersion Blender
A super convenient and quick way to thicken your chili is by using an immersion blender.
Use the immersion blender in the pot of chili and give it a few pulses. Around 6-10 pulses should be perfect, depending on the quantity of your chili. The method will help you blend up some of the chili, giving it a thick consistency without adding extra components or extended time.
If you don't want a pot full of mushed-up chili, you could remove a few spoonfuls into another bowl, blend it up and then add it back with the rest. Mix it up, and you will still have your regular chili texture but a thicker consistency.
Add Corn Chips
Using corn chips is similar to using tortilla chips for thickening chili.
And a handful of crushed corn chips over your served chili. The corn chip will absorb some of the liquid but remain crispy and give you a textured bite. You can do whole corn chips with the chili, but the crushed method works best if your chili is too watery.
Remember to only add the corn chips right before eating because they will get soggy pretty quickly if you let them stand. The chips should be in each served bowl and not the entire dish of chili.
So, What Are The Ways To Thicken Chili?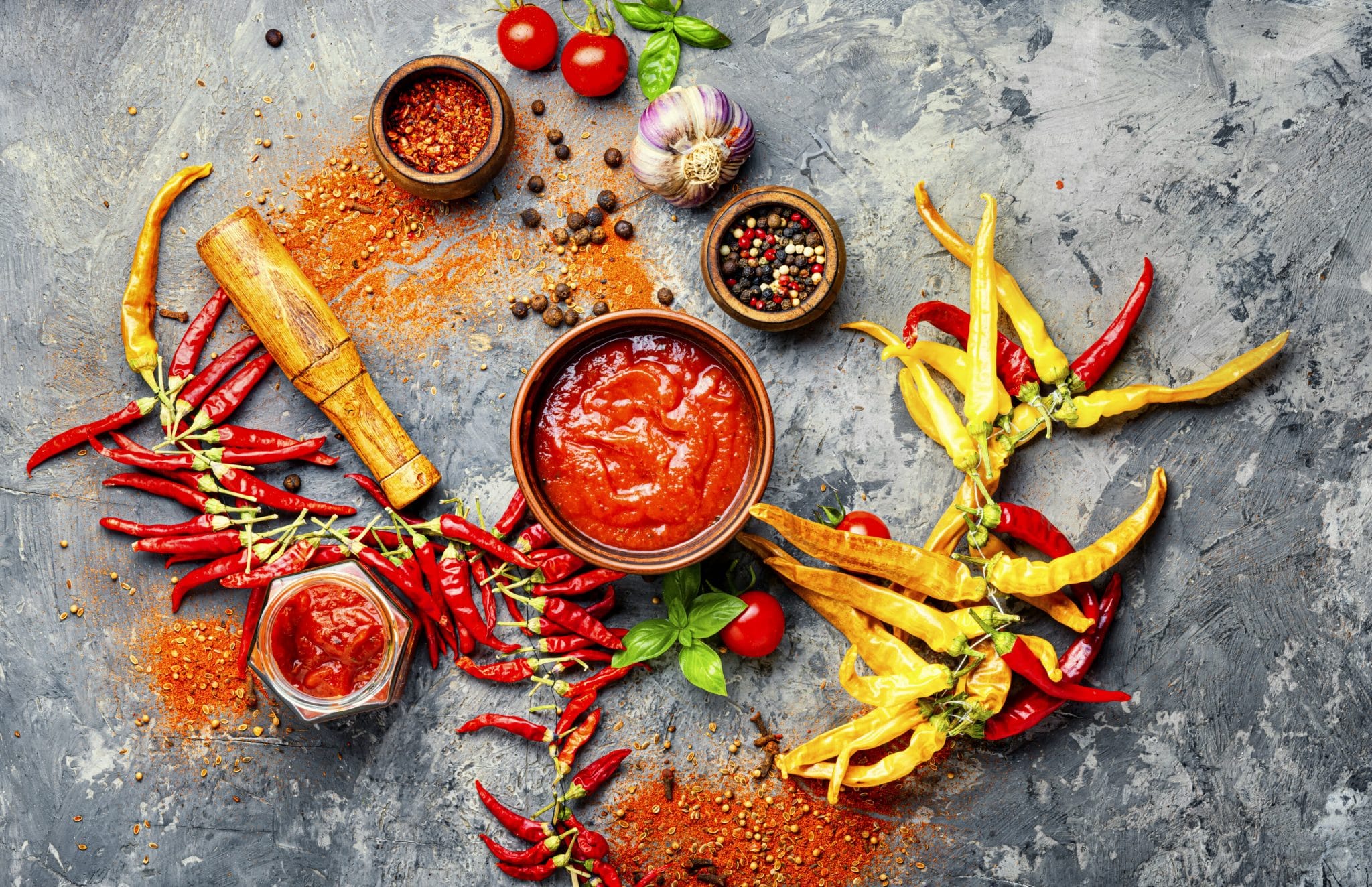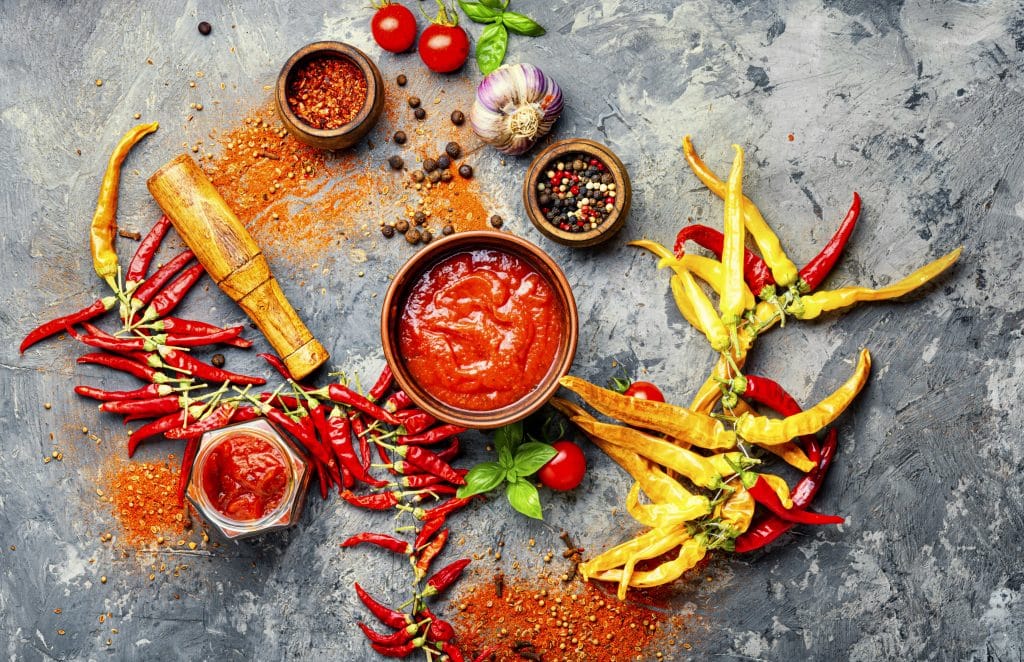 You can use any one of the above methods to thicken your chili. Remember that adding an extra ingredient such as soup powder will alter the taste, whereas tomato paste will enhance the traditional tomato flavor of chili. You can choose the methods that are most convenient for you.
---
Recent Recipes