Best Aunt Holly's Banana Bread
There are many things I love about banana bread. The first is that it is a vehicle for using those overripe, brown-spotted bananas that are often sitting on my countertop. Next, is that it is super easy to make with items I always have in my fridge and pantry. And lastly, it tastes so good.
I am not sure who Aunt Holly is. I tried to find her. It doesn't really matter, because I think everyone has an aunt who makes banana bread. Holly's recipe is very basic. I have added a few ingredients I love in banana bread to make the basic recipe even more delicious and to give the bread a bit of texture. These are cinnamon, walnuts, and dark chocolate chips.
If you want to remain authentic to Aunt Holly's banana bread, you will use only 6 ingredients: bananas, butter, eggs, flour, sugar, and baking soda.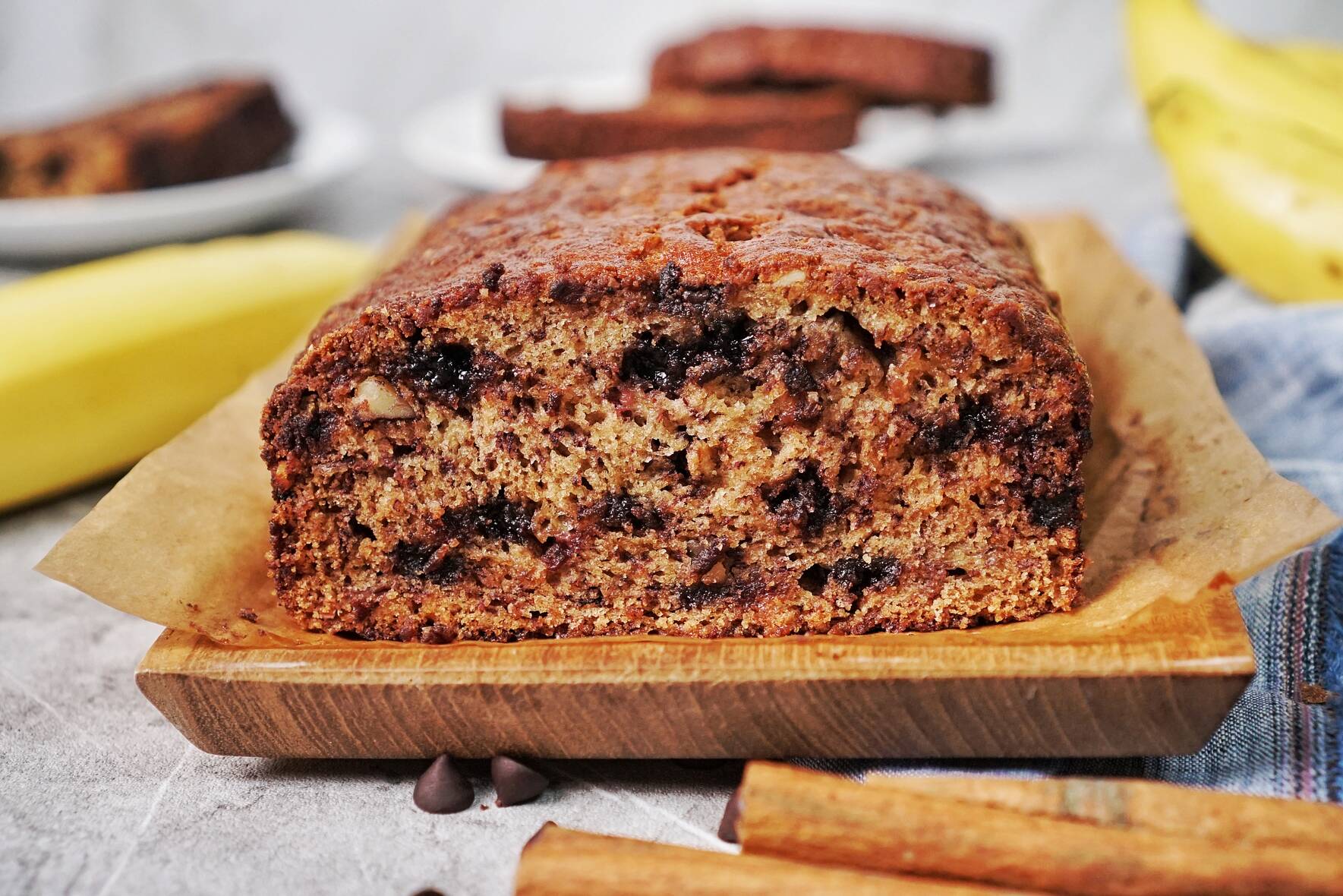 Ingredients
3

medium-sized very ripe bananas

1/4

cup

butter

melted

1

large egg

beaten

1-1/2

cups

all-purpose flour

1

cup

granulated sugar

1

tsp

baking soda

1/4

tsp

sea salt

1/4

tsp

ground cinnamon

1/3

cup

chopped walnuts

1/3

cup

dark chocolate chips
Instructions
Assemble your ingredients.

Preheat the oven to 350°F.

Lightly grease a 9-inch loaf pan. Line this with parchment paper, pushing the paper into the pan so the grease holds it in place.

In a large mixing bowl, mash the bananas. Stir in the melted butter. Then, add the beaten egg and stir to combine well. Add the flour, sugar, baking soda, salt, and cinnamon. Stir to combine into a smooth batter.

Fold in the walnuts pieces and chocolate chips if using.

Pour the batter into the loaf pan and even it out with an offset or silicone spatula.

Place the pan in the oven and bake until a toothpick inserted into the center comes out clean, approximately 55 minutes.

Remove the bread pan to a cool stove burner and allow it to rest for 30 minutes.

Remove the bread from the pan and place it on a wire rack to continue to cool and set for another 20 minutes. Once cool, slice and serve.
Nutrition
Calories:
334
kcal
|
Carbohydrates:
62
g
|
Protein:
5
g
|
Fat:
9
g
|
Saturated Fat:
4
g
|
Polyunsaturated Fat:
3
g
|
Monounsaturated Fat:
1
g
|
Trans Fat:
1
g
|
Cholesterol:
32
mg
|
Sodium:
314
mg
|
Potassium:
340
mg
|
Fiber:
3
g
|
Sugar:
45
g
|
Vitamin A:
102
IU
|
Vitamin C:
5
mg
|
Calcium:
59
mg
|
Iron:
1
mg
Notes & Tips
The bananas do need to be very ripe for the batter to be smooth and sweet. The skin of the bananas will have black spots when they are perfectly ripe for banana bread. Firm bananas can be used, but you will have to pulse them in a food processor and you might have to add some milk for additional moisture.
When you check the banana bread in the oven for doneness, be mindful of the color. If the top of the bread begins to brown too quickly and the inside is still gooey, tent the loaf pan with foil and continue baking until the center of the bread is cooked through. To be perfectly honest, I enjoy a crunchy top that is slightly overbaked. The sugar has caramelized and the texture is akin to a cookie or that crispy skin on roasted chicken.
Sometimes, a sweet bread will collapse on top. This might happen if you open the oven door too often. While it might not look attractive, it is still fine to eat.
Substitutions & Additions
Basic banana bread is excellent without the addition of walnuts and chocolate chips. I have a family member who is horrified that I put nuts in my banana bread. She definitely doesn't mind the chocolate, so I will double the chips and leave the nuts out when she is visiting. However, she is okay with creamy and tropical macadamia nuts. It is pretty decadent. You could also skip the chocolate chips and add some raisins instead.
I put cinnamon in most of my sweet bread recipes. Cinnamon is naturally sweet, especially when it comes in contact with the salt in the recipe. In fall, I will use nutmeg and ginger or pumpkin pie spice in my banana bread for a seasonal spin.
You can make this a gluten-free recipe by using a GF flour blend. If you want a slightly healthier bread, try whole-grain pastry flour and swap out the sugar for raw honey or pure maple syrup. You could add more fiber by using grated zucchini in place of one of the bananas. This is a great way to sneak veggies into something your kids will actually eat.
Storing Banana Bread
Banana bread is best wrapped in plastic and kept in the refrigerator for a few days because it has fresh fruit in it. This prevents the bread from spoiling and attracting mold spores.
I like to make a couple of loaves at once. I slice one of the cooled loaves into individual servings and wrap those in plastic and store them in the freezer for a few months. I do this so I can have a quick breakfast for busy mornings. I place one serving in the refrigerator overnight to defrost. Then, I pop it in the toaster oven to warm up and I will spread some butter or almond butter on the slice and enjoy it with a steaming cup of coffee.
If you have some leftovers and want to use them up, banana bread makes an excellent base for bread pudding. Just add milk, eggs, and vanilla extract and bake until the custard sets. This is delicious when hot right out of the oven on a cold snowy day.
---
Recent Recipes